Presidential Villa
Swaying palms, white sands and sun-dappled turquoise water lure visitors to Mozambique's long stretch of coast, with its tidal waters sculpting the sand banks on a daily basis. Find the Presidential Villa hidden from the rest of the world with its very own beachfront location, 150m down the beach from main Azura Lodge.
Rooms in the Presidential Villa are connected to hidden wooden walkways and screened by natural indigenous vegetation. The Presidential Villa is a true home away from home experience with unsurpassed space, comfort and styling for a glamourous Mozambique holiday. Created for up to six people, this beach home is designed to be quite separate and self-sufficient.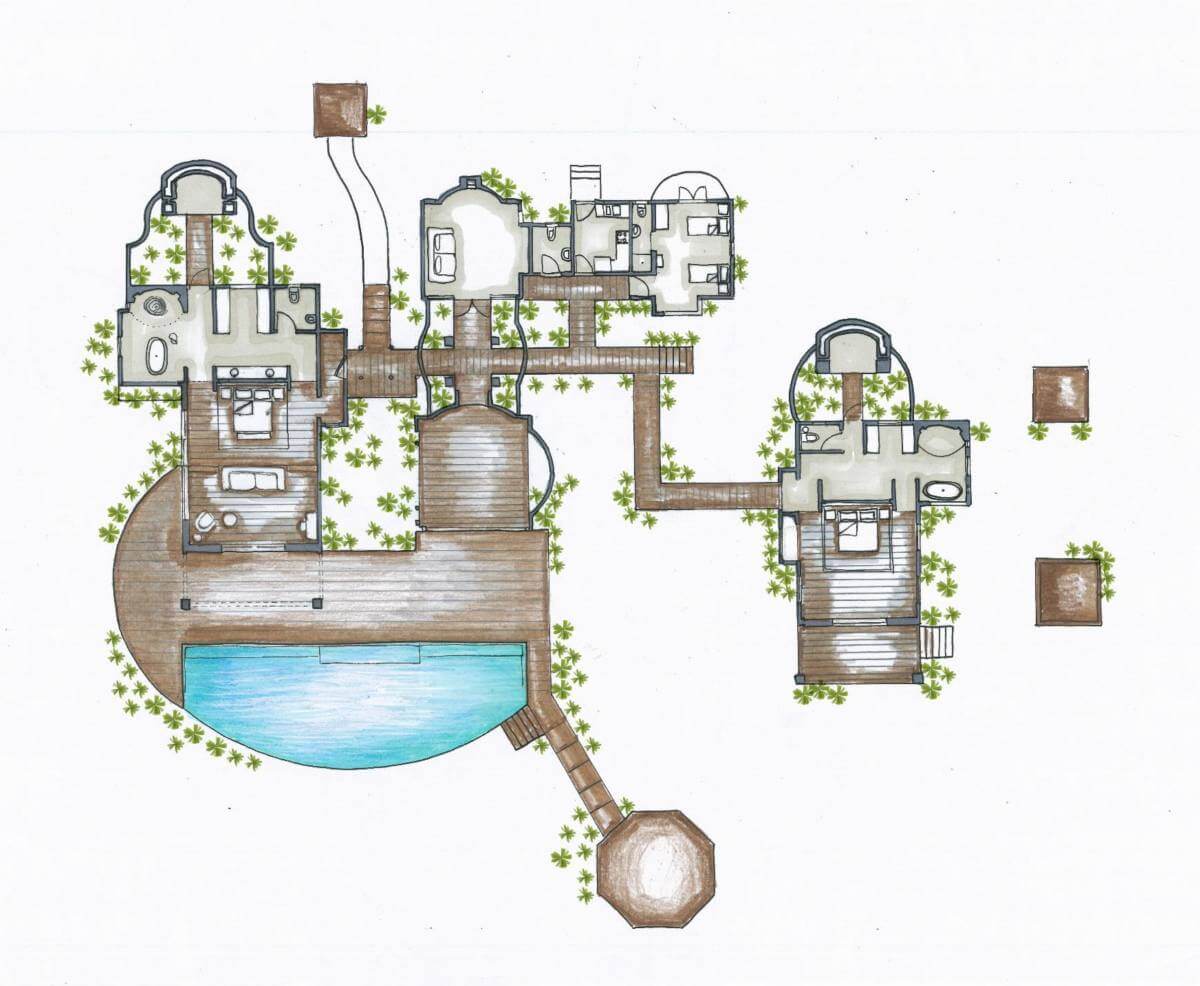 The Presidential Villa at Azura Retreats Benguerra Island offers true luxury in paradise, and you get to revel in the services of your very own butler and private chef. This spacious villa offers three large rooms with en-suite bathrooms, a media room, kitchen, wine bar, lounge with fireplace and dining area. Enjoy being just steps away from the beach and the beautiful tropical waters.
Discover the epitome of style and luxury with every room boasting Egyptian cotton linen and air-conditioning and supporting ceiling fans. Tuck into the mini bar stocked with complimentary soft drinks and local beers and use the modern tea/coffee making facilities with Nespresso machine.
This villa really is a vast 1,075m2 area. Exceptional décor includes white, cream and turquoise shades with a slightly more modern edge – with valuable art reminiscent of stylish minimalism.
A divine split-level master bedroom includes a king-size bed, a seating area, decking, indoor and outdoor showers and a huge free-standing bath. Like the rest of the Villa, decor is simply astonishing – pearly white slumber seating, a huge cube shaped mosquito net, the odd animal skin rug and acres of space. Equally fine, the second bedroom is similar and features a king-size bed with the option of converting into twin beds.
Azura Retreats Presidential Villa boasts its own media room with a TV and DVD player. There is a private dining area and a wine bar, and a vast 16m infinity pool spanning the front of the whole villa and bubbling Jacuzzi at the end. A broad wrap-around wooden sundeck features plenty of sun loungers and sofas for the whole family. Those seeking some shade may prefer to escape to the 'tree house' – a sheltered deck elevated a few metres off the ground, catching a lovely breeze coming off the sea.
For sheer escapism and indulgence, choose the Presidential Villa at Azura Benguerra Island. Set in a mature garden, designed and built along with the rest of the lodge, the villa possesses the same distinctive thatch overhang, and characteristic wooden floors, a mix of traditional beach furniture, and an eclectic collection of lamps.
All food is prepared in-house, special diets and tastes are easily catered for – the cuisine is always fresh and produce locally sourced.
Watch the sunset as you sail on a traditional dhow, picnic in isolation, or cruise to deserted beaches to look for pansy shells. Visit the island's lakes on walking tours. There is a spa at the main lodge with a double treatment room located right on the beach. With warm water, snorkelling, kayaking, and shell collecting, there are plenty of wonderful activities for the kids- the perfect place for a family holiday to Azura and the Bazaruto Archipelago!
Presidential Villa Facilities – Epitome of Style and Luxury
The Presidential Villa at Azura has been described as one of the best villas anywhere in the Indian Ocean. It has a very secluded private location, some 150m down the beach from main Azura, and comes with its own butler-host and private chef. It is the beach house of your dreams. The epitome of style and luxury, with its own unique décor, there are 3 en-suite bedrooms: 
Beachfront location and views

Master bedroom with sitting area

Gym in a bag

2nd Bedroom Infinity Beach Villa

3rd Bedroom twin

Treehouse with views

Private Chef

Helicopter landing area

Outside showers

Air-conditioning and fans

Nespresso Machines

Ensuite bathroom with freeform bath

Two Beach Salas

Private Mozambican Butler/Host

16 Meter swimming pool

Guest toilet

Day beds and sun loungers

Wi-Fi