1. For the Conservationist – Vamizi Island
Vamizi Island is big on conservation and the preservation of the marine and island wildlife. Fly to the Quirimbas Archipelago and learn more about how the community monitors turtle populations and manages the surrounding marine sanctuary. This could be the most meaningful Mozambique island holiday you have ever experienced. Vamizi is ideally situated in specific sea currents which contain huge reserves of minute plankton, a major food source for most species living within this complex coral reef system. Divers should look out for huge groups of Giant Potato Cod, Grey Reef Sharks, Snapper, Batfish, Turtles, Barracuda and more. Dive sites such as Neptune's Arm, Fraggle Rock, and Skunk Alley suit both beginners and experienced divers.
2. For the Camping Expert – Ibo Island Dhow Safaris
It is all about snorkelling off deserted white sandbanks into clear blue seas then camping overnight on secluded Quirimbas beaches eating fresh seafood on the fire. Yes, Ibo Island Lodge is the only Mozambique island holiday resort offering fully tailor-made Mozambique Dhow Safaris into the Quirimbas Archipelago. Look out for indigenous fishermen drying their sardines on the sands,  whales frolicking in the lake-like ocean and turtles digging out a sandy nest.
You will be under the eye of an expert professional guide and local crew who will erect tents, arrange the food in an elegant picnic and ensure you are left alone in a discreet manner. Go for the standard recommended minimum itinerary of four nights island hopping by dhow or kayak and three nights at Ibo Island Lodge – but you are free to tailor make your perfect adventure and include some diving and snorkelling too.
3. For the Party Animals – Maputo
If you are looking for a trendy place for a weekend break, fly into the capital city of Mozambique, Maputo. All travellers love its diverse accommodation, cosmopolitan vibes and stunning setting of harbour and beaches. The architecture is a wonderful blend of Arab, French, Oriental, Portuguese and African, as well as fashionable Art Deco. Meet people gathering to eat great food in diverse restaurants, and to unwind in great nightclubs after long working days. Maputo is a place of music, dancing and great seafood. People are friendly and most places are safe. From exclusive hotels and restaurants to the more lowly, local and very real eating places, this is the place to be for fun and great tastes.
4. For Lovers of Sailing and Water Sports – Bazaruto Archipelago
Benguerra Island floats in the Bazaruto Archipelago like a diamond in the sun. Go and see for yourself an authentic Mozambique lifestyle with plenty of luxury thrown in. You can relax in your private villa at the edge of the sea or get out and scuba dive, walk, snorkel or enjoy ocean safaris to see dolphins and whales. The island is part of the Marine National Park which makes it a diver's dream destination -offshore coral reefs, inshore seagrass beds, large stocks of pelagic fish and long stretches of pristine sandy beaches. Dolphins come regularly to the beach and whales migrate seasonally past these shores.
Go snorkelling to see underwater sights that take your breath away. Helicopter flips to overnight dhow safaris and ocean safaris to dive with the dolphins. The best way to get around between islands is by motorized boat or traditional sailing dhow – and island hopping safaris are now a popular way to get to see more than one island in this splendid Bazaruto Archipelago.
5. For those who are exhausted – Anantara Bazaruto Island Resort & Spa
For a very laid back, chilled Mozambique hotel, look for the Anantara Bazaruto Island Resort on Bazaruto Island. Book a chic island style room and enjoy swish island style cuisine – far from predictable, your holiday in the Bazaruto Archipelago will be so remarkable that you will never want to leave this paradise!
Think hammocks swinging in the breeze, cocktails served around the lovely pool area and a deep tissue massage at the spa while the ocean view dominates your vision. All of this enriched by the genuine smiles of the staff, the genuine dedication to good service that is Anantara Bazaruto Island Resort and Spa.
The beach is pristine – leave only your footprints as you stroll daily along white sands, picking up shells and forgetting what happened yesterday. Tons of fresh air and sunlight spark that appetite, so be ready to indulge in pancakes for breakfast, fresh salads for lunch from the hotel's own garden, and seafood to die for in the starry evenings.
6. For Bird Lovers – Ibo Island Lodge
Ibo Island is not just any island – it is a floristic wonderland where all kinds of birds come to play, breed and feed. The headquarters of the Quirimbas National Park, surrounded by the Indian Ocean, find the isle in front of one of Africa's largest mangrove forests. So, whether you are a dedicated ornithologist or an amateur bird-watcher, you will marvel at the wealth of beautiful, and often rare, birds in Mozambique.
Explore the wooded areas on Ibo and get there when the tides are coming in or going out. The lush, low-lying ocean mangrove forests are a special adventure for ardent bird-watchers. Settle in quietly at sunset when hundreds of birds fly in to roost – what an impressive sight! More than 700 different bird species, 10 of these being threatened, have made their home on Ibo. Goliath Herons, Fish Eagles, Egrets, Flamingo's and Pelicans are all regular visitors and the tropical gardens at the lodge support a large range of Sunbirds, Woodpeckers, and the beautiful Lilac-breasted Roller. Trained guides teach you about every little Ibo flitter and flutter.
7. For Culture – Ilha de Mozambique
Your holiday on Ilha de Mozambique, a historical island and famous UNESCO World Heritage Site, guarantees unforgettable experiences. Discover numerous relics of its ancient past. Book an awesome accommodation special package and spend your holiday exploring ancient ruins, taking a traditional dhow cruise out to sea and watching local people go about their daily business.
Ilha de Mozambique is famous for it's Stone Town and Fort São Sebastião, a reminder of an interesting past. Originally the capital of Mozambique, for 400 years, before the Portuguese decided to make their capital Lourenco Marques (now called Maputo) this island is a unique blend of cultural times gone by and breath-taking beauty. Book a few days at the unique Hotel Escondidinho, a renovated 19th-century house – once a trading house where slaves were housed.
Or the house of Terraco das Quitandas which is more than 300 years old, located in the heart of the island's Stone Town. This gracious old colonial building dates back to a rich past of Portuguese, African and Arab influences. It was once home to many different merchants and traders, followed by Portuguese rulers and oozes with history and authenticity.
8. For Furious Fitness Freaks – Tofo
From scuba diving and surfing, snorkelling and deep sea fishing, Tofo offers a perfect outdoor activity for those who love moving. Horse riding, bird watching, quad biking, and dhow cruises are also fantastic fun on beaches and sand tracks around the region.
Explore some 15 pristine dive sites which are part of a renowned coral reef, one being Manta Reef. Come between October and February and catch a gigantic Black Marlin trophy. Catch a ride with big game fishermen to see how they do it. You may see Humpback whales breaching while out at sea and can also try your hand at sea and lagoon kayaking, kitesurfing, windsurfing, surfing/bodyboarding, parasailing, and jet-skiing. Afterwards, book your dhow cruise to Inhambane and see Tofo from a different angle completely.
9. For the romantic – Massinga Beach Lodge
Mozambique is the quintessential honeymoon hideaway, surrounded by aquamarine waters, beautiful beaches, tropical forests, and freshwater lakes.  For here you will find luxury island resorts and hotel accommodation, sunny skies, moonlit walks and candlelit dinners on a beach stretching for miles. At Massinga Beach Lodge couples are treated like royalty and respond well to five-star service, the huge lobsters grilled to perfection, the secluded beaches. Stay for longer in an Ocean View Villa complete with phenomenal views, beautiful decor, crisp white linen on comfy beds, rain showers and free standing baths. The private deck and plunge pool promote relaxation and romance.
Enjoy special meals served to you on your deck – or enjoy the elevated restaurant and bar. The cuisine at Massinga includes fresh seafood and other delicious dishes. A real hit with honeymooners is the private beach picnics – choose a secluded spot, sip a glass of bubbly and enjoy a swim in the warm Indian Ocean.
10. For Anglers and Scuba Divers – Machangulo Beach Lodge
High tide at Machangulo is a wild time of natural energies and surging waters. Fishermen love the deep channels here and all kinds of fishing are on offer. Guided offshore and channel fishing will teach anglers new tricks while rock and surf fishing is up to you although you can request a guide. This is a great fly fishing territory and the lodge can assist with tackle and set up. Fishing, like some of the other activities, is dependent on the weather and tides. Machangulo Beach Lodge uses two modern and safe powerboats designed for diving and fishing.
Diving is very rewarding at this lodge, the estuary and sea coming in to create a unique setting. Within the marine reserves lie some excellent visuals of protected marine species that create that ideal and sublime diving experience. The lodge offers courses for novice divers and some wonderful shipwreck sites for those in the know. The PADI instructor is one of the first Mozambicans to ever attain his Instructor Level with PADI!
We have mentioned 10 different beach holidays for all kinds of travellers. Mozambique has it all. We could go on until we reach 100 so allow this sample to whet your appetite to travel into Mozambique for your next holiday.
Contact Us to book your Mozambique holiday now
Featured Packages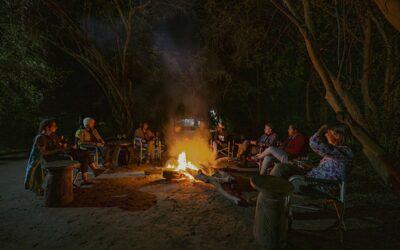 Mozambique safari to Wild Camp Gorongosa
A spectacular five-night package into the wilds of Gorongosa National Park with this well-priced Mozambique safari deal in the authentic Wild Camp. Walking trails are the focus of this glamping safari. Includes return light air transfers and two safari activities daily.
5 nights from
$2,850
Per person sharing