Beauty of Mozambique
When you hear the word Mozambique you immediately think white beaches, swaying palm trees, untouched game reserves and sandy roads. Space, wilderness areas, azure turquoise seas, islands in the sun and friendly, smiley people. Now we have found 10 of Mozambique's best kept secrets that reveal more about this fascinating African tourist destination. Hidden from the mainstream tourist routes and often not even heard about, these secret spots will open your heart and mind to the real beauty of Mozambique:
FEIMA – Feira de Artesanato, Flores e Gastronomica – Maputo – a wondrous colourful place where you can find anything created by hand: baskets, wooden boxes, carved bowls, jewellery, T-shirts, art and much more. Barter your way around and get good prices for quality souvenirs to take home. Sit down at one of the two restaurants within the market grounds for something Mozambican and delicious. Or grab a taxi to the famous fish market in Maputo and chose your prawns and shellfish fresh from the market. Then have them cooked peri – peri style in the restaurants a few meters from the market.
 Fort Sao Sebastian – Mozambique Island – impressive in size and history, this landmark on Ilha de Mozambique is the oldest complete fort still standing south of the equator and many feel it is the finest military building in Africa. The Portuguese started building the fort in 1558 and took 62 years to finish their masterpiece. There is plenty of information about this iconic building and with a local guide, it is worth the visit just to feel its aura. Ibo island further north in the Quirimbas has a similar but less grand five star fort.
Catedral de Nossa Senhora da Fatima – Nampula – If you love churches, then visit Our Lady of Fatima Cathedral or the Metropolitan Cathedral of Our Lady of Fatima in Nampula. This Catholic Church still functions as the cathedral of the Archdiocese of Nampula and was built between 1941 and 1955. Check out the two towers and arched portico. And if you are travelling to Mozambique Island from Nampula stop at the Catholic Church at Meconta. Also a beautifully built building with an amazing history. During the civil war two Portuguese priests stayed for the duration in an isolated and action-packed area. They were never harmed because of the work they did with the local community!
Ndzou camp – Chimoio – get back to nature in an eco-camp in the middle of Moribane Forest Reserve near Chimoio. A local NGO called Eco-Micaia and a local community developed this amazing initiative together in a bid to conserve and preserve the beautiful forest and their endemic elephants. Enjoy great food, accommodation and staff who treat you to elephant tracking safaris in authentic nature. Go "back to the basics" way of life, using saved water from the tank and power from the solar batteries. Your dedicated guide will mix legends and field knowledge while looking for the elephants. And of course if you have gone this far then you have to stop at Gorongoza National park nearby. Its not called Africas Eden for nothing and is an amazing conservation success story.
Swim with the dolphins at Ponto do Ouro or Ibo Island – experience the unforgettable thrill of this surreal ocean swim with wild Dolphins. Learn more about these playful and very clever mammals from the researchers who go with you. The Dolphin Centre has nurtured a very special bond with a group of wild dolphins that come regularly to Ponta do Ouro waters. The creature-human relationships are strong and the two mammal species really have learned to socialise under water. You can also do the same on Ibo Island in the far north of Mozambique's quirimba Islands. Follow the responsible Code of Conduct, appreciate the sustained conservation of the ocean and its creatures.
6. Maputo Elephant Reserve– enter one of the remaining unspoiled regions of vast, craggy and magnificent beauty in southern Mozambique. This is 4×4 country so come prepared for adventure and wild fun. This reserve forms part of the Lubombo Transfrontier Conservation Area, home to more than 200 elephants. The best part of your holiday is the many close encounters you get with these huge creatures for a thrilling and serene experience that is certainly not to be missed. The Reserve covers approximately 90 km2, and rises from sea level to approximately 150 metres near the western border. Look out for hippopotamus, duiker, zebra, kudu, baboons and bushpigs. There are also said to be important nesting sites for sea turtles along the west coast. The area has now been renamed the Maputo Special Reserve, has been restocked and there are major plans for facility upgrades and camps to rival Kruger Park!
7. Street bash in Pemba on Sundays– Stroll down the main road just behind Wimbe Beach in Pemba on a Sunday afternoon around 3pm. You will be pleasantly surprised at the throngs of happy people also strolling along. You may wonder if it is someone's birthday or a festival but this is the usual Sunday afternoon vibe. Join in the jam sessions with the sounds of guitar and drums then sit down where you are to eat delicious street food from various vendors along the street. Or pop into one of the many restaurants for authentic peri-peri prawns and traditional Mozambican and Portuguese cuisine.
8. Ibo Island Dhow Safaris – Jump on board a modernised, motorised dhow with billowing white sails and you will be in the hands of our pro guide and experienced skipper and crew. Ibo Island Lodge is the only operator to offer fully guided mobile Island hopping dhow safaris in the magnificent Quirimbas Archipelago National Park in northern Mozambique. You will spend your sunny days snorkelling, diving and sea kayaking. Throw in three nights of comfort at Ibo Island Lodge, with all its fascinating history and culture, and you are set for a dhow safari of a lifetime!
9. Bahia Mar Boutique Hotel Conference & Wellness Centre – for real comfort and style, choose this modern accommodation where luxury and privacy matter. A spacious, fully serviced en-suite bedroom, fully equipped self-catering pied à terre, or combinations of both – for the perfect holiday base in Mozambique. Wake up to breath-taking sea views and indulge in spa treatments or a gym session. Meet caring, friendly staff, taste superb food, and sip cocktails in the sparkling infinity pool. Find it on an elevated plateau with panoramic views over the islands of Bazaruto Archipelago.
10. Matapa – you simply have to try this traditional dish that the locals love. A Mozambican speciality that goes best with prawns and rice and a meal most Mozambicans choose if given a choice. Matapa is made from stewed cassava leaves, ground peanuts, garlic and coconut milk. Be a devil and sample this wholesome dish next time you are hungry. You won't regret it. When in Rome…
Mozambique's best-kept secrets
We have introduced you to 10 of Mozambique's best-kept secrets so can you keep a secret? Go and find these things and rate them according to their uniqueness, their ability to entertain and create happiness for all tourists.
Start Panning your escape to Mozambique and let us know if there are any more secrets out there worth keeping. We specialize in bespoke and off the beaten track holidays to Mozambique.
Featured Packages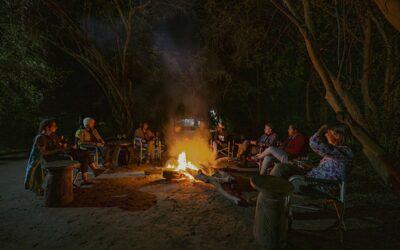 Mozambique safari to Wild Camp Gorongosa
A spectacular five-night package into the wilds of Gorongosa National Park with this well-priced Mozambique safari deal in the authentic Wild Camp. Walking trails are the focus of this glamping safari. Includes return light air transfers and two safari activities daily.
5 nights from
$2,850
Per person sharing