A Voyage of Discovery to Africa's Most Trending National Park and Conservation Success Story
Gorongosa National Park in central Mozambique is on the road to full recovery as a sought-after wildlife restoration legend in the making. Its rich wildlife and ecosystems were ravaged by the devasting Mozambican Civil War between 1977 and 1992 but today, Gorongosa is fast becoming the new must-see safari destination in Africa. It's the best game reserve holiday to combine with a summer break on some of the most beautiful beaches and islands in the world along Mozambique's tropical coast.
1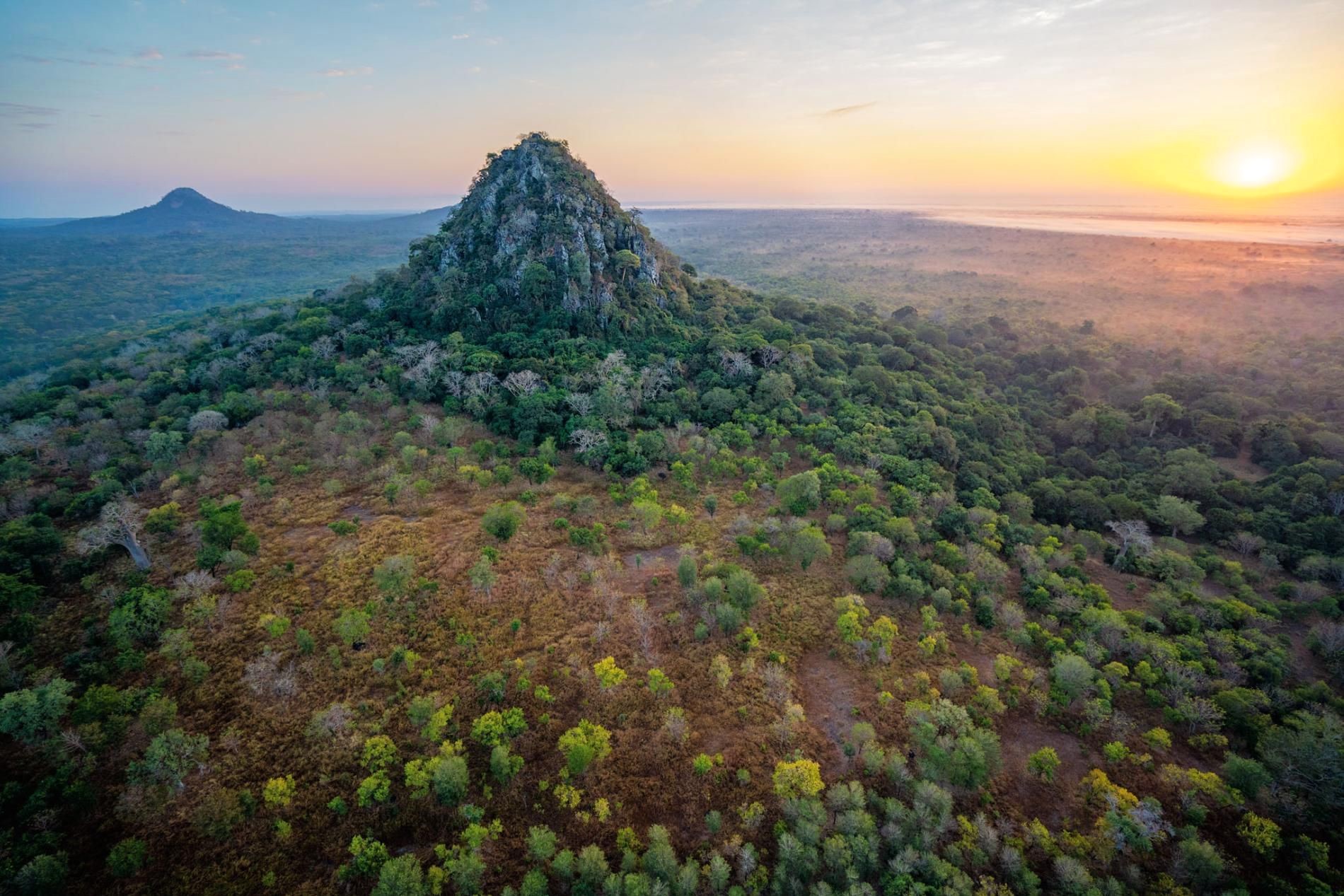 Gorongosa means 'place of danger' in the indigenous Sena or Chi-Gorongosi (a local dialect) language and since it reopened in 1998, the park has experienced a complete metamorphosis. It has been hailed worldwide as an astonishing conservation success story. Mount Gorongosa is the stronghold now for diverse wildlife and bird species thanks to the success of its reforestation project where coffee plantations and other agroforestry crops thrive in the shade of the trees. Indigenous people are benefiting financially from the Gorongosa Coffee plantations, the coffee being marketed internationally. New forests are being planted and cashew nut plantations are becoming sustainable too. The value of natural resources to the people has hit home.
2
Gorongosa National Park is a compelling safari destination in Mozambique, especially for intrepid adventurers from South Africa. The best time to visit the park is when it is accessible, from mid-April to the end of November. The rainy season brings plenty of flooding, so the best game viewing is in the dry months of June and July. Boat safaris on gorgeous Lake Urema are a huge success early on in the season in April and May. A safari to the captivating Urema River Floodplain reveals thousands of waterbirds gathered between the endemic herds of waterbuck, common reedbuck, Cape buffalo and oribi. Photograph Saddle-Billed Storks, Yellow-Billed Storks, African Openbills and Grey Crowned Cranes!
3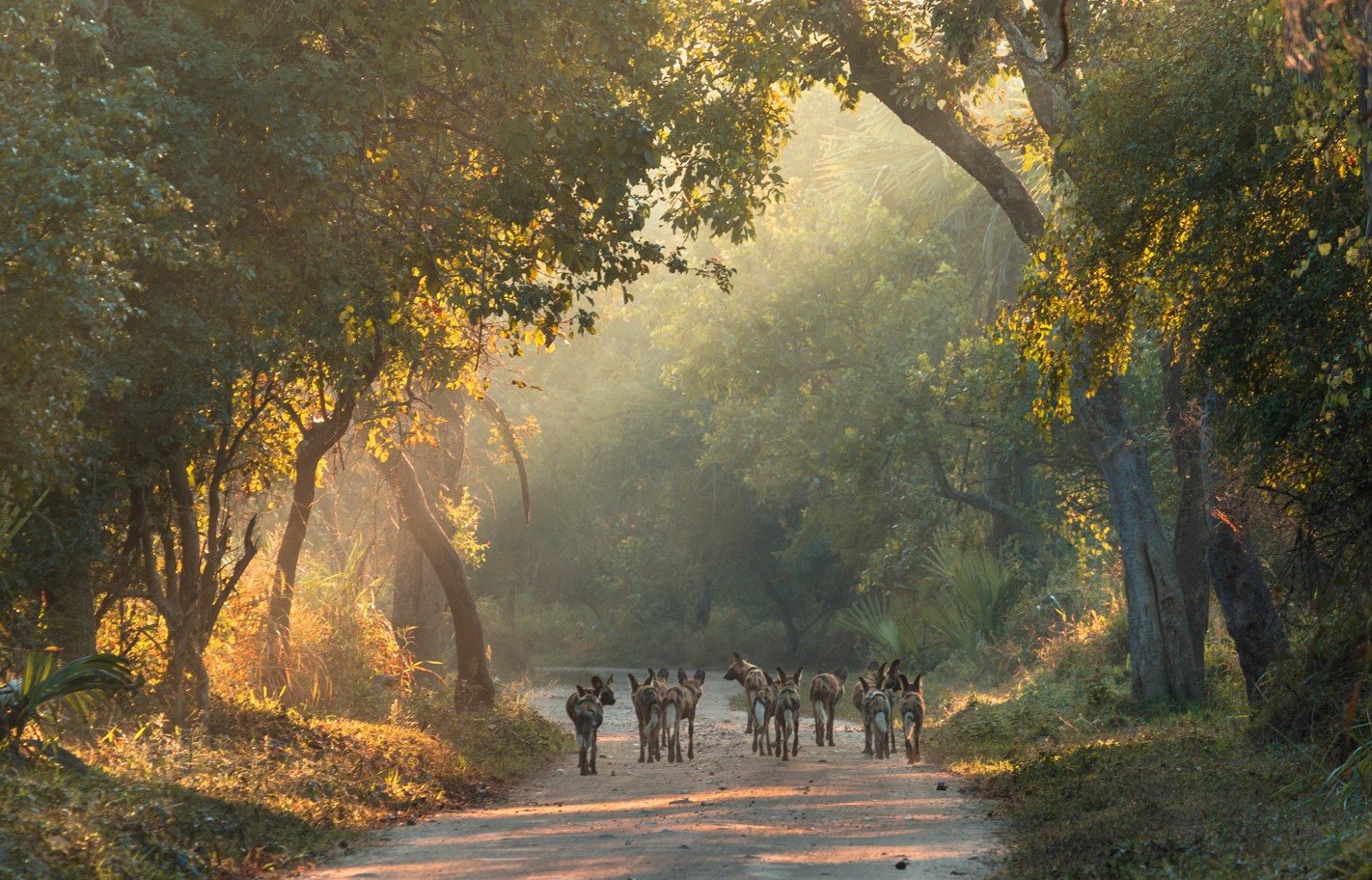 Most large carnivores in Gorongosa were eradicated during the terrible Mozambican Civil War creating enormous ecological impacts. African wild dogs have been successfully reintroduced into the park and research into their behaviour is ongoing. Upon release into the park, the wild dogs formed natural packs and produced pups in the breeding season. Scientists ensured they were kept away from the new lion populations and local villages. To date, the survival rate is 73% with a few wild dogs dying of natural causes. This was the first successful wild dog reintroduction in Mozambique and the second in Africa, an enormous success for all. The wild dogs have yet to explore the entire park so more of these carnivores will be introduced over time to ensure a larger connected population that roams the Gorongosa-Marromeu landscape.   
4
Waterbuck as far as the eye can see, graced by two Grey-Crowned Cranes framing the skyline. The Gorongosa plains game numbers are rising again, back to pre-war levels, and birdlife is in a league of its own. Safaris reveal thousands of waterbuck roaming the lush floodplains of Gorongosa National Park, migrating and crossing rivers every season. Rivers originating on nearby Mount Gorongosa water the plain which lies at the southern end of the Great African Rift Valley, an amazing 4,000 square km. Seasonal flooding and waterlogging creates grasslands dotted with patches of acacia trees, dry sandy forests, seasonally rain-filled pans, and termite hill thickets. Birders can view more than 500 bird species amongst the waterbuck and predators that prowl here!
5
The best way to explore enormous Gorongosa is on a guided game drive, spending hours out in the wilderness with trained game rangers and trackers. Explore diverse habitats harbouring incredible wildlife and birds. Discover vast open spaces in the lush floodplains, fantastical fever tree forests, palm groves and more. Find lions lurking, wild dogs, leopards, and herds of buffalo, zebra, elephants and waterbuck. Guides are sourced from the local communities and trained as the compassionate eyes and ears of the park. 
6
Boat safaris on the stunning blue waters of Lake Urema in Gorongosa feature enormous flocks of water birds, massive crocodiles, healthy pods of hippos and magical vistas to photograph. This is the only way to explore such a watery wonder in the heart of the national park. Most boat safaris last up to 4 hours with highly trained skippers and game rangers who can enlighten all guests about the captivating biodiversity they see before them. Specialized birding trips can last a full day as twitchers revel in this feathered paradise packed with Grey-Crowned Cranes, storks, flamingos, pelicans, and more. Add new species to your life list every day!
7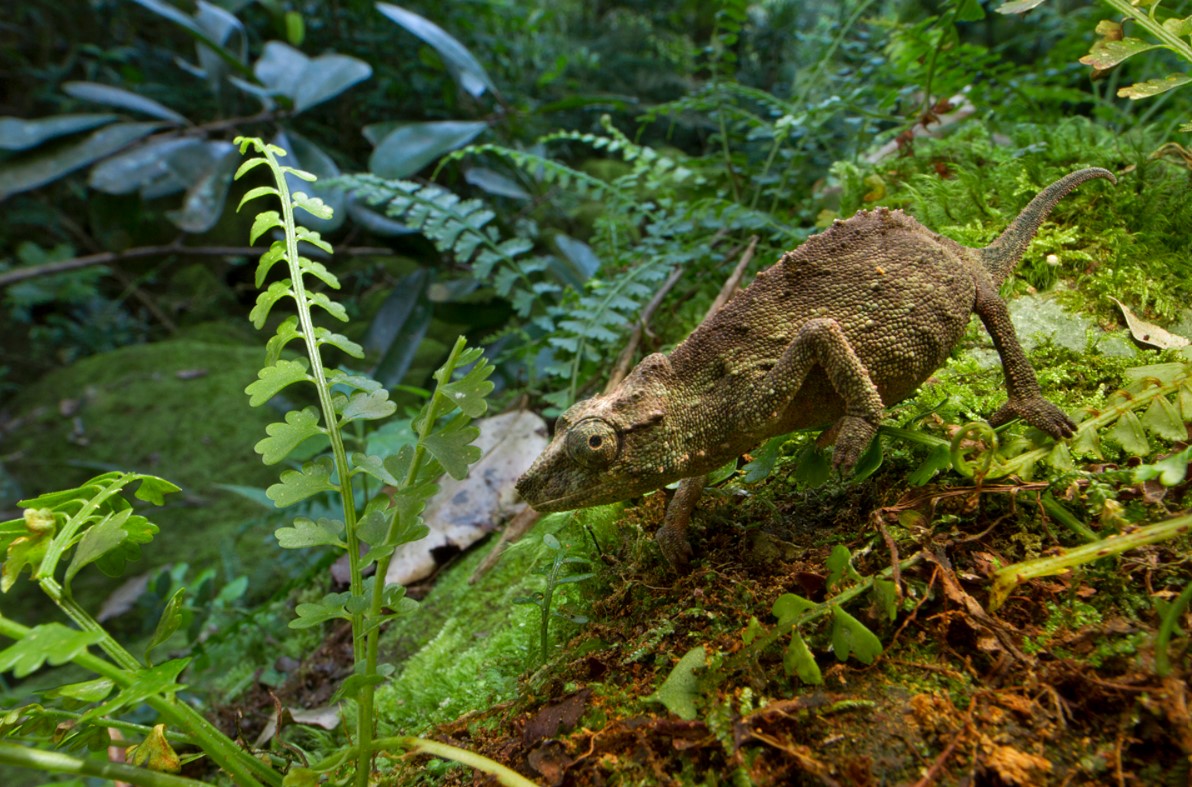 Most people are fascinated by chameleons and in many African cultures, they are related to witchcraft. Some cultures believe that witch doctors send bad spirits to families via chameleons because they change colour while others say that chameleons change good luck to bad luck or the other way around. There are many different kinds of chameleons in Africa and in Gorongosa National Park, but the Mount Gorongosa Pygmy Chameleon is super rare and endemic only to this region. Discovered in 1971, this tiny chameleon is as big as your pinky finger, and they run around on the forest floor using its sticky tongue to catch its prey. 
8
Gorongosa is haunted by the presence of magical Baobab trees, hundreds of years old, standing solid on the landscape as icons of another world. Discover rare vultures nesting in these trees or lions resting there below in the shade after a hunt. Baobab trees are a hive of life and biodiversity, their branches, flowers, and leaves providing sustenance and shelter to myriad creatures. They seem to radiate a gentle power over the conservation region, prehistoric and giant, essential trees in a transformed landscape. 
9
Many years ago in 1972, South African ecologist Ken Tinley led the first aerial survey of Gorongosa in its pre-war days and he counted approximately 14,000 buffalo, 5,500 wildebeest, 3,500 waterbuck, 3,000 zebras, 3,000 hippos, 2,200 elephants and 500 lions. When he returned 17 years later, he saw no buffalo, wildebeest, or hippos and guessed that only 129 waterbuck, 65 zebras, and 108 elephants remained. Then in 2006, Greg Carr arranged the translocation of 200 disease-free African buffalo from Kruger National Park in South Africa as part of his restoration of Gorongosa project. Thankfully, the latest counts reveal a buffalo population way above 1 000!
10
Passionate guides work at Gorongosa and impart their profound knowledge about the biodiversity and the intricacies of the natural environment to all who want to know. Visitors who choose a safari in Gorongosa will learn all about fascinating trees, plants, birds and wildlife from these guides who are sourced from the surrounding villages. Gorongosa also depends on their Law Enforcement team of 260 trained local rangers who are entrusted with the safety and health of the entire national park. Thanks to their dedication, ivory smugglers, illegal loggers, pangolin poachers and other criminals have been caught, while numerous snares and gin traps are removed. This team learns conservation, human rights laws and more during their serious training, they teach their own communities what they learn and they patrol nearly 12 000 km2 of territory. 
11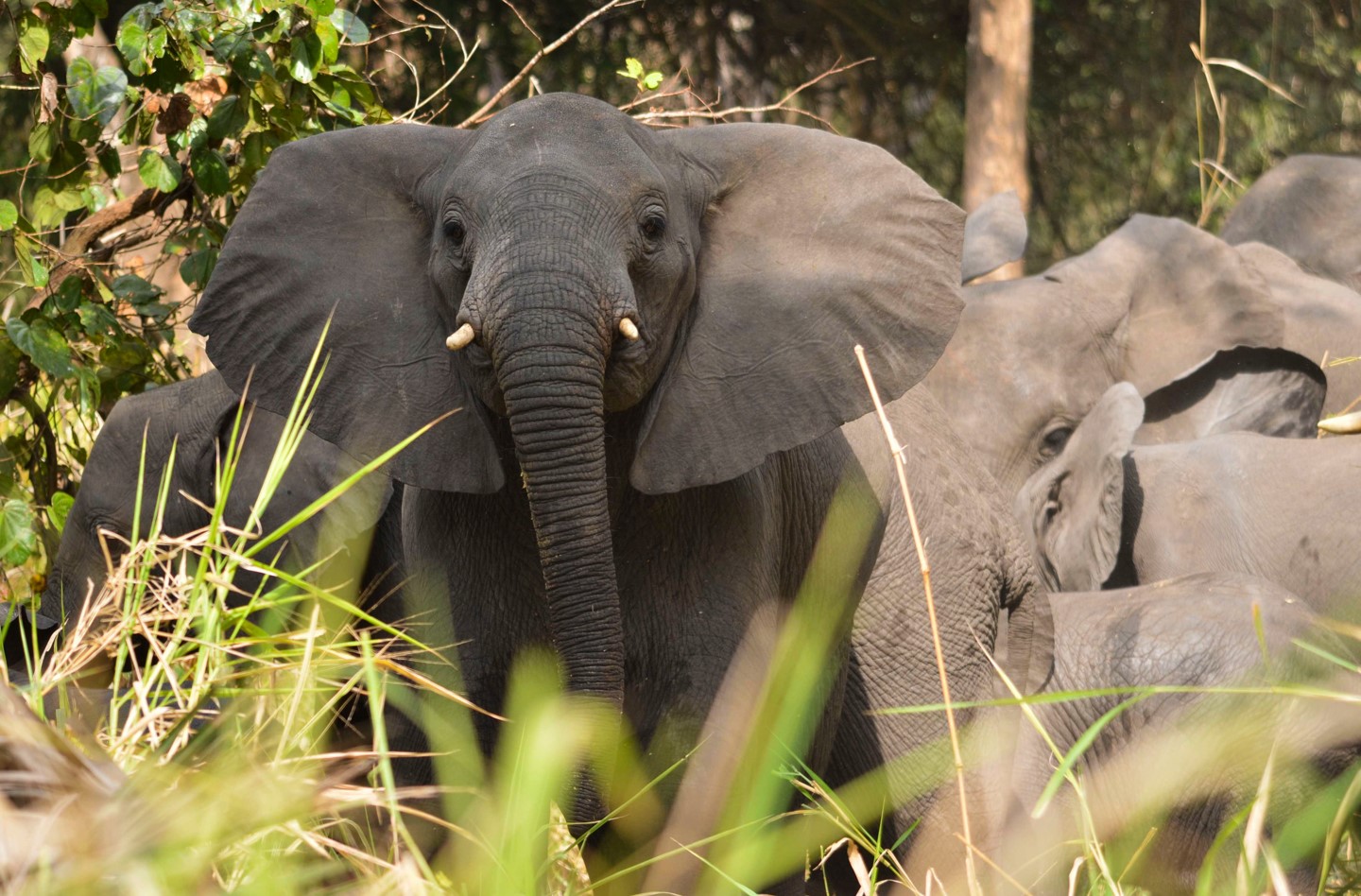 The wild herds of elephants at Gorongosa knock trees down, eat thickets and long grass and in so doing they clear the bush for the other species that need to get in there and eat and shelter. They eat for 16 hours of every day to maintain their enormous bulks and their nutritious droppings fertilize the soil, spread vital seeds around and feed dung beetles. Elephant numbers before the civil war stood at 2000 and dropped to 108, but now the herds are growing and the latest count reveals about 1 000 of these enormous herbivores.
12
Lion densities in Gorongosa pre-civil war were the highest in Africa, with some 500 lions counted in the park during the 1970s. This was testament to the incredible biodiversity in what was known as 'Africa's Eden' for very good reason. After the war, Greg Carr discovered about 5 lions left in the region, most with three legs due to terrible snares. He decided to relocate herbivores first in his transformation project as food for these desperate carnivores and the lion population was able then to naturally stabilize over time. In 2019, 13 new males were spotted, proof that when lions do well, they do very well. Today, the reserve boasts over 150 lions and the population is climbing steadily. Conservation efforts are ongoing as lions are a vital part of the biodiversity complexities in every national park despite terrible poaching and human impacts every day.
---
Find Out More on How to Explore and Discover the Incredible Gorongosa National Park
The overwhelming beauty of Gorongosa can only be fully appreciated with a visit in the flesh and we have all the good reasons why you should go. Interest in Gorongosa is rising again since the safari destination's complete metamorphosis during the timely Gorongosa Restoration Project. Voted 'Best Trip of 2019' by National Geographic, Gorongosa is funded by sustainable wildlife tourism. Your safari therefore contributes to the ecotourism dream where wildlife and community's benefit. 
Mozambique Travel promises some of the best luxury safari accommodation package deals and camping special offers to this ultimate wilderness where animals run free, and people learn how to conserve green spaces for their own futures. Gorongosa offers three different accommodation choices:
Montebelo Gorongosa Lodge

 and Safari promises chic family accommodation in select premium villas with garden views close to the central Chikalango restaurant serving delicious breakfasts.  

Gorongosa Wild Camp

 is a seasonal spot in a prime safari area boasting canvas tents complete with comfy beds, solar lighting and ensuite outdoor bathrooms. Game drives and bush trails are the highlights of safari holidays to this Gorongosa wild camp. 

Muzimu Tented Camp

 peeps out from a bend of the Mussicadzi River and comprises 6 luxury tents, raised on stilts with timber decks. Meet up at the dining, lounge and pool area between safaris.
Featured Packages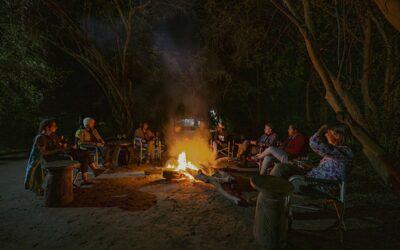 Mozambique safari to Wild Camp Gorongosa
A spectacular five-night package into the wilds of Gorongosa National Park with this well-priced Mozambique safari deal in the authentic Wild Camp. Walking trails are the focus of this glamping safari. Includes return light air transfers and two safari activities daily.
5 nights from
$2,850
Per person sharing