The Amazing Azura Retreats on Benguerra Island in Mozambique
Read our latest blog to get the inside scoop on what's happening at Azura Retreats Benguerra in 2023 A top selling Mozambique island destination, this superior resort hosts guests from all around the world and numbers are climbing again as tourists get ready to party and travel.  
Azura beach boutique hotel loves groups of people seeking peace and health on a remote island where safety is key. Record occupancies since 2021 make the Bazaruto Archipelago the destination of choice for weddings and honeymoons, family reunions and groups of friends getting together after years apart. 
It is worth mentioning that Azura is the very first environmentally friendly lodge to be built in Mozambique and was always a joint effort with the local people who hand built the exquisite ethnically inspired villas and living areas. The lodge blends in so well with the nature around it, having as little impact on the delicate ecosystems that were there first: dune forests, beaches and inland water systems.
New Concepts and Special Packages Take Off at Azura Benguerra Mozambique
One of the new concepts rolled out during February, the month of love, at Azura Retreats Benguerra was their 'love yourself and love your friends' party. International guests flew in to celebrate and partied on the beach, dancing to the beats of 3 different DJs. They were treated to the new 5 course Mozambican gala tasting menu, showcasing the very best of Mozambique cuisine. This bonanza package was such a huge success that they are going to do it again next Valentines.
Another success story on our favourite island, Benguerra, is the refurbishment of the little school via the Azura Rainbow Fund Charity. The lodge is grateful for its returning guests and new donors who are also community and environment driven. The Azura Rainbow Fund happens to be the first ever such registered charity in Mozambique with a focus on social and environmental projects. 
The school is but one project amongst other including ethical community building and protection of the delicate ecosystems on Benguerra Island and within the Bazaruto Archipelago. People and planet go together and depend on each other and at Azura, the dedication to go carbon neutral is a sure part of this.
Sustainable tourism can only be successful if more tourists and tourism establishments buy into the concept. Azura Retreats now has its very own Tesla solar facility to help reduce their carbon footprint yet still ensure that guests get the luxuries they deserve throughout the long hot summers. 
To this end, the eco conscious Azura family has signed the Carbon Neutral Pledge and aims to take their generation of power to a neutral carbon level. This means solar panels linked to high-tech devices to keep all the lights on, the swimming pools beautiful, the air conditioners running and the guests happy!
Where would a successful lodge be without quality mouth-watering food and an exciting variety of activities including scuba diving, game fishing, pampering massages, sea kayaking, island picnics and snorkelling? It's not hard to see why Azura has been so busy and is forging ahead with new plans. The state-of-the-art Padi Dive centre is also the place to do your dive courses using ScubaPro equipment. 
Visitors love to chill at the Star Bar and choose their own wines from the impressive wine cellar – many wines are flown in from France and are paired with the fresh seafood of the day. Catch some formidable cooking at the Jellyfish Restaurant then stretch out and relax in the swish media room complete with TV and free Wi-Fi.
Get in touch with us to book your Benguerra Lodge accommodation, the perfect Mozambique destination for an intimate island wedding, honeymoon to Mozambique or a family beach escape! Plan your next all-inclusive trip to Africa's east coast on a special deal that gives you more for your money.
Vilanculos and Bazaruto Archipelago Highlights
The gateway town to the Archipelago,

Vilanculos is also a sought after diving and kitesurfing destination

where hotels perch on white beaches with mesmerising views of the chain of islands.

Choose Vilanculos as your airport hub and spend a few nights in a boutique hotel exploring the small town. Try the local seafood and a cultural dance or event. 

Enjoy some of the best islands in the world from Vilanculos, preserved as part of the marine national park. The Bazaruto Archipelago comprises Bazaruto, the largest isle with statuesque red sand dunes; Benguerra Island next in line, a birder's delight; Magaruque and Santa Carolina own incredible coral reefs where endangered dugongs and turtles hide. Banque and Pansy Shell Island are smaller and attractive to those who want a few hours of solitude in nature.  

Benguerra island is the base for the gorgeous Azura Benguerra Retreats Lodge where magic memories are made thanks to the friendly team who remind you that your holiday in Mozambique is all about you.
Featured Packages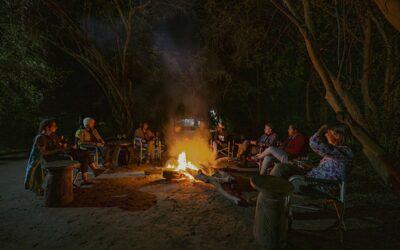 Mozambique safari to Wild Camp Gorongosa
A spectacular five-night package into the wilds of Gorongosa National Park with this well-priced Mozambique safari deal in the authentic Wild Camp. Walking trails are the focus of this glamping safari. Includes return light air transfers and two safari activities daily.
5 nights from
$2,850
Per person sharing