Best Lodge on Benguerra Island Mozambique
First, you decide that a Mozambique island holiday is good enough for you. Then you read TripAdvisor to discover that AndBeyond Lodge is the number one lodge on Benguerra Island. Read this Mozambique Travel blog to find out more about trips into Africa to see such wonders and the tailor-made package deals at your fingertips.
Discover that this scintillating Bazaruto accommodation offers travellers like you irresistible facilities for discounted rates. Your superb holiday in such a classy Bazaruto Archipelago beach resort is packed with ocean and beach activities, luxury villa accommodation and service second to none. Make sure you read the TripAdvisor reviews about this luxury lodge on Benguerra Island.
The main attraction at AndBeyond Benguerra as a speciality lodge in Mozambique is its hands-on service and world class facilities. The lodge is also committed to community upliftment and environmental conservation – staff work closely with the local community and do their best to conserve the marine wildlife around them.
Rave reviews on TripAdvisor rate the 13 chalets as rustic chic havens built to reflect the Mozambique culture and to enhance guest relaxation. The varied accommodation units serve as retreats where you can settle into your dreamy beach sala with a cocktail each sunset and dine out under the stars in romantic settings. Get expert advice about elegant cabanas, casinhas and one Casa Familia once you have browsed Trip Advisor reviews.
John C from Cape Town raved about his winter family getaway at the lodge because the staff went out of their way to create his fabulous family experience. 
"We thought that Benguerra Island is the most untouched destination we have ever seen! Seeing whales up close was unforgettable and snorkelling over the reefs revealed to us such a wealth of marine life we definitely need to come again," he said.
Murden S from the UK was blown away:
"Heaven. On. Earth!  
From the second we arrived to the moment we left, our experience was unbelievable.
The welcome was memorable, check in was seamless and the cabanas are just breath-taking. The facilities, the little touches and the amenities make for a very comfortable stay and the views, privacy and the access to the beach just make you feel like the only people on the island! The turn down service is like nothing we have experienced before and lots of though goes into this…"
You can also be one happy customer if you book the Benguerra Lodge 2022 Long Stay Special deal to save up to 10% on your holiday in paradise. Stay longer to make the most of all activities on offer on Benguerra Island such as scuba diving, snorkelling, horse riding, dhow cruises, sea kayaking, island expeditions and cultural village tours. Fully inclusive with flights and transfers, meals and drinks!
We love the décor at this Benguerra Island lodge, blending elegance and rustic themes to create the aura of a luxury hotel on a quiet desert island. We also love the beach bar where guests meet regularly for sundowners and to chat about their days' activities. A must do is the Land Rover tour of the island to meet some local people!
You may agree with the happy traveller below, Nicolien Salomi J:
"Never have I ever experienced such hospitality. From the moment you arrive, the staff anticipate your every need. The Island is beyond amazing. The trips and especially the horse riding in the ocean was a wonderful and first-time experience for me. We had a wonderful time. Will most certainly go back. Thanks, AndBeyond for giving back to the community. Your initiatives will live on for years to come. Thanks!!"
&Beyond is dedicated to reducing their carbon footprint globally and reaching out to local communities to empower them to conserve their natural resources and make money from sustainable tourism initiatives. The Bazaruto Archipelago is a conservation region and a good example of various groups of people working together to ensure less harmful impacts on the biodiversity and more benefits for wildlife, natural resources and communities.
Book your Holiday Package at the Number One Benguerra Island Mozambique
Five-star reviews and TripAdvisor comments about &Beyond Benguerra Lodge boost Mozambique as a trending destination hotspot for couples and families. Real people have loved their holidays to Benguerra Island and all that it has to offer them in terms of beauty, service, thrilling activities and exceptional beach and ocean view accommodation. 
Says Laine W:
"Commit to this luxurious, self-indulgent, relaxing and healing holiday. We are already saving up for a return trip next year. Such is its magic. DO IT… Our Cashina was pure luxury – the absolute best of everything. Attention to every single detail…. Coastal forests surround you, with tiny little Suni (resident antelope) visiting every day. The mopane tree draping our pool was alive with sunbirds, bee eaters and a resident paradise flycatcher. There's a covered poolside lounge/dining area with couches on the deck. Total privacy, with neighbouring lodges out of earshot and sight… Drinks cabinet, minibar. Sarongs, all kinds of luxury towels. Outstanding mosquito protection…Power fan and air-conditioner. You feel me. A sanctuary."
That says it all – for more expert advice on holiday packages to the best Bazaruto hotels and beach resorts contact Mozambique Travel today. We want to guide you into Africa on a holiday trip of a lifetime. Make your dreams come true here, now.
Featured Packages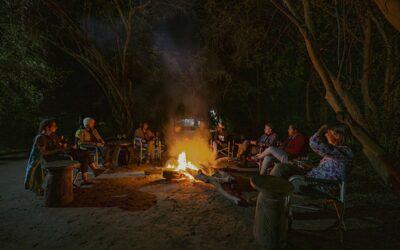 Mozambique safari to Wild Camp Gorongosa
A spectacular five-night package into the wilds of Gorongosa National Park with this well-priced Mozambique safari deal in the authentic Wild Camp. Walking trails are the focus of this glamping safari. Includes return light air transfers and two safari activities daily.
5 nights from
$2,850
Per person sharing