Bazaruto – Best Holiday Destinations in The World!
Recently voted as one of the best holiday destinations in the world, Bazaruto and Benguerra Islands in Mozambique's captivating Bazaruto Archipelago are easy winners. These island sanctuaries must have been made for honeymoon couples, their absolute sensual beauty and rare biodiversity setting the scene for special moments together. If you are planning a beach holiday after your wedding, consider these best island destinations in Africa where you can indulge in spa treatments, water sports, diving, beach bliss and luxury tropical villa accommodation.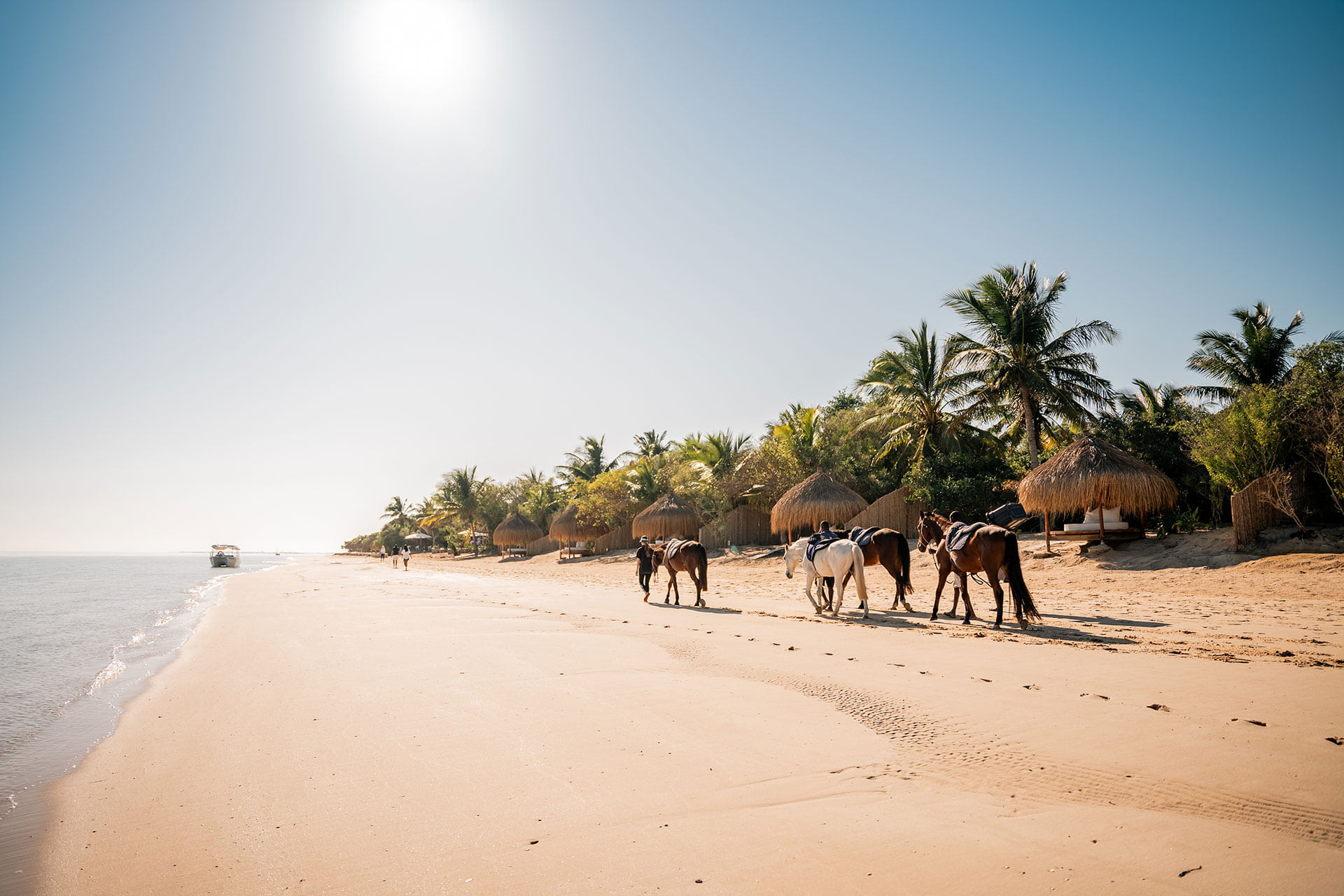 If several top magazines and travel websites have voted Bazaruto and Benguerra Islands as the best dream island destinations in the world in 2023, it's a good enough reason to spend a holiday in such a paradise. A string of tiny isles floating in the Indian Ocean off the magnificent coastline of Mozambique at Vilanculos. Who needs the Maldives or Mauritius when you can experience affordable and accessible Mozambique tropical island retreats brimming with ocean activities, spas, beach picnics and private villas?
Mozambique is indeed the land of milk and honey thanks to its glorious sunny and warm climate, pristine white beaches, expansive turquoise ocean depths and fresh seafood. Not only does the sparkling mainland coastline stretch 2 500km between South Africa and Tanzania, but so too do Mozambique's Bazaruto islands promise captivating palm tree settings and swimming coves. 
5 Hot Reasons to Holiday in the Bazaruto Archipelago this Summer
A Mozambique destination that lures intrepid explorers seeking a barefoot remote, undeveloped status quo – the Bazaruto Archipelago attracts divers and anglers from around the world to explore a splendid 3 km long coral reef and 30 m deep dive sites. They want to see charismatic marine creatures and hook that trophy game fish. Fortunately, this is a protected marine reserve so all fish must be tagged and released, but the sport alone is a thrilling way to get to know the ocean and the Mozambican way of life. 
Whale season coincides with seasonal Manta ray and Whale shark sightings as the krill breeds and fishing boats throng the island channels from October to January in their quest for marlin, bonefish and sailfish. Flip over the islands by helicopter to get your bearings and take as many photographs as you can of clear waters splashing onto white palm-fringed island shores. Take island drives to find the crocodiles, flocks of dazzling flamingos and tiny suni antelope in wetlands and lakes untouched by human development.  Choose Mozambique's islands for these reasons:
World-Class Island Lodges
Azure Retreats Benguerra is one of the few choice world-class island lodges and it's highly rated as the most elegant beach hotel in Mozambique. It's a true island paradise complete with a restaurant and poolside bar, personalised service and jaw-dropping beauty. It's also the first luxury eco-boutique retreat in Mozambique, committed to the sustainable tourism principles of conserving all wildlife and uplifting the local people at the same time. Magnificent hand-built villas blend modern chic with traditional thatch roofs, each one just footsteps from the beach. Azura is an award-winning island lodge and the epitome of graceful island living, bagging the Tripadvisor Certificate of Excellence. Personal butlers, private infinity swimming pools and spa therapies complete the picture of absolute indulgence.
Meanwhile, around the corner and not far away lies the sanctuary of andBeyond Benguerra Lodge, promising its own style of exquisite accommodation, an exciting array of ocean and beach activities and scrumptious cuisine. Those who find this unique lodge can spend summer days in the swimming pool and on the sunbathing deck, quenching their thirst in the innovative pool bar, cleverly fashioned from an old dhow boat, the perfect spot for enjoying a sundowner. Sleep deeply in dream villas resting under palm tree thatch, steps away from the blue ocean waves. 
The main attraction at AndBeyond Benguerra as a speciality lodge in Mozambique is its subtle rustic chic style, hands-on service and world-class facilities. The lodge is also committed to community upliftment and environmental conservation to consciously conserve the marine wildlife around them. 
It's also worth visiting the larger Bazaruto Island for a few days to experience the tranquility of inland wildlife and ecosystems matching the perfection of the ocean and beach refuge. The epitome of beach holiday perfection, away from the rat race, the Anantara Bazaruto Island Resort and Spa is ideal for a top diving holiday in a typical tropical paradise or a spa and wellness retreat for de-stressing days doing nothing. There's something for everyone at Anantara, from snorkelling excursions to low tide sand banks, dhow sailing picnic trips to revel in the smaller uninhabited isles, kayaking, cooking classes and tennis games too. Swim all day in the large lodge swimming pools and dine in restaurants serving fresh seafood and Mozambican delicacies. 44 ocean-view chalets on the beach promise luxury fittings and time to be still. 
Therapy For Mind, Body and Soul
A sensory explosion of colour, texture, beautiful landscapes, warm oceans and the fragrances of a fresh African ocean and island destination. All the right ingredients for mind, body and soul therapy. The breathtaking Bazaruto Archipelago remains an untouched wilderness, touching a deep human need for natural beauty. Taking time to rest in these surrounds is a holistic remedy and the Mozambique islands offer spa and wellness retreats as part of a great outdoor escape.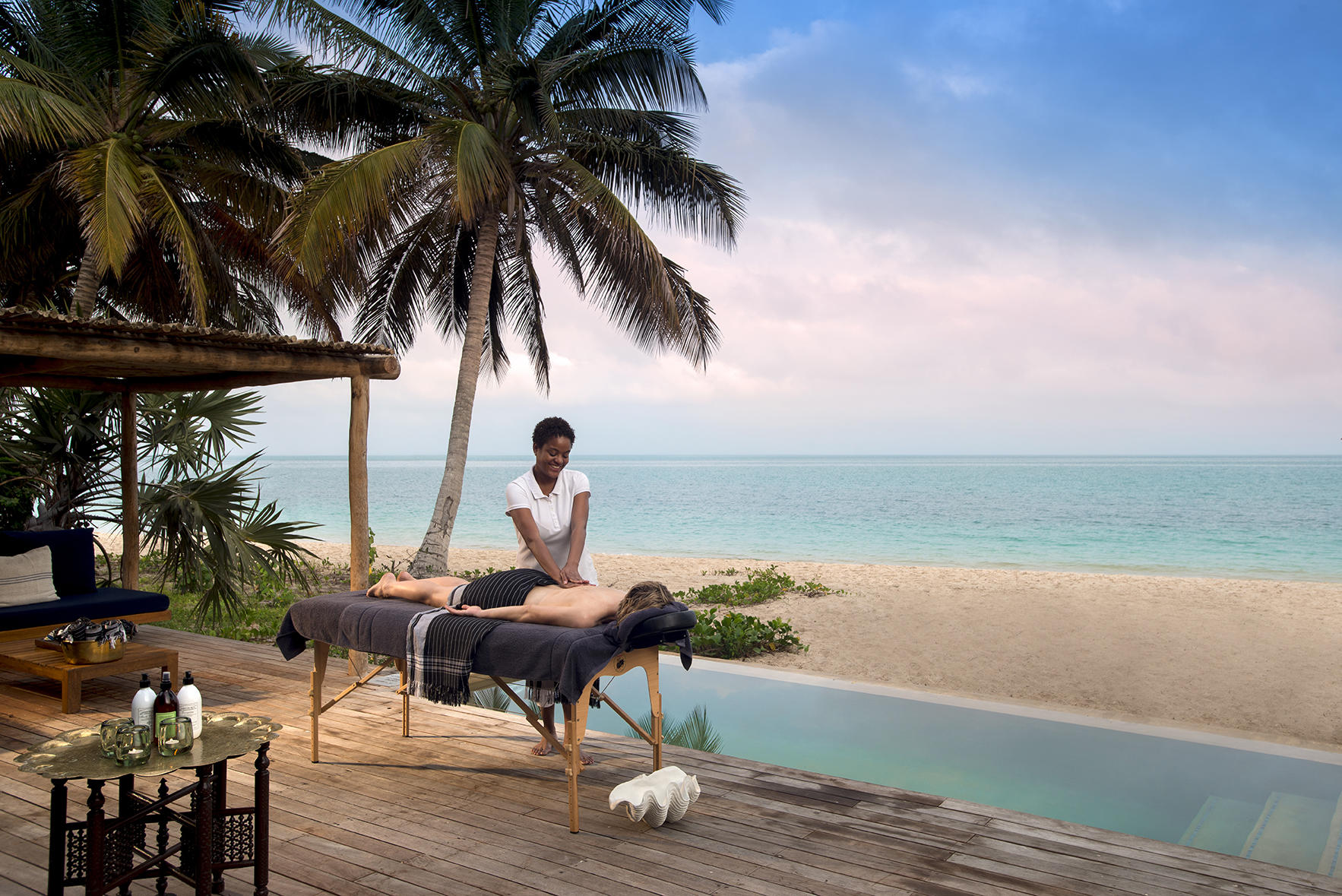 The Azura spa is inspired by nature's bounty and offers organic body butters, pure nut oils and ancient African tribal influences in the massage styles. At the specialised Anantara Spa, the ice pool definitely awakens the senses before a warm steam bath! Highly trained therapists use old-world techniques to reset the mind and heal the body – choose wholesome snacks at the health bar and feel invigorated when you leave. An island spa treatment is soul therapy, indeed, along with the soothing sounds of the ocean and the birds in the dune forests. 
A Vital Marine Sanctuary
Tourism thrives in the Bazaruto Archipelago Marine National Park, a vital marine sanctuary set in place in the 1970s to protect the rare dugong, other megafauna and their ocean ecosystem. Ecotourism initiatives engage the local communities in natural resource conservation. Boats follow strict guidelines in terms of proximity to dolphins, whales, whale sharks and dugongs while traditional fishermen still cruise these islands in search of life-giving fish. Freshwater crocodiles still inhabit inland lakes and diverse birds and butterflies flit about lush tropical vegetation. Divers frequent the Indian Ocean marine reserve to seek the extraordinary sea cow, humpback whales, whale sharks, leatherback turtles, dolphins and manta rays.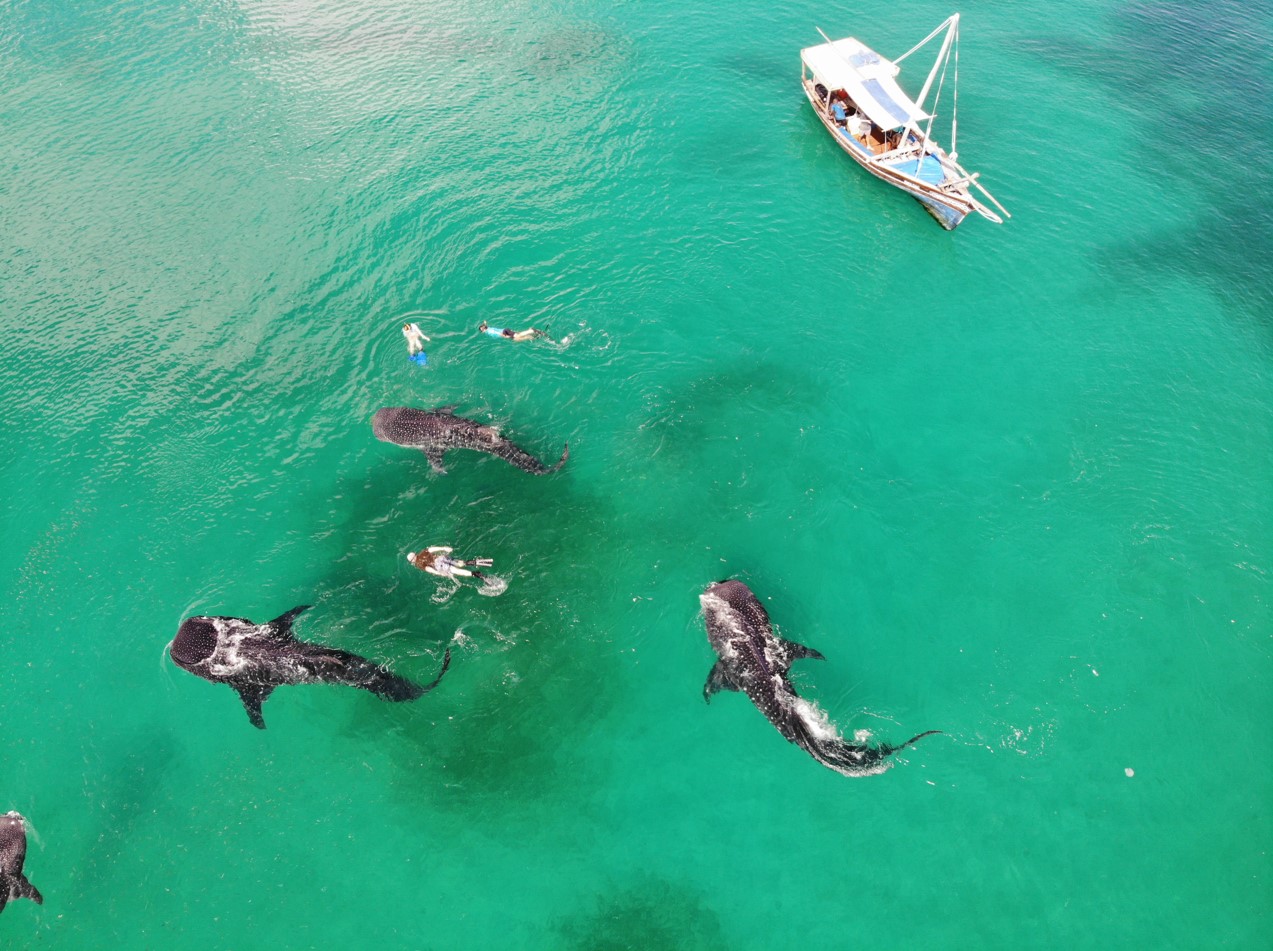 The sensational Bazaruto Archipelago is surely one of the most rewarding wilderness destinations in Mozambique, if not the world. Imagine being part of a 1400 square km ocean park where tranquil holiday destinations fit for royalty offer a sensory explosion second to none. Enormous flocks of pink flamingos, fish eagles calling, samango monkeys, green coucals, blue-cheeked bee-eaters, bushbuck, red duiker, porcupines and crocodiles – inhabiting the beautiful wetlands, grasslands and huge dunes.  Add to this mind-blowing snorkelling in the clear azure waters around the isles bringing you face to face with more than 2000 types of fish, and three different turtles – the loggerhead, leatherback and green! 
Fantastic Diving Opportunities
Diving in the Bazaruto Archipelago is uncrowded, special and unforgettable, a chance to see diverse marine life on extraordinary reefs. Dive sites reach between 12 to 30 metres in clear waters and divers are guaranteed interaction with pods of dolphins, humpback whales, whale sharks, manta rays and turtles in dive sites like the famous Two-Mile Reef, northeast of Benguerra Island. Snorkellers can hop off boats here and explore the famous biodiverse Aquarium to find blue-striped snappers, Moorish Idols, tiny clownfish, Barred Sweetlips, Butterflyfish, Triggerfish, Moray Eels, Black-tipped reef sharks and more.
Diving with the critically endangered Dugongs in the awe-inspiring Bazaruto Archipelago Marine National Park is a life-changing experience.  Dive expeditions and boat cruises leave from exceptional lodges in the Bazaruto Archipelago on a quest to show tourists the wonders of this unique marine environment.  Sustainable tourism combines the conservation of nature and local communities. 
The Dream Honeymoon Destination of All Time
Romance knows no bounds in this "Pearl of the Indian Ocean", exquisite isles offering exclusive accommodation to South African and international travellers. The Bazaruto islands entice couples to sample pure solitude, jaw-dropping beauty, opulent natural habitats and rich land and marine diversity. It's the place for true love, with perfect ingredients to spice up deep romance – compelling sunrises over a turquoise flat ocean, white-tipped waves flowing onto sugary sands and shells lying on the shoreline. Flamingos striding, seagulls calling and palm trees waving their fronds over rocky coves. Romance seeps into every landscape and every gorgeous beach, forest, dune and ocean swell.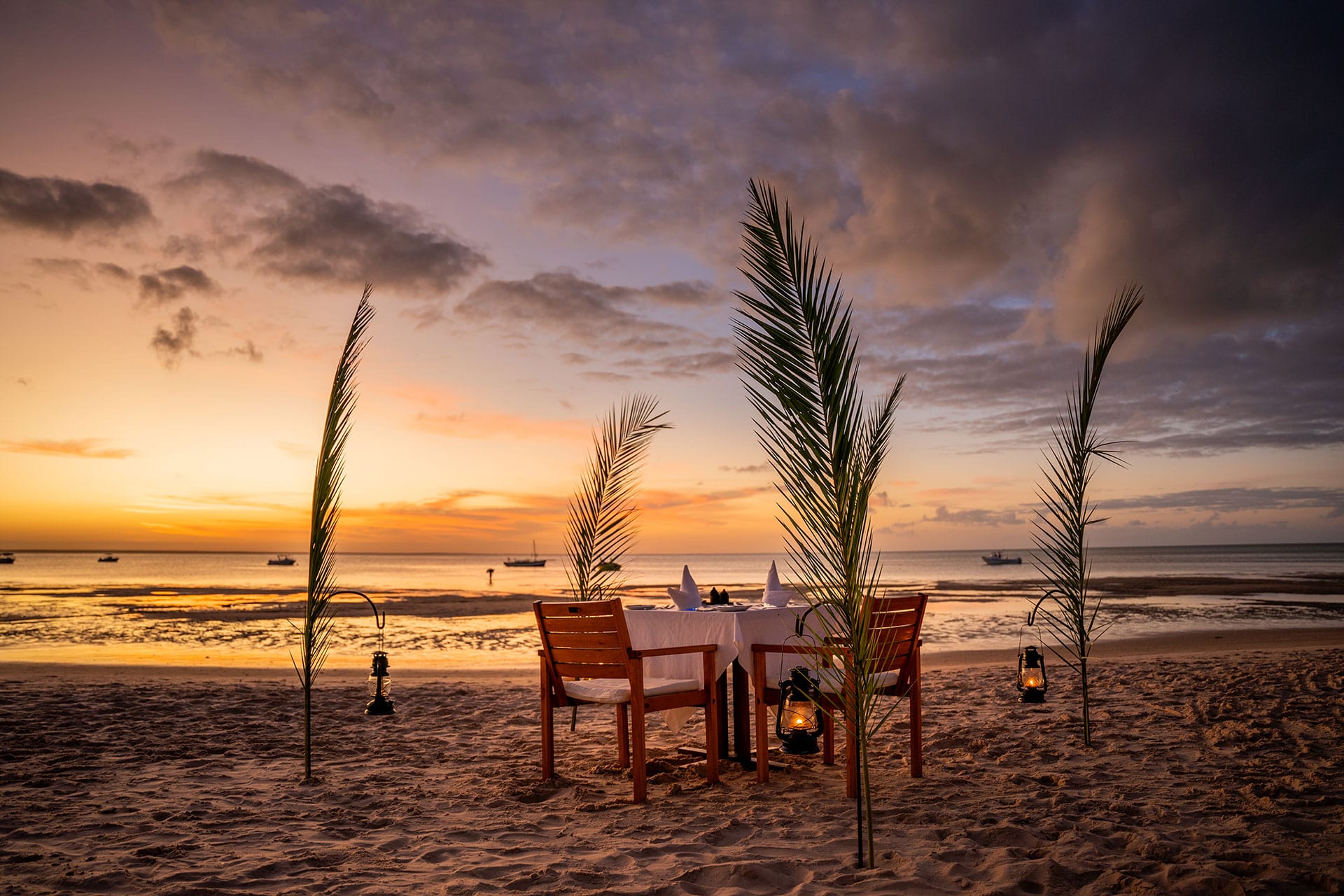 It's a great idea to take a boat from Vilanculos and discover this Mozambique honeymoon heaven.  Voted the best place for a honeymoon in East Africa, the Bazaruto Archipelago offers happy couples the best of all worlds. An exciting helicopter flip to Benguerra begins the adventure to premier accommodation escapes. 
A honeymoon experience in the Bazaruto Archipelago marine sanctuary can never be underestimated in terms of value, sensory scenery, and a remarkable blend of relaxation and outdoor fun. This is the romantic beginning of a new journey through life for both of you and a Mozambique honeymoon epitomises for newlyweds something ultra-special, dreamy, flawless and mesmerising – and you want to remember it forever. 
Remember that Mozambique is accessible, affordable and safe so it's not surprising that it stands apart as the best island destination in Africa. Come and feel its magic!
Featured Packages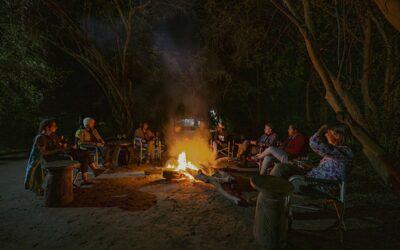 Mozambique safari to Wild Camp Gorongosa
A spectacular five-night package into the wilds of Gorongosa National Park with this well-priced Mozambique safari deal in the authentic Wild Camp. Walking trails are the focus of this glamping safari. Includes return light air transfers and two safari activities daily.
5 nights from
$2,850
Per person sharing