It appears that business is booming in Mozambique and opportunity is ripe for the picking and holidays or business travel here. The African Economies Outlook Report states that economic growth in Africa should be up to 5% by next year despite huge and damaging issues to attend to such as the Ebola crisis, the South African visa laws and uncertain politics in the West. This hopefully means that the country is stable and a great place to risk investment or two.
Mozambique is a number one team building destination
We all know that Mozambique is the number one holiday destination in Africa with its appeal of pure white beaches, sky-blue ocean and ocean-blue sky. We all love the island escapes which challenge the idyllic advertisements for Mauritius, the Seychelles and Zanzibar – real coconut palms, luxury villas made from reeds, wood, stone and thatch, and awesome water sports waiting for you to make them happen.
We all love the zippy vibe of Maputo which comes alive at night – check out the bars and nightclubs if you want to see what the city is really about, or go seafood tasting at some world-class restaurants which line the wide streets of the city centre. These are also the features that attract businessmen to Mozambique – who want to find that work-play balance.
Mozambique attracts business people to seminars and conferences regarding its environmental resources and rapid development plans. Maputo offers world-class hotels and conference facilities that rival some of the best overseas in the first world. Add to this the wildlife, the tropical setting and the friendly people and you have a very attractive business travel destination.
Looking further than Maputo, towards destinations like the gateway to the Bazaruto Archipelago, Vilanculos, and to Pemba, the gateway to the Quirimbas Archipelago is wise as there are quality conference facilities in these up and coming towns too. Vilanculos now offers its own conference centre right on the sea and it is ideally situated beside an international airport and harbour town.
Conference venues and facilities in Maputo Mozambique
In fact, the standard of conference venues and facilities in Mozambique is on a par with those of Johannesburg, the only real difference being maybe the language situation where conference delegates are dealing with Portuguese people and therefore may need to be extra clear about their meeting needs before they get there.
Conference organisers in Mozambique have become increasingly busy and appreciate clear instructions when they are setting up a meeting venue so that they can adhere to their quality standards and service. This applies to many top hotels in the country too. Conferences in Mozambique are hot right now so read on to find out where to go for your next business meeting or seminar.
1. The Joaquin Chissano International Conference Centre – Maputo
Take six-star business services, audiovisual equipment and various seating arrangements and add to this internet access, onsite catering, wheelchair access and easy accessibility and you have a remarkable conference centre in Maputo. Maputo is these days considered to be the conference capital of Mozambique, let alone the capital city, and the Joaquin Chissano International Conference Centre (JCICC) is the gemstone in the cluster of venues you can choose for your seminar.
If you book this meeting facility for your company's conference, you will get the added advantage of great views over Maputo Bay, a great central location and a choice of rooms depending on your group size and needs. The JCICC can take up to 1000 delegates in its Grand Plenary Hall and there are also grand banqueting rooms with glass walls and stunning gardens where events or functions can be arranged! Imagine sipping cocktails after your conference as the city comes alight and the sun sets – Maputo is definitely the top African business city of the day.
This developing African country boasts attractive environmental resources to which investors are drawn like bees to a honeypot. Company representatives arrive in Maputo on a regular basis to do business, meeting with others involved in industry and commerce. We provide your group with irresistible sales incentives to get your meeting going in the right direction.
2. Vilanculos Conference Centre
The cherry on the top for Vilankulo is the brand new conference centre that is attracting increasing numbers of business delegates to meet and greet and take their businesses forward. This world-class venue can accommodate from 20 to 100 delegates in its small meeting rooms and large conference suites.
Air-conditioned amenities include up to date technology and plenty of light – look out over the Indian Ocean, towards the idyllic islands of the Bazaruto Archipelago. Sit back in between meetings to enjoy lunches and teas at the spanking new restaurant and cocktail bar at this new conference destination in Vilankulo.
Book into some great accommodation nearby and walk to "work" daily along the sparkling beaches beside the harbour. This meeting facility is also close to the airport and harbour so that conference delegates do not have to feel as if they are wasting time as they travel between their meetings and their transport outlets.
The best part about the Vilanculos conference centre is its high tech facilities and first class service. You can arrange your meeting according to a variety of specific layouts using their amazing gadgets to make an impact on your audience.
3. Pemba Beach Hotel & Spa
Choose your business getaways for their state of the art conference facilities where business delegates can meet in peace, relax in top gear and see some of the beauty of Mozambique – so choose the Pemba Beach Hotel on Wimbe Beach where the picturesque setting, right on the beach, and rooms looking out into the Quirimbas Archipelago add great value to any conference.
The conference venue is modern and well equipped for up to 200 delegates who can use the overhead projector, slide projector, white board, notebook projector and air-conditioned meeting rooms. Corporate clients really appreciate the tea and coffee facilities, bar fridges, and TVs in their rooms, not to mention the swimming pool, health spa, sauna and other world-class facilities at this hotel and conference centre in Pemba.
The sea offers its fruits in the evenings in the form of fresh crayfish, crab, game fish and calamari. Are you drooling yet for this cuisine and for this standard of conferencing? Pemba is a conference venue where you have to incorporate some play time – close to Niassa Wildlife Reserve, this northern port and airport town is also the centre of kite surfing and swimming in warm waters. Go snorkelling between meetings and sip a cocktail as the sun sets into the azure Indian Ocean.
It is true that business travel in Mozambique can be carefully blended with leisure activities – your corporate clients are therefore increasingly attracted to places like Pemba, where they can enjoy the latest business and conferencing facilities and take advantage of great sales incentives.
Stay in one of 102 upmarket rooms at the Pemba Beach Hotel & Spa with their en-suite marble bathrooms, tasteful Arabian decor, satellite TV and Persian rugs. Balconies look out over the sea towards the Quirimbas Archipelago making this your dream Mozambique seminar destination.
Business delegates can choose from two bars and a comfortable lounge for drinks and snacks before sampling five-star gourmet food. And for leisure times, watersports are in at Pemba Beach Hotel and Spa – windsurfing, kneeboarding, wakeboarding and sailing are a few of the activities on offer. A walk around Pemba town will reveal traditional markets, fantastic restaurants and bars.
4. Hotel Cardoso
A conference that is held at the Maputo Hotel Cardoso is made very easy because it is so close to the airport and the business centre of Maputo – such attractive and statuesque accommodation commands a spectacular view over the bay and sprawling city from its perch on the hill.
Hotel Cardoso is used to hosting conferences and large functions such as weddings – they have all the necessary equipment and catering facilities for large groups that expect first class service and surroundings. Conference delegates appreciate luxury accommodation in rooms with Wi-Fi, en-suite bathrooms, air-conditioning and views over Maputo.
This chic international hotel promises conference delegates the use of five venues for meetings which take different numbers of business guests. There are flip charts and markers, lanterns and laser high lighters, an overhead projector, whiteboard, digital projector, microphones, a great sound system, a remote projection ceiling screen and other business services including secretarial assistance and photocopying.
When conference delegates want to relax, they like to do so in style so Hotel Cardoso promises your group banqueting evenings for up to 150 people, cocktail parties for 300 guests and informal dinner for 60 delegates. This is all about convenience, high tech facilities and hands-on attention to detail, not to mention the smiling Mozambican staff who want to ensure that your seminar is successful and complete.
Later, take a walk into the city and sample some vibrant night clubs and bars for awesome African and Portuguese entertainment.
5. Pestana Bazaruto Lodge – Bazaruto Archipelago
Team building and group travel are dynamic dimensions to business travel and conferencing in Mozambique – some companies like to add entertainment value to their staff growth sessions, using unique methods to ensure that their business is top of its range and staff are happy. What better destination to try this than the spectacular islands of the Mozambique Bazaruto Archipelago?
In particular, the largest island, Bazaruto, offers comfortable accommodation at the accomplished Pestana Bazaruto Lodge, a real home away from home yet a really stylish and world-class conference facility too. Develop your team's special dynamic by booking the luxury chalets right on the beach and trying some new exercises in between meetings.
Pestana Bazaruto is earthy and very African in its style and hospitality. Sink into the Mozambique architecture and enjoy 40 A-frame thatched beach bungalows equipped with air-conditioning, en-suite bathrooms with baths and open-air showers, private decks and funky wooden furniture.
Most business delegates will arrive with little knowledge of the region and will learn that the Bazaruto archipelago comprises Bazaruto, Benguerra and Magaruque Islands, as well as the smaller Banque and Santa Carolina, (previously known as Paradise Island). This famous National Park protects diverse marine and island species and their ecosystems – including forests, mangroves, rocky shores, grasslands and wetlands.
At the Pestana Bazaruto between 25 and 75, conference delegates can meet happily in the meeting room enjoying first class facilities. Delegates can attempt scuba diving and fishing during their breaks, or spend time in the games room playing table tennis, pool and board games. Out to sea, there is pro fishing, snorkelling, island hopping cruises, sundowner cruises and whale watching.
So, where will you book your next convention or conference or seminar, meeting or incentive travel trip or team building experience? There is definitely an increase in conferences in Mozambique and business travellers are finding their way not only to the main cities but also to the islands and other remote beach destinations to meet and discuss their corporate issues – with some light relief thrown in such as great wining and dining, fascinating sight-seeing, wonderful outdoor activities related to beaches and ocean and awesome nightly events too.
These top 5 venues offer you exciting opportunities for successful conference outcomes and staff bonding. Contact us for more information and we will tailor make your package deal for conferences in Mozambique.
Featured Packages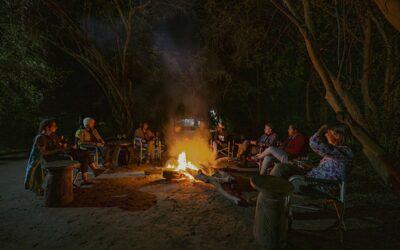 Mozambique safari to Wild Camp Gorongosa
A spectacular five-night package into the wilds of Gorongosa National Park with this well-priced Mozambique safari deal in the authentic Wild Camp. Walking trails are the focus of this glamping safari. Includes return light air transfers and two safari activities daily.
5 nights from
$2,850
Per person sharing