Swimming with Dolphins Ethically in Mozambique
Many people dream about swimming with dolphins and when it happens, it creates a natural, special interspecies connection. This dolphin-human relationship goes back hundreds of years when man first appeared on Earth. Dolphins had been there all along, inhabiting the many oceans. Humans always interacted with the animals around them, including marine wildlife such as dolphins, and still do. To this day, people study dolphins, interact with them in the wild and captivity, observe them and swim with them. Swim with dolphins at Dolphin Encounters Research Center in Ponta do Ouro for ocean conservation. Ethical Marine Mammal Tourism, strict codes of conduct and best snorkeling in Mozambique. 
Ocean scientists are still unraveling facts about dolphins in the constant evolution of all species. The special human–dolphin connection dates back to ancient times as seen in artworks and etchings and some civilizations believed that dolphins symbolised a spiritual connection with their gods. The evolution of dolphins (Delphinus) is believed to have started with the Pakiectus, a four-legged, landwalking mammal, dating back to approximately 50 million years ago. Throughout the centuries, these animals have endured drastic changes to become the modern-day dolphin. 
According to an article by Thewissen et al (2009) on Evolution: Education and Outreach, "Cetaceans (whales, dolphins, and porpoises) are an order of mammals that originated about 50 million years ago in the Eocene epoch. Even though all modern cetaceans are obligate aquatic mammals, early cetaceans were amphibious, and their ancestors were terrestrial artiodactyls, similar to small deer. The transition from land to water is documented by a series of intermediate fossils, many of which are known from India and Pakistan."
Dolphin Encountours Swimming with Dolphins in Mozambique 
On that note, Dolphin Encountours Research Center is a special marine tourism and research centre for dolphins in the heart of Ponta do Ouro, southern Mozambique. Swimming with dolphins is an ethereal experience and Dolphin Encountours has pioneered and perfected this tourism activity to new heights. Everything they do is for the dolphins, ethically and compassionately. 
In fact, the founder and owner of Dolphin Encountours, Angie Gullan, started her business in 1995 after a profound experience swimming naturally with wild dolphins in Ponta do Ouro. As a talented photographer, she has committed her entire life to the dolphins of Ponta with her business, ​Dolphin Encountours, catering for all who love and respect dolphins and who want to be closer to them. At the same time, she uses this form of marine tourism to fund ongoing research and conservation efforts in the Ponta do Ouro Partial Marine Reserve – now known as the Maputo National Park.
If conducted correctly and ethically, swimming with dolphins can contribute to dolphin conservation and survival. However, marine tourism is growing at such a pace that many increasing threats to marine animals need to be managed. Think about the world and how many countries border an ocean or a sea somewhere. Think about how many islands exist in the world in the many oceans and how many people live on these isles and along the coasts of all the countries. This means that coastal and marine tourism now constitutes half of all tourism in the world (50%), a huge economic factor for communities worldwide. 
Dolphin Encountours pioneered ethical swimming with dolphins in Mozambique.
Responsible Marine Tourism for Oceans and People Mozambique
Marine tourism can only be successful, however, if there is something to see and enjoy. This makes the conservation and preservation of marine environments in terms of coastal and ocean habitats – and all the resident species and biodiversity – absolutely vital. These ecosystems are increasingly vulnerable to human impacts, climate change and biodiversity loss. A healthy ocean also means healthy people. A healthy ocean is the foundation for social, economic and environmental wealth, thus successful tourism. 
The Ocean Panel has set a magnificent goal for 2030 in its 'Transformations for a Sustainable Ocean Economy: A Vision for Protection, Production and Prosperity' – to ensure that 'Coastal and ocean-based tourism is sustainable, resilient, addresses climate change, reduces pollution, supports ecosystem regeneration and biodiversity conservation and invests in local jobs and communities'.
When Angie started her business in Mozambique several decades ago, it was unique, but now there are many different marine tourism operators in Ponta do Ouro, all competing for clients and ocean space. Angie remembers those early days when the bay was undeveloped and the dolphins swam free: she set up rustic accommodation in post-war chalets on the beach and visitors enjoyed snorkelling courses comprising 5 boat tours, pre-training and swims with dolphins – following International Dolphin Watch guidelines. 
Two years later her camp called Dolphin could host 40 guests with a bar, restaurant, surf shop and educational centre where she operated a special dolphin encountour over 3 nights including 5 boat rides to swim with these sea mammals. And slowly things began to change.  As diving took off in Ponta, more boats and more people wanted to interact with dolphins – so Angie roped in the help of the Maputo Natural History Museum and university students to research the impacts of marine tourism on dolphins and to record all dolphins in the bay according to a special fin ID project. 
Ethical Marine Mammal Tourism for Cetaceans
It was way back in 2008 that Angie attended her first dolphin and whale conference in South Africa to participate in discussions about responsible tourism and ethical marine mammal tourism. Already in Mozambique there were signs that swimming with wild dolphins in the long term would affect them. This was the first time that the DolphinCare code of conduct was presented for the protection of dolphins when exposed to human proximity. 
Angie became an influential part of the drive to enforce a marine protected area and, years later, this became the Ponta do Ouro Partial Marine Reserve (PPMR). In the year 2000, the Lubombo Ponta do Ouro Kosi Bay Marine and Coastal Transfrontier Conservation and Resource Area was proclaimed between South Africa, Mozambique and Swaziland (Eswatini) to conserve a wild area of Global Importance in the Eastern African Marine Ecoregion.
Swimming with dolphins is something that many people want to experience and human-dolphin interactions go back thousands of years. However, while humans feel euphoric and spiritually moved when they swim with dolphins, this is not always so for the dolphins. There is mostly a detrimental effect on dolphins who tend to get stressed when swimming with dolphins is not managed carefully in the animals' favour.
DolphinCare Code of Conduct Regulates Swimming with Dolphins
Ethical marine mammal tourism is a way to reduce these negative impacts on such a highly intelligent and sensitive ocean mammal. In Angie's words, "We advocate a code of conduct to lessen the impact of human encounters and promote and campaign for ethical marine mammal tourism practices along the African coastline in the hope of creating a safer world for these non-human persons!"
The DolphinCare code of conduct came into being for Dolphin Encountours in collusion with the Centre of Dolphin Studies in SA, the Museum de Historia Natural, Universidade Eduardo Mondlane & International Dolphin Watch UK. It is a vision for best practice and standard operating procedures during commercial swimming with dolphins programmes and it arose from years of dolphin observations and research in the Ponta do Ouro region. 
Angie remembers how a strict code of conduct was crucial in the mid-2000s when the media and the public discovered Ponta do Ouro and jumped on the bandwagon to swim with dolphins. Thanks to the media, the area opened up, but by 2008 it was overrun with tourists on boats, jet skis and quadbikes, all wanting their piece of the pie. Everyone wanted to set up a business promoting swimming with the dolphins, whale watching and fishing safaris! 
​Thankfully the Ponta do Ouro Partial Marine Reserve was finally enforced and there was a subsequent decrease in dolphin swim operators when the new codes of conduct were imposed. Today, this DolphinCare code remains dynamic and adaptable as tourism and development continue to evolve and increase. One of the best outcomes is that marine operators, skippers, facilitators and divers can volunteer to be citizen scientists by helping to collect baseline data and images of the local Dolphins of Ponta, including other charismatic megafauna in the bay. 
"The coastal shallows are an important area for dolphins who are regularly seen nursing their young, socialising, foraging and resting. Collectively we need to acknowledge this home and implement measures to ensure effective management of human impacts on our local dolphins. For the Love of Dolphins." (Angie Gullan Founder Citizen Scientist)
Threats to marine mammals never end as tourism increases, development intensifies and climate change accelerates. Responsible wildlife tourism is about respecting all species in their home habitats where they feel safe and from where they emerge because they want to interact with humans, not because we force them to. People are part of nature, not superior to it. 
Swimming with Dolphins in Ponta do Ouro Mozambique is something everyone should try. It opens up hearts and minds to the connection of people with nature, promoting the values of global conservation. Swim with dolphins at Dolphin Encountours Research Center in Ponta doOuro for ocean conservation. Ethical Marine Mammal Tourism, strict codes of conduct & best snorkelling. 
Featured Packages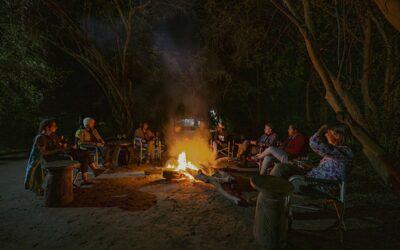 Mozambique safari to Wild Camp Gorongosa
A spectacular five-night package into the wilds of Gorongosa National Park with this well-priced Mozambique safari deal in the authentic Wild Camp. Walking trails are the focus of this glamping safari. Includes return light air transfers and two safari activities daily.
5 nights from
$2,850
Per person sharing