Conservation Through Coffee: Mount Gorongosa's Success Story
Very few people know that coffee is changing lives on the slopes of the charismatic Mount Gorongosa where it shares fertile soils with indigenous rainforests. This colossal massif surveys the Gorongosa National Park below, adding enormous biodiversity value to traditional safari savanna and woodlands. This is the incredible story of the rebirth of Mount Gorongosa. Now coffee growing and a reforestation programme support local communities effectively. 
This is a story that needs to be retold about a unique ecosystem that combines the arid bushveld savanna and woodlands with verdant tropical rainforests on a charismatic mountain that cradles exclusive endemic species. Tourists can enjoy traditional safari game drives in the hot, dry bushveld and then hike in the cooling mists of the dense moist rainforest. It's about the people who have always lived here yet witnessed traumatic changes since the 1920s when their land was seized as a private hunting concession. 
Then the land became a national park in 1960, visited by the rich and famous from Hollywood, and then the Mozambican civil war played out in Gorongosa for 15 long and destructive years. Two decades ago, the Gorongosa Restoration Project was born and the park has been transformed into a rejuvenated biodiversity hotspot managed by these same local people.
Central to all of this is the regal Mount Gorongosa. Professor E.O. Wilson is a famous American biologist who wants to save life on earth and who is dedicated to Gorongosa, recognising the mountain as a site of significance not solely due to its endemic inhabitants, but also for its role as a substantial wellspring within the park's water catchment. During the rainy season, the rainforest absorbs moisture that it later bestows upon Gorongosa's expansive plains in the dry season. 
This is where the coffee changing lives story comes in! 
Coffee and Forests Support Local Communities in Gorongosa
The champions of this tale are the diligent men and women of Mozambique who rise each morning to plant saplings upon Mount Gorongosa. Guided by the leadership of Pedro Muagura, this team diligently sows countless indigenous seedlings each year, nurturing the gradual resurgence of the vanishing forest. Coffee and forests support local communities in Gorongosa who would have gone hungry and resorted to unsustainable natural resource utilisation. 
The inception of the Gorongosa Coffee Project on Mount Gorongosa near the township of Canda in 2014 astounded the local residents who knew nothing about global coffee culture. Their livelihoods are deeply intertwined with subsistence farming of crops like corn, mapira, beans, and sesame. Over the past 10 years, the coffee project has emerged triumphant, expanding its reach to encompass diverse sectors of Mount Gorongosa, including Tambarara and Vunduzi.
Gone are the days of the old-fashioned "fortress conservation" paradigm that historically led to the isolation of communities from nature reserves and tourists.  Instead, this reserve is a human rights national park where men and women are included in the management of natural resources and biodiversity conservation, as a way to strengthen their own futures. If the land belongs to the people, the people need to manage it holistically for the water, soils, plants, animals and their own needs.
Tropical deforestation in Africa is rife and responsible for approximately 10% of human-induced emissions driving global climate change. The Mount Gorongosa coffee project is one of many African projects initiated to save the forests and address the ongoing logging of trees for cooking, building and staying warm. distribution of 10,000 eco-friendly cookstoves is another innovative initiative in Gorongosa municipality dealing with this issue.  
On the coffee front, the success of the coffee plantations means that all profits are ploughed back into the farms, the farmers' families and their combined futures. The coffee is sold in Africa and overseas and offers coffee connoisseurs a speciality bean from the heart of Mount Gorongosa. How amazing that more than 800 farmers can earn money from their coffee in Gorongosa, and that 150 more acres are being added to the plantations on the mountain to create even more stability for the local people!
The History of Rebirth of Mount Gorongosa
In a remarkable testament to perseverance and ingenuity, Gorongosa National Park head warden, Pedro Muagura, embarked on a secret two-year mission to kick-start the history of the rebirth of Mount Gorongosa. His clandestine agenda involved a daring experiment to breathe life back into the parched terrain of the mountain through a reforestation initiative. Armed with coffee seedlings from his mother, Muagura started his journey of planting. His vision was to plant the cash crop surrounded by fast-growing indigenous trees, nurturing a natural sanctuary that would not only shield the coffee plants but also revive the once lush forests that adorned the mountain's slopes.
Mount Gorongosa had been decimated during the Mozambican Civil War when it was used as a base by RENAMO to launch attacks on surrounding towns in 1979. Everything living died here and the people living nearby suffered irretrievable losses.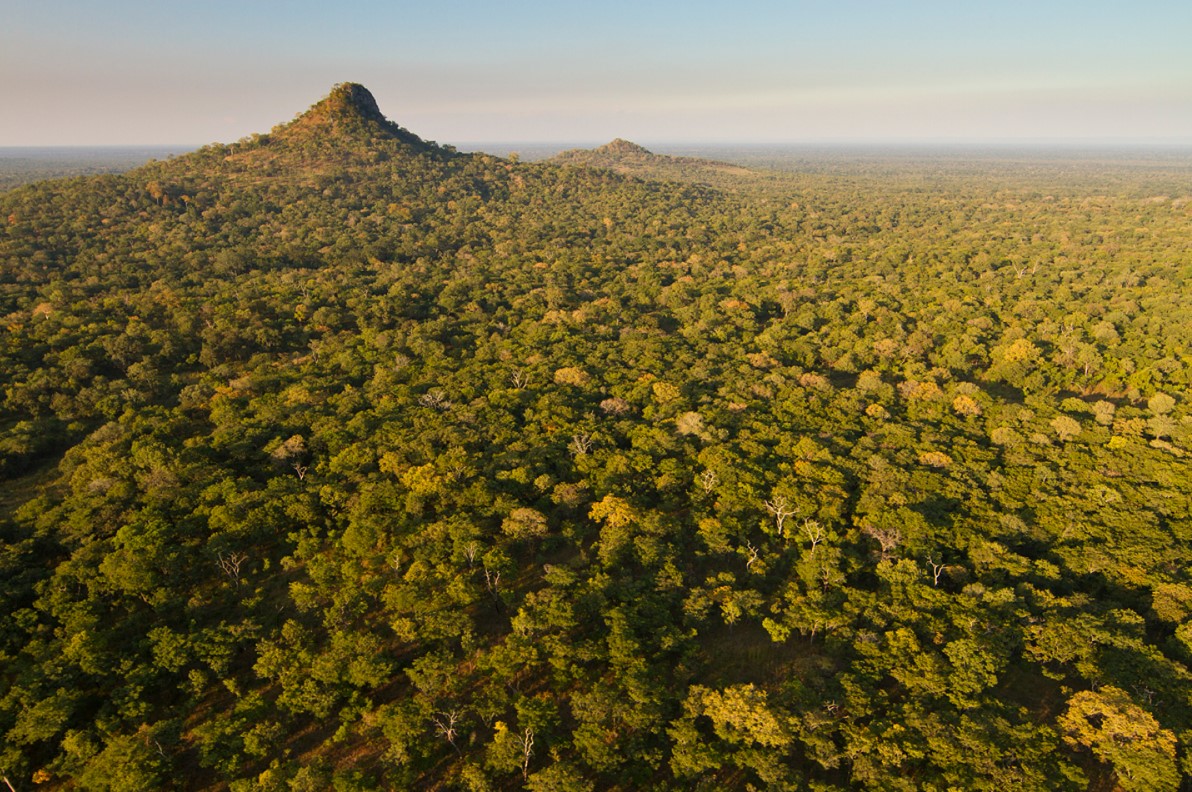 Muagura's ingenious strategy was in alignment with Gorongosa National Park's distinctive ethos of conservation centred around people, and it worked – in 2011 the first yield of green coffee beans transformed into vivid cherry-red hues. Offer people a tangible incentive to safeguard forests, and they will rise to the occasion. Muagura believes that instead of conserving forests for the future, as isolated ecosystems, forests are for now, to be used in tandem with their protection and conservation, in sustainable ways that are compatible with nature's cycles and needs. 
The story about one community coffee farmer is testimony to the success of the project: Manuel planted 3100 coffee seedlings on his farm during the 2019-2020 growing season. His crop did so well that he then grew 10 100 seedlings the following season on an expanded 3 ha of land. Soon his farm was 4.5 ha and he was growing 14 100 seedlings! He made enough money to pay all his expenses, put his children in school and hired two workers to help him on his farm!
Changing Lives With Coffee
The proof is in the pudding – Gorongosa is changing lives with coffee! It all started in 2014 and a few years later, the communities surrounding Gorongosa planted more than 260,000 coffee trees and 20,000 indigenous trees in one year. The fruits of their labour materialized in a harvest that yielded 16 tonnes of green coffee, drawn from the efforts of over 800 small-scale farmers, with 40% of them being women.
Gorongosa National Park stands as a beacon of sustainable prosperity, employing around 1,500 people from the local community. Various job opportunities include maintenance and game-ranging, anti-poaching teams, cutting-edge research, and ecotourism posts. All coffee profits are ploughed back into the farmers' pockets and other eco-farming endeavours include honey harvesting and cashew nut trees. 
The bottom line is that people need to eat and as the population grows, so Mount Gorongosa farming projects need to expand, as long as they are in accordance with the way of the Earth. The community is dedicated to its coffee plantations, and even during the terrible war years between 2013 and 2018, the village women ventured out during moments of respite from gunfire, nurturing the coffee bushes and sustaining the project's vitality.
By safeguarding their indigenous forests, communities could offset climate-changing carbon dioxide, fostering a mutually beneficial relationship and the next step is carbon credits, holding the potential to transform conservation efforts into a source of income for communities.
The Amazing Biodiversity of Mount Gorongosa
Mount Gorongosa has experienced an inspiring transformation since the devastating civil war years as greenery envelopes the once-barren expanse. Local people have been part of the rejuvenation of this fantastic biodiversity of Mount Gorongosa. Head warden, Muagura, noted that protected areas are Africa's 'environmental banks' to ward off the threats of ongoing human impacts and climate change.
This mountainous region boasts an astonishing wealth of endemic fauna and flora – marked by unique species found nowhere else – including diverse bird species. Mount Gorongosa is famed for its rare Afromontane meadows and alpine rainforest.
Way back in the 1970s, the lush forest coverage of Gorongosa Mountain spanned a staggering 14,193 ha but a staggering 32.23% of the forest succumbed to slash-and-burn agriculture, habitat fragmentation from local population pressures, and the lingering impacts of the civil strife that gripped the nation from 1976 to 1992. This led to an alarming reduction in biodiversity, ending in the tragic loss of the once-thriving wildlife.
Gorongosa National Park commenced a groundbreaking initiative focused on cultivating shade-grown coffee using indigenous forest species. Today, Mount Gorongosa is a haven of endemism, a sanctuary that shelters various exclusive species. Two rare birds are only found here: the Greater Double-Collared Sunbird (Cinnyris afer amicorum) and the Greenheaded Oriole (Oriolus chlorocephalus speculifer). 
Tropical biodiversity conservation must empower rural communities. Within this context, tropical agro-ecosystems, notably the shade coffee agro-forests, are vital. Their potential to provide benefits to both conservation efforts and the livelihoods of local inhabitants proves that ecotourism is the way to go. Birds are vital links in all ecosystems as pollinators, predators, and architects of ecological balance. On Mount Gorongosa, they are spreading seeds and pollinating crops. 
The healthy water and soil systems have been revived and the trees and coffee plantations are back! This is the incredible story of the rebirth of Mount Gorongosa. Now coffee growing and a reforestation program support local communities effectively.
Featured Packages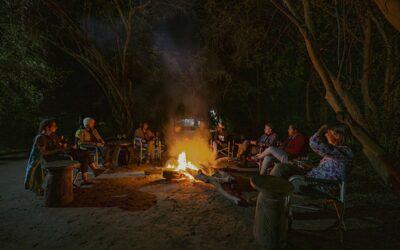 Mozambique safari to Wild Camp Gorongosa
A spectacular five-night package into the wilds of Gorongosa National Park with this well-priced Mozambique safari deal in the authentic Wild Camp. Walking trails are the focus of this glamping safari. Includes return light air transfers and two safari activities daily.
5 nights from
$2,850
Per person sharing