The Whale Migration to the Mozambique Coast
July, August, and September mean whale watching season in Mozambique is in full swing! Come and experience these incredible mammals in all their glory while you indulge mind and body on some of the best beaches on the African continent!
Mozambique is a whale watching destination second to none. Humpbacks are some of the most popular to observe because their migration is predictable which is very accommodating of them because they can be quite reliably seen from the south at Ponto do Ouro, up past Maputo to Inhambane and then of course in the stunning Bazaruto Archipelago. Many happy hours can be spent viewing these majestic marine giants by boat and under snorkel.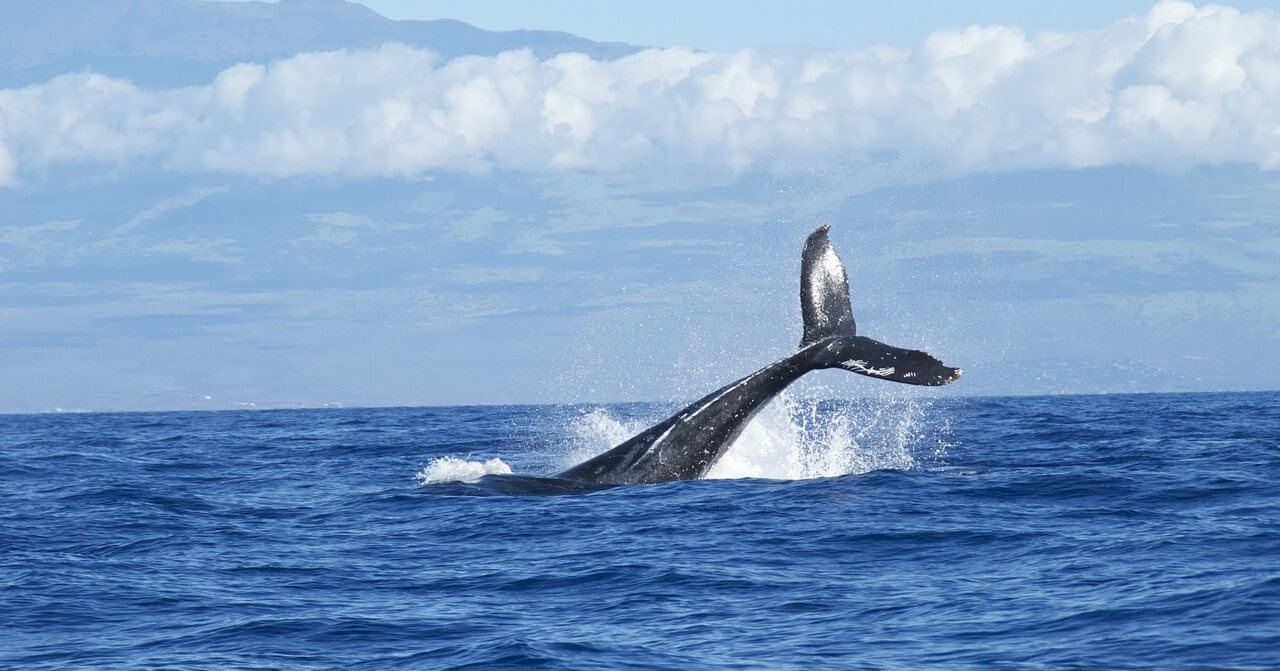 The whale migration off the coast of Mozambique
Every winter pods of whales embark on their annual migration from Antarctica to the South East African coast to mate and calve, one of the lengthiest migrations in the world. The migration to the warmer climate ensures the safety of calves, from their natural predators the Orcas, as well as increases their survival rate in the warmer environmental conditions (imagine being born in the icy cold waters of the Antarctic!)
Humpbacks are probably the most popular whales seen on whale watching safaris in Mozambique because they are a great acrobats and fantastic singers! They are also curious animals when it comes to boats and the people on them which make for once in a life time encounters. It is almost like they love to put on a show breaching and hurling their 30 ton bodies into the air with amazing ease. Quite often, their whole body is visible before they crash back into the sea.
Whale Sharks in Mozambique
As if this wasn't enough, how about a Whale Shark Encounter?
With its palm tree-lined beach that stretch for miles, incredible waves, a friendly village sporting a handful of funky little local restaurants, bars, and a small market it's not hard to understand why Mozambique's Tofu Beach is such a sought after Mozambique holiday destination.   It is also one of the best places in the world to swim with whale sharks. Adult whale sharks average around 32 feet in length, and yet despite their colossal size are harmless to humans. Unlike most other destinations where whale sharks are seasonal visitors, these spotted giants are resident all year round off Tofo Beach. They are usually seen by snorkelers on ocean safaris, feeding near the surface. The conditions that make Tofo so ideal for whale sharks also make it a haven for manta rays. The best time is between October and March, when plankton blooms inspire huge pods of whale sharks numbering up to 50 individuals, but sightings are also possible throughout the year.   Despite being part of the shark family, whale sharks only eat small shrimp, fish, and plankton so they are no danger to humans, which is good news as snorkelling with the mighty Whale Shark is a bucket list experience not to be missed!
We know Mozambique like the back of our hand and have been booking and recommending some incredible whale shark packages to Mozambique with some of the most responsible and experienced operators for the last 20 years. Choosing an ethical operator is crucial with a background in conservation and strict guidelines for shark-friendly interactions. Whale sharks are easily disturbed.
Best Lodges for Whale Watching in Mozambique
Staying at the best ocean view locations may increase your chances of spotting whales more often. Below are some of our recommended lodges and resorts in Mozambique to consider.
At Massinga Beach Lodge you could see up to 30 whales in one day! You will know a Humpback whale when you see one thanks to its exciting acrobatic displays when they throw their huge bodies around, hitting the water with huge slaps and crashes.
They love to breach, sail, sky hop and they get their name from the way their body arches as they emerge out of the water to prepare to dive back down again! This is a great value Mozambique resort and especially good for couples looking for a romantic getaway.
We have exceptional rates for all of the lodges, but some that are good to spot whales from in the Ponta and Inhambane region include White Pearl Resorts, Eclectic Beach Retreat, Travessia Beach lodge, Sentidos Beach Retreat and Dunes de Dovelo Eco Lodge.
The amazing Bazaruto Archipelago is one of the sweetest spots for the whale watching enthusiast during whale season. We urge you to visit these islands to witness this once in a lifetime spectacle.
The Bazaruto Archipelago is made up of five tropical islands – Bazaruto, Benguerra, Magaruque, Bangue and Santa Carolina (also called Paradise Island) strung along the historical Mozambican channel.  The region is remote and protected so whale watching here is really special from just a handful of intimate lodges – easily some of the best luxury resorts in Mozambique.
Accommodation options in the Bazaruto Archipelago are limited due to the discerning nature of the islands and also because this is a protected marine National Park.  Contact us for an amazing Mozambique whale watching holiday.  Top of our list for luxury island lodges in Mozambique are  &Beyond Benguera Lodge, Anantara Bazaruto Island Resort & Spa and our favourite Azura Benguerra.  Azura Retreats on Benguerra Island remains our top selling luxury beach resort in the Bazaruto Archipelago. Book a 5 star luxury stay at Azura Benguerra and enjoy whale watching safaris as part of your whale holiday package to Mozambique.  We have some unbeaten holiday packages to Mozambique and Azura with flights included.
Vilanculos is most popular for honeymoons, families and diving. But this region is situated right on the coast boasting white beaches and clear water making it an ideal location to do some whale watching. We recommend embarking on a dhow safari and getting up close and personal with these friendly giants.
The best locations in Vilanculos for whale watching are undoubtedly the resorts on the coast. We recommend Bahia Mar Club, Dugong Beach Lodge,  AsDunas, Azulik Exclusive Use luxury lodge and the inspiring Villa Santorini.  Bahia Mar Mozambique and Vilanculos Beach Lodge are both good value and have awesome reputations for their service. Villa Santorini Mozambique is a five-star boutique beach villa in Vilanculos and is some of the best villa accommodation in Mozambique.
Another great place to stay to see the whale migration is Casa Babi in Vilanculos, a deluxe beach hotel offering comfy self-catering and full board accommodation. This quaint, little seaside Mozambique beach resort is perfectly placed to take in the views across the blue blanket of the sea to the islands of the Bazaruto Archipelago.
Southern Right and Humpback Whales
You can expect to see both species in Mozambique and both are baleen whales which use their baleen or filter-feeder system inside their mouths to feed on krill and plankton. The baleen system works when a whale opens its mouth underwater and the whale takes in water. The whale then pushes the water out, and animals such as krill are filtered by the baleen and remain as a food source for the whale. Baleen is similar to bristles and is made of keratin, the same substance found in human fingernails and hair.
Humpback and Southern right whales have a rather playful temperament when not being threatened. Your whale watching experience will put you in a front row seat to observe the aerial antics of these magnificent creatures that defy the laws of nature.
Humpbacks are considered the acrobats of the great whales and can breach (push their upper bodies above the surface) as high as 10 meters!
These whales have a friendly and curious nature and are known to approach whale-watching boats or even spend a few minutes in the close range of boats – a thrilling once in a life time experience.
Mozambique is famous for its friendly people and excellent guiding which helps bring these encounters alive for guests. In Whale Watching Speak watch out for:
Lob-Tailing where whales lie vertically in the water with their heads down, slapping the water continuously with their tails.
Sailing where whales are stationary in the water with their head down and only their tails sticking out.
Flipper slapping is when whales surface on their backs and loudly slap their pectoral fins onto the water.
Spy-hopping where whales push their heads right out of the water as if they spying on you.
Did you know that humpback whales also sing?! You can find their songs on Spotify!  Males make long, loud, complex "songs" for which the species is famous and which can last up to 20 minutes long and consist of verses with whistling and squeaking sounds and sonorous calls.  Humpbacks may sing continuously for more than 24 hours but because they have no vocal cords, these whales sing by forcing air through their massive nasal cavities!
While scientists still don't know the real reason why Humpback whales sing, it is interesting to note that all North Atlantic Humpbacks sing the same song, and those of the North Pacific sing a different song. Humpbacks' low frequency calls can spread over great distances with whales able to communicate with each other over thousands of kilometers.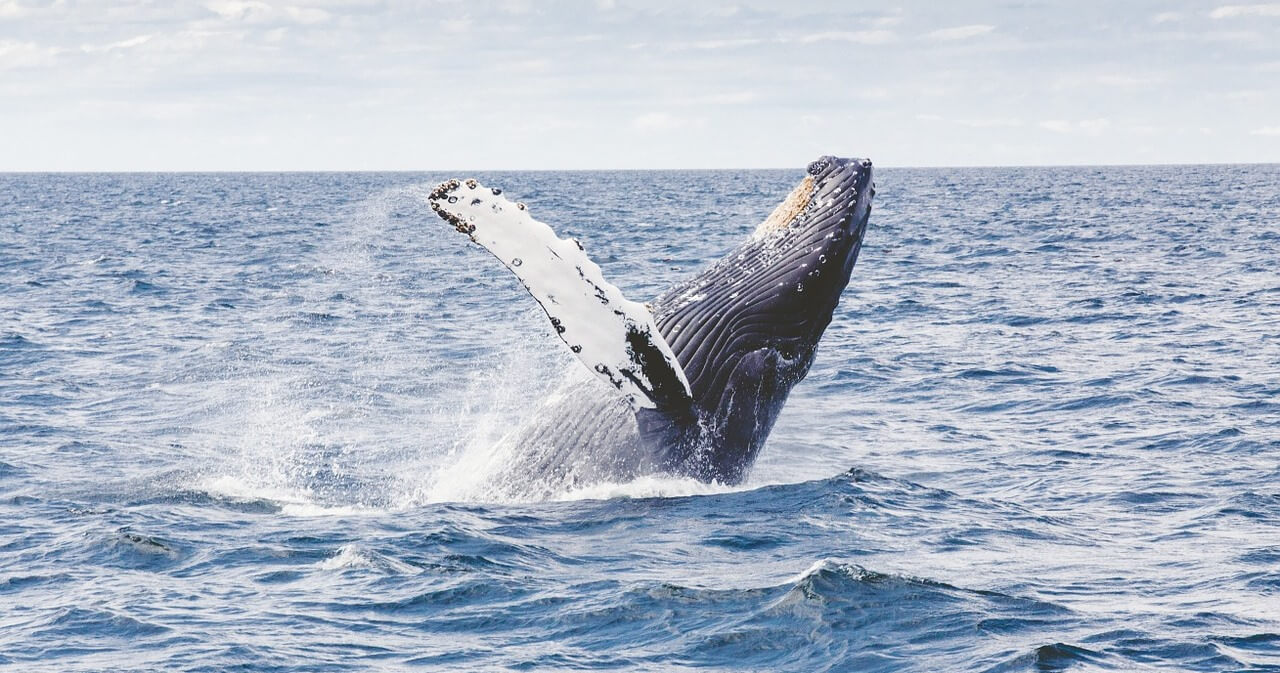 Interesting Facts About Whales
Did you know that the Humpback whale uses a very clever technique to catch its food known as bubble net feeding? What happens is a group of whale's swims in a circle, getting closer and closer in as they keep blowing bubbles below a school of prey. The prey (krill or plankton) is encircled in the shrinking ring of bubbles and is then trapped in a cylinder shape that keeps getting smaller. This ring can begin at up to 30 meters wide and several Humpbacks can be involved. The whales then suddenly swim upward through the "net", mouths agape, swallowing thousands of fish in one gulp. Wow!
The Southern Right Whale has a hairier head than most other whales and is recognized for its huge callosities or horny growths on its head behind the blowhole, on the chin and around the eyes and lower lip. These whales have two blowholes so when they blow, the water makes a particular shape in the air above them. Right whales were hunted by whalers who knew they were rich in blubber, therefore the "right" whales to hunt. Females can be more than 15 meters long and 54 tons in weight!
The survival of this species is being threatened. Climate change is currently impacting on whales as sea levels rise and temperatures change. The Arctic and Antarctic habitats are facing threats right now which could affect whales sooner than we realize. If the krill and plankton populations decrease, whales will really be in trouble.
Come to Mozambique for a hundred reasons – but come to see the whales! Maybe you will feel so tuned into these giant sea mammals that you will want to contribute to their on-going survival?
Not only does Mozambique offers a majestic whale watching experience, but also world-class holiday accommodation in luxury island villas, slick city hotels, and elegant beach lodges. We have what it takes to get you there in style and we guarantee you attractive and affordable package deals where you get to see the whales up close on ocean safaris as well as diving and snorkelling adventures.
Contact us at Mozambique Travel for advice on the ideal locations for whale watching, whale shark and dolphin encounters in Mozambique.

Do you like what you see?
We are here to make it happen!
You just can't wait to plan that holiday…can you?
Enquire with one of our travel specialists now, and we will get back to you shortly.
HOLIDAY PLANNING ADVICE HERE
Featured Packages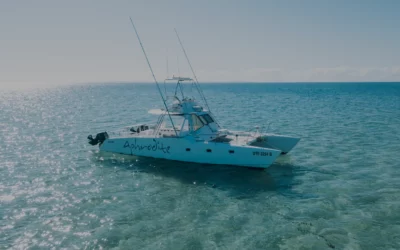 Santorini Mozambique Free Night Holiday Deal
Villa Santorini Mozambique has fantastic free night offers for 2023. Stay 4 nights and Pay 3, Stay 5 and only Pay 4. Luxury accommodation in a private and secluded location on the beach of Vilanculos. Book with us for the best deals to Santorini.
5 nights from
$2,485
Per person sharing
Enquiry Form
"*" indicates required fields