The Whale Migration along the Mozambique Coast
The African winter months herald the start of the whale-watching season in Mozambique so read our guide and travel blog to find out more. The months of June through November are the best times to plan whale-watching safaris in Mozambique and the weather is invitingly warm and sunny.  For all you need to know about the top beach resorts and lodges that offer whale viewing packages during the famous migration, read this signature guide to whale watching season in Mozambique.
Every Arctic summer, pods of majestic whales leave their icy feeding grounds in Antarctica to migrate to the South East African coast to reproduce. This is one of the longest annual migrations in the world for Humpback and Southern Right whales which swim more than 30 000 km!  Their arrival in Mozambique's warm Indian Ocean ensures the safety of calves – also from their natural predators, the Orcas. 
The whale migration along the Mozambique coast is best known for the acrobatic Humpback whales, the main characters in the drama of thrilling whale-watching safaris. As they move from Ponta Mamoli and Ponta do Ouro in the south, via Vilanculos and the Bazaruto islands to the Tofo and Barra Peninsulas, these baleen whales put on quite a show and they also sing. They are curious ocean mammals when it comes to boats which make for life-changing encounters. They are seen breaching and hurling their 30-ton bodies into the air with amazing ease before they crash back into the sea.
Join Mozambique Travel during whale watching season in Mozambique, from June to December and experience these incredible mammals in all their glory on their long path to warm waters. Some of them pass by to the Caribbean islands while others cruise the East African coast past Mozambique. Make a long holiday of it when you book a top beach or island retreat and indulge mind and body on pearly sands and in azure waters. Later, the whales will head back north, following their need for more krill and plankton to sustain their new calves.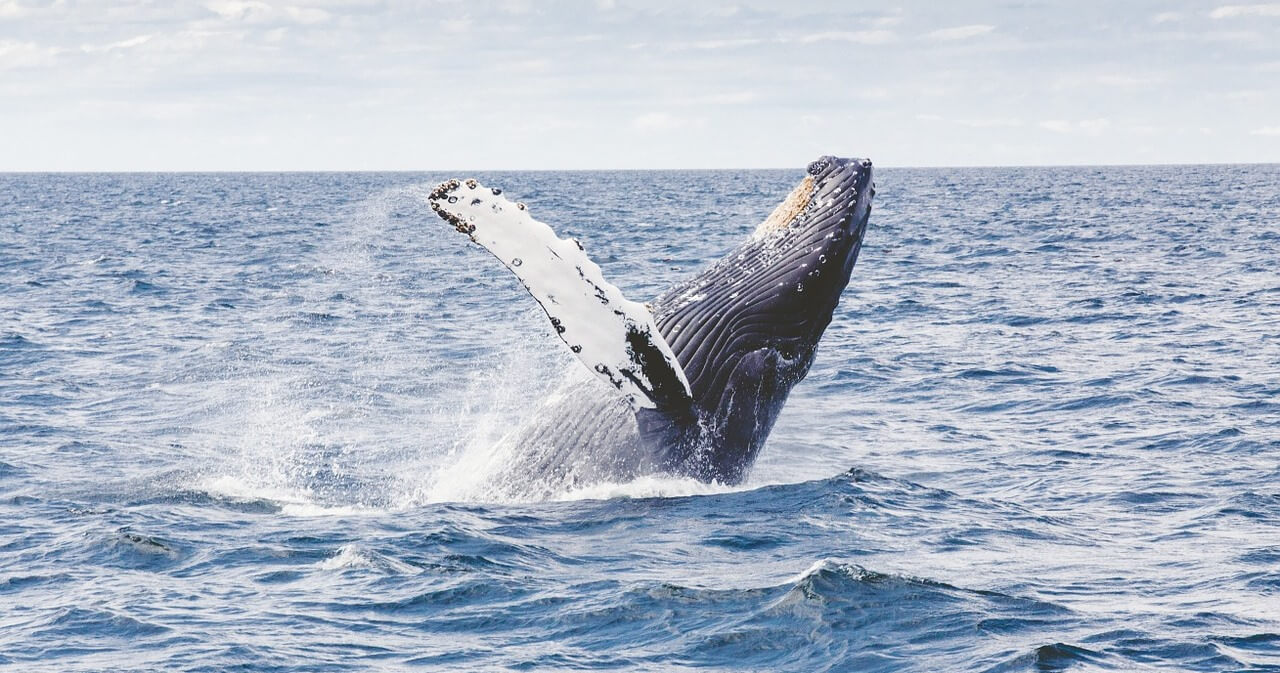 The Best Places To See Whales In Mozambique
Some of the best places to see whales in Mozambique start in the south and end in the central coastal areas north of Maputo. Ponta Mamoli and Ponta do Ouro are whale hotspots with plenty of ethical whale-watching operations to choose from. This region is renowned for swimming with the dolphins as conservation organisations highlight the plight of these ethereal ocean mammals. 
Inhambane's famous Tofo surfing beaches and the family-friendly Barra beaches are the best places to see whales in Mozambique north of Maputo. Vilanculos is one of our top holiday destinations and the gateway to the Bazaruto Archipelago, a whale-watching magnet for visitors who love a secret island holiday haven. This marine sanctuary is a safe place for Humpback and Southern Right whales, dolphins, turtles, Manta rays and charismatic Whale sharks too.  
Diving with Whale Sharks in Mozambique 
It's not a whale and it's not a shark but it's an enormous whale shark and diving with whale sharks in Mozambique is a huge ocean attraction for marine wildlife enthusiasts. It's not hard to understand why Mozambique's Tofo Beach is such a sought-after Mozambique holiday destination thanks to its palm tree-lined beach, incredible surfing waves, friendly local restaurants, bars, and a small market. It's also one of the best places in the world to swim and dive with whale sharks because it is here that these spotted giants are resident all year round. 
The best time to go diving with whale sharks in Mozambique Tofo is between October and March, the height of the African summer. View colossal adult whale sharks averaging around 3 m long but utterly harmless to humans. Snorkellers often spot them feeding near the ocean surface in summer when plankton blooms inspire huge pods of about 50 of these shy creatures at a time. They may be part of the shark family but they only eat small shrimp, fish, and plankton and they are no danger to humans. 
Board an unforgettable ocean safari from Inhambane's romantic Eclectic Beach Retreat to see whale sharks in their natural habitat when you choose a Mozambique holiday to the Barra and Tofo peninsulas. Find the best beaches and dive spots here too and stay in a top boutique beach hotel with private villas steps from the lapping Indian Ocean. Here, you'll find one of the biggest concentrations of whale sharks in the entire country and there's nothing quite as exhilarating as snorkelling or freediving beside such majestic beasts. Book your Mozambique diving package holiday between June and November to also see the Humpback and Southern Right whale migration as part of your Whale shark safari. 
Mozambique Travel promises some incredible whale shark packages to Mozambique with experienced operators who have conservation ethics and follow strict guidelines for shark-friendly interactions. We will tailor-make your special diving deal according to your budget and accommodation requirements.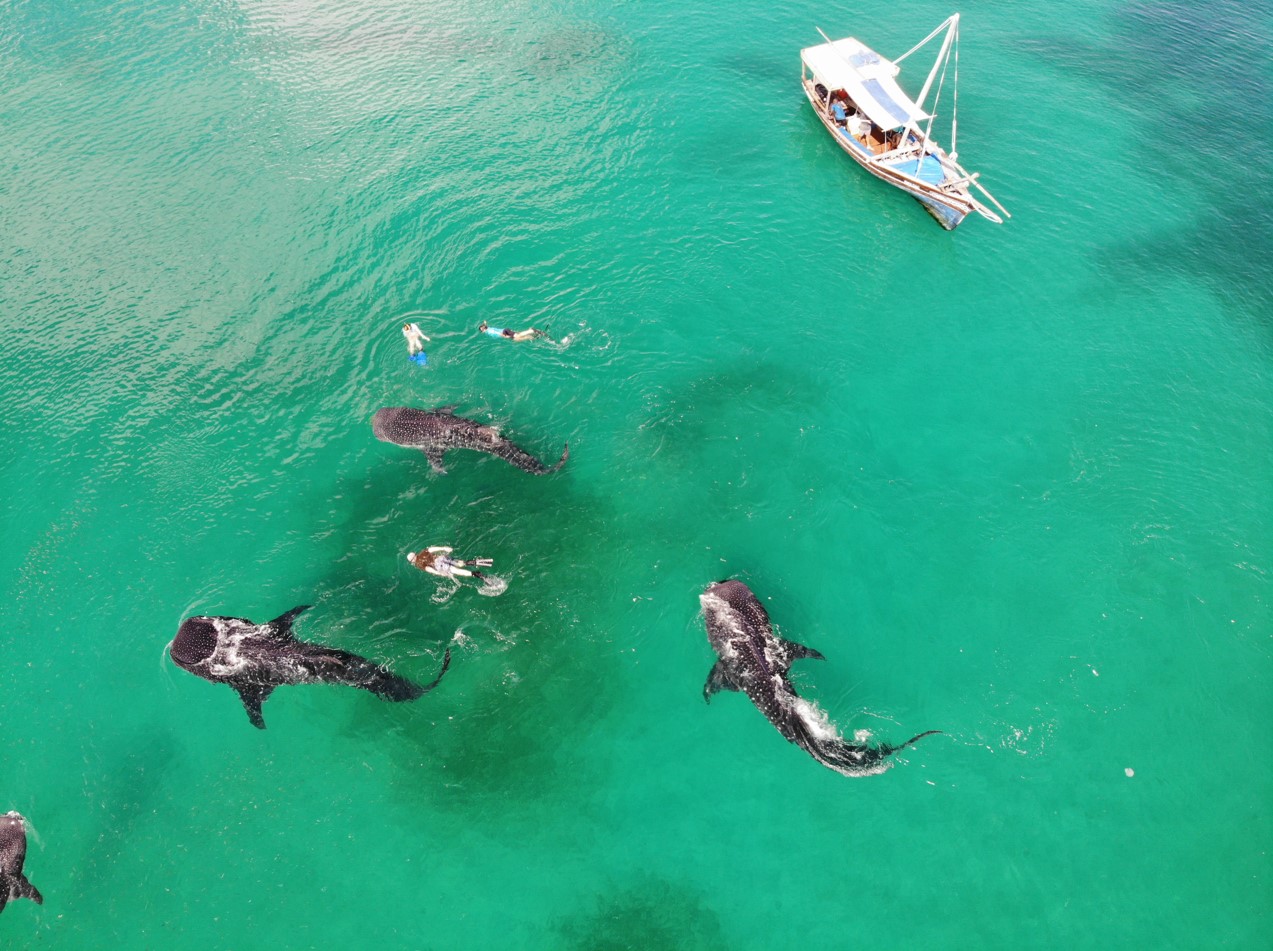 Best Lodges for Whale Watching in Mozambique
Staying at the best ocean-view accommodation in Mozambique may increase your chances of spotting whales more often. Our best lodges for whale watching in Mozambique include super luxury chalets on the beach and attractive self-catering family villas and all these top resorts boast idyllic sea views and ocean safaris. We recommend:
Mare e Sol Ponta do Ouro –

picturesque self-catering houses with panoramic views over Ponto do Ouro Bay.

White Pearl Ponta Mamolo – dune and beach chalets with o

cean views, sunny decks and private plunge pools.

Sava Dunes Tofo – an eco-lodge with 5 suites overlooking the Indian Ocean.

Eclectic Beach Retreat Barra – ocean safaris from private villas on Barra Beach.

Travessia Beach Lodge Barra –

eco-lodge nestling between coastal forests, palm trees, soft dunes and pristine beaches; ocean canoeing.

Bahia Mar Vilanculos –

speedboat cruises, island dives, water sports and a modern wellness centre and gym.

Azulik Lodge Vilanculos Wildlife Sanctuary – eco-destination with whale-watching safaris in a wildlife reserve.

Azura Benguerra Bazaruto – fabulous diving, snorkelling with dolphins and whales, superb luxury villas on the beach.

Vila do Mar Bazaruto – large private villa with personal boat cruises, diving and gorgeous ocean views.
Whales in Ponta de Ouro 
Come and see the whales arrive in Ponta Mamoli during June and avoid the holiday rush to Ponta do Ouro when you stay at the lavish White Pearl Resorts. This is probably the best whale-watching destination south of Maputo where luxury chalets offer 360-degree views of the Mozambique Indian Ocean. See the Humpback and Southern Right whales socialising in clear waters, breaching and tail hopping and mating too. 
Ponta do Ouro is a famous whale-watching destination where great pods of majestic sea creatures pass by to calve in the warm Mozambique coastal waters – we offer some of the best beach lodges and island resorts for whale-watching holidays right here!  
Ponta Mamoli is a renowned hotspot for ethical snorkelling with dolphins and this perk is a huge honeymoon attraction in our special packages to wonderful White Pearl Resorts. Book your special accommodation deal for two from June to November when the Humpback whale migration starts, alongside pods of charismatic Southern Right whales too. 
Researchers are able to distinguish Humpback whales by taking note of their individualistic flukes and dorsal fins while Southern Right Whales feature characteristic callosities on their huge heads.
Stand on the beaches or get on board an ocean cruise to float beside these beautiful ocean mammals and feel their special auras. You may even hear the haunting song of the Humpback if you listen carefully!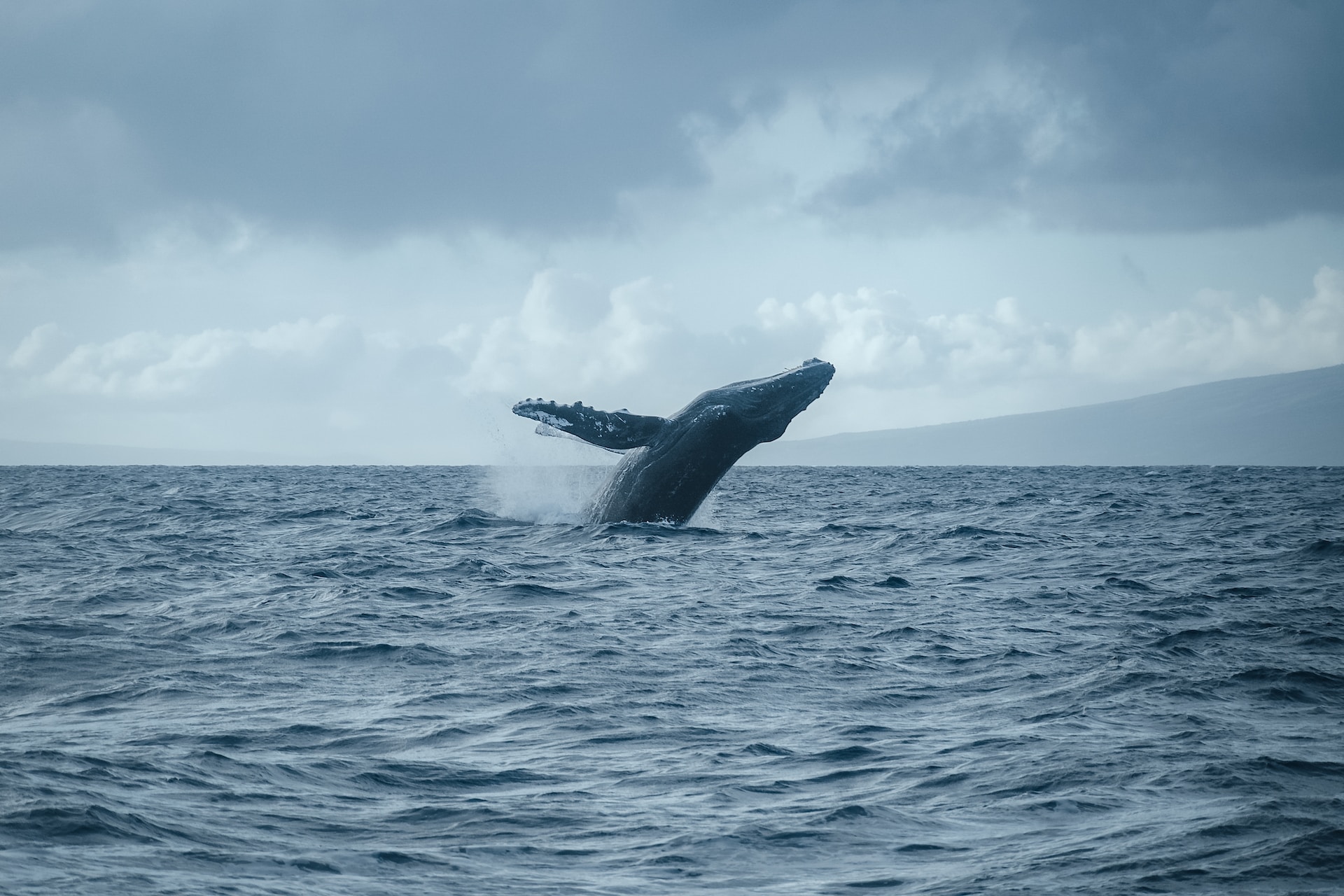 The Best Places To See Whales From In Bazaruto
The best places to see whales from in Bazaruto include a few of our top island resorts and lodges nestling in tranquil bays on the largest tropical paradises of Bazaruto and Benguerra. It's a once-in-a-lifetime spectacle to see whales breaching and lob tailing from your private deck, cocktail in hand. The captivating Bazaruto Archipelago is one of the sweetest spots for the whale-watching enthusiast during whale season. This remote marine sanctuary is committed to ecotourism and conservation endeavours including whale watching. 
Stay in accommodation on the edge of the sea in private villas with plunge pools and air conditioning. Watch the whales from your private terrace at:
Azura Benguerra Island Retreat – swim with dolphins, follow whales during their migration or go out with the dugong protection team in search of the shy and threatened mammal. 
AndBeyond Benguerra Island Lodge – whale-watching boat cruises, snorkelling and diving in the protected marine conservation area snorkelling trips.
Bazaruto Lodge and Vila do Mar – find some of the last dugongs grazing on the seabed alongside a pod of migrating whales, or a family of dolphins going by in this diving hotspot.
Anantara Bazaruto Island Resort and Spa – whale-watching is best from private deluxe Sea View Pool Villas with private decks and plunge pools. 
Researchers know that the whales travel to the warm Mozambique Channel on their annual migration route to mate and give birth and visitors see them with their new calves as they indulge in the top island lodges around.  This region is the best breeding ground for the whales, a safe warm sanctuary and the Humpback whales sing with joy as they cruise through the islands.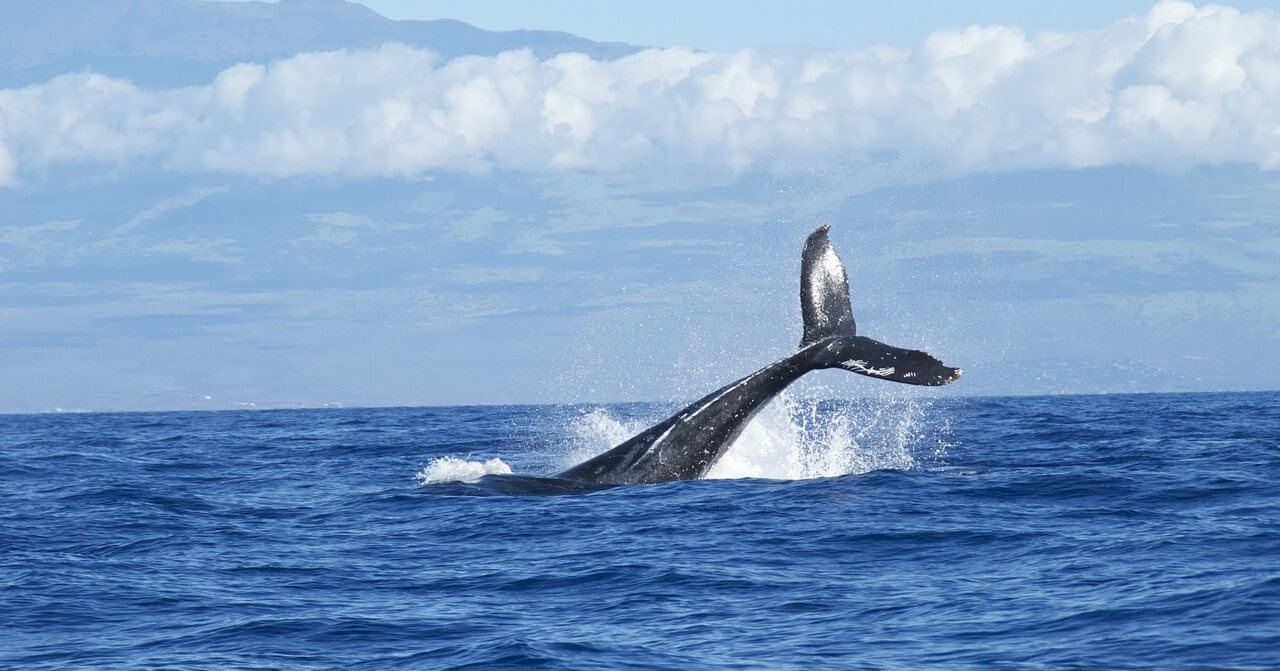 Watching Whales in Vilanculos
Watching whales in Vilanculos is the thing to do from June until November when the Humpback and Southern Right whales migrate along the East African Mozambique coast. Whales tend to love the peaceful sanctuary of the Bazaruto Archipelago for mating and calving and a holiday at Vilanculos is a whale-watching delight for all ages. We recommend gentle dhow safaris from your chosen Mozambique beach accommodation to get close to these gentle giants.
The best places to see whales in Vilanculos are our top beach resorts and coastal lodges with endless sea views. We recommend:
Bahia Mar Club – an eco-hotel dedicated to sustainable tourism and environmental conservation, including whale-watching tours and safaris.

Dugong Beach Lodge – a secluded eco-sanctuary bordering the Bazaruto Archipelago islands sanctuary where whale-watching is a great focus.

Azulik Lodge – conservation, community development and eco-tourism promote whale-watching, swimming with dolphins, and island and ocean safaris. 

AsDunas – adventures by boat to see the whales, go snorkelling or explore the islands with a beach picnic packed for the day to explore Bazaruto Archipelago National Park.

Villa Santorini –

boat charters, thrilling island hopping, adrenaline-pumping deep-sea fishing and dreamy dhow sailing to find whales breaching and tail hopping. 
Vilanculos is perfectly placed as a whale-watching destination with its long white beaches and world-class beach resorts and lodges offering infinite ocean views and luxury suites and villa accommodations. Sightings are guaranteed during whale season!
Southern Right and Humpback Whales in Mozambique
Southern Right and Humpback whales in Mozambique can be seen from Ponta do Ouro in the south to Pemba in the north. The best place to see whales is the Bazaruto Archipelago National Marine Park where they feel safe and warm enough to give birth and raise their calves. Both of these enormous sea mammals have playful temperaments, especially when unthreatened by orcas or human activities. 
Southern Right and Humpback Whales in Mozambique are baleen whales which use their baleen or filter-feeder system inside their mouths to feed on krill and plankton. The baleen system works when a whale opens its mouth underwater and the whale takes in water. The whale then pushes the water out, and animals such as krill are filtered by the baleen and remain as a food source for the whale. Baleen is similar to bristles and is made of keratin, the same substance found in human fingernails and hair.
Humpback Whales 
Seeing the Humpback whales in Mozambique is a privilege as these whales are found all around the world. Thankfully their numbers have rebounded to some 80 000 after the terrible whaling industry era. They feed on krill and plankton all summer in the icy polar regions, then move south to Africa's equator regions to mate and breed. Whale watchers can identify these beautiful whales by the hump on their backs that seem linked to their dorsal fins. They have special hair follicles on their heads and lower jaws, seen as knobs or tubercles.  
Some fun facts about Humpback whales:
They are the acrobats of the great whales and can breach (push their upper bodies above the surface) as high as 10 meters!

They are friendly and curious and known to approach whale-watching boats for a few minutes.  

Lob-Tailing – whales lie vertically in the water with their heads down, slapping the water continuously with their tails.

Sailing – whales are stationary in the water with their head down and only their tails sticking out.

Flipper slapping – whales surface on their backs and loudly slap their pectoral fins onto the water.

Spy-hopping – whales push their heads right out of the water as if spying on you.

They sing – males make long, loud, complex "songs" which can last up to 20 minutes long and consist of verses with whistling and squeaking sounds and sonorous calls.  
Southern Right Whales
Wait for the Southern Right Whale migration every year on the Mozambique coastline and be amazed at their regal size and friendly nature. These charismatic ocean mammals come down to the warm Indian Ocean to mate and breed in our winter months. They love the sheltered bays and the many protected marine reserves such as the Vinculos Wildlife Reserve and the Bazaruto Archipelago. 
Spot the massive Southern rights, rounder and heavier than their Humpback cousins. They do not have a dorsal fin, but they do have stumpy flippers with square-shaped ends and weird white callosities on their heads.
Some fun facts about Southern rights:
They have a double blow hole so when they blow water, this makes a V-shaped fan, unlike the Humpback with its single blow hole. 

They do a lot of sailing with their tail flukes held in the air and they are usually seen in pods. 

They are curious about boats and come very close to fishing boats and whale watching safaris.

They can be seen across the world in many oceans such as South America, Namibia, Mozambique, South Africa, Madagascar, and New Zealand. 

They were so named because, during the whaling industry, they were the 'right' whales to hunt. They were slow animals and when they died they floated on the ocean surface so were easier to collect – and they were so huge that they produced a lot of resources for the hunters. 
Interesting Facts About Whales 
The magnificent migratory Southern Right and Humpback species are baleen whales which use their baleen or filter-feeder system inside their mouths to feed on krill and plankton. They don't have teeth at all but this whalebone inside their mouths. They gulp in a huge mouthful of water, close their mouths and lift their tongues up to their palates which then forces the water through the baleen and their food is trapped behind it. They need a lot of food and this makes it important to understand and protect the krill and plankton species globally.
Whale faeces are vital for ocean health in that they feed phytoplankton which also feeds other species and their faeces provide iron and nitrogen to the ocean waters! Phytoplankton are vital for ocean health as they absorb carbon dioxide and release oxygen in their form of photosynthesis! Dead whales sink to the ocean floor and become a source of carbon.
The Humpback whale uses a very clever technique to catch its food known as bubble net feeding. A group of whales swims in a circle, getting closer and closer in as they keep blowing bubbles below a school of prey. The prey (krill or plankton) is encircled in the shrinking ring of bubbles and is then trapped in a cylinder shape that keeps getting smaller. This ring can begin at up to 30 meters wide and several Humpbacks can be involved. The whales then suddenly swim upward through the "net", mouths agape, swallowing thousands of fish in one gulp. Wow!
The survival of all whales is being threatened by climate change and human impacts. Sea levels are rising and the ocean is getting warmer. This impacts the krill and plankton on which the whales rely for food. The Arctic and Antarctic habitats are warming up which could affect whales sooner than we realize.
Scientists have found that annual migration is very purposeful. The first to leave are the females which have already had calves then come the younger whales yet to mate then the mature males follow. Older resting females come next, and lastly, the heavily pregnant females. When they finally return to their icy feeding grounds, they return in the opposite order! 
Humpback whales sing spine-chilling songs – the male makes the long, loud, complex "songs" for which the species is famous and which can last up to 20 minutes long.  Humpbacks may sing continuously for more than 24 hours but because they have no vocal cords, these whales sing by forcing air through their massive nasal cavities!
Come to Mozambique to see the whales and time your beach holiday for the whale-watching season to learn more about these vital creatures and ocean conservation. Mozambique offers a majestic whale-watching experience, world-class holiday accommodation and affordable package deals. Contact Mozambique Travel and find out all you need to know about whale season, whale-watching safaris and the top beach resorts and lodges offering whale-viewing special packages and unbeaten deals. 
FAQ – Whale Watching Season in Mozambique
Where are the Best Places to See Whales In Mozambique?
The Bazaruto Archipelago, Inhambane, Tofo, Barra, Vilanculos, and Inhaca are just some of the best places to see whales in Mozambique. You may between 25 and 35 whales per day. Southern Right Whales swim close to the shore in the southern part of the Mozambique Channel. 
When is the Best Time To See Whales In Mozambique?
Humpback and Southern Right whales arrive in Mozambique any time from June and stay around until about November, also in South Africa. This is the best time to see whales in Mozambique, one of the top places for whale viewing in Africa.
Where Can I Dive With Whale Sharks In Mozambique?
Thanks to its very long coastline, Mozambique is a top place to dive with Whale sharks from the southern bays of Ponta do Ouro to the more central shores of Vilanculos. The deep Mozambique Channel runs between Mozambique and Madagascar with warm, nutrient-rich waters, where whale sharks hang out with manta rays, dolphins, sea turtles, and whales. You can dive with whale sharks in Tofo Beach, Barra Beach, Ponta do Ouro and Ponta Mamoli too.
Where Can I Find the Best Whale View Accommodation in Mozambique?
We recommend these top beach lodges and island hotels as the best whale-viewing accommodations in Mozambique. Please see their details above:
Mar e Sol Ponto do Ouro

White Pearl Resorts Ponta Mamoli

Sava Dunes Tofo

Eclectic Beach Retreat Barra

Travessia Beach Lodge Barra

Bahia Mar Vilanculos

Azulik Lodge Vilanculos Wildlife Sanctuary

Azura Benguerra Bazaruto 

Vila do Mar Bazaruto
Why do Whales Come to Mozambique?
Whales come to Mozambique because it is on their annual migration route and they know it is a safe and warm place to mate and breed. They can give birth to their calves in safe warm bays and females nurse their calves until they are strong enough to begin the long journey home to the polar regions to feed on krill and plankton again.
Featured Packages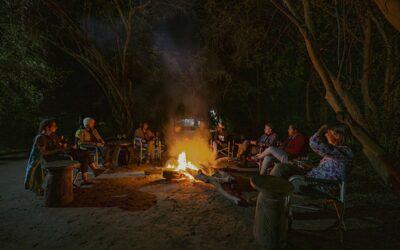 Mozambique safari to Wild Camp Gorongosa
A spectacular five-night package into the wilds of Gorongosa National Park with this well-priced Mozambique safari deal in the authentic Wild Camp. Walking trails are the focus of this glamping safari. Includes return light air transfers and two safari activities daily.
5 nights from
$2,850
Per person sharing