Safari from Maputo to Kruger National Park
We recommend a bush city break when you choose a Kruger National Park safari combined with a holiday in select accommodation in Maputo Mozambique. It is easy to take a safari from Maputo, Mozambique's capital city, to the famous South African Kruger National Park. We can customise superb packages with Maputo city tours, top hotel accommodation and a big five safari in Kruger. 
The destinations share a border and tour groups only need to travel about 100 kilometres to the South African border post from Maputo, then another 20 kilometres to the park. This takes about two hours. Guides do the rest – assisting travellers through all border formalities and treating them to special extras along the way. But don't forget that passport! For expert advice, contact us if you want to see some of Mozambique and some real wildlife. A Kruger Safari from Maputo is for you.
Some tours start early in the morning from Maputo and all tours are excellent value where guests are treated like gold. There will usually be drinks and snacks on the trip to the park and time to stretch the legs along the way. A day trip to the Kruger features lunch at one of the camps in the south, in between wonderful game drives to see the Big Five if lucky.
Day Safaris into the Kruger from Maputo
Find elephant, buffalo, giraffe, impala, zebra and maybe lion and rhino. The rare African wild dog may also just run past that day! Some safaris into the Kruger National Park from Maputo last two days with one night in a safari camp, complete with a bush dinner. Many safaris take place in open safari trucks and game drives continue until the evening when guests book into their park accommodation.
Dinner around the fire and a warm shower will see guests ready for the second day which starts very early. A dawn game drive seeks animals like leopards lurking and lions hunting. Somewhere along the way, a hearty breakfast will be enjoyed, again at a Kruger rest camp. Leaving the park is another game drive in itself and then the return to Maputo, a scenic journey through two countries.
What a wonderful way to see the thriving city of Maputo and some genuine wildlife in the Kruger!
More about the Kruger National Park Heritage
Did you know that the Kruger National Park is indeed South Africa's iconic safari destination? It is huge, stretching nearly 20 000 km squared and hosting more than 150 mammals and 500 bird species. Many tourists seek the Big 5 (leopard, lion, rhino, elephant and buffalo) but the other animals are equally fascinating and important – warthogs, baboons, snakes, crocs, hippos, kudus, cheetah, zebra, giraffe and more.  You need at least three days on safari in Kruger to benefit from the immersion in such pristine nature. 
Tours from Maputo to Kruger offer a high-quality experience. Find a company and pro guides to treat you to the best tour of this game reserve you will ever get. You will love high open-backed safari vehicles and excellent snacks during the day with huge bonfires and South African meals in the evenings. 

The world-renowned Kruger National Park stretches 350km along the Mozambican border and is unparalleled in its biodiversity and array of healthy ecosystems.  Kruger is one of the superior game-viewing destinations in the world.  We suggest a few nights at the plush Pestana Kruger Safari Resort only 150 meters from Malelane Gate, one of the most important crossings into the park.  Stay in suites set in wonderful gardens with awesome views of the Crocodile River, where hippos and antelope drink and feed.  Enjoy swish facilities such as two outdoor pools, and a therapeutic spa promising massages and facials.  
Kruger National Park safaris combined with accommodation in Maputo Mozambique are hot. Book your superb bush city package deal with city tours, top hotel accommodation and a big five safari.
Featured Packages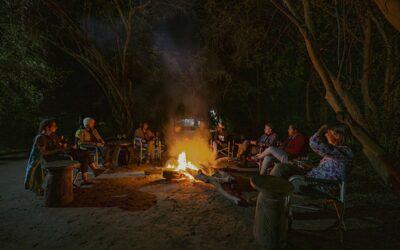 Mozambique safari to Wild Camp Gorongosa
A spectacular five-night package into the wilds of Gorongosa National Park with this well-priced Mozambique safari deal in the authentic Wild Camp. Walking trails are the focus of this glamping safari. Includes return light air transfers and two safari activities daily.
5 nights from
$2,850
Per person sharing