Dream Bush Beach Holidays in Maputo Special Reserve
All you need to know about Maputo Elephant Reserve and visiting this recently restocked national park in Mozambique right here. We also offer safari accommodation and advice – combine your Maputo Special Reserve holiday with a break on a Mozambique beach. This is the ideal bush beach combo package deal imaginable!
Maputo Special Reserve, Maputo Elephant Park and Maputo National Park – different names for the same beautiful game reserve in southern Mozambique where herds of regal elephants roam, and elegant kudus show off their ornate horns. Zebras, giraffes, hippos, crocodiles, and diverse birds also show their true colours in a wilderness that has to be seen to be appreciated. 
Find Maputo National Park, aka Maputo Elephant Park, only 80 km from Maputo city, in Matutuine, stretching an awesome 1 700 square kilometres. This stunning reserve is haven to splendid ecosystems – sandy forests, mangroves, swamps and dunes covered in indigenous vegetation. Refresh your love for African wildlife when you book the safari of a lifetime to this special reserve close to Maputo. The ocean is right there too, and you can dive to your heart's content while splashing out in the only luxury accommodation available in this park. This is your dream bush beach holiday in a Maputo national park.
Since 1960, the Maputo National Park environment has been conserved by people who care, so much so that it is now recognised as one of the earth's richest destinations in terms of biodiversity, and home to some of the most endangered ecoregions ever. 
Peace Parks manages the park in conjunction with the partners of the Usuthu-Tembe-Futi Transfrontier Conservation Area – which also includes the Ponto do Ouro-Kosi Bay TFCA which then links to the iSimangaliso Wetland Park in KwaZulu-Natal South Africa! Amazing work, a huge green lung to benefit sustainable tourism goals and look after people and planet! 
Their goal is to link the ecosystems for the benefit of all wild creatures and to sustain the communities living in the region as benefactors of the tourism initiatives. It is important to have a 4×4 vehicle to traverse the park as most of the tracks are thick sand and no noisy quad bikes, jet skis or motor bikes are allowed in the park. 
Getting to Maputo National Park
Most tourists on a trip into Africa like to self-drive to Maputo, see the sights, then self-drive to the south to enjoy the bush and beach scenery. Now that the road is tarred, the journey is so much easier, and the beaches down south are much more accessible. 
The drive from Johannesburg, via Maputo, is about 7 hours. Adventure from Maputo to the Special Reserve in just 2 hours and further south to Ponta do Ouro or Ponta Mamoli in 3-4 hours; the trip from Kosi Bay border with KZN is a mere 2 hours or so.
When you get to the MSR, remember that it is a 4×4 destination on soft sandy roads and is a real challenge to drive. It is so remote that the animals are shy of humans and vehicles. The Catembe-Maputo Suspension Bridge has eased the distance a lot and the new tarred road all the way to Kosi Bay. 
Special Accommodation in the Maputo National Park 
Anvil Bay is the only luxury accommodation in the national park, the Maputo Elephant Park. How ironic that this lodge perches on the sublime ocean edge in a forest canopy! Your bush beach destination is all in one then and the 10 villas or casinhas are lovingly created from natural materials such as wood, reeds and thatch. 
Exclusive eco-accommodation provides an authentic barefoot bliss experience in nature, off the grid power supplies and water from nearby natural sources. Solar power ensures less impact on the environment and all activities shy away from being noisy and polluting. 
Hiking, turtle walks, whale watching, rock pool adventures, ocean safaris and game drives are all tuned into getting to know nature better and appreciating our place within the global natural environment.  Anvil Bay Forest Suites provide mini bars, tea and coffee facilities, lavish indoor and outdoor showers, and private dining decks on stilts to leave the dunes untouched. 
The Maputo Special Reserve is a place for nature lovers and Anvil Bay is the base for those who want their luxury accommodation while remaining aware of their own impacts on the environment in every way. 
Book your ideal package deal to include the bush at Maputo National Park and the beach at Anvil Bay. Or the bush in the park and a beach somewhere else such as at Bilene, Vilanculos or Ponta Mamoli. Your tailor-made special safari deal is waiting to happen with Mozambique Travel.
Featured Packages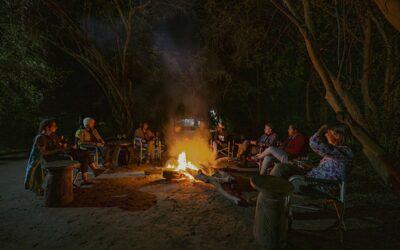 Mozambique safari to Wild Camp Gorongosa
A spectacular five-night package into the wilds of Gorongosa National Park with this well-priced Mozambique safari deal in the authentic Wild Camp. Walking trails are the focus of this glamping safari. Includes return light air transfers and two safari activities daily.
5 nights from
$2,850
Per person sharing