The Best Place for a Honeymoon in Bazaruto
Romance knows no bounds in the dazzling "Pearl of the Indian Ocean" and a Mozambique honeymoon to Bazaruto is the ultimate holiday for all just-married couples. It's a great idea to take a boat from Vilanculos and discover honeymoon heaven in Mozambique at the world-renowned Bazaruto Islands. Voted the best place for a honeymoon in East Africa, these isles offer happy couples pure solitude, jaw-dropping beauty, glistening ocean coves on sugary beaches and plenty of luxury too. Compelling sunrises, white-tipped waves and shells scattered along the shoreline. 
Exceptional honeymoons start with Mozambique Travel and we help you plan your dream island holiday to the Bazaruto Archipelago far from the madding crowds.  An exciting helicopter flip to Benguerra, favoured for its pearly white beaches, azure ocean waters, supreme island lodges and five-star amenities, beings the adventure. Ranked as one of the best honeymoon destinations in Mozambique, Benguerra Island luxury lodges are famed for their outstanding honeymoon deals and packages for newlyweds. 
Benguerra Island also wins hands down as an island sanctuary for honeymoon couples and rare flora and fauna!  Several top magazines and travel websites recently nominated Benguerra Island as the best dream island destination in the world in 2023 where Azura Retreats Benguerra Island Lodge and andBeyond Benguerra Lodge promise premier accommodation escapes. A honeymoon experience in the Bazaruto Archipelago marine sanctuary can never be underestimated in terms of value, sensory scenery, and a remarkable blend of relaxation and outdoor fun.
A Honeymoon at Azura Benguerra
Therapy for mind, body and soul in a sensory explosion of colour, texture, beautiful landscapes, warm oceans and the fragrances of a fresh Island destination. This is the setting for a honeymoon at Azura Benguerra where diving opportunities abound and romantic dhow cruises end every spectacular day. 
Mozambique's Benguerra Island Azura Lodge oozes the perfect combination of adventure, romance and relaxation and the best part is that the lucky bride gets a whopping 50% off her honeymoon package. Picture yourselves in a private helicopter swooping over rare dugongs in the bay, a whale breaching and flocks of pink flamingos wading along dep blue lagoon shores.  Or a speed boat ride from Vilanculos harbour, beside surfing dolphins and seagulls calling above you.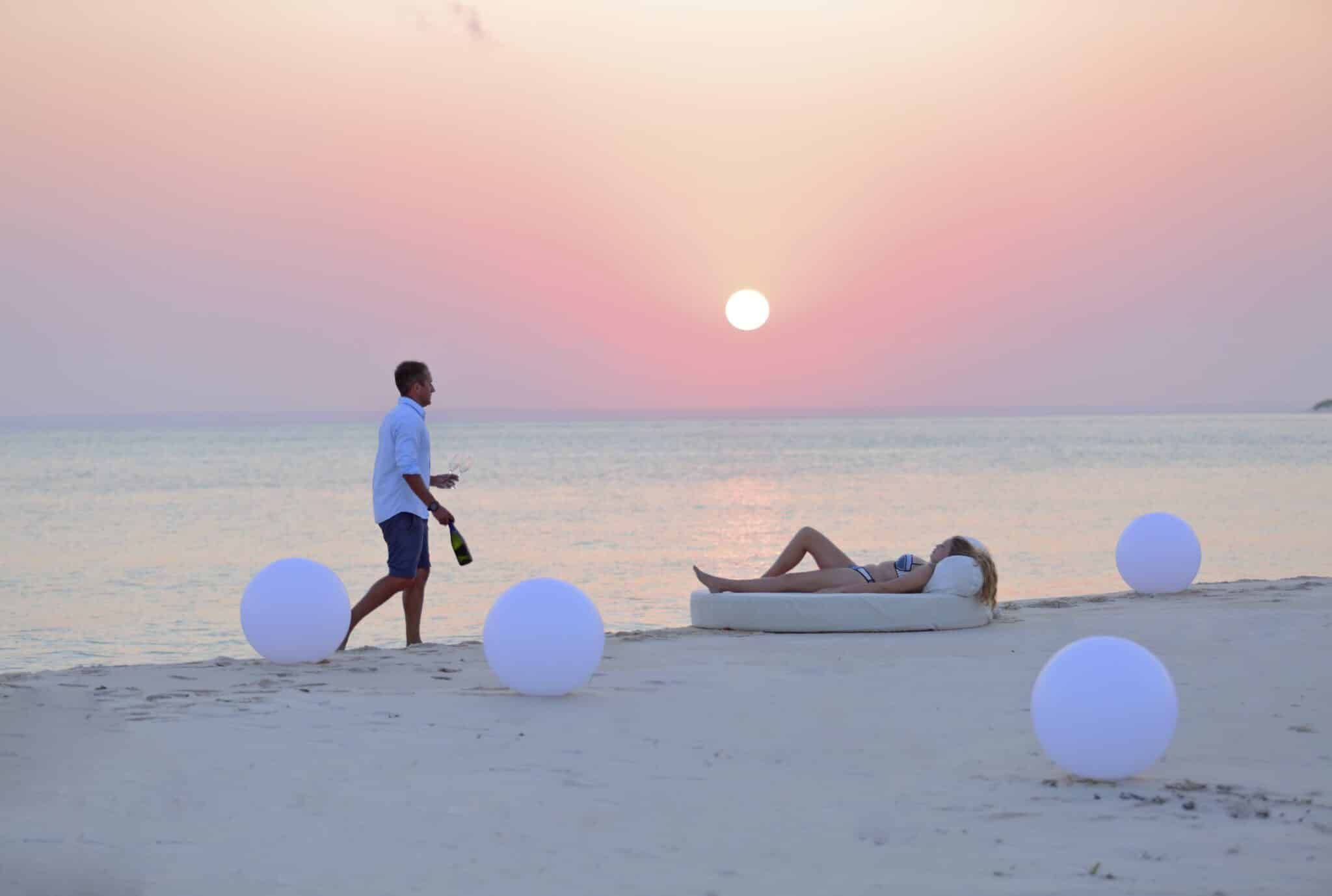 When you arrive at beautiful Benguerra, your personal Mozambican host serves you a delicious cocktail in your beach sala and you spend dreamy days exploring the island's interior, snorkelling, kayaking and paddle boarding.  Take time to stargaze, dine on fresh seafood and exotic fruits, and see the community in action on the soccer field.  Tasteful beachfront villas feature private plunge pools and sundecks with outside showers and king-size beds.
Honeymoon Heaven at Anantara Bazaruto
Picture golden beaches, indigenous dune vegetation and huge dunes, a sea so blue it hurts your eyes and accommodation so picturesque you never want to leave it.  This describes a unique honeymoon heaven at Anantara Bazaruto where couples can grab a spa treatment in sumptuous therapy rooms overlooking the ocean. Your holiday will be packed with ocean-related snorkelling and diving, windsurfing and kite surfing activities, beach walking, swimming, dune boarding, horse riding and island drives.
Bazaruto Island boasts some of the finest beach resorts in Mozambique and honeymoons at amazing Anantara Bazaruto Island Resort and Spa feature precious time alone in sumptuous beach and sea view villas. Slide open your floor-to-ceiling sliding doors and relax in the designer bathtub – bubble baths inside, and plunge pool dips outside enhance your little piece of heaven at Anantara Bazaruto. 
Explore the rest of the islands, rivalling the best of the Maldives and Mauritius holiday destinations, and succumb to the most beautiful honeymoon paradise in the Indian Ocean. 
Beyond Benguerra Honeymoon of a Lifetime
Rated in travel circles as the classic luxury island retreat, &Beyond Benguerra Island fulfils a need in all the guests who find it. It's also the place for a honeymoon of a lifetime in a setting also loved by marine enthusiasts, conservationists and eco-travellers. It's no surprise that this island has become a popular honeymoon destination where newlyweds are entranced by its remote beauty, scintillating sunsets and inspiring serenity. 
Guests usually try their hand at kite surfing, stand-up paddle boarding and sea kayaking. And they like to stop in all the island coves to walk and explore, picking up shells and birdwatching. The five-star lodge has been revamped to attract international tourists who need a breather from hectic lifestyles. That's why spending time in the beach bar, a cleverly transformed fishing dhow beached in the foreground of the main living area, makes perfect sense for that sundowner drink every day. Then starlit dinners for two. So much romance, so much space, so much time. 
Combine a Honeymoon to Kruger Park and Mozambique
Have you ever thought of bush and beach breaks that combine a honeymoon to Kruger Park and Mozambique? It could be quite fun, mixing the tranquillity of island life with the rawness of real nature in the wilds. One minute you will be walking in the bush coming face to face with a rhino, and the next minute you will be on horseback, making tracks on dazzling white sands. This would turn your honeymoon into the ultimate safari enjoying Kruger wildlife and marine biodiversity all on one trip. The Bazaruto Archipelago is a sought-after tourism mecca where sustainable tourism includes luxury facilities for all paying guests who are contributing towards the conservation of all species.
And most travellers know that Kruger is the largest national park in South Africa and one the last bastions of wildlife in the world – home to some 2 000 leopards, 12 000 elephants, 27 000 buffalo, nearly 3 000 lions and huge herds of zebra, giraffe, and antelope. If you want to really get the most out of an African trip, then combine your &Beyond Benguerra visit with a great package deal to their Ngala Safari Lodge near the Kruger National Park. The best of wildlife and marine bliss on this fully inclusive safari and beach combo with chartered flights and heli transfers all part of an unforgettable offer.
A honeymoon experience in the Bazaruto Archipelago is yours for the asking and all couples can choose short honeymoon holidays, long breaks or combined bush beach romances. Mozambique is perfect for you. 
Featured Packages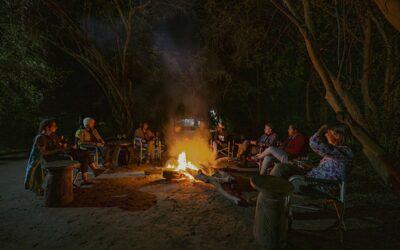 Mozambique safari to Wild Camp Gorongosa
A spectacular five-night package into the wilds of Gorongosa National Park with this well-priced Mozambique safari deal in the authentic Wild Camp. Walking trails are the focus of this glamping safari. Includes return light air transfers and two safari activities daily.
5 nights from
$2,850
Per person sharing