Mozambique – The ideal place to start Stand Up Paddle Boarding
Stand up paddle boarding (supping) in Mozambique is cool, is hot, is in. Base yourself in luxury mainland Vilanculos beach resort accommodation or a lavish Benguerra Island villa in the Bazaruto Archipelago. Try out SUP in the calm waters of their bays.
Stand Up Paddle Boarding (SUP) is one of the best ways to get fit and healthy and have fun all at the same time. Imagine standing on a huge flat board, paddle in hand, on glassy seas as the Mozambique sun rises? SUP can change your life – it is easy, easily accessible, and a healthy outdoor activity second to none. Book a supping holiday with Mozambique Travel and add on some kite surfing, wind surfing and sea kayaking to make the best of the diverse ocean activities.
Mozambique Stand Up Paddle Boarding (SUP)
Mozambique is a great SUP destination thanks to its sheltered harbours and bays on its extended 2 000 km coastline. Did you know that SUP originated in Hawaii as an outcome of surfing – standing up on their boards allowed surfers to get further out into the ocean? Today, stand up paddlers are a group alone and they like to race on oceans, rivers, lakes and canals and tailwinds – often long distances.
The huge lagoon at Bilene is an ideal supping venue where keeping your balance all depends on the winds that day. Kite surfers may prefer the windy conditions so get up early to SUP on the lake before it blows! Book into some casual yet comfy self-catering accommodation here and join the South Africans who love their water sports, fishing and diving during the summer holidays. 
In the Mozambique Bazaruto Archipelago, SUP artists can practise all disciplines associated with the water sport: flat water paddling, or touring, needs longer and wider boards to keep paddlers stable – most people can start on one of these. Set off on a turtle finding mission on your board, the oceans so clear you can see for miles. You will need polarised sunglasses, hats and plenty of suncream!
Stand Up Paddle Boarding is one of the fastest growing global water sports and once you have found your feet, you can tour the coastline around Mozambique. It is also a great way to keep trim. Check out the protected bays of Maputo, Santa Maria, Vilankulo, Inhambane and Ponta Mamoli – ideal SUP venues where novice paddlers can get the hang of the sport.
Base yourself on Bazaruto Island in the Bazaruto Archipelago and try out SUP in the calm waters of the bays. When you are worn out, dip into your outside shower and find a cold beer on a deck overlooking the ocean – aaaaaahhhhhh. 
We love Bazaruto Lodge for its simple name after the island on which it is located, in an astonishing Mozambique beach destination of admirable beauty.  Choose from warm, wooden bungalows and villas that blend effortlessly into the beautiful natural environment. Spend long sunny hours on their stunning verandas, gazing out across the sea, a sparkling turquoise marine paradise. SUP all day and into the sunset evenings. Bliss. 
Contact us today to organise your very own tailor-made SUP holiday package to the Mozambique bays and islands. We can arrange a tour of the best stand up paddle boarding destinations for your liking.
Featured Packages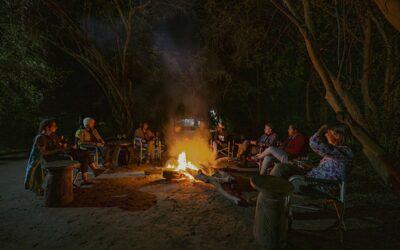 Mozambique safari to Wild Camp Gorongosa
A spectacular five-night package into the wilds of Gorongosa National Park with this well-priced Mozambique safari deal in the authentic Wild Camp. Walking trails are the focus of this glamping safari. Includes return light air transfers and two safari activities daily.
5 nights from
$2,850
Per person sharing