Mozambique's Top Island and Beach Eco-Destinations
Think before you travel to Mozambique's inspiring Bazaruto Islands and Vilanculos Bay for your 2024 beach holiday in this cool era of responsible and ethical travel. Choose eco-lodges with a conscious for the environment and people. Mozambique Travel's top two green island and beach destinations win first prize for their passion for community empowerment through ecotourism ventures that ensure a light carbon footprint to protect nature too. 
Check out our fabulous package deals for top-end eco-lodges in the Bazaruto Archipelago marine sanctuary and Vilanculos, the launch pad for best beach and ocean sports vacations.  We see 2024 as the year of climate change awareness, of taking control of individual impacts on global warming and the worldwide plastics problem. We think that more travellers are realising their impacts on the planet as they jet-set off on personal adventures to experience and explore beaches, islands, wildlife, cultures and landscapes. 
Travellers want holidays that cause fewer carbon emissions, and fewer impacts on people, natural resources and wildlife. Ethical travel means contributing to ecotourism and conservation ethics in your chosen destination.  
Discover and support ethical Mozambique sustainable tourism destinations in beautiful beach and island environments where luxury is still key. The impacts of construction and luxury facilities are reduced with the ethical management of natural resources and waste. Mozambique Travel shares a few of our favourite eco-lodges and hotels in Vilanculos and Bazaruto here to green up your travel dreams.
Vilanculos Goes Green in 2024
Your trip to Africa generates hundreds of carbon emissions in aeroplane and vehicle travel. When you book a luxury beach holiday package deal at Bahia Mar, you offset that carbon by planting trees – tropical forests like those in Mozambique soak up 26 tons of carbon per year!
When you stay at the gracious Bahia Mar Boutique Hotel in Vilanculos you combine your dream holiday with the green touch as you relax mindfully in the lap of luxury.  We suggest that you book a sumptuous beach suite at this eco-friendly Vilanculos beach destination, instantly calculating and offsetting the amount of Carbon Dioxide (CO2) you generate during your once-in-a-lifetime summer holiday. Bahia Mar Mozambique is a member of Fair-Trade Tourism and Carbonscored. 
Not far away on a rise above the sea sits a stark white Greek-styled villa called Santorini radiating opulence and modern facilities, pleasurable activities and utter decadence. But what you don't see is their dedication to an environmental initiative called the Santorini Footprints, launched in 2021 and already a roaring success. Santorini Villa acknowledges that global impacts of carbon dioxide and plastics are affecting all living things, especially the ocean's ecology. In a bid to turn the tide, they have started incredible ethical sustainable projects within the lodge and within the greater community. 
These include glass straws, Consol glass bottles, bamboo earbuds, natural and organic toiletries, recycling of waste, composting of edible waste and green energies.  They also support local beach clean-ups and the Plastic-Free Vilanculos initiative.
Island-Style Sustainability at Azura
From there, jump in a boat, and cruise over to the best island destination on the African east coast, the Bazaruto Archipelago. Discover the first eco-friendly resort in Mozambique, hand-crafted by the local community and operated in partnership with it. Explore the raw beauty of a protected marine ecosystem and its beach biodiversity and learn how the island of Benguerra forms part of the Bazaruto Archipelago Marine National Park. 
Beach villas featuring opulent interiors were constructed entirely by hand by the local people in a building project that showcased sustainable tourism at work. Committed to people and biodiversity conservation, Azura Benguerra has been designed in harmony with the marine and island environment and recently gained its Carbon Neutral Status.
Notice when you arrive in Mozambique that there are no golf courses, no shopping malls, no triple-lane highways and no sign of extreme development. This environmentally friendly country has remained an exclusive ecotourism destination in the face of ongoing modernisation and environmental destruction worldwide and you can still find remote islands and beaches, untouched game reserves and intact indigenous forests where visitors have yet to tread.  Come and make a positive contribution to wildlife and landscape preservation in Mozambique to boost the quality of life for all.  
Take it from us, a Mozambique ecotourism holiday is the perfect excuse to swing in a hammock in sea breezes, drink coconut milk all day, switch off all mobile phones and internet connections and just BE. 
Gorongosa National Park Eco Destination
Notice how our ecotourism holidays include sustainable wildlife safaris to Gorongosa and Kruger in quite the swankiest bush beach retreats ever dreamed up. Mozambique's flagship park, the captivating and versatile Gorongosa National Park has been rejuvenated as a world-class eco-destination and pivot for scientific research. The Gorongosa Restoration Project aims to assist Gorongosa to adopt a responsible tourism model that promotes wildlife conservation in balance with the needs of the people so that the wilderness can be saved in the long term. 
Taking sustainable tourism to the extreme, Gorongosa Wild Camp gives discernible wildlife lovers the chance to become part of this renowned biodiversity hotspot with life-changing connection to and immersion in nature. This seasonal camp operates until the rains come at the end of October every year, closing for a few months as nature does her thing. New and exciting, a bush experience where game viewing and nature walks fill your days. 
Sustainable tourism and ethical travel are the bottom line for your holiday to Mozambique. When you arrive, notice how all Mozambicans are working tirelessly to ensure a greener future for ecotourism in their country. Inclusive ecotourism projects are good for the ongoing economic and socio-cultural enrichment of the local population! Here's to a greener future for all!
Featured Packages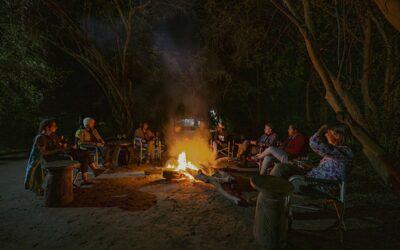 Mozambique safari to Wild Camp Gorongosa
A spectacular five-night package into the wilds of Gorongosa National Park with this well-priced Mozambique safari deal in the authentic Wild Camp. Walking trails are the focus of this glamping safari. Includes return light air transfers and two safari activities daily.
5 nights from
$2,850
Per person sharing