The Gorgeous Gorongosa National Park in Mozambique
Travellers who want to get back into nature for a while will delight in the choice of safari camps and accommodation in Gorongosa Mozambique. All the camp information below and how to get to this one-of-a-kind National Park in Sofala Province. What we love about the accommodation in this serene setting is that guests can choose to be totally immersed in the wilderness or to be entertained in the lodge as a luxury base with excellent facilities. 
Gorongosa is a miracle as it has completely returned to being a healthy refuge for all wild things since years of abuse in the form of war, hunting and poaching. The fauna and flora are back to normal, while ecotourism principles around people and planet are succeeding with the added touch of plenty of scientific research, education and training for all who are part of the park and its future.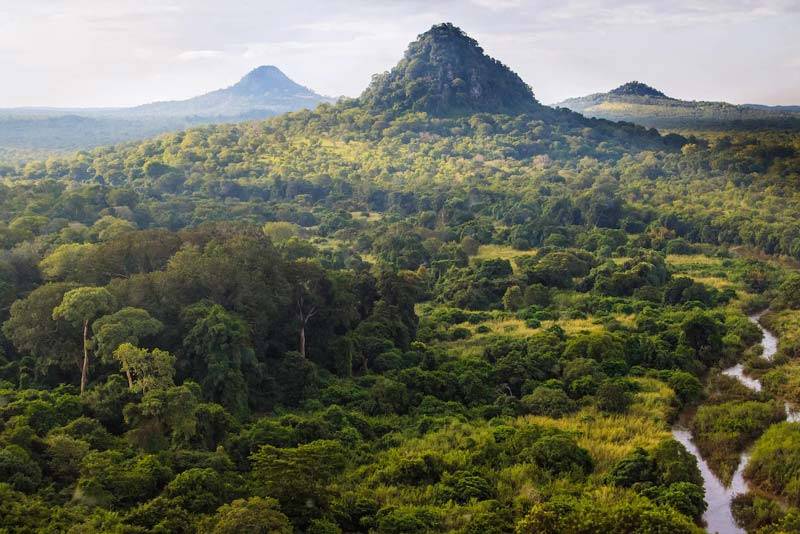 Gorongosa Safari Camps and Various Accommodation Options for Safari Lovers to Mozambique 
Wild Camp
Adventure deep into the heart of the gorgeous Gorongosa National Park for the wildlife experience that exceeds all expectations. For this conservation area is a story of rejuvenation and revival from days of civil war, hunting, poaching and simply out, ecological abuse. Today, the park is a sanctuary for wildlife, plants, birds, all manner of tiny creatures and splendid ecosystems from vast grasslands and woodlands to riverine forests, mountain water ways, wetlands, and drier areas. 
An escape to experience this world is best enjoyed in the recently added Wild Camp, a timeless experience in nature with contemporary facilities yet a wild approach to living. Off the grid solar lighting, outside showers and toilets, evening campfires and outside dining all contribute to an adventure in the greats safari outdoors to commune with the wildness without and within. Talented chefs add to the glamour of being in the wilds with excellent meals produced in the bush setting. 
Guests are treated like celebs despite the rustic chic design and theme of Wild Camp. The best of both worlds, indeed. Stunning canvas tents offer comfy first-rate beds, ensuite bathrooms under the sun and stars, solar lights and USB ports, select décor and sumptuous bedding. Meet around the fire at night and share stories about your days in the wilderness, walking, game driving and more. 
Gorongosa Wild Camp offers an intimate authentic wildlife education with incredible activities that take guests into the heart of a diverse and magical destination: walking safaris are an ideal way to get stuck into the beauty of the park and allow the pro guides to interpret the natural events around you, animal tracks, trees, insects, and connections in the wilds and how humans are part of this too. Game drives, outings to the mountain and to the coffee projects and community areas are also fantastic excursions to see the park in all its holistic achievements of nature and ecotourism successes.  
Mizumu Camp
A stylish campsite made for those with enough funds who care about nature and the environment and want to contribute to saving both planet and communities who rely on such natural resources. Ecotourism initiatives are vital to succeed these days when conservation of wildlife is at the crux of safari experiences. Gorongosa is a biodiversity hotspot that deserves a camp like Mizumu with its subtle luxury and awesome facilities made for comfort in a wild setting in Africa. 
Find this camp nestled on the on the Mussicadzi River hiding within the surrounding riverine vegetation with as little impact as possible on nature. The tents are so elegant and so camouflaged, raised on timber decks to see for miles and to be like trees in their design. They are connected with attractive walkways to each other and the central living area where guests gather to indulge in fine wining and dining around a blazing log fire under the stars. 
Due to open in 2023, Mizumu Tented Camp comprises only 6 designer canvas abodes for coupes or single safari enthusiasts. There is even Wi-Fi in the heart of the wilds here, but no one really needs it as the movie is playing out before your eyes everyday in nature's drama here in the heart of Gorongosa. Chill out around the swimming pool between game drives, nature trails and other thrilling wildlife outdoor activities. All-inclusive bush packages include meals, drinks, stunning accommodation, game drives and bush walks, transfers to the airfields and park fees too! 
Rated as one of the best places to visit in the entire world by Time Magazine! Mozambique Travel takes you there in style with a special deal made for your customised experience in this one-of-a-kind national park. 
Montebelo Safari and Lodge 
A stunning safari lodge located in Sofala province, central Mozambique, in the southern reaches of the Great African Rift Valley, introducing guests to a thrilling experience within the 4000 km2 area of the Gorongosa National Park. 
Book your bed in a destination offering bungalows, garden suites and villas, a camping area, a restaurant, swimming pools, a gift shop, playground, designer meeting room taking 140 people and lovely relaxing areas. Take time to explore the extensive web of trails for safaris, as well as walking areas and gardens. Our half board package deals give you the freedom to eat at the restaurant when you feel like it or to create a meal in your villa in your super kitchenette and sit on your deck to enjoy the garden.
Most accommodation units offer double beds, mosquito nets, air conditioning and private bathrooms with showers. Watch wild warthogs and monkeys snacking in the gardens while myriad birds flit about in the shady trees.  Brilliant safaris conducted on open land cruisers last approximately 3 hours from 6 am (morning safari), 10 am (midday safari) and 3 pm (afternoon safari). There is the option of a full day safari, including lunch, but for a minimum of 4 people. 
Guides are very professional and from the region so have an excellent knowledge of the animals and the park. Each safari includes a stop of about 15 minutes for a snack with coffee and drinks. 
As the park is completely flooded during the rainy season (the resort generally closes from November to February) the tracks have been built only in the southern part of the park and go from the lodge to Lake Urema and its surrounds. Enjoy trails through the area with the dense forest (preferred by elephants) and the open areas next to the lake where the herbivores and water birds are numerous, and it is not difficult to see lions, hippos and crocodiles. What a pleasant and peaceful stay in a very beautiful place where nature, with the help of man, has returned to its wilderness and its richness of animal and plant life. 
We love to assist our guests to find the best package deal for their needs and we also love to add on a beach experience if that is what suits your holiday fancies! Chat to us today to secure your wildlife safari experience at Montebelo Safari and Lodge in Gorongosa.
Getting to Gorongosa Mozambique
By air
Most travellers from abroad will fly to Mozambique via Johannesburg. You can then fly directly from Johannesburg to Beira (3 hours from Gorongosa) or connect through Maputo and continue on to Beira or to Chimoio (2 hours from Gorongosa). Several international cities also offer direct flights to Maputo. From Maputo, you will then have to take a connecting flight to Chimoio or Beira.
These are some cities that offer direct flights to Maputo en route to Gorongosa: Airline schedules are subject to change, so please check with your travel agent or the airline. 
Most tourists who are flying internationally have to fly through Johannesburg. From Johannesburg, you can fly to Beira on Airlink or Mozambique Airlines (LAM), which is a 3-hour drive from Gorongosa.
Your will take a short flight from Johannesburg to Beira.
There are direct flights to Maputo from Lisbon and many African cities several times per week. From Maputo, you can fly to Beira on Mozambique Airlines (LAM), which is a 3-hour drive from Gorongosa. Or, you can fly to Chimoio on Mozambique Airlines (LAM), which is a 2-hour drive from Gorongosa.
From Maputo, you can fly to Beira (3h 30m-4h drive to Gorongosa) or Chimoio (2h-2h 30m drive to Gorongosa). You may have to stay in Maputo overnight if you miss your connection.
Your next leg is a short flight from Maputo to either Beira. It is a 3h 30m-4h (200 km) drive from Beira and a 2-hour drive from Chimoio (135 km) to Chitengo, the main camp inside Gorongosa National Park. Request a transfer in advance and our park staff will be happy to meet you at the airport and drive you to the park in an air-conditioned shuttle van. Contact us to request a transfer. Keep in mind, the park closes at 6pm, so we can't pick up travellers after 2:30pm in Beira or 4pm in Chimoio. LAM Mozambique Airlines flies to both cities, and Fastjet also has flights to Beira from Maputo.
If your plane arrives too late to book a transfer the same day, you will need to stay in Beira or Chimoio overnight.
By car
There are four border crossings between South Africa and Mozambique. The main border crossing is the Lebombo border (known as Ressano Garcia on the Mozambique side), on the N4 (SA) / EN4 (Mozambique) that links Johannesburg and Maputo. See more border information below.
Lebombo Border to Maputo: From the main border crossing of Lebombo,drive 80 km on the EN4 – a high-quality tar road – to Maputo. You will cross two toll plazas between the border and Maputo. In Maputo, take the EN2 toward the EN1. There are plenty of gas stations and restaurants in Maputo if you need to refuel.
Maputo to XaiXai: In Maputo, take the EN1 north and drive 220 km to XaiXai. In the town of XaiXai you'll find several gas stations, restaurants, banks and a central market. If you're looking to stop over for a night, the lovely XaiXai beach is only 12 km from town.
XaiXai to Maxixe: Continue on EN1 north anddrive 255km to Maxixe. Maxixe is a bustling town with plenty of small shops, restaurants, and outdoor markets. You can also find banks and gas stations here. If you're looking to stop at the popular beach destination of Praia do Tofo, you will need to turn off the EN1 approximately 25 kilometers before Maxixe onto EN101 (Av. de Maguiguana) and continue 50 km toward Inhambane. In Inhambane, follow signs for Tofo Beach and the road will turn from tar to dirt/sand as you approach Tofo. Here you can enjoy snorkeling or scuba diving with whale sharks and other tropical marine life.
Maxixe to Vilanculos: Continue on EN1 north and drive 244km to Vilanculos. If you would like to check out one of the most popular beach resorts in Mozambique, just turn off the EN1 when you see a prominent sign for Vilanculos. The beach is only 18km off the highway. Here you can stay in a variety of accommodations – from high-end beachfrontresorts to rustic backpacker hostels. You can do beach activities on the mainland or do day and overnight trips to the Bazaruto Archipelago. This is a good place to stock up on fuel and other amenities as there may not be any reliable gas stations between here and Inchope. If you will be self-catering, this is the best place to do major grocery shopping, as there are only local markets near Gorongosa.
Vilanculos to Inchope: Drive back to the EN1 and head north for 403km toward Inchope. The first major landmark you will cross is a large bridge over the Save River. The tar road to Inchope is not well maintained in some areas and you have to be very careful to drive slowly and avoid potholes. You will pass through the small town of Muxungue where vendors sell the fruit and vegetables that are in season. You will arrive at the town of Inchope where Mozambique's major highways, the EN1 and the EN6, intersect. There are many fuel stations throughout central Mozambique, except for the road from Vilankulos to Inchope. The distance is approximately 400km with limited fuel stations.
Inchope to Gorongosa National Park: Go straight through the intersection, continuing on the EN1 for 42km. About a kilometer down the road on the left side, there is a BP gas station where you can refuel. Be sure to fill your tank as there is no fuel for sale inside Gorongosa National Park. As you continue on the EN1, you will cross a bridgeover the Pungue River – the views are fantastic! Continue on until you see a large sign for Gorongosa National Park – turn right onto the dirt road. Continue on the graded dirt road for 11 km until you reach the park entrance gate.Now your safari begins! Continue on the road inside the park for 18km and watch for sable antelope, bushbuck, and baboons as you make your way to the reception desk at Girassol Gorongosa Lodge and Safari where you will pay your park entrance fees and get information on the park.
Featured Packages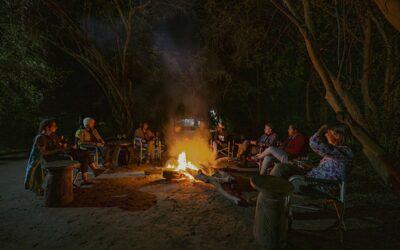 Mozambique safari to Wild Camp Gorongosa
A spectacular five-night package into the wilds of Gorongosa National Park with this well-priced Mozambique safari deal in the authentic Wild Camp. Walking trails are the focus of this glamping safari. Includes return light air transfers and two safari activities daily.
5 nights from
$2,850
Per person sharing