Santorini Villas Mozambique Whale Watching Holiday
Come and see the whales on an all-inclusive holiday package to Vilanculos in Mozambique. Plan your trip to Mozambique with a first stop at the scintillating Mozambique Santorini Villa in Vilanculos. 
Book that all-inclusive luxury villa holiday package and discover a Mozambique paradise where warm ocean waves meet sugar white sands. Bring friends and settle into your choice of five luxury suites overlooking the azure Bazaruto Archipelago.  
Come and see the Southern Right and Humpback Whales breaching and tail waving off the coast this summer from your luxury Villa Santorini suite. Yes, we recommend a special accommodation package deal to this gorgeous, sun-baked destination on Mozambique's sunny coast. Flights can be included on our whale watching holiday deal so choose the excitement of the Mozambique 2022 whale season.
Stay Longer with One Free Night on a Tailor-Made Travel Deal
Dreams do come true on your trip to paradise. Your luxury accommodation awaits when you choose a tailor-made travel deal to Santorini. Enjoy a free night on us with this great beach holiday package – AND you get a free beach picnic and boat excursion with this deal during your stay at Villa Santorini Mozambique! Get value for your money when you stay a bit longer in a luxury suite and enjoy a fantastic, discounted rate of one free night on the house to Santorini Vilanculos.
Put Mozambique on your African island holiday bucket list. Even the whales know that Vilanculos is the top Mozambique destination this summer! Be the first to savour unique beach and ocean delights. Boost your special whale viewing beach break with boat tours, scuba diving, kite surfing, horse safaris and sensual food.
We pamper our Southern African travellers because we know that Santorini private beach villas are one of the best whale-watching accommodation venues in southern Mozambique. Expect five-star pampering and world-class service on our popular four-night fully inclusive 2022 Santorini Mozambique package. Return road transfers to Santorini Mozambique from Vilanculos Airport are part of the deal. This is a fully inclusive package – so all your meals and selected drinks, as well as laundry, are included. There's also free Wi-Fi and four nights in a luxury suite at Santorini.
Food and Drink for Kings at Villa Santorini Mozambique
Make sure you arrive tired and hungry. Excellent food, select drinks and plenty of self-care will make your holiday worth it. Ease your way onto a sprawling king size double bed to rest then stroll into the main villa to lie at the pool and sip a delicious cocktail. The menu will thrill your taste buds. We believe that seeing the whales is the cream on the Irish Coffee of a sensory Mozambique beach holiday. 
The Santorini Beach Villa menu is cooking – its promises of 'fresh is best' food and drink make your mouth water. Choose homegrown, organic vegetables and fruits to compliment the catch of the day in a decadent display of colour and sensual delight. From the homemade breakfast granola to the sticky chocolate desserts, nothing quite beats gourmet meals you can eat with your fingers. 
Island holidays are made of this: whale-watching, fine dining, glorious sunrises and sunsets, boat cruises and … fine wines.
Santorini beach villa wines are specially chosen to enhance the sensory explosion of the delicate food tastes. Only the best varietal wines from the Western Cape of South Africa hand-picked for you because quality matters.  Step into the wine cellar at the Adega Bar to see the grand range of wines, beers, and spirits that are included in the daily rate. Or splash out on our selection of premium wines, champagnes, and spirits for that once in a lifetime celebration of just being here, in Mozambique, at the Santorini Villa.
As if this is not enough, we still urge you to browse all our Villa Santorini Mozambique Packages here. We promise our clients traveling to Mozambique the cream of special deals and discounts with free nights – as well as some world class bush and beach combination safari packages. The very best of Vilanculos accommodation and villas on offer. So why not go for our seven-night fully inclusive Santorini package? 
Featured Packages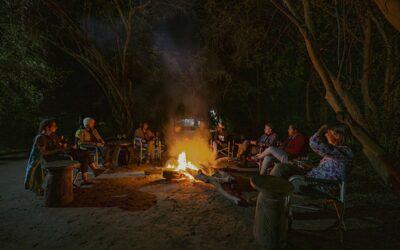 Mozambique safari to Wild Camp Gorongosa
A spectacular five-night package into the wilds of Gorongosa National Park with this well-priced Mozambique safari deal in the authentic Wild Camp. Walking trails are the focus of this glamping safari. Includes return light air transfers and two safari activities daily.
5 nights from
$2,850
Per person sharing