How to Plan a Self-Catering Holiday to Mozambique
Take the itineraries away and keep the strict schedules for another day when you plan a self-catering holiday to Mozambique. The best part of doing your own thing on vacation in Africa is the opportunity to shop from local markets, meet local people and try their kind of cooking. Read our self-catering accommodation guide to Mozambique. Best deals on self-contained beach villas from the holiday experts. 
We give you all the tips about planning a holiday of freedom to choose where to stay in fully equipped cottages, houses, lodges and hotels. All you have to do is decide whether to go for an all-inclusive package deal at a well-known hotel or settle for a comfortable self-catering villa. It's a choice to be on the beach or in the bush, adventurous and free of any time constraints and set schedules. No rigid meal times or confusing buffet spreads – choose personalised outdoor barbeques, sunset drinks, and breakfasts at midday as you plan your own daily itineraries as you go.
Our Top Five Self-Catering Accommodation Establishments 
Self-catering accommodation in Mozambique is essentially very stylish and comfortable and made for family holidays or romantic couples' retreats. From plentiful coastal self-catering venues with ocean horizon views to city apartments with city lights and harbour views, Mozambique promises every traveller something special. Usually, self-catering holidays are also self-driving holidays so take off enough time to explore Mozambique by road and discover the essence of a beautiful nation. 
Mozambique self-drive holidays are fun!
See our top five list of properties we recommend for self-catering holidays to Mozambique. 
Cabo Beach Villas – Santa Maria Peninsula
Excited families on holiday in Mozambique will appreciate the two spacious beach villas and two smaller forest villas at Cabo Beach Villas near Santa Maria. This completely self-contained luxury accommodation is perfect for children and is serviced daily. The roomy and sunny villas become a beach haven after long warm days spent swimming, diving, walking, fishing and just doing nothing. The larger villas boast 4 en-suite bedrooms linked by walkways to the glorious open-plan lounge-kitchen area. Families with children will love the dreamy deck and splash pool with braai area and stupendous views over the bay. So close to the beach you can almost leap there from the balcony. 
San Martinho Beach Club – Bilene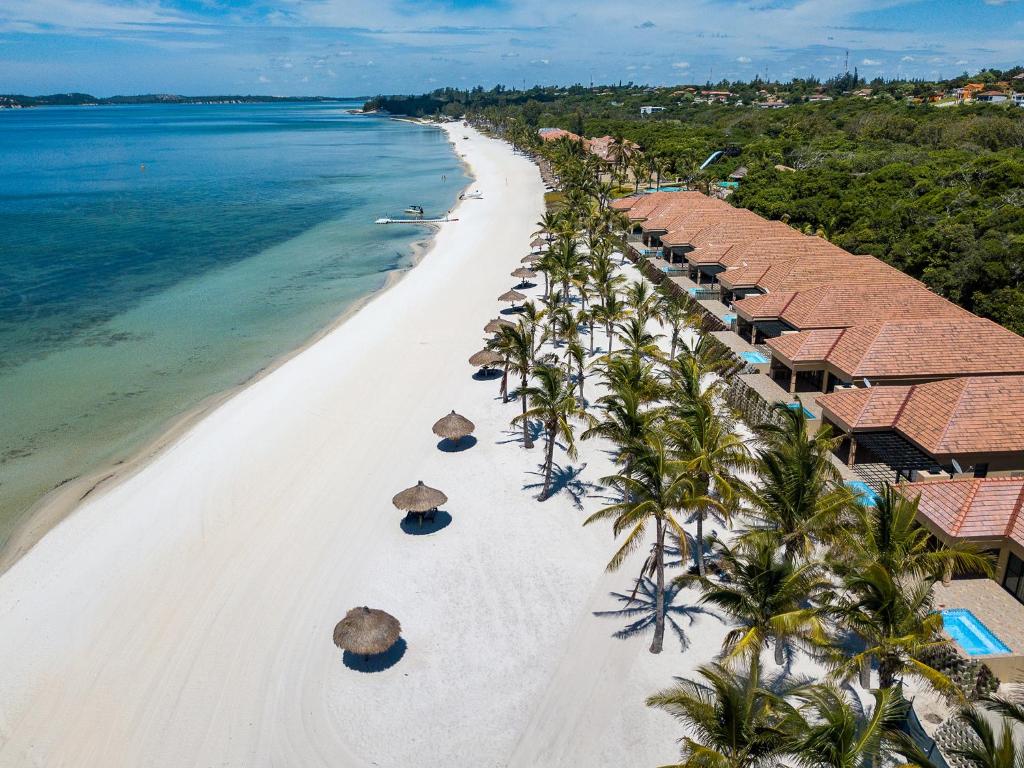 Bilene is a famous Mozambique self-catering destination beside the enormous Uembje coastal lagoon where marine conservation is of prime importance. This family holiday destination should not be missed especially if you stay in San Martinho Beach Club. Place of natural forest trails bordering 15 km of safe lagoon swimming and water sports galore. This picturesque top end entertaining family resort offers the best of both worlds – spacious self-catering beach apartments or luxury full-board hotel cabins with private plunge pools. When cooking becomes a task, head on over to the club bar and café for delicious menu options and delightful drinks. San Martinho Beach Club also features a spa and water sports facilities for all ages. 
Xai Xai Eco Estate – Xai Xai
Quite far north of Maptuo and south of Inhambane lies the glorious Xai-Xai Eco Beach Resort in Praia de Xai Xai, Gaza Province. Unpack those bags with glee when you discover a safe private house with 24-hour guarding service, only footsteps from the beach. Families will stay in one of 18 newly constructed spacious open-plan houses with 3 bedrooms, 2 bathrooms, balconies, lounges, kitchen-dining rooms, storerooms, and carports. There's even cell phone reception. Whale watching is perfect from the dunes and children can run free in the 12 ha of private, safe beachfront dune vegetation leading to the ocean. 
Mar e Sol – Ponta Do Oura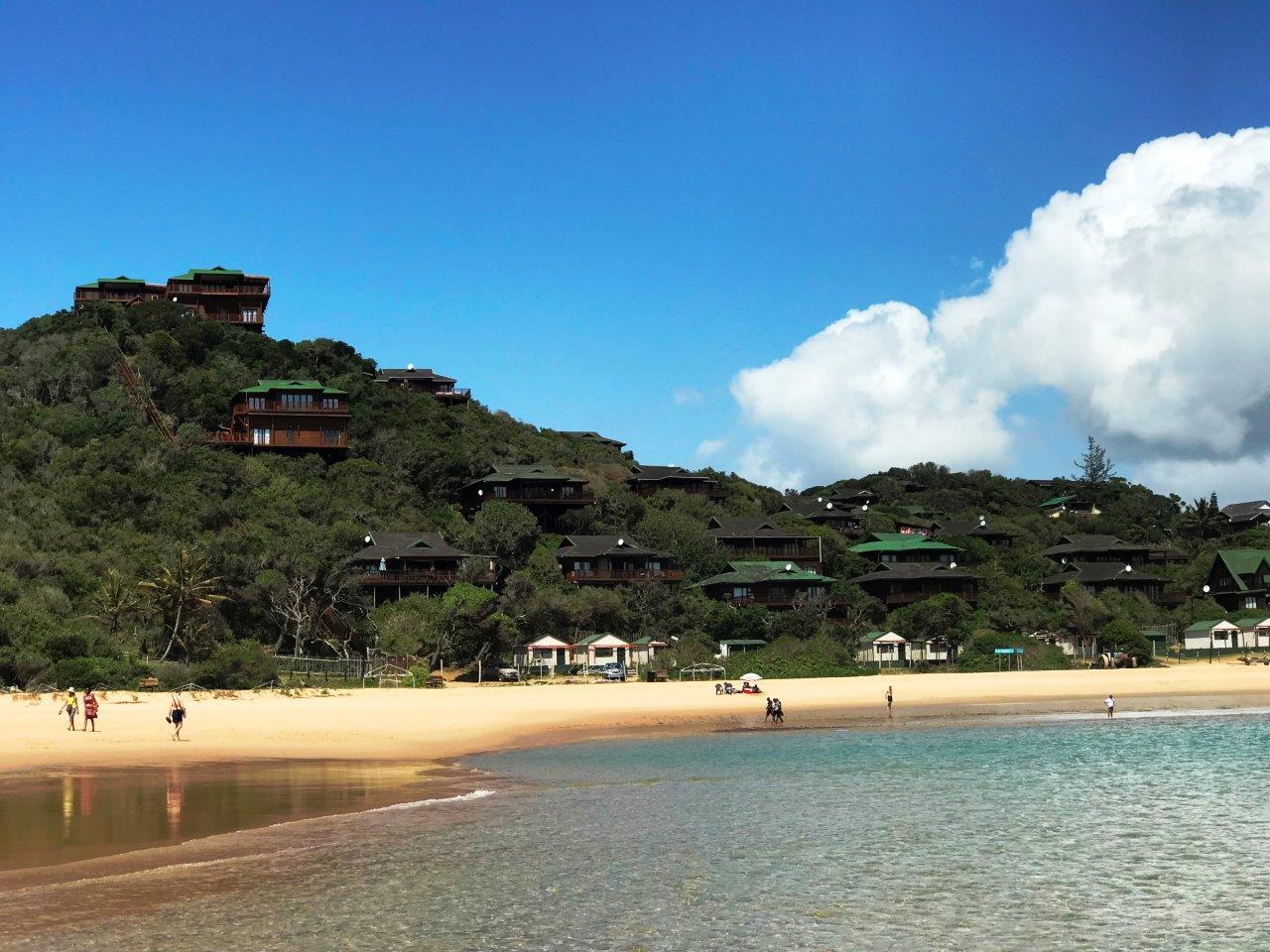 Mar e Sol is one of those must-visit beach resorts in Ponta do Ouro with awesome ocean views, fantastic self-catering family accommodation and direct beach access. One of the best beach resorts in Mozambique, Mar e Sol self-catering houses have 4 bedrooms and modern conveniences. It all makes for the perfect Mozambique beach holiday and it's worth saving every cent for best-selling Mozambique packages to Ponta do Ouro. Here, self-catering villas, hotels, lodges and houses remain affordable and chic – and water sports fill long summer days. Located just 1 hour from Maputo, 6 hours from Johannesburg and 4 hours from Durban, the Mar and Sol development offers holidaymakers a magnificent opportunity to enjoy the relaxing spectacular views, water sports, beach activities and comfort in nature. 
Affordable Beach Cabins at Mar e Sol
Sentidos Beach Retreat – Inhambane
Sentidos Beach Retreat is just that, a sentimental beach refuge tucked between a beautiful deep blue ocean and a languid lagoon packed with indigenous mangrove forests. For travellers to Mozambique who want the ultimate beach solitude in lush palm tree seashores, this place is a sentient destination on an endless white beach called Barra, fringed with coconut palms. Hints of the Maldives, memories of Mauritius, dreams of Seychelles – a Mozambique paradise easily accessible and committed to upmarket holidays in the true tropical island style. Secluded beaches, rustic accommodation in coconut groves and endless horizons with the option to self-cater and be free from all expectations. 
Sentidos Beach Retreat is where dreams come true!
We hope that this self-catering guide to Mozambique whets your appetite for a self-drive holiday to magical Mozambique in 2024.  For the best special deals on self-contained beach villas from the holiday experts, look no further and find out how to plan that once-in-a-lifetime self-catering holiday to Mozambique.
Featured Packages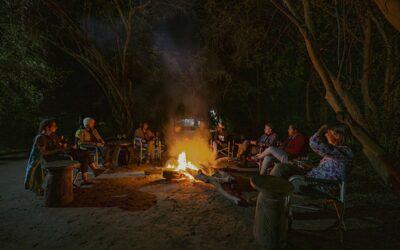 Mozambique safari to Wild Camp Gorongosa
A spectacular five-night package into the wilds of Gorongosa National Park with this well-priced Mozambique safari deal in the authentic Wild Camp. Walking trails are the focus of this glamping safari. Includes return light air transfers and two safari activities daily.
5 nights from
$2,850
Per person sharing