Swimming and Snorkelling with Dolphins in Mozambique
Swim with the dolphins in Mozambique on excellent supervised and responsible snorkelling trips to connect with these majestic marine mammals. Read about dolphin safaris here.
Swimming with the dolphins in Mozambique is an extremely rewarding and spiritual experience. These ethereal creatures are super intelligent marine mammals that seem to deeply connect with humans. Find the dolphins at Ponta do Ouro or Ponta Mamoli when you book a special dolphin swimming deal with Mozambique Travel. 
Feel the healing energies of dolphins when you swim beside them, feel all your worries and stresses disappear as you focus on the moment, in the silent underwater of the deep blue sea. Respect the dolphin's environment and they will respect you. 
The dolphin swimming experience is unforgettable. The highlight of your trip into Africa. Lean that the sleek Bottlenose Dolphins tend to come inshore to meet people on their terms. Swimmers also get view and interact with the delightful Indo-Pacific Humpback Dolphins and the energetic smaller Spinner Dolphins. 
The Dolphin Centre in Ponta do Ouro is the centre for all swimming with dolphins in Mozambique and they have a very ethical environment approach towards these very special creatures. It is time for your dolphin safari!
Bottlenose Dolphins

: live in pods of about 15 dolphins. They are a very curious species and have always been curious about people in or near water. They will often investigate strange objects in the water such as divers and video cameras. They are very social and playful and love surfing in the waves near shore and leaping high out of the water. These dolphins often work as a team to harvest schools of fish, but they also hunt individually. They mainly eat fish, squid and crustaceans. Bottlenose dolphins use unique sounds for communication such as squeaks, and whistles emitted from the blowhole. 

Humpback Dolphins:

the Indo-Pacific Humpback dolphin has a long dorsal fin and humped back appearance due to fatty tissue deposits on their backs as they get older. They also have rounded foreheads and long beaks. Humpback dolphins are more relaxed when swimming and stick around in small pods of around five or so dolphins, led by an alpha male. 

Spinner Dolphins:

small dolphins found in tropical waters around the world. They are famous for their acrobatic displays, jumping high out of the water and spinning around like a spinning top. The beak is long and thin, with a dark tip. Spinners congregate in groups from just a few dolphins to great schools of thousands. They are consistently acrobatic and when breaching, they throw themselves high up into the air and spin around on their tails up to 7 times in a single jump. Is this communication or just play?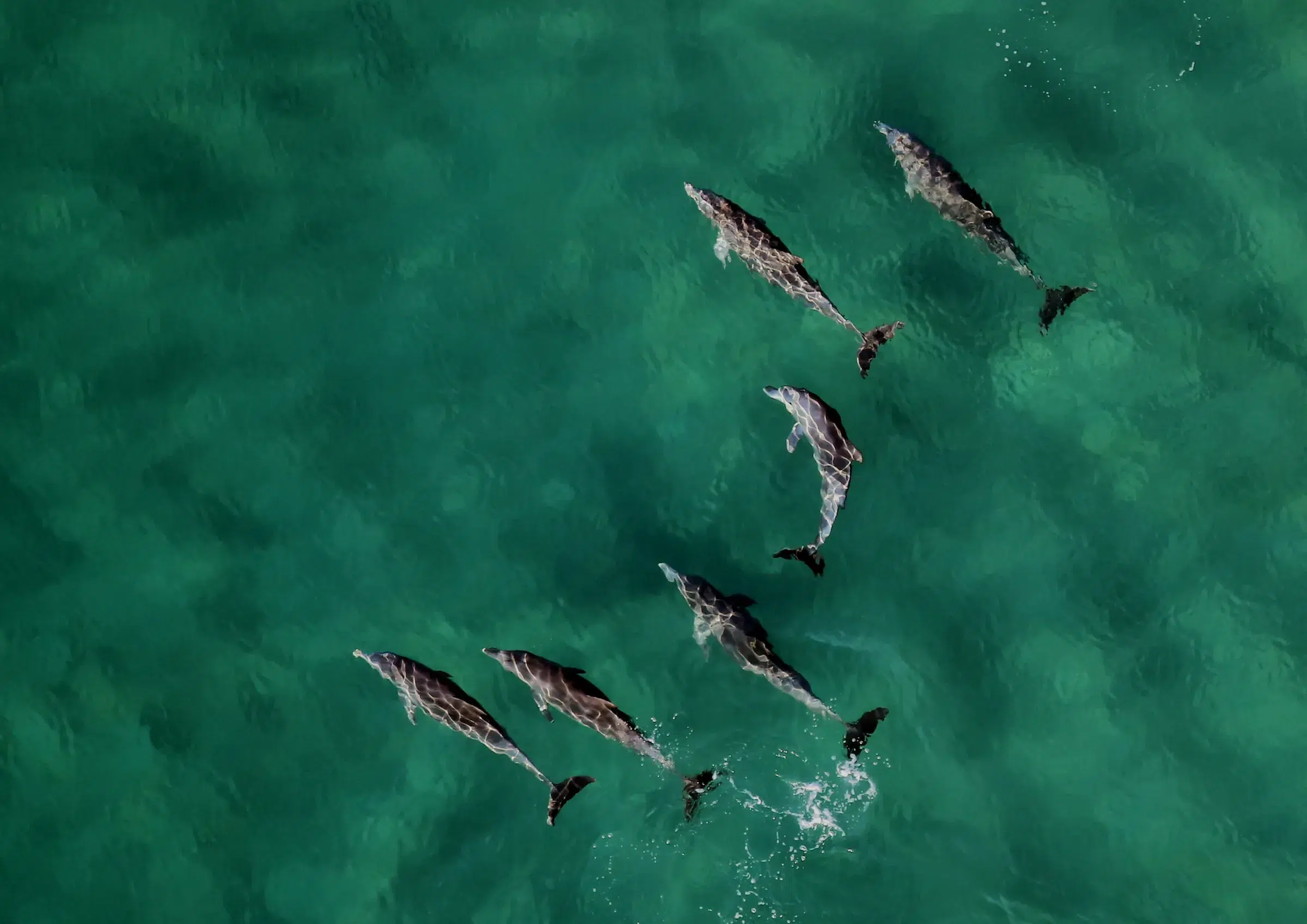 Planning your Dolphin Safari Package Holiday in Mozambique
Contact one of our consultants to organise your dolphin swim holiday package where you get excellent rates and accommodation at the best beaches where dolphins occur. Mozambique is the ideal holiday destination where you can enjoy guided dolphin swims in warm bays and clear blue sea. 
In the south at Ponta do Ouro, qualified guides will join you to sense the needs of the dolphins and to lead your group into the dolphin pod. If the dolphins want to swim with you, they swim up to you and around you in a playful, circular motion. All you need to do is relax, float, feel their energy, enjoy. If the dolphins want to avoid your group, they will go off to feed and you will have to leave them alone. No one is allowed to touch these protected marine animals.
Being in their underwater world for a few minutes can change your life. You may be able to hear the dolphin's sonar frequencies and it is said that this energy can alter your cellular structures to encourage a real sense of happiness.
Check into the magnificent White Pearl Resorts for a week on a unique dolphin safari deal to swim with these marine mammals. White Pearl has been designed to please every visitor and to care for the magnificent landscape that surrounds it. Welcome to a contemporary hotel set in lush dune forests with careful emphasis on the sparking ocean views and the sugary beach below. There is an all-embracing ethical compassion for all life in the region and they love to take you, their privileged guest, to swim with the regal dolphins in the warm bay below.
Responsible dolphin programs in Mozambique
All wild dolphin swim programs in Mozambique are regulated by a responsible Code of Conduct and in Ponto, the Dolphin Centre crew follow Responsible Marine Mammal Tourism. They are very proud to be an Ethical Marine Mammal Campaigner in Mozambique which supports the Dolphincare code of conduct.
Please note that Dolphin in-water observations are not guaranteed. So, combine your swim with the dolphins with a snorkelling experience to see myriad fish in all their glorious colours, and an ocean cruise to see all kinds of marine life, stopping for a beach picnic along the way. We can tailor make your beach holiday dolphin safari in Mozambique with irresistible special rates for honeymoon couples and families.
Featured Packages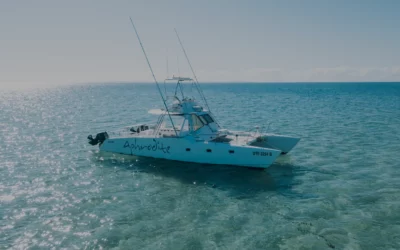 Santorini Mozambique Free Night Holiday Deal 2023
Stay for 5 nights in one of our top-selling Mozambique beach destinations in Vilanculos and only pay for 4 with plenty of extras this 2023. Escape on holiday to Villa Santorini on a free night special holiday deal. Includes airport transfers, all meals and drinks.
5 nights from
$2,485
Per person sharing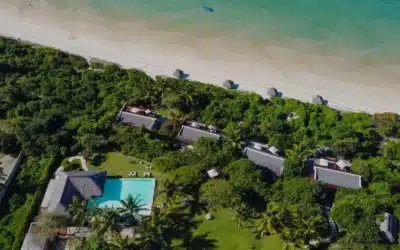 Bahia Mar SADC Family Special
Special treatment for South African families on this inspiring 5-night Mozambique beach holiday to the luxury Bahia Mar Club in Vilanculos. Stay in a spacious family unit on the beach. Kids stay free when you fly in from South Africa to Mozambique on this excellent family rate.
Enquiry Form
"*" indicates required fields