Exploring the Ecological Diversity of the Bazaruto Archipelago
Diving in the Bazaruto Archipelago takes on new meaning when divers become part of vital ocean research in Mozambique. The dedicated work and commitment of the Bazaruto Center for Scientific Studies (BCSS) contribute greatly to marine conservation and research in the country. Diving for recreation and science on BCSS diving expeditions is the ultimate diving experience because divers do what they love and they get to learn about vital marine research in the Indian Ocean. This is the first permanent ocean observatory in the Indian Ocean and in Mozambique!
Are you a passionate diver with at least your PADI Open Water Certification? You are invited to share your passion for ocean exploration during a thrilling week of 8 dives on the Explorer Diving Package with the Bazaruto Center for Scientific Studies (BCSS). This extraordinary PADI 5* diving centre was created hand in hand with scientific research in the Indian Ocean ecosystem of the Bazaruto Archipelago. Your diving experience will open your mind and heart to marine wildlife and the research of their vital habitat. You will learn from researchers how they conduct field projects, participate in surveys observing scientific techniques, and location scouting. 
Become a qualified dive master at BCSS
Dive with BCSS Ocean Experts for Dream Marine Careers
BCSS scientists have spent thousands of hours surveying the underwater terrain using special seabed beam technology to get the perfect picture of the innate biodiversity which they then bring to your diving party.  How incredible that your exploration into world-renowned dive sites has already been 3D mapped for you to enjoy a unique diving experience. You can open doors for your own career in marine biology!
Many dives at the BCSS are perfectly timed to coincide with cyclical whale and shark migrations, increased dolphin activity, and the prevalence of whale sharks, dugongs, and black marlin. Passionate divers can choose from 9 different courses in 13 different dive sites. The aim is to seek the "big five" animal groups usually encountered in these waters:  cetaceans (whales and dolphins, elasmobranchs (sharks, rays, skates, and sawfish), reptiles (turtles, sea snakes and kraits), sirenians (herbivorous mammals including dugongs) and bony fish (snappers, trevallies and groupers).
Maybe you are already a pro diver or involved in ocean conservation and research? Then the Expedition Diving Package is for you! This is the best place for you to get your acclaimed professional PADI Dive Master qualifications in a highly respected, world-renowned diving destination with highly trained divers, scientists and marine biologists. Get first-hand knowledge and groundbreaking research about marine wildlife endemic to the Bazaruto Archipelago, paving the way for your PhD one day. The Expedition Diving Package is a 12-night adventure.
Diving packages are created for all levels of divers to press forward with personal achievements while diving expeditions take the diver a step further.  These are specifically for divers with a passion to save the oceans and do the research to learn more and do more – staying at the BCSS for 12 nights increases interactions with both skilled researchers and marine wildlife and the opportunity to complete 16 dives with all equipment included is an irresistible offer. Meet like-minded people in your quest to do more for the ocean. 
Did you know that less than 3% of the ocean is properly protected? This is not enough! If we want to preserve marine biodiversity the time to act is now and we must conserve at least 30% of the ocean. The BCSS on Benguerra Island has been focusing on the annual migration of Humpback whales from their freezing Southern Ocean of the Antarctic to the balmy Indian Ocean depths around Benguerra Island. 
The Work of BCSS
The latest news from the BCSS reveals intricate migration patterns of Humpback Whales. Recent observations of these gentle giants of the deep – as they travel from the freezing Southern Ocean of the Antarctic to the balmy Indian Ocean depths around Benguerra Island – reveal that pods of whales are spread out over vast distances and individuals seem completely on their own mission.
Yet a closer look reveals that the whales remain part of their larger migrating group, some opportunistically feeding, others instinctively giving birth and still more chivalrously escorting mothers and new calves to safe bays where they cavort and teach one another survival techniques. It's a long and arduous journey and it seems that some non-pregnant females remain in the colder zones of the eastern Weddell Sea in the Antarctic region right through the winter. This could be part of the instinctive Humpback whale survival technique, ensuring that some females remain safe 'at home' because they don't have to give birth and teach their calves the ways of the wild ocean, where to feed, migrate and which routes to follow.
This is just one small part of all that happens at the BCSS, but the main attraction is for divers to upskill and assist at the same time. Imagine exploring a marine sanctuary packed with more than 2000 fish species, the rarest dugong, various dolphins, turtles and whales, sharks, whale sharks, manta rays and more? Imagine being part of a scientific research project learning data gathering, fieldwork techniques, identifying species, being trained on writing up scientific papers and working in onsite laboratories to experiment, collate and conclude. Enhance your career prospects at the BCSS if you want to be a top marine biologist, scientist or conservationist! 
Diving is a Community Affair  
One of the main aims of the BCSS is to train local people to be marine biologists in a two-pronged bid to save the oceans and improve the quality of life for all who live in the Bazaruto Archipelago. Benguerra is the second largest island in the Bazaruto Archipelago and only about 11km x 5.5 km, some 14 km offshore from Vilanculos. One small school hosts the 300 or so children who live on the island, the total population being around 2000 people, who utilise just a few small trading posts.  
The BCSS employs between 80-90% of their team from local communities, with the remaining 10-20% coming from overseas. This has created a unique multicultural research and management team that believes in honesty, effort and transparency – and an overwhelming sense of pride and respect for the environment. 
"Our founding principles are to understand, protect and guarantee, in the best possible way, marine science in Eastern African marine ecosystems to further support present and future generations within this unique environment." The best way to do this is to share all research and results with the rest of the world, for free. 
The BCSS works closely with the Western Indian Ocean Marine Science Association (WIOMSA) established in 1994 to ensure sustainable use and conservation of all marine resources throughout the Western Indian Ocean (WIO) region – including the 10 countries of Somalia, Kenya, Tanzania, Mozambique, South Africa, Comoros, Madagascar, Seychelles, Mauritius, and Réunion.  
Benguerra Island Facts
Benguerra Island in Mozambique is a little smaller than the largest island in the archipelago, Bazaruto, and broke away from the mainland thousands of years ago. The island is 11 km long x 5.5 km wide and lies 14km offshore from Vilanculos. Portuguese explorers also gave the island the name Santa Antonio after one of their saints and today it offers a spiritual retreat in nature – hikes into the dune forests, picnics on pristine white beaches, PADI dive courses into exceptional dive sites, brilliant horseback riding and mind-blowing fishing. Declared a national park in 1971, Benguerra Island is surrounded by a marine reserve and freshwater crocodiles can be found in the three lakes, evidence that once the island was joined to the mainland. Extremes between high and low tides mean that some activities are only possible during low tide such as picnics on huge sand banks that arise out of the sea. At high tide, access to the ocean for swimming is much easier. 
Ecotourism is responsible tourism on Benguerra Island – to conserve all marine resources.  Luxury lodges are committed to the local people who are the main shareholders in all aspects of their management and success. No fishing zones allow marine wildlife to breed and feed while environmental education deepens everyone's earth wisdom. Benguerra Island is a top tourist destination.
The Bazaruto National Park Facts
It is here that a rare marine sanctuary protects the ocean wonders that live here in harmony: humpback whales, dolphins, turtles, whale sharks, manta rays and the very shy, rare dugong or sea cow. Imagine being part of a 1400 square km ocean park where 5 islands float, two completely wild and uninhabited, the other three transformed into tranquil holiday destinations fit for royalty. A sensory explosion awaits, of enormous flocks of pink flamingos, fish eagles calling, samango monkeys, green coucals, blue-cheeked bee-eaters, bushbuck, red duiker, porcupine and crocodiles – inhabiting the beautiful wetlands, grasslands and huge dunes.  
Mind-blowing snorkelling in the clear azure waters around the isles brings visitors face to face with more than 2000 types of fish and a wealth of large marine wildlife. Friendly fisher folk have lived here for centuries in their rustic simple villages, relying on the ocean bounty. Ecotourism initiatives engage the local communities in natural resource conservation. The Bazaruto Archipelago Marine National Park, a vital marine sanctuary, was set in place in the 1970s to protect the rare dugong, other megafauna and their ocean ecosystem. This is surely one of the most rewarding wilderness destinations in Mozambique, if not the world. 
Visit the Ocean Observatory at the Bazaruto Center for Scientific Studies (BCSS).
Diving in the Bazaruto Archipelago for ocean research in Mozambique contributes to marine science. Divers get to enjoy fantastic reefs and sightings in supreme dive sites while learning about marine research helping biodiversity preservation in this Indian Ocean region. Top diving courses and expeditions for keen divers and ocean enthusiasts highlight the captivating beauty of the Bazaruto Archipelago in Mozambique! 
---
Featured Packages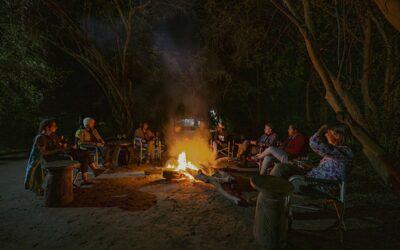 Mozambique safari to Wild Camp Gorongosa
A spectacular five-night package into the wilds of Gorongosa National Park with this well-priced Mozambique safari deal in the authentic Wild Camp. Walking trails are the focus of this glamping safari. Includes return light air transfers and two safari activities daily.
5 nights from
$2,850
Per person sharing