Safari Packages at Kruger National Park and Bazaruto Archipelago
A legendary safari in the authentic wilderness of South Africa's famous Kruger National Park is best combined with the mesmerising beauty of an island journey into Mozambique's Bazaruto Archipelago. How do we know this? The thrill of a bush and beach combination package holiday simply cannot be matched in 2022. 
Combining time out on an Indian Ocean island with exciting game viewing in the still wild Kruger National Park is a dream come true. Book your dream safari-island escape through Mozambique Travel for the best trip into Africa that you will ever experience.
Why choose the Bazaruto Archipelago Islands? This magnificent chain of islands, off the coast of Mozambique in the Indian Ocean, features idyllic beach resorts, superb diving and snorkelling opportunities, and sensational summer weather. This marine region also boasts charismatic creatures such as humpback and southern right whales, whale sharks, manta rays, nesting turtles and sharks. 
See it to believe it – the last remaining population of the rare dugong or sea cow is endemic to this region! Experience the sheer beauty of an island chain conserved by communities and organisations who care. In fact, the lodges on the islands all care about people and planet as they commit to reducing their carbon footprints.
Select Luxury Lodges on Bazaruto and Benguerra Islands
The Bazaruto Archipelago is a sought-after tourism mecca where sustainable tourism includes luxury facilities for all paying guests – this money goes straight towards the conservation of the species both in the ocean and on the isles! Mozambique Travel recommends five-star accommodation in some of our best lodges on both Bazaruto and Benguerra islands. These two larger islands are environmental wonderlands where pristine landscapes blend in with the gorgeous ocean and soft white beaches. 
Bazaruto Lodge is a trend-setting destination for keen fishermen and divers. Settle into delightful A frame thatched villas complete with aircon, ceiling fans, TVs, and tea/coffee making facilities they are right on the beach and close to the communal bar and dining areas. Enjoy a therapeutic spa treatment, a sundowner dhow cruise and a friendly vibe at the pool bar where South African and Portuguese wines slide down thirsty throats. The fresh seafood meals are cooked to perfection and the staff go out of their way to fill your picnic cool box for you day out on the ocean.
Your fishing package can be arranged to include all meals, drinks and transfers between the mainland and Bazaruto Island. Simply call us and book a tailor-made special deal that suits you.
We can offer you superb deals on some of the very best resorts on Benguerra Island, at the impeccable Azura Benguerra and &Beyond Benguerra. Both destinations combine superb accommodation with stunning facilities and tranquil locations and allow you to enjoy the very best of Mozambique's finest beach staycations.
Bring the kids to the definitive andBeyond Benguerra Lodge where time stands still.  The family suite, Casa Familia, is the cream on the dessert of an island holiday made for your reconnection as a family unit. In this space, you will find time to drink tea and discuss all those issues and subjects that flash past in a busy life. Treat this stand-alone home as your own while you enjoy walks about the huge gardens, dips in the dazzling full length pool and refreshing outdoor showers. Each child gets their own bed and even bedroom and other perks include the free Wi-Fi, bar area, coffee bar and music system.
If you want to really get the most out of an African trip, then combine your andbeyond Benguerra visit with a great package deal to their Ngala Safari Lodge near the Kruger National Park. The best of wildlife and marine bliss on this fully inclusive safari and beach combo with chartered flights and heli transfers all part of an unforgettable offer.
Wild Kruger Nights and Serene Benguerra Island Evenings on Bush Beach Safaris
Merge with nature at &beyond Ngala Safari Lodge in a wild yet opulent unfenced camp and keep your eyes peeled for the majestic Big Five. Spacious cottages beneath a canopy of statuesque Mopane and Tamboti trees exude a romantic colonial ambience – sit and absorb the sounds from a deck overlooking a private waterhole. Exhilarating evening drives continue after nightfall, then end the evening with a warm and hospitable banquet.
Just days later, travel to Benguerra Island for a 5-night stay. A short drive away lies the golden egg of a Benguerra island experience, the alluring Azura Retreats with its dedicated five-star approach to environmental tourism and world class hospitality. You may be inclined to go for the beach bush packages taking you from one extreme to the next – from watching a live lion kill from an open top land rover to sipping a chilled glass of wine on a dhow cruise off the shores of a Mozambique island!       
Again, a visit to the wilderness of the South African bush near Kruger Park is a must do if you want to merge the best of beach and bush vacation deals. The Azura Benguerra Mozambique and Sabi Sands safari package takes you into the heart of the bushveld where lions, cheetah, leopard and elephants roam, buffalo snort and impala dance. 
Bush it and bush it on this never to be missed Kruger safari combo with the Bazaruto Islands Mozambique!! This is your chance to blend the tranquility of island life with the rawness of real nature in the wilds. Yes, discover this incredible 2022 Mozambique safari package that shares a few days at the opulent Lion Sands River lodge and a few more days at the Grande Dame of all island lodges, Benguerra Azura.  One minute you will be walking in the bush on a trail and coming face to face with a rhino and the next minute you will be on horseback, cantering along sugary palm fringed beaches.
Legendary Kruger National Park in South Africa
Seeing the Big 5 in the extended regions of the Kruger National Park is only a small part of your prestigious journey into the African bushveld. It is about getting back to nature and discovering who you are in the greater scheme of life on planet Earth. 
Kruger is one the last bastions of wildlife in the world and is home to some 2 000 leopards, 12 000 elephants, 27 000 buffalo, nearly 3 000 lions and huge herds of zebra, giraffe, impala, and other antelope. Look out for warthogs, baboons, rhino, reptiles and bird species galore. Book a bush walk to get up close and personal with the tiny critters we miss in our daily lives – bees, butterflies, worms, plants and trees.  
For many, the highlight of our Bazaruto and Kruger packages is the trip to the vast and legendary Kruger National Park in South Africa. Stay in one of the many fine park camps, with comfortable and fully furnished lodges or tents, fine food and the chance to experience a traditional evening campfire. Sensational safaris with experienced guides take you to places where you are most likely to spot wild animals roaming freely as they should. It's an experience you will never forget. 
Mozambique Travel is your go to booking agent with plenty of discounted rates up our sleeves. We can tailor a special bush beach safari package for your ultimate trip into Africa to seek the Big 5 and the marine rarities as mentioned.
5 Reasons to Visit Bazaruto National Park
Record your first and only sighting of the rare dugong and see endangered sea turtles nesting on beaches.

Catch a game fish, tag it and release it back into Mozambique's oldest and most spectacular marine reserve.

Tune in with the tides and snorkel at extreme low tide over untouched coral reefs then don your scuba diving kit and head off into the depths to see sharks, rays, whale sharks and other incredible ocean creatures.

Choose from diverse villas and cabins, chalets and hotels in the archipelago where irresistible package deals to suit honeymoon couples, families, business groups and friends. 

The sheer beauty of the scenery is enough of a good reason to just go!
5 Reasons to Visit the Extended Kruger National Park Region
Explore five different ecosystems in a region as big as a country as you drive from north to south to see grasslands, forests, wetlands and semi desert. 

Immerse yourself in the peace of pristine nature and spot the Baobab trees sticking out and hosting tiny creatures in their leaves and flowers. 

Forget about the city and all its stresses as you watch wildlife survive in the rhythm of existence. 

Kruger is enormous – bigger than Belgium or Wales – so drive its 360 km from one end to the next. 

Choose from diverse luxury lodges in the Greater Kruger region and go on safari twice daily.
Featured Packages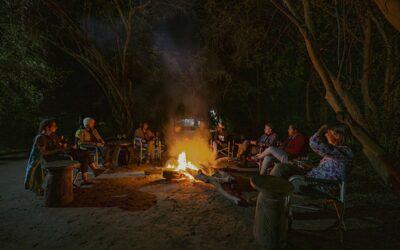 Mozambique safari to Wild Camp Gorongosa
A spectacular five-night package into the wilds of Gorongosa National Park with this well-priced Mozambique safari deal in the authentic Wild Camp. Walking trails are the focus of this glamping safari. Includes return light air transfers and two safari activities daily.
5 nights from
$2,850
Per person sharing