The Rich History of Gorongosa National Park
The history of Gorongosa National Park in central Mozambique reads like a Wilbur Smith novel. Wars, hunting, poaching, greed, politics, drama and intrigue. The story of Gorongosa is a true tale that provides hope and faith in people and wildlife management and conservation. 
There is a national park in central Mozambique that is a veritable Eden, a paradise that is home to diverse wildlife existing in natural habitats, a place so remote and so untouched that it harks back to the days when humans were mostly unheard of. Ironically, it is thanks to humans that Gorongonsa is so well preserved and conserved. 
It is also thanks to the enormous commitment from park management, scientists, communities, and game rangers that the Gorongosa National Park has returned to its former glory and is functioning to its optimum yet again as a nature area in its own right. Ecotourism is contributing to the bouncing back of this biodiversity hotspot as more tourists come to experience something so special it makes them realise their place in the world cannot remain secure without the conservation of natural resources and all living things. 
Accommodation packages are now available for a range of tented camps, villas, cabins and suites that provide varying venues for nature lovers in comfort and style, deep in the wilderness. Mozambique Travel customizes your budget to suit the style of accommodation you require for your own immersion in nature, game drives, wilderness trails, visits to community projects and more.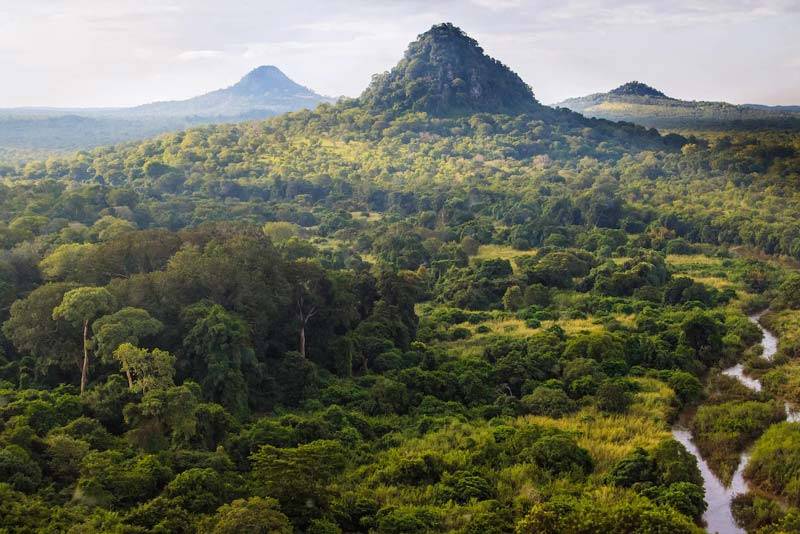 Community Involvement in Conserving Gorongosa is Ecotourism at its Best
Conservation game rangers patrol the park daily, their daunting task to look after all wildlife and their habitats, to ensure that all communities living alongside the park are safe and sound, and to remove all traps or evidence of poaching and hunting in the park.  These rangers have been sourced from the local communities and are the eyes and ears of the wilderness. 
They are in tune with the natural landscape, having grown up here and been integrated into the way of the wild from young ages. They can teach their elders about their work and the meaning behind their work, and they can pass on to the children the importance of conserving natural resources for the health of the communities. Poachers are dangerous but these rangers have already resolved poaching and trapping issues in the park thanks to their dedication. 
Another long term and successful project that integrates the community is the master's programme that teaches students how to be nature conservators of the highest order. The only master's programme globally that teaches students in a real park setting, this MSc in conservation biology is cutting edge education for those who want to become biologists, professors, rangers and ecotourism professionals in their own countries or further abroad. Community members are taking this to heart and learning a lot about their amazing Gorongosa and all that it means for the future of Mozambique and Africa. 
The Successful Gorongosa Project for Wildlife and Community Benefits
The reality is that Gorongosa is indeed a lush and mind-blowing safari experience with lions, leopards, elephants, rhinos, buffalo and hundreds of other important species living in the wild as they should always have been. It is the biodiversity flagship for Africa. 
And this is thanks to the innovative Gorongosa Project, a 20-year Public-Private Partnership set up for the joint management of the huge park between the Government of Mozambique and the Carr Foundation, a US non-profit organization. The idea is that the natural resources are managed in accordance with the needs of the local communities and ecotourism principles. 
Gorongosa has been described as one of the most diverse parks on Earth, covering a vast expanse of 400,000 hectares. Recently, the Gorongosa Project and Mozambique's National Administration of Conservation Areas (ANAC) helped to protect an improving population of lions, reduce prime threats, and get the Park recognized as one of National Geographic's 'Last Wild Places.'  
This all follows the mission of the park which is to partner with others to preserve the wildlife and work with the local communities. The aim is to create a huge, unfenced area of protected areas for the game to run free – the park boasts some 7 000 noted plant and animal species and landscapes reflecting every habitat in Africa! This biodiversity hotspot needs all the help it can get. 
Success Stories Help Wildlife and Ecotourism Goals with Greg Carr Foundation 
The lion success story is just one example of the great work being done at Gorongosa: years ago, before the civil wars, the poaching and hunting that decimated Mozambique, Gorongosa was once home to hundreds of lions. They got wiped out.  The new mission is to make Gorongosa a lion refuge once again. Having lions run free in Gorongosa is vital for the ecosystems as lions are predators that have a job to do. This will also save the lions as a species as they are presently under huge pressure from poaching, snaring, trophy hunting and random killing due to their preying on human livestock in the local communities. But this can change with more dedication from researchers, game rangers and the buy-in from communities and the people who are driving the poaching.
Ongoing research aims to get the park to where it was way before it was proclaimed as a nature area. Thanks to BioEx, local conservationists and researchers collect data and document the biodiversity on an ongoing basis. BioEx is all about the mapping of species and documenting what happens to them – so far, scientists have found 100 new species, 25 species endemic to Gorongosa, and 750 species on the Red List (endangered)! 
Greg Carr is part of this vision to ensure that Gorongosa remains a sanctuary for all living things. An American nature lover and philanthropist, he has pledged millions of US dollars to return the park to its enormous original biodiversity and his involvement in the Gorongosa Restoration Project is a 30-year plan including the sustainable development of the communities around the park. 
To date, his team has reintroduced several species to the ecosystem, included Mount Gorongosa inside the the park's boundaries, planted more than three million trees on the mountain, created an international science research centre, established eco-tourism in the park, and provides ongoing health and education programs to the local communities living near the park's borders.
Sustainable Development Promotes Community Involvement in Gorongosa 
The Mount Gorongosa Coffee Project is one of the main community projects at Gorongosa. The mountain is a high 1864 meters and is a vital water supply to the park with its healthy forests and springs feeding the watery areas below. Coffee grows well in these conditions and the coffee program is there to save the Afromontane forests from ongoing use by communities for their survival needs. Coffee brings in much-needed funds to sustain the livelihoods of the people who then realise how important the trees are as a direct link to the water resource there they need to survive.   
Sustaining the forests is an enormous project too and Gorongosa received funds from the Global Environment Facility (GEF) to help local people set up their own nature conservancies therefore learning how to manage and use their forests sustainably, into the future. They learn how forests control erosion, clean water, remove carbon from the air, provide wood and fruits and honey and more!
It is a reality that the Gorongosa Project serves approximately 200,000 people living in the Gorongosa National Park's Buffer Zone. This human development zone will grow as the park boundaries also grow to allow more biodiversity to flourish. But then so must the people flourish. the main vision is to stop poverty and find ways to ensure that people have better lives and understand the importance of the nature reserve beside them. The ecotourism project contributes to this vision because the tourists bring in much-needed funds to sustain the community's visions.
Gorongosa History Timeline
1920-1959, Hunting Reserve: Gorongosa was first officially protected in 1920 when the then rulers set aside 1000 square km for a hunting reserve for fancy leaders and the wealthy. Later, in 1935, the park was extended to 3200 square km to protect habitat for the nyala and black rhino. 

1960-1980, National Park: Things started to improve during the 1960s and Chitengo Camp gained two swimming pools, a bar and banquet hall, then a restaurant and some shops and a clinic. An arial survey revealed 200 lions, 2200 elephants, 14,000 buffalo, 5500 wildebeest, 3000 zebras, 3500 waterbuck, 2000 impala, 3500hippos, and herds of antelope numbering more than five hundred.

1981-1994, Civil War: The violence increased in and around the park and it closed in 1983.  Battles were fought here for the next 9 years, and bombing destroyed buildings and roads. Hundreds of elephants were slaughtered for their ivory, selling it to buy arms and supplies. Hungry soldiers shot many more thousands of wildlife. Lions and other large predators were gunned down for sport or died of starvation when their prey disappeared. By 1992, when war was over, animal counts showed a 95% loss with the near extinction of cheetahs, leopards, hyenas, wild dogs and rhino!

2004 – Now, Restoration: In 2004 the Government of Mozambique and the US-based Carr Foundation agreed to work together to rebuild the park's infrastructure, restore its wildlife populations and spur local economic development—opening an important new chapter in the park's history. There was huge excitement in 2018 when cameras showed a leopard in the park! 
Today, the Gorongosa National Park is a success story that reads like a history book! Chapter by chapter, the park has built up to a crescendo of true wilderness and a nature escape for those who care about biodiversity and natural resources. Chat to Mozambique travel to secure your exploration of this magical destination in central Mozambique, to stay in accommodation with luxury facilities and access to all wild things.  
Featured Packages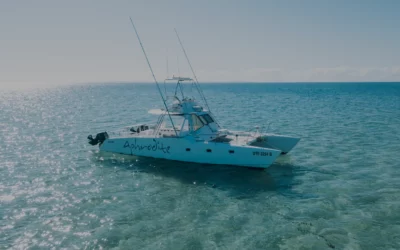 Santorini Mozambique Free Night Holiday Deal 2023
Stay for 5 nights in one of our top-selling Mozambique beach destinations in Vilanculos and only pay for 4 with plenty of extras this 2023. Escape on holiday to Villa Santorini on a free night special holiday deal. Includes airport transfers, all meals and drinks.
5 nights from
$2,485
Per person sharing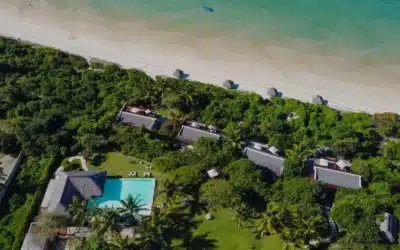 Bahia Mar SADC Family Special
Special treatment for South African families on this inspiring 5-night Mozambique beach holiday to the luxury Bahia Mar Club in Vilanculos. Stay in a spacious family unit on the beach. Kids stay free when you fly in from South Africa to Mozambique on this excellent family rate.
Enquiry Form
"*" indicates required fields