Plan your next Holiday to Azura Benguerra Island
Planning your next holiday to Mozambique? Getting ready to take a trip to the African east coast? Then make sure you explore the fabulous travel deals to Azura Benguerra Island Lodge, land of milk and honey, home of whales and exceptional experiences in the great outdoors. 
Honeymoon couples are dazzled by the unbelievable 40% discount on the bride's accommodation in the honeymoon package to Benguerra Azura. Meanwhile, couples needing a break from reality can go for the 'get more luxury for less' deal that guarantees an awesome free week of accommodation for one partner! But that is not all! Read on to find out more about the mind-blowing accommodation packages at our favourite island lodge in the Bazaruto Archipelago.
Discount for the Bride in Azura Retreats Honeymoon Heaven Package
Just marrieds on honeymoon get buckets of romance at Azura beach resort. And your bride gets 40% off accommodation in a hand-crafted beach villa that perfectly fits the bill for solitude in nature for two love birds. A short walk to the spa, it's time to tune in with the tides and the moon, the sunrises and sunsets, the way of the world. 
Add to this free Wi-Fi access in the TV lounge, a 15-minute refresher back and neck massage, and pure luxury in a room packed with mod cons: air-conditioning, king size bed with down duvet, tea and coffee making facilities and a well-stocked mini bar. Plunge into your own little pool every morning for a wake me up swim then tackle the 'hardships' of an island getaway in Africa!
So, book this travel deal after your own hearts and discover complete privacy in your luxurious Mozambique beach villa – experience brilliant, personalized service, with the emphasis on subtle nuances, for romance at its best at Azura Benguerra.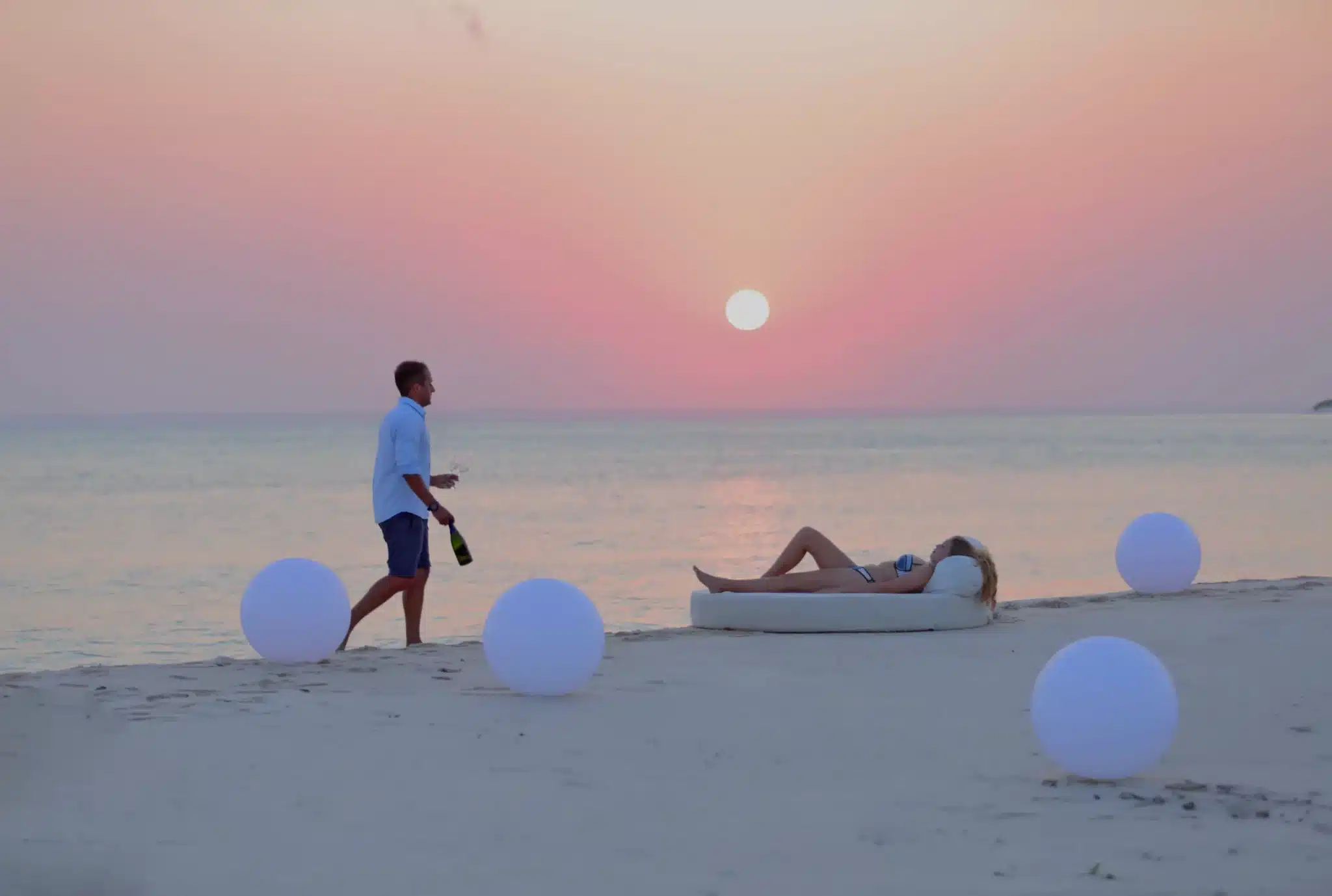 Get One Free Night Benguerra Azura 7-Night All Inclusive Travel Deal
The definitive Stay Pay Special Package includes all return flights between South Africa and Vilanculos, helicopter transfers to Benguerra Retreats, fancy accommodation in a beach villa plus all meals and drinks. Get one night free on this 7-night all inclusive travel deal so only pay for 6 nights on the softest bed you have ever experienced.  
Settle into rustic elegance in an eco-villa right on the white sands of Benguerra Island as you turn the clocks backwards. Feel relaxed, revitalized, and inspired at Azura thanks to the proximity of your accommodation to the marine environment. 
At last, a Mozambique holiday escape that marries all the elements of world-class mod cons and dedicated service. Imagine getting a free island cruise, sunset dhow cruise, the weekly gin special, sundowner cocktails every in your beach sala and incredible opportunities to stand up paddle board, snorkel, kayak and swim to your heart's content? The Stay for 7, Pay for a 6-night special deal is also fully inclusive of a personal butler and a stargazing lesson!
Special South African Treatment Package Deal Azura Benguerra 2022
Did you know that Azura Benguerra makes sure that South African residents get special treatment with a greatly reduced rate on travel deals for 7 nights? These fantastic savings attract travellers from South Africa all year round and include return boat transfers, all meals, selected drinks, sunset cocktail of the day, your own Mozambican host and use of non-motorised water sports facilities.
Book this sensational South African Residents Special Offer to Azura Benguerra Island before it is too late. Don't miss out on the exceptional rand value of this package which rates as one of our best value five-star island deals available in 2022. Covert every creature comfort in your private beach villa that you never get at home: private splash pool, huge bed, mini bar, tea and coffee facilities plus super air-conditioned chilling spaces for two.
Two Guests for the Price of One Benguerra Island Lodge Deal
This is no honeymoon deal but it may as well be for the kickass rate that you get for two – yes, your partner stays for free on a seven-night deal to Azura Mozambique! Get the very best luxury Mozambique Island Resort accommodation when you stay for 7 nights or more at Benguerra Retreats in the Bazaruto Archipelago. Your special package includes airport transfers, but we can find all your flights too between Vilanculos and South Africa if needed.
Opulent beach suites on Benguerra Island equipped with five-star amenities such as air-conditioning, ceiling fans, and king-size beds fitted with Egyptian cotton ensure that guests are ultra-comfortable during their stay at Azura. Be amazed by the sheer elegance, space, and quality décor that makes this resort so special. Don't delay booking this outstanding holiday package to Mozambique from South Africa. An awesome luxury for less package tailor made for you.
Azura Benguerra Santorini Mozambique 7-Night Package
Pay for three nights but stay for four at Santorini Villa in Vilanculos before jet setting off to the amazing Azura Benguerra Beach Lodge. This double beach resort deal for your Mozambique holiday in paradise includes return airport transfers and helicopter transfers to the island, all meals and drinks plus free Wi-Fi. The best part of this journey into fascinating Africa is the time to absorb the sheer beauty of an ocean and beach environment. 
These plush villas are made for your pampering and delight. Your Villa Santorini Suite is packed with mod cons and flows into a spacious living area with gorgeous nooks and crannies where you can hide and relax. At Benguerra, your beach cabin is located away from the madding crowds and features enormous soft beds, a sunset sala, beautiful cobalt blue plunge pool and décor to die for. Consider this extraordinary weeklong holiday deal split between Vilanculos mainland and the Bazaruto Archipelago. 
Fun Family Break at Mozambique Azura Benguerra for South Africans
Believe it or not but kids do stay for free when you take the plunge and book the Rand saving Azura Retreats family package deal. Fly to Benguerra island and get a family villa for 5 nights full board plus the helicopter flip! No charge for kids in the best Infinity Beach Villa accommodation you could ever wish for. Imagine your own luxury space with a coffee machine, huge bed and space for the kids to sleep, a large plunge pool with sun loungers and immediate access to the azure sea? Never get hot with air con and a fan, and order all that you need via your personal Mozambican butler. 
This astounding Mozambique Family Break package is a perfect deal if you want to show your children the mysterious beauty of the Bazaruto Archipelago. They will love the choice of kid-friendly activities so catch your breath while the Azura Benguerra team takes care of them. Snorkel, dive, go deep-sea fishing, rock pool exploring, horse riding, dune boarding and so much more.
Three Bush Beach Combo Deals in Kruger and Benguerra Azura Resort
Last but not least, the Azura beach bush breaks are extremely popular this year with many clients wanting to combine the best of Kruger National Park with the cream of Mozambique beach holidays. The three top bush beach breaks are:
Leopard Hills Azura Benguerra
This ten-night package combines the very best of a Kruger National Park big five safari with a beautiful island getaway in the Bazaruto Archipelago in Mozambique. Your adventure begins in the world-renowned Sabi Sands Conservancy, home to Leopard Hills Safari Lodge. Expect five-star game viewing, service, and accommodation at this epic safari lodge. Then fly direct to Mozambique Vilanculos to embark on a new marine journey to taste the pleasures and delights of Azura Retreats on Benguerra Island. This all-inclusive deal offers the perfect bush and beach combo for discerning travellers that wish to combine Kruger with a beach add-on in Mozambique.
Lion Sands Azura Benguerra
Pick an unforgettable Kruger safari at the luxurious Sabi Sabi Kruger lodge combined with an island getaway in Mozambique. Feel at home in the wilderness in the genuine spirit, warmth and freedom that only nature can provide. Enjoy the thrill of a guided nature walk and twice daily game drives. Book this fantastic Sabi Sabi and beach combination highlighting 4 nights at Lion Sands River Lodge and another 4 at Azura Benguerra in the Bazaruto Archipelago of Mozambique. Allow the peace of the island retreat to fill all your senses as you indulge in water sports you never thought possible.
Londolozi Varty Azura Benguerra
Jet set on a world-class Kruger and Mozambique Island combo safari when you fly to Londolozi airstrip and transfer via game drive to Varty Camp in the heart of the bushveld. Your 3 nights stay here is reminiscent of old-time African safaris with a contemporary touch. Game drives, meals, drinks and a true environmental education are all included on this Kruger safari. The next 5 nights of this 8-night special bush beach deal are made in heaven at the tranquil Azurea Retreats. Fly to Vilanculos Mozambique for this full board escape in a lavish beach villa with restaurant and spa amenities nearby.
At Mozambique Travel we care about your holiday in Africa. Choose the best travel package for your needs and we do the rest: weddings, honeymoons, family breaks, corporate getaways and couples' breaks from the city in Mozambique. Islands, beaches, scuba diving and deep-sea fishing special deals. Contact us today.
Featured Packages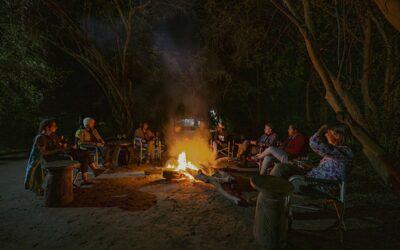 Mozambique safari to Wild Camp Gorongosa
A spectacular five-night package into the wilds of Gorongosa National Park with this well-priced Mozambique safari deal in the authentic Wild Camp. Walking trails are the focus of this glamping safari. Includes return light air transfers and two safari activities daily.
5 nights from
$2,850
Per person sharing