Why Visit Ilha de Mozambique
Read our comprehensive travel guide to the historically fascinating Ilha de Mozambique, a UNESCO World Heritage Site. We book flights, tours, transfers & accommodation to Mozambique's best-known island. 
For something completely different from the usual dream beach and ocean holidays in Mozambique, the small revered Ilha de Mozambique is a bucket-list cultural and historical phenomenon. Join locals and tourists alike and use this comprehensive travel guide to the historically fascinating Ilha de Mozambique, also sometimes also called Mozambique Island. We book flights, transfers and accommodation to Mozambique's best-known island, and usually your visit to Ilha is part of a greater itinerary that includes National Parks in Mozambique like Gorongosa or the beaches of Vilanculos and Bazaruto. See the incredible reasons why you should visit this fascinating Island of Mozambique!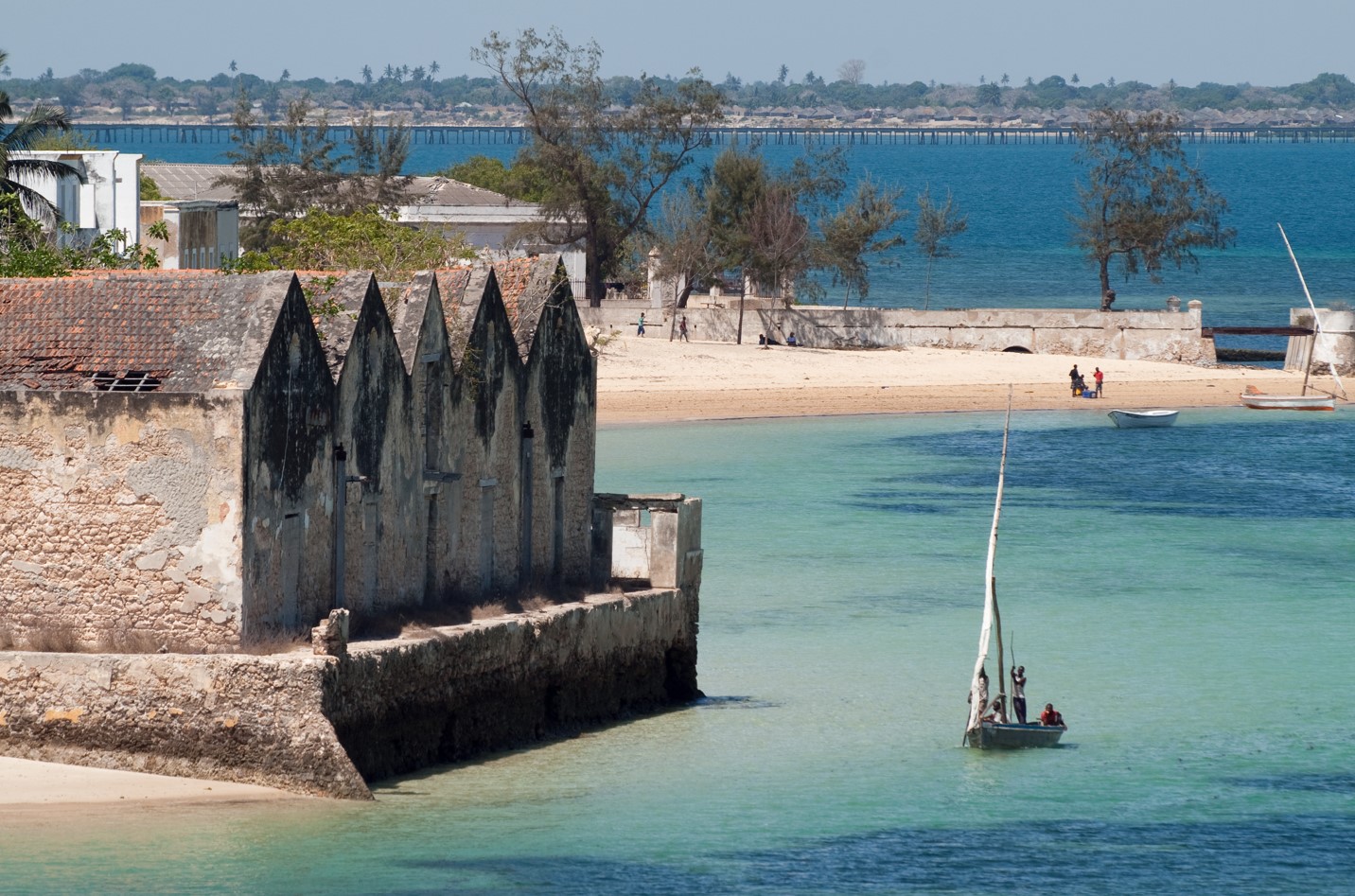 It's delightful to the eye on a boat from the mainland coast as the tiny island perches on the sea bed, a calcareous coral reef in the Indian Ocean just 4 km from mainland Nampula between the Mozambique Channel and the entrance to Mossuril Bay. Part of the charm of visiting the island is crossing the amazing 3390 m one-way, one-lane concrete bridge built in the 1960s from the mainland to the island. It's an eerie transition from a modern bustling city to an isolated refuge for ancient cultures, UNESCO recognised 300-year-old architecture and a beautiful complex history from many continents and many angles. 
Not many tourists know that Ilha de Mozambique is the third island in a miniature archipelago with two small, deserted islands called Goa and Sena. Many of the ancient ruins on the island of Mozambique are still standing thanks to their strong building techniques, the use of stone or coral and lime and the attractive ornamental styles used during the 16th century. People who live here live in tune with the ocean, the fish and the tides, and they are part of the fabulous history of navigation in the Indian Ocean as it played out during the trading eras since the 10th century. The Portuguese set up nautical routes to the Arab states, Europe and India which paved the way for enormous historical changes and impacts on these regions. . 
Why visit Ilha de Mozambique at all? Well, there is just so much to see, absorb and enjoy! It won't take you long to walk its small area, just 3 km long and 500 m wide, a unique destination that was once the capital of Mozambique. Today, this island is a UNESCO World Heritage Site thanks to its ancient history and culture dating back to before the 14th century. Prior to the Portuguese sailors arriving Muslim slave traders had a successful and prosperous trading post here. After violent battles and establishing dominance the base of power moved to the Portuguese. In 1507, they built a naval base there and established the Chapel of Nossa Senhora de Baluarte which is now the oldest ever building in the southern hemisphere. This is one of Mozambique's fastest-growing tourism destinations with 16 000 residents, boasting a fascinating blend of Indian, Portuguese, African and Arab cultures and architecture. 
How to get to Ilha de Mozambique for your Mozambique Island holiday
The best way to explore Ilha de Mozambique is to book a package with Mozambique Travel and let us take care of your flights, transfers and accommodation needs. Once you are on the island you can easily organize your own activities and excursions. To be honest, it's quite a remote destination and that's what makes it special. So let us take care of the basics and enjoy your time there as part of your Mozambique holiday exploring it, and a few other destinations. 
Yes, it is possible to do a self-drive holiday to experience Mozambique Island and that magical bridge from the mainland to Ilha. Even tough travel independence is key and you are the master of your own destiny – it's a very long way to get there. From Johannesburg to Ilha it's a whopping 2500km. Yes, that's right 2500 km. From Maputo its 1500km and along the way expect long stretched of very badly potholed roads. So, unless you are on a long-term expedition and have months to travel this is not really an option.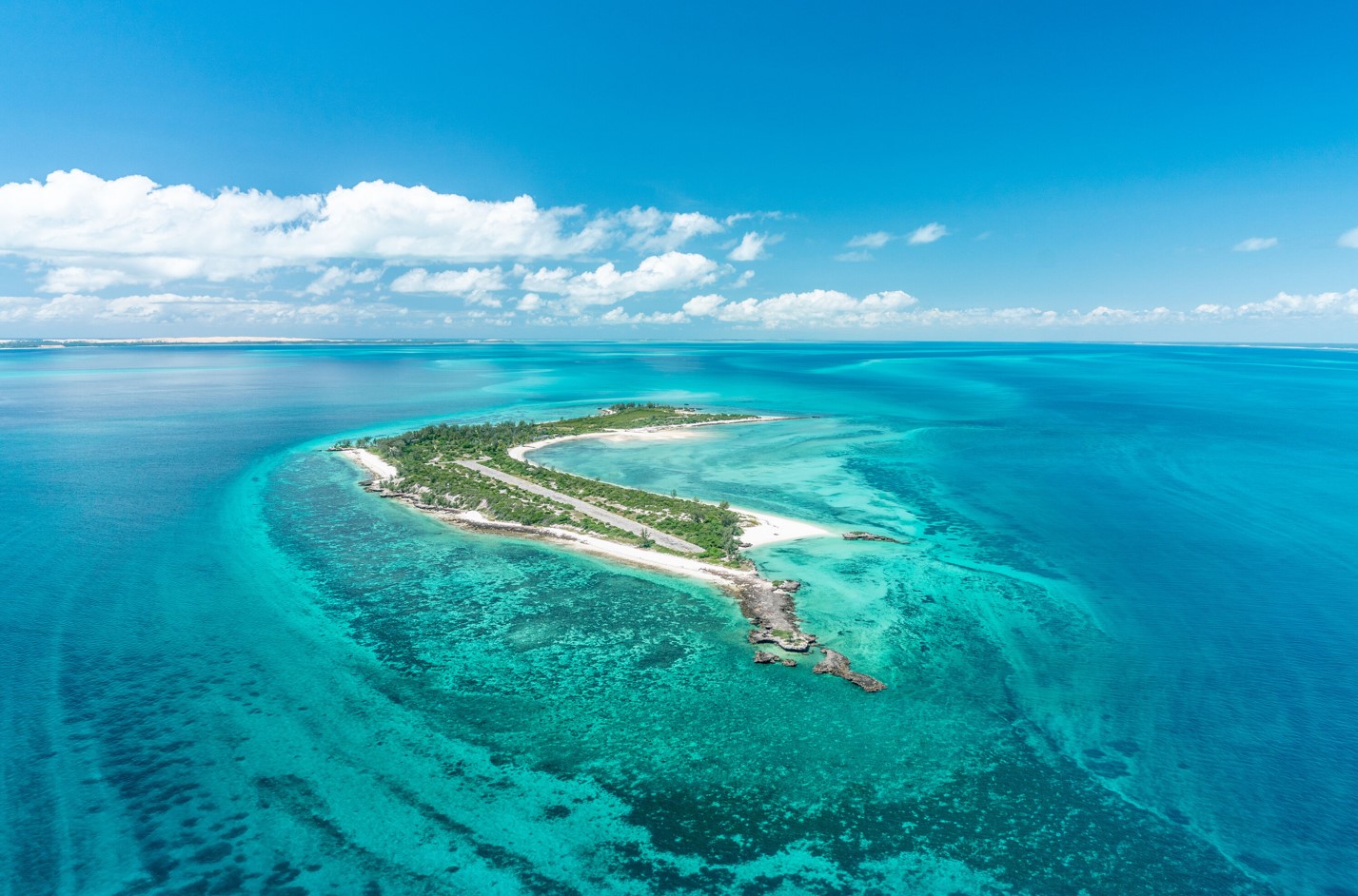 Chartered flights for privileged tourists from the rest of Mozambique to the mainland small runway at Lumbo are possible – but only if you are on a big budget. Most visitors to Ilha de Mozambique like to fly directly from Johannesburg to Nampula. Or stop at the international airport in Maputo and take an internal flight with LAM to Nampula or Nacala. The trip to Ilha is often part of their bigger Mozambique holiday and adventure. Road transfers are easily arranged from Nampula or Nacala to Mozambique Island with Mozambique Travel. 
Direct flights are as follows from Johannesburg to Nampula Mozambique: AIRLINK (4Z231) 
Tuesdays and Thursdays with SA Airlink. They depart at 10:30 O.R. from Tambo International (JNB) for a direct flight to Nampula at 13h00 with a flight duration of 02h30m
Direct flight from Nampula to Johannesburg with SA Airlink: AIRLINK (4Z231)
Tuesdays and Thursdays depart at 13:35 from Nampula (APL) with arrival at 16:30 O.R. Tambo International (JNB) with a flight duration 02h55m.
Internal flights from Maputo to Nampula with LAM TM150, TM151and TM191
Maputo to Nampula flights daily and depart Maputo at 06:10 arrives Nampula at 08:20 or depart Maputo at 17h30 arrives Nampula 19h40 which will be too late for drive to Ilha. Overnight Nampula for evening flight.
Internal flights from Nampula to Maputo with LAM TM162
Departs Nampula on a Monday, Wednesday and Friday at 09:00 arrives Maputo at 11:10
Internal flights from Maputo to Nacala with LAM TM162
Direct flight from Maputo to Nacala on a Monday, Tuesday, Wednesday, Thursday and Friday departing at 11:10 arrives at 13:35
Internal flights from Nacala to Maputo with LAM TM163
Direct flight from Nacala to Maputo on a Monday, Tuesday, Wednesday, Thursday and Friday departing at 14:15 arrives at 16:40
On arrival at either Nampula or Nacala Mozambique Travel will organize a meet and greet service with an English-speaking driver for your 2-hour road transfer to Ilha or Island of Mozambique. Stop along the way and buy fresh cashew nuts and definitely insist on visiting the Catholic Church at Meconta. There is a very beautiful true story about 2 nuns who refused to leave their mission at Meconta during the violent post-colonial civil war. As a result of what they had done over the years for the community and how they were respected – they were never harmed. This was a hot combat zone with regular skirmishes, killings and contacts between Frelimo and Renamo forces at the time. There were many incidences of innocent civilians being killed because lines were blurred in the brutal horrors of war. Both sides – one Marxist, one Christian respected these two women and left them unharmed in a rare case of sanctity. An amazing local legend that came out of this terrible cold war conflict in this region. 
See the founders of Mozambique Travel, Kevin and Fiona Record visiting this sacred mission on their trans Africa journey in 1994.
Where to stay in Ilha de Mozambique
Villa Sands Boutique Hotel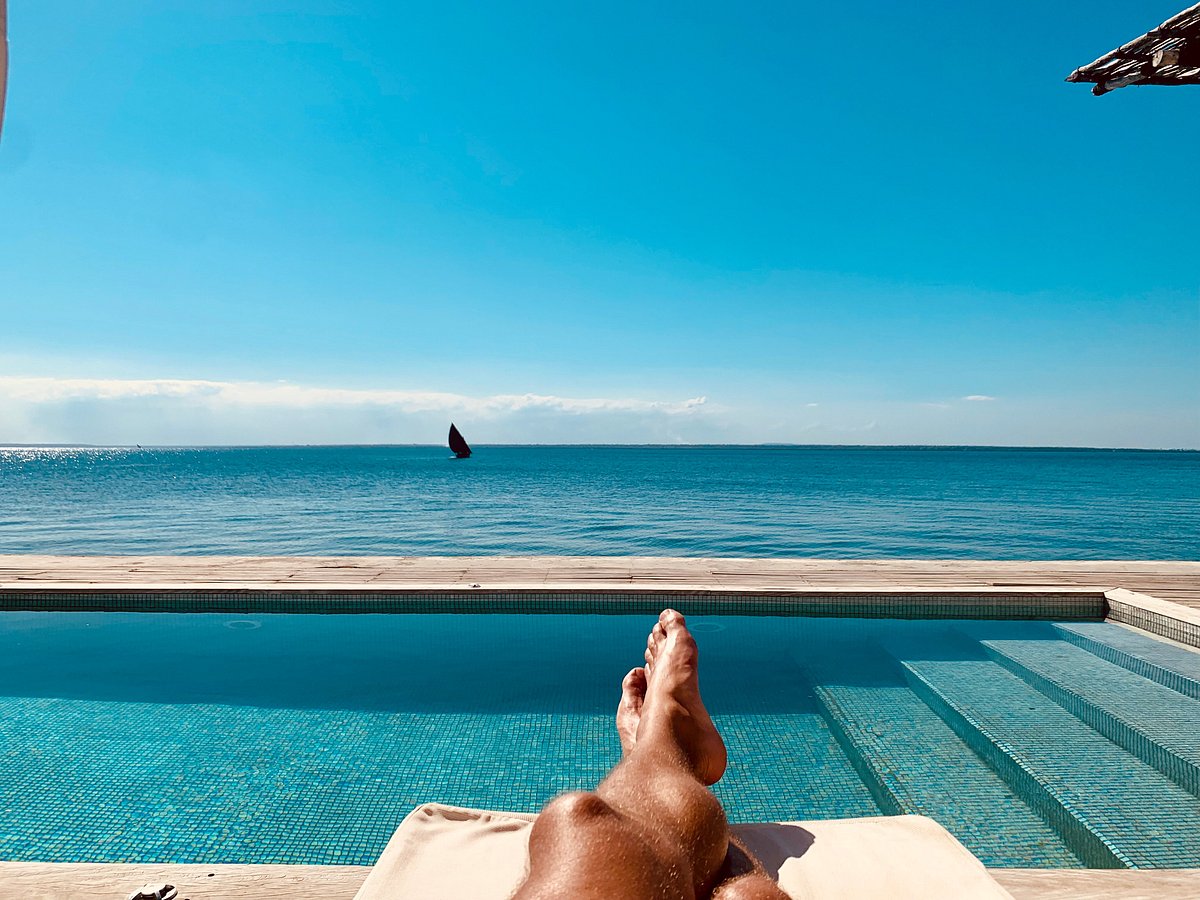 A beautiful boutique hotel located on the western beach of Mozambique Island, Villa Sands was created from three old warehouses, and today offers 8 ensuite double rooms with king-size beds, air-conditioning, and stunning views. An exclusive rooftop suite boasts another three double rooms with private verandas and guests can enjoy fresh seafood prepared in a variety of ways or sip drinks on the sunset terrace. A hand-carved boat is available to visit nearby islands where snorkelling and diving are mesmerising. There is also a seafront terrace swimming pool with its sun beds and bar service and conference facilities cater for up to 24 guests in this hotel offering a great business-cum-pleasure escape.
Terraco Das Quitandas
 A quaint and warm guest house in the heart of Stone Town oozing ancient history and a gracious sea view where guests can sip cocktails on the terrace overlooking the sheltered bay as dreamy dhows sail past and fishermen pull in their nets. A beautifully restored 300-year-old house offering 6 elegant suites all tastefully furnished with antiques, each one telling a unique story. Go back in time in the cool historic reading room and play traditional games such as M'pale or Tchadji while tunes of yesteryear play on the turntable. The perfect location for a boat tour across the bay to see sights from afar or to have lunch on the mainland of Nampula. Once home to many different merchants and traders, followed by Portuguese rulers, this small Mozambique boutique hotel oozes with history and authenticity. 
Coral Lodge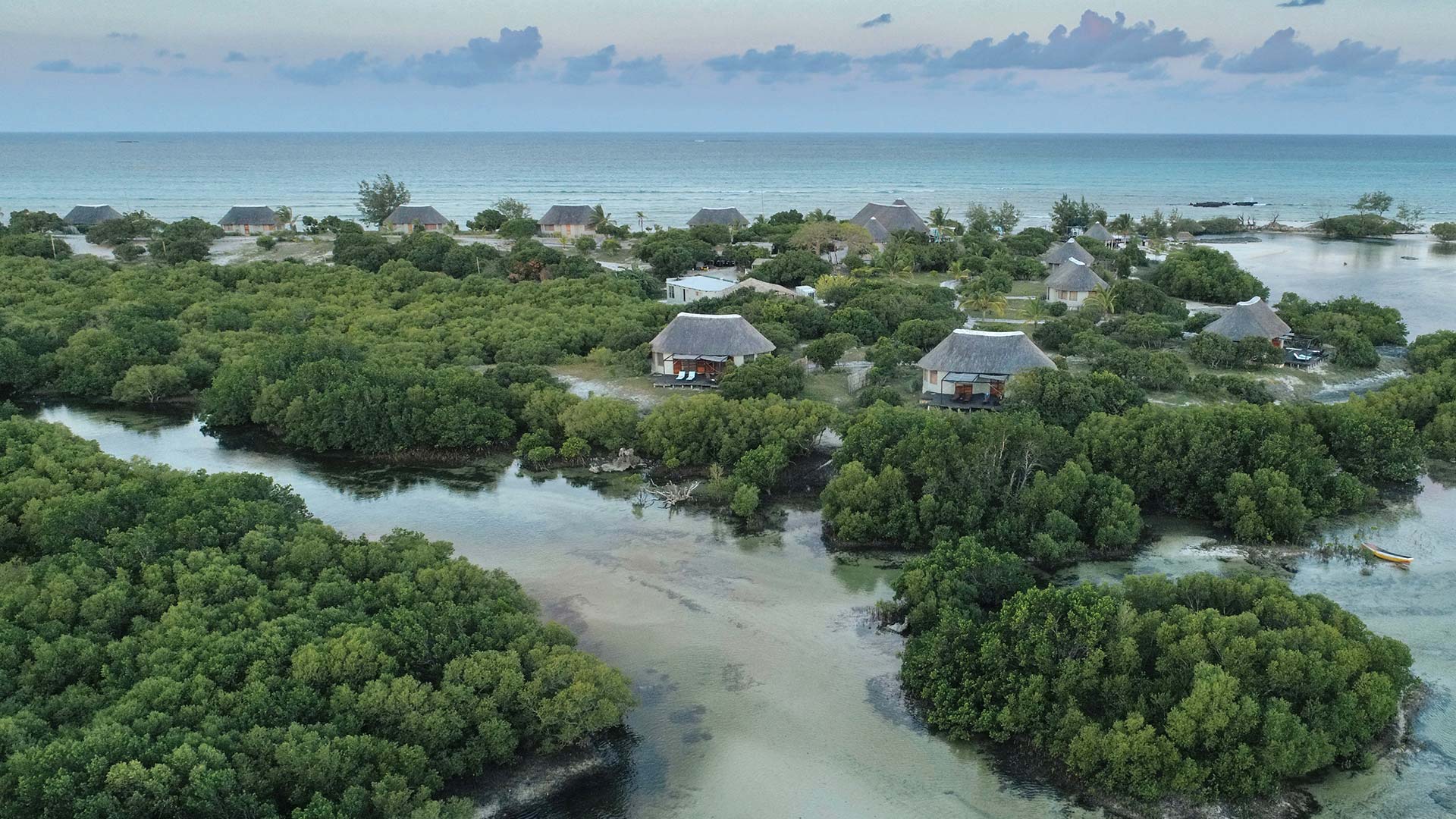 A warm-hearted home away from home destination where the staff treat all visitors like gold. It's just opposite Ilha de Mozambique on a narrow peninsula and is easily accessible from the island with a short boat transfer. The Reff is a delightful, relaxing space comprising a designer lounge, bar area and fantastic sun deck beside the infinity swimming pool on the edge of the peninsula. Fantastic activities include exploring the surrounding Varanda nature reserve with dunes, beaches and mangroves, right on the tip of a peninsula. The lagoon meets the restful sea beside the lodge so grab a canoe or paddleboard and drift into the mangroves. Accommodation in 10 luxury villas on the sea are linked to the main lodge via neat, handmade wooden pathways. 
What to see and do in Ilha de Mozambique
The main attractions on Ilha de Mozambique are the old fort with its chapel, the enticing museums and the cobbled streets lined with solid yet weathered architecture that has stood the test of time. But it is also its atmosphere, its deep sense of history which you feel as soon as you set step on the island. Some ruins are crumbling, and some buildings were never completed; a dive center was planned for the top end of the island near the fort in an exciting development that would have featured a swimming pool and restaurant – but construction merely stopped one day! So, there is all of this history to enjoy and discover. The locals are polite, cool and friendly and allways happy to show tourists around. And it's a little remote – so not too commercial or overexploited which makes it even more special.
Visitors to the island enjoy walking and cycling tours into ancient Makuti Town, part of historical Stone Town, where people live below sea level in palm tree thatched huts because so much rock was removed to build Stone Town. It's quite an experience buying food off the streets from the local vendors or intricate silver jewelry handcrafted by artisans on the island. This art was learnt hundreds of years ago when Ilha still had a strong connection with the island of Goa and their master silversmiths travelled to Ilha and shared their trade secrets. This same skill was also shared with a select few artisans on Ibo Island further north – and is even more prominent there today with a well-established silversmith community producing world class jewelry by hand.  The calm bay calls for boat trips out to view the island from afar, dhow sailing trips to the other two islands or kayaking in the lagoon to discover the mangroves, then swimming off the pier to cool down. 
Our Ilha de Mozambique Travel Information and Guide is designed to nudge you in the right direction for what to see and do in Ilha de Mozambique – so visit these iconic landmarks for starters:
Fortaleza de São Sebastião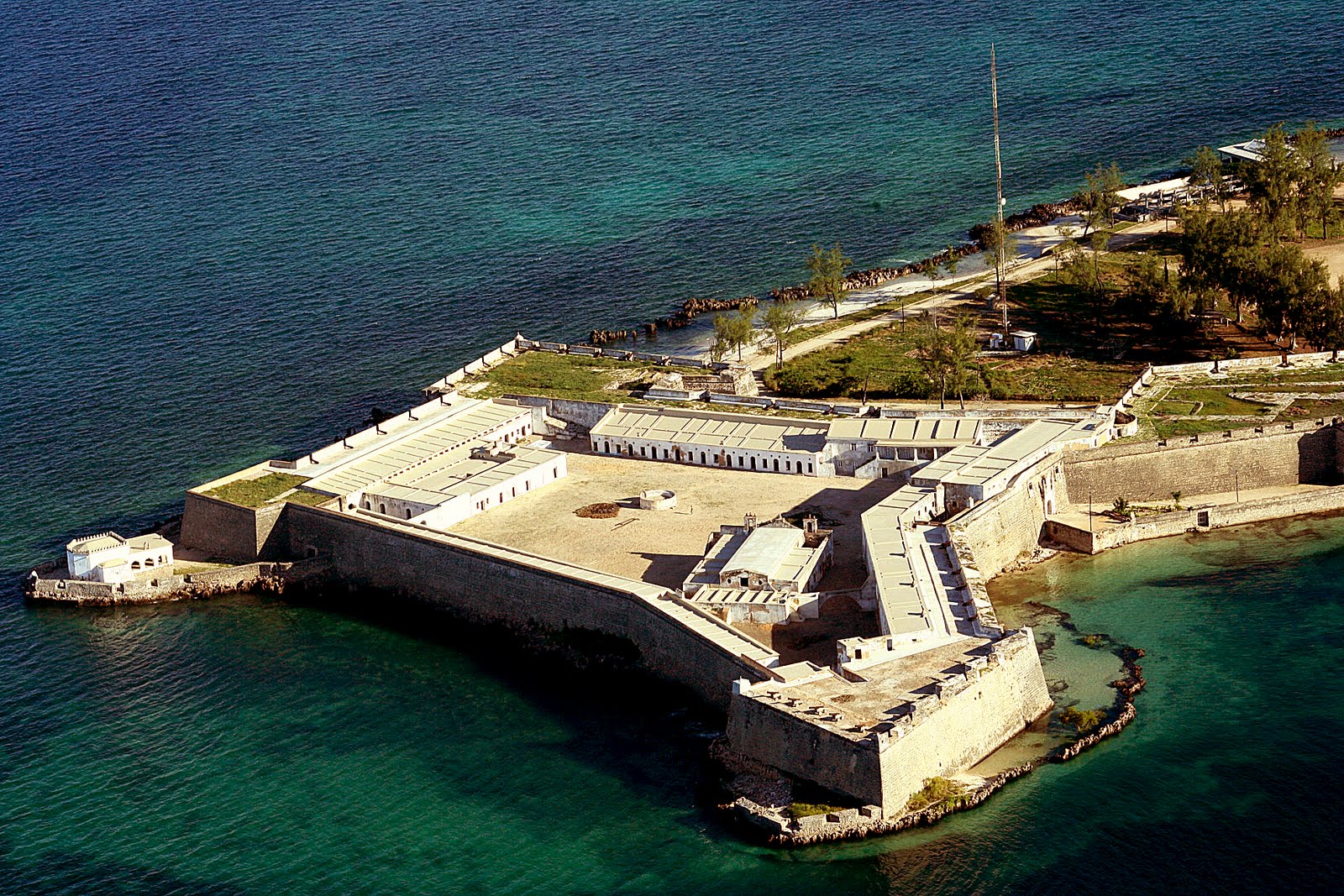 It sits regally on the northern tip of the island, protecting all residents from danger (all those years ago) and many historians regard it as the finest military building in Africa.  It's also the oldest complete fort still standing in sub-Saharan Africa, its solid style taking construction workers 62 years to complete, starting in 1558! And resilient it sure is as this fort never bowed to any attacks from the Dutch, British and Omani. Naturally, over time, the fort has endured its fair wear and tear and needs a bit of TLC but just entering it and feeling its aura is astounding enough and takes the visitor back to those trading and war days when the fort was a necessary asset to Ilha de Mozambique. Unesco is currently supporting a large number of restoration projects in the fort and at the chapel. These are easily seen on your guided walking tours to the Fort of Saint Sebastian on Ilha. While there, pop into the tiny Chapel of Nossa Senhora de Baluarte, built in 1522 and now the oldest European building in the southern hemisphere.  Remember this building was originally a Mosque – so part of it is many hundreds of years older than 1522. The earlier Muslim architecture is obvious as soon as you enter the building and look up at the domed roof.
Palace of São Paulo Ilha de Mozambique
Tours to the famous Palace of Sao Paulo reveal how life was lived by the former governor of Mozambique, dating back to 1610. Now a premier museum, there is much art depicting what upper class life must have been like during the swinging 18th century. Much of the material goods come from China, India especially Goa, Portugal and Arabia, antique furniture, art and carpets, as well as hand-carved, intricately ornamental furnishings created by Goan craftsmen. Another Maritime Museum showcases gold coins, ship compasses, Chinese porcelain and other items recovered from local shipwrecks. 
What's so interesting about the history and what has been preserved is the role Samora Machel played after the rapid departure of the Portuguese. He ensured that the angry and recently liberated locals from Ilha did not destroy the entire contents of the building. He arrived on the island within a few days of independence and ordered the protection of the country's past – as questionable as it was for future generations! He was a true visionary.  
The Portuguese were tough masters and sometimes sinister colonial rulers and, in many cases, on their rapid departure frustrated Mozambicans would loot and destroy the buildings of their recently departed rulers. This happened extensively in Maputo and Beira as well as on the Island of Ibo further north in Cabo Del Gado province.
Sacred Art Museum on Mozambique Island
The Church of Misericordia on Ilha de Mozambique, home to the captivating Museum of Sacred Art, dates back to 1535. It is the venue for the House of Mercy, a Portuguese religious organization, and still to this day open for Mass on Sundays. Visitors like to peruse the complex array of religious ornaments, carvings and paintings if you like ancient art and treasures and the statue of Santa Isabel, Queen of Portugal created in the 17th century, is worth a look. Take some time out, and a few deep breaths and then find some inner peace as you explore this precious venue on the Island of Mozambique.
Museo de Marinho
The old naval museum reopened in 2009 as the Maritime Museum and can be entered via the Palace Museum where you can view artifacts from two shipwrecks that sank off the island near the fort. These shipwrecks happened in 1558 and 1608 and an incredible 1500 pieces of quality Ming porcelain was salvaged in excellent condition and depicting the reign of Chinese emperor Jiajing, 1521-66! Other mind-boggling treasures include 16-century gold and silver coins and various shipwreck relics. 
Other Highlights to See on Ilha de Mozambique
When the history and culture become all too overwhelming and you need some sun and surf, sit a while in a seaside restaurant and sample authentic Mozambican food and beer. Snorkel for hours in the mangroves and take dreamy boat trips out to the legendary islands of Goa and Sete Paus or Sena Island. Enjoy a warm swim at the Pontao (pier) or eye-opening snorkelling around a sunken barge.
We recommend these entertaining activities to add glamour to your Ilha de Mozambique UNESCO World Heritage Site tours and appreciation:
Boat trip to swim and dine at Carrusca beach 

Boat trip to Cabaceira Grande to see the 16-century village and church 

Boat trip to Goa Island's lighthouse

Boat trip to snorkel and swim at Ilha de Sete Paus 

Cultural food tour to taste a buffet of local dishes

Sail a traditional dhow past breaching whales
These activities are fascinating and provide unlimited Instagram-able moments:
Missanga Trade Tour – find out where underwater treasures were found, and how they got there. Massinga means 'small pieces of treasure', and these could be glass beads, coins, gold and Chinese porcelain. Many ships lost their cargoes on the busy trade routes or capsized. It's sad that these treasures were often used to buy slaves, many of whom lost their lives en route. 

Island Hopping Snorkelling Tour – cruise the three archipelago islands on a gentle traditional sailing dhow, finding sweet coves to explore as well as the Kathiawar shipwreck and coral gardens. A picnic lunch on the sand at Sete Paus will make your day. 

Guided Bicycle Tour – Cycle with a guide around Ilha de Mozambique for a few hours, seeing the best landmarks and going into the back streets to meet local people and see how life is really lived. 

Guided Walking Tour – Get on the level of all locals as you wander the old, cobbled streets and take photographs galore. Speak to your guide and hear his personal story, meeting his friends and family. There is more time to peruse the historical sites too and rest awhile on ancient, ruined walls. 

Stand-up Paddling – Hire a large board and learn how to glide over still crystal clear and warm lagoon waters; head into the pristine mangrove swamps birdwatching and marvelling at the beauty above and below your board. Did you know that Stand-up Paddle Boarding was used for hundreds of years by Polynesians and is today linked to surfing and kayaking! 
The History of Ilha de Mozambique and its importance in Mozambique
Ilha de Mozambique is not only a miracle of nature but it is also a solid jigsaw piece in the complex puzzle of Mozambique's colourful history. It's a 3 km long coral island created from ancient organic coral skeletons in a shallow bay and surrounded by swaying palm trees, coral sand beaches and untouched mangrove swamps. Harking back to the 10th century, the island was first used as a marine trading centre by the sultans of Zanzibar and their rulers from Oman. It was not until by force in 1498 when Vasco da Gama landed here and claimed the island for Portugal that their Swahili and Muslim influence was unsettled. Linked to the mainland opposite via a one lane 4 km concrete bridge, the island boasts a natural harbour and today reflects the myriad cultures who have made this island their refuge over hundreds of years.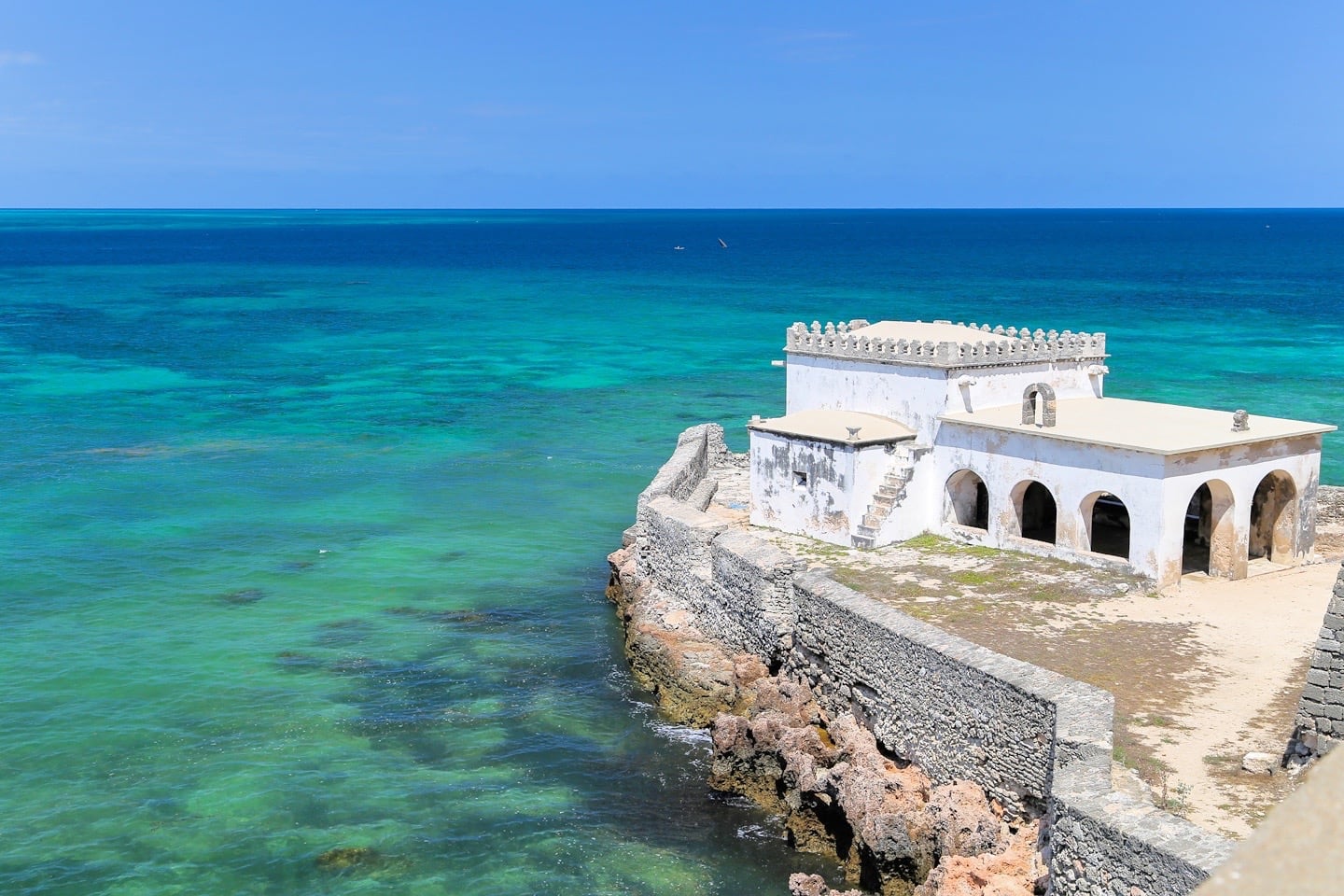 Da Gama returned in the early 1500s with Portuguese settlers who then built the ancient fortress, St. Gabriel (1507–08; no longer standing) and there was then further conflict between India and Portugal over dominance in the East Indies trading route. This town was created from stone and lime and became the first capital of Mozambique from 1507 to 1898 when the then Lourenco Marques became the capital, which is now the present-day Maputo. The importance of the history of Ilha de Mozambique radiates through this colourful past, its solid mixed architecture and its conflict during the trading days, and simply how an old sultan based on Ilha ultimately gave the country his name. A walk around Stone Town will reveal Arab, Portuguese, Mozambican, Swahili, Persian, European and Asian relics, foods, clothing and traditions, still surviving and still part of a cosmopolitan island culture. 
While Ilha de Mozambique or Mozambique Island retains its old ways of fishing, the harbour with its natural environment and clear blue ocean bays, it is also a designated UNESCO World Heritage Site thanks to its cultural and historical value in Africa. All these famous relics and stories need to be conserved into prosperity. From the solid old Portuguese buildings, forts and churches of yore to the simple makuti thatched huts of the Africans, Mozambique Island never fails to entertain, stun and amuse tourists from all around the world. 
How amazing that the 16th century fort of St. Sebastian tolerated an attack by the Dutch in 1607, and its massive walls still stand as testament to the quality architecture today. Later, other materials were used to build the town, including indigenous wood, palm leaves, limestone, and rock. Materials, slaves and hardwoods were imported from the north and Ibo Island was critical in supplying the needs of Ilha de Mozambique to prosper as it did. There are many buildings with Brazilian timber beams that were imported from Brazil – likely with slave labour that survive to this day. Walk into the best hotel on Ilha de Mozambique and as you get to the reception look up…and see timber beams from trees from Brazil that exist no more! Sights worth seeing include the chapel of Our Lady of the Ramparts (1522), the church of Our Lady of Mercy (1635), the neoclassical hospital (1877), the perfectly proportioned rectangular town market (1887), a beautiful 19th-century Hindu temple, a 19th-century mosque, and St. Paul's Palace (1674). Museums line the main street and tourists can walk into the different town sections to enjoy the diverse cultures, foods and traditions. It is simply just a great place after a guided tour or two – to go out and wander. If you are  feeling restless in the evening, go for a stroll, listen and smell and hear the sounds of Ilha. Have a drink at a local bar, taste the street food, meet locals and understand their lives. Explore, dream and discover the amazing Ilha de Mozambique.
Make sure to use our travel guide to Ilha de Mozambique to make your holiday even more fascinating and interesting. Discover the historically fascinating Ilha de Mozambique – we book flights, transfers and accommodation to Mozambique's best-known island. See our top lodges on Mozambique Island here.
Accommodation on Ilha de Mozambique
Featured Packages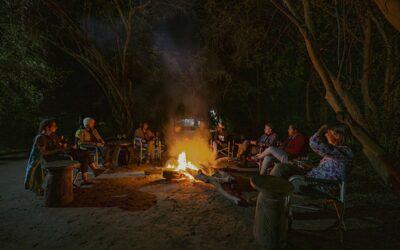 Mozambique safari to Wild Camp Gorongosa
A spectacular five-night package into the wilds of Gorongosa National Park with this well-priced Mozambique safari deal in the authentic Wild Camp. Walking trails are the focus of this glamping safari. Includes return light air transfers and two safari activities daily.
5 nights from
$2,850
Per person sharing