Visa Waiver for 29 Countries Visiting Mozambique as of 1 May 2023
Nationals of 29 countries are now exempt from the requirement to present a visa when travelling to Mozambique for tourism or business reasons. This means that these 29 countries also do NOT need to register on the internet 48 hours before boarding their flights to Mozambique (which was expected in March 2023). 
The reason for this visa exemption is to boost tourism and business opportunities in Mozambique, a fabulous beach, island and wildlife destination in Africa. 
All that these countries need to do if they want to enter Mozambique is to travel there without any necessary prior registration BUT when they arrive at the Mozambique border, they are expected to:
Pay a nominal fee of 650 meticais, equating to 9.20 Euros, 8 British Pounds or 10 USD. 

Submit three documents as usual: a passport valid for 6 months + a round-trip flight ticket if travelling by air + proof of the place of accommodation in Mozambique.
The 29 countries exempt from visas into Mozambique are:
Portugal, Germany, Saudi Arabia, Belgium, Canada, China, South Korea, Ivory Coast, Denmark, United Arab Emirates, Spain, United States of America, Finland, France, Ghana, Indonesia, Ireland, Israel, Italy, Japan, Norway, Netherlands, United Kingdom, Russia, Senegal, Singapore, Sweden, Switzerland and Ukraine.
Important fine print:
This new visa waiver as of 1 May 2023 applies to visitors with regular passports and allows "multiple entries into the national territory for a period of stay of 30 days, starting from the date of the first entry".
The period of stay may be extended for a further 30 days, upon sufficient justification being submitted to the migration services.
Make sure your Mozambique holiday includes a special package deal to the Bazaruto Archipelago where the inspiring Azura Benguerra Island Lodge awaits your presence.
Important point:
These 14 countries in the South African Development Community (SADC) region can enter Mozambique WITHOUT a VISA for up to 3 months:
Angola, Botswana, Cabo Verde, Eswatini, Kenya, Lesotho, Malawi, Mauritius, Namibia, Seychelles, South Africa, Tanzania, Zambia, and Zimbabwe. 
Contact the Mozambique Embassy if you have further queries.
Mozambique Travel is here to assist you with any queries you may have about your visa entry into Mozambique and the current visa policy. Please read about the Mozambique border post formalities here. 
We recommend a combination special package bush-beach tour to the world-class Gorongosa National Park and the paradise islands of the Bazaruto Archipelago if you are going to make the effort. We will tailor-make your holiday to suit all your needs and all you have to do is arrive!
Visas are not required to enter Mozambique anymore!
Hot off the press: the Mozambique e-Visa Online Platform is live and you can now apply for your Mozambique visa online now from the comfort of your own home! This breaking news on the revised visa policy for tourists to Mozambique simply means that you just need to register on the e-Visa website for a small fee and set off on your hassle-free beach holiday. 
Get pre-approval for your beach holiday with this innovative new electronic visa (e-Visa) system and skip the red tape at Mozambican embassies and border posts.  The e-Visa digital platform is part of the Mozambican government's 'Economic Acceleration Stimulus Package' designed to attract tourism, business, and investment in both to the country. It will change the way that foreign nationals enter the country as tourists, business delegates or investors.  
Yes, with a sigh of relief, travellers can enter Mozambique with the click of a button in a hassle-free online process. Pay a small fee and get your visa online, print it out and present it with your passport on arrival.
Mozambique e-Visa Requirements:
A legal passport still valid for 6 months from the arrival date of the intended holiday to Mozambique.

A legal credit or debit card to pay for the small e-Visa fee.

A valid email address to which the approved e-Visa will be sent.
Mozambique e-Visa Application Process:
Complete the online application

here

.

Upload various digital copies of passport, air ticket, and proof of accommodation.

Confirm payment.

Wait 5 working days for confirmation of pre-approval via email and a barcode to present to immigration authorities at the Mozambique border.

Print the e-Visa and barcode received via email for your trip.
What does the Mozambique e-Visa Cost?
Single Entry Visa: $160 USD (max. 30 days within a 60-day period)
Multiple Entry Visa: $180 USD (max. 30 days within a 60-day period)
Multiple Entry Visa: $ 210 USD (max. 30 days within a 90-day period)
Single Entry Visa allows one entry. The length of stay can range from a minimum of 1 day to one month, renewable in Mozambique, provided that the Visa is still valid at the moment of application. Visas must be used within two months from the emission date.
Multiple Entry Visa allows more than one entry. The maximum length of stay for each entry is 30 days. Visas must be used within two months from the emission date.
What to do on Arrival in Mozambique:
Present a printout of the approved e-Visa with your passport and supporting documentation to enter Mozambique.

Present a valid and current Yellow Fever certificate of vaccination if this applies to your home country.
Who Does NOT Need a Visa at all to Enter Mozambique?
Mozambique recently approved a visa exemption for 28 international countries in a bid to lure inbound tourists and investors to boost the country's economy. This exemption applies to all travellers to Mozambique who have a passport and it gives them 30 days, renewable for another 60 days. 
The approved countries are

Belgium, Canada, China, Denmark, Finland, France, Germany, Ghana, Indonesia, Israel, Italy, Ivory Coast, Japan, The Netherlands, Norway, Portugal, Russia, Saudi Arabia, Senegal, Singapore, South Korea, Spain, Sweden, Switzerland, Ukraine, United Arab Emirates, the United Kingdom and the United States.
Citizens from

the Southern African Development Community (SADC)

also do not need a visa to enter Mozambique at all if travelling for leisure or tourism purposes. These visitors can stay visa-free in the country for 3 months: Angola, Botswana, Malawi, Mauritius, South Africa, Swaziland, Tanzania, United Kingdom, Zambia, and Zimbabwe.
Go ahead and book that honeymoon package to the scintillating Bazaruto Archipelago and try a new scuba diving course. Or choose the pretty eco-boutique lodge in Vilanculos, Bahia Mar Club, for a few days of thrilling ocean sports and spa treatments beside the Indian Ocean. Our unique beach-bush combo package safaris are selling like hotcakes so check them out here. 
We suggest that you learn to surf in Tofo, go horse riding on the beaches at Barra or camp out in nature in the classic safari-tented accommodation of Gorongosa's Wild Camp. Pack up the children for a summer family holiday at Machangulo Beach Lodge near Maputo where you can all fish, island cruise to Inhaca and play beach games all day. We tailor make your special package deal to Mozambique here. 
Featured Packages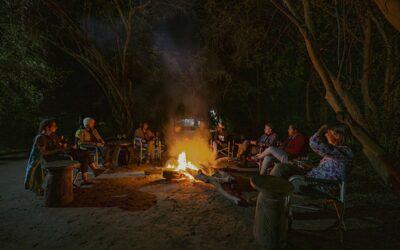 Mozambique safari to Wild Camp Gorongosa
A spectacular five-night package into the wilds of Gorongosa National Park with this well-priced Mozambique safari deal in the authentic Wild Camp. Walking trails are the focus of this glamping safari. Includes return light air transfers and two safari activities daily.
5 nights from
$2,850
Per person sharing