What Can You Expect from the Weather for Mozambique?
What is the weather for Mozambique like following recent cyclones and storms? Why should the weather for Mozambique be important when we know that every day is a sunny day in this stunning country? We bring you the weather for Mozambique here because we know that this is important for you, our excited travellers.
We know that Mozambique features one of the most mesmerising coastlines along the Indian Ocean, dreamy tropical islands, and diverse wilderness landscapes. It's a captivating destination for travellers seeking a uniquely African experience, the sun and the sea. Understanding the weather for Mozambique is thus essential for planning your trip effectively. Let's explore the seasons, climate, and the best time to visit this beautiful country, ensuring that you make the most of your time in Mozambique.
Mozambique enjoys a tropical climate, characterized by high temperatures, abundant sunshine, and distinct wet and dry seasons. The country experiences two main climatic zones: the coastal region and the inland plateau. The coastal region has a more maritime climate, influenced by the warm waters of the Indian Ocean, while the inland plateau has a slightly more moderate climate due to its higher elevation.
The Weather for Mozambique Wet Season 
The wet season in Mozambique generally occurs between November and April, with December to February being the peak months of rainfall. During this period, Mozambique experiences heavy tropical downpours, often accompanied by thunderstorms. The northern and central regions tend to receive higher rainfall than the southern parts of the country. The wet season brings lush green landscapes, vibrant flora, and rejuvenated waterways, but it can also result in muddy roads and limited access to certain areas. Travellers should be prepared for occasional disruptions, especially in remote or coastal areas.
Dry Season in Mozambique is High Season
The dry season in Mozambique runs from May to October, offering pleasant weather and clear skies. This is widely regarded as the best time to visit the country, as it provides ideal conditions for outdoor activities, beach vacations, and wildlife viewing. During the dry season, temperatures are warm and comfortable, with lower humidity levels. It's worth noting that while the coastal areas benefit from cooling sea breezes, the inland regions can experience hotter temperatures.
Mozambique Travel guarantees world-class beaches and holiday accommodation in Inhambane, Vilanculos and Santa Maria. We bring you tailor-made packages to enthral and satisfy our voyagers and we make you smile! Great deals and best rates for honeymoons, family fun and business team building.
Mozambique Seasonal Highlights 
The weather for Mozambique is very seasonal as you can see, with its own unique highlights and attractions. During the wet season, the lush vegetation and blooming flowers create a picturesque landscape, and it is a great time for birdwatching enthusiasts as migratory birds arrive. However, it's important to be aware of potential tropical cyclones, especially in the northern coastal regions. Visit Pemba's delightful Diamonds Mequfi Beach Resort where couples can be private and children can hang around the swimming pool and beach all day! 
In the dry season, the underwater visibility is excellent, making it an ideal time for diving and snorkelling around Mozambique's pristine coral reefs. The dry season is also perfect for game drives and wildlife viewing in national parks such as Gorongosa and Niassa Reserve, as animals gather around water sources. Take a break in the wilds of Gorongosa at Wild Camp and glamp out in style where walking trails fill your days and campfires at night make magic in nature. The pleasant weather for Mozambique during this time also makes it ideal for exploring the historical towns of Mozambique Island and Ilha de Moçambique.
Best Time to Visit Mozambique 
The best time to visit Mozambique depends on your specific interests and activities – and the weather, of course! For beach lovers and water sports enthusiasts, the dry season from May to October offers ideal conditions for enjoying the stunning coastal areas, diving, and snorkelling. Wildlife enthusiasts may prefer the dry season as well, as it provides excellent game viewing opportunities in national parks. Mozambique Travel recommends the marine reserves around Santa Maria Peninsula and getting there is far more fun by car. Take a self-drive tour to Machangulo Beach Lodge and appreciate the wilderness of beach, bush, and estuary energies. 
It's important to note that Mozambique's weather can vary slightly between different regions, so it's advisable to research specific destinations within the country to ensure the best weather conditions for your planned activities.
Understanding the weather for Mozambique is crucial for planning a successful holiday trip, a beach break, or an island escape. Whether you choose to visit during the wet season to witness the lush landscapes or prefer the dry season for beach activities and wildlife encounters, Mozambique offers a diverse and captivating experience throughout the year. Plan your visit accordingly and immerse yourself in the beauty of this tropical African paradise.
This magnificent country remains unspoilt and is home to some of the best beach resorts in the world. Here, you can stay in luxurious lodges on the sublime Inhambane Coast, play all day and all night at villas at Vilanculos, and relax in glorious resorts on the exotic Bazaruto and Benguerra Islands. The islands offer their own kind of wilderness too with inland trails to freshwater lakes and forests, grasslands and dunes. 
Take a honeymoon break to the bountiful Bazaruto Archipelago and choose the luxurious villas of andBeyond Benguerra Lodge to make magic together. The weather for Mozambique is balanced here on Benguerra Island and who cares anyway when you are there for the romance? 
It's important to keep in mind that Mozambique weather conditions can vary slightly from year to year, and it's advisable to check the latest forecasts before planning your trip to ensure the most accurate information.
What's the weather for Mozambique like today? Warm and hot, of course! Book your special package holiday to one of our top beach destinations today and never look back.
Featured Packages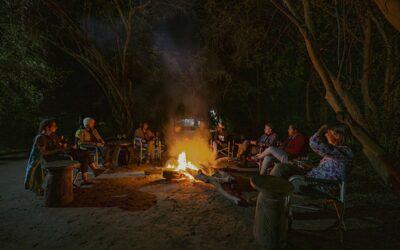 Mozambique safari to Wild Camp Gorongosa
A spectacular five-night package into the wilds of Gorongosa National Park with this well-priced Mozambique safari deal in the authentic Wild Camp. Walking trails are the focus of this glamping safari. Includes return light air transfers and two safari activities daily.
5 nights from
$2,850
Per person sharing