White Pearl Resorts Luxury Accommodation
Nestled in a stunning beachfront location on the glorious Lagoon Coast of Mozambique, find a graceful and gracious resort in White Pearl Mozambique. Offering unrivalled luxury, a prime spot on the coast and opulent accommodation, we rate this lodge as one of the finest of all the secluded and exotic resorts in Mozambique. Yes, we have access to the very best deals, packages, and specials for the ultimate honeymoon destination in Africa. 
There is little to match the serenity and scenic magnificence of such a tranquil location and we feel the love that has been put into the creation and decoration of the 22 luxuriously appointed chalets.
Unrivalled Luxury at White Pearl Resort Makes Honeymooners Happy
Beautiful honeymoon couples step off their helicopter transfers feeling the thrill of being out in nature, having seen the Indian Ocean from the air and now feeling the soft fine sands between their toes. Let the magic begin as you enter reception and meet some of the friendly faces who will attend to your every need while you celebrate a new life together. Check in and find your private honeymoon suite in special White Pearl golf cart. 
Then explore your Ponta Mamoli surrounds on foot, starting at the expansive pool deck where huge day beds invite a nap before lunch in the sun. Plunge into the glorious infinity pool for a few laps before tucking into delicious tapas and ice-cold chardonnay. Laze around the pool all day, absorbing tranquil turquoise sea and sky views. 
White Pearl makes you feel special all the time – the beach bar is fun, contemporary and reminiscent of a pub in Europe where you can meet other guests. Or simply watch the whales breach and tail wave on the horizon. Meet later after a long beach walk at the pool bar for a cocktail or two and wait for the starry sky to light up. Dining in Jelly Fish Restaurant introduces your palate to new sensations as you taste mezze platters laden with fresh fruits and Mozambican flavours, beautiful, sweet pastries and organic produce from nearby gardens. Of course, the specialties of the day include delicate seafoods you have never experienced in your life!
White Pearl honeymoon guests get used to their pampering beach picnics and candlelit evenings for two in private locations such as their own private patios, a tiny piece of paradise down on the beach or in the dune forests. Book an ocean cruise for two and swim with the dolphins in an experience that soothes the soul and is therapy for mixed emotions.
Couples can read amazing books in the reading room while the telescope awaits to educate about sparkling skies at night. Choose classic wines for dinners from the in-house wine cellar where South African varieties are ever popular and delicious. 
Business delegates and executives come to White Pearl just to use their exclusive meeting room and facilities – with conference equipment that rivals that of many other beach lodges and where professionalism is the name of the game. Free Wi-Fi is an added plus when you want to do business but still benefit from a gracious ocean setting in nature. 
White Pearl Resort rivals many other destinations in luxury settings such as Mauritius or Zanzibar and is just so easily accessible for South Africans and international travellers alike. Exclusive transfer rates, tar road access or helicopter flips from Maputo are all part of the jaw dropping package rate that suits your needs. 
Tailor make your accommodation package with Mozambique Travel if you need more or less time and more or less action.  The beauty spa awaits your arrival while the boats are down on the beach, ready to take you deep sea fishing, scuba diving or marine wildlife viewing. 
Welcome to an extraordinary ambience at this Ponta Mamoli destination, where reliable and splendid weather adds value to the lavish amenities away from the madding crowds.  White Pearl wins all prizes for us, with 22 raised suites overlooking dune forests and ocean vistas and offering luxurious accommodation that rivals some of the best hotels in Africa.
Unique Special Offers and Package Deals to Southern Mozambique
At Mozambique Travel, we smooth the way for you to find the right specials to White Pearl beach resort in the south. We think that our irresistible holiday package deals to this world class beach resort are unbeatable and never to be forgotten. Contact us for winning deals, information and first prize pick of the hotel draw. 
We make it easy for you to get the perfect deal, so book your dream White Pearl family holiday with us and simply enjoy your time together in this wonderful place. We know that you deserve a break in a suite that allows bonding time and fun time – kids will be safe playing on the beach while parents visit the spa or laze beside their private plunge pool. Family outings include fat bikes on the beach, horse rides on the beach, turtle walks, wetland walks, snorkelling with the dolphins, star gazing and picnicking alone in seclusion in all of nature's glory.
Don't delay, you deserve a break; get in touch now to discuss your Mozambique beach holiday in 2022.
Featured Packages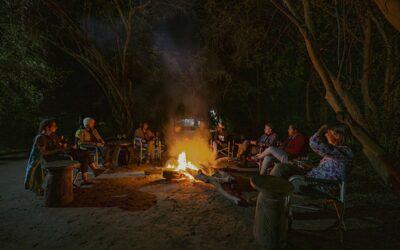 Mozambique safari to Wild Camp Gorongosa
A spectacular five-night package into the wilds of Gorongosa National Park with this well-priced Mozambique safari deal in the authentic Wild Camp. Walking trails are the focus of this glamping safari. Includes return light air transfers and two safari activities daily.
5 nights from
$2,850
Per person sharing