Bride gets 50% Discount on this Mozambique Honeymoon Package
A Mozambique beach honeymoon to White Pearl Resorts offers every bride a whopping 50% discount on her lavish accommodation in a Pool Suite. This is what romance is all about and this is what honeymoons are made of. Read all about it here.
Picture the perfect world for love: dazzling white beaches, sparkling blue waves, endless sunny days and solitude. What could be more romantic than a beach honeymoon holiday in a luxurious resort where your private butler attends to your every need? Imagine a world where a huge soft king size bed, glorious outside shower, warming sun deck and cooling private plunge pool look out over azure ocean waters and sugary beaches?
This dream can come true for all newlyweds who want to celebrate their new lives together in Mozambique. What's more, Ponta Mamoli is easily accessible from Kosi Bay and Maputo now that the road has been tarred. Combine a dreamy beach break with a thrilling game reserve safari and a bit of city nightlife too. 
We recommend a few days at the scintillating White Pearl Resorts, then a few days in Maputo, after which you fly to Kruger National Park! We will customise this experience for you with top of the range hotels, safari lodges and transfers between destinations. We can tailor make your all-inclusive beach bush combo holiday package in South Africa and Mozambique.
An easier way to pack in the bush from White Pearl is to take the resort's own Maputo Special Reserve trip for one day – leave at the crack of dawn and enjoy coffee in the magical wilderness of this famous elephant park. Look out for hippos, flamingos, zebras, giraffes and antelope, and maybe you will sight the shy black backed jackal too! Enjoy a light packed breakfast beside the wetland before game driving back to your deluxe suite and private plunge pool.
Beach Weddings and Honeymoons at White Pearl Resorts
Couples from all around the world are choosing White Pearl, Ponta Mamoli, as their unique honeymoon destination of choice. And it is easy to see why. Add your special wedding day to the plan for that fool proof touch and double the romance. The bride gets her luxury pool suite accommodation for half price and the couple is treated to all meals, all drinks, all transfers, and a special ocean safari to swim with the dolphins! This experience is not to be missed, a therapeutic bonding session with wise mystical ocean creatures. 
Romance abounds! Honeymoon packages at White Pearl Resorts are available with an incredible 50% discount for the bride plus a whole stack of free extras. To crown it all, White Pearl Resorts is accessible. Fly in a private charter from Maputo or drive by 4×4 from the South African Kosi Bay border on a new tarred road. Spend 5 nights in this paradise where the only sound is the ebbing and flowing of the tides.
Create lasting memories with an indulgent couple's spa treatment with massage, facials and special detox treatments. Just marrieds can ride horses on spectacular trails through wild dune forests or canter up the beach at sunset and then appreciate beach picnics with fine wines as the stars light up the heavens.
Sleep late in king size beds and jump into the outside shower to wake up. Enjoy fresh platters of fruit on the private deck for breakfast washed down with freshly brewed coffee. At night, lie in a deep hot bath and sneak in and out of the heated plunge pool. A candle lit dinner on the deck will be romance at its best, a personal butler serving delicious seafood to couples, away from the crowd.
White Pearl Honeymoons are top of the range in Mozambique and the destination in the south of Maputo rates as one of our most romantic and scenically splendid on the east coast of Africa.  Call us now to book your 50% for your bride, on the honeymoon of a lifetime!
Featured Packages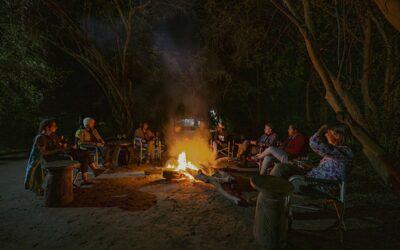 Mozambique safari to Wild Camp Gorongosa
A spectacular five-night package into the wilds of Gorongosa National Park with this well-priced Mozambique safari deal in the authentic Wild Camp. Walking trails are the focus of this glamping safari. Includes return light air transfers and two safari activities daily.
5 nights from
$2,850
Per person sharing