Why Book Gorongosa With Us?
We all know that Mozambique is a premier beach and island destination but did you know that it is also a prime wildlife and game-viewing region in East Africa that compares well with world-class Kenyan and Tanzanian safari parks? 
When it comes to top safari destinations, Mozambique is up there with the very best, especially when you want to game view as an add-on to a dreamy island or beach holiday.
The famous Mozambique coastline stretches a glamorous 2500km up the eastern shores of Africa, the ideal relaxation mecca before or after a thrilling safari at Gorongosa National Park. But why book Gorongosa National Park of all safari destinations in Africa? 
Interest in Gorongosa is rising again after a hiatus of civil war, rife poaching and mismanagement. Now, it has undergone a complete metamorphosis thanks to a partnership between the Greg Carr Foundation and the Mozambican government in the Gorongosa Restoration Project. 
This central Mozambican game reserve is a charming and captivating wildlife destination that was voted 'Best Trip of 2019' by National Geographic. Conservation funded by sustainable wildlife tourism is the aim here and just by choosing your safari to Gorongosa, you are immediately contributing to the ecotourism dream where the communities also benefit. Community involvement in Gorongosa drives the conservation of all wildlife and so far it is going very well. 
Supreme Safari Accommodation 
A safari holiday to Gorongosa National Park is a lesson in sustainable tourism initiatives. Welcome to the core of Sofala Province, Mozambique, a historic green lung that connects protected areas in the country to preserve nature and her ecosystems.  Imagine being part of this healthy landscape that will drive sustainable economic growth to the people who live around the park! 
Gorongosa National Park aims to balance the needs of wildlife and people to save this beautiful wilderness and we take you there to enjoy its riches. Mozambique Travel promises some of the best luxury safari accommodation package deals and camping special offers to this ultimate wilderness where animals run free, and people learn how to conserve green spaces for their own futures. Gorongosa offers three different accommodation choices:
Montebelo Gorongosa Lodge

 and Safari is now open! Choose chic family accommodation in select premium villas with two bedrooms and a delightful shady patio with garden views. Standard self-catering villas offer stocked kitchenettes for that home away from home touch in the Mozambique bushveld. Cool bungalows and garden rooms are a convenient stroll from the central Chikalango restaurant where you can sample a delicious breakfast as part of your accommodation special deal.  

Gorongosa Wild Camp

is a seasonal spot in a prime safari area. Settle into delightful attractive canvas tents complete with comfy beds, solar lighting and USB ports, ensuite outdoor bathrooms and plush décor. Game drives and bush trails are the highlights of safari holidays to this Gorongosa wild camp, boating and canoeing, plus sightseeing trips up Mount Gorongosa to see the view and learn more about the cultural history of a superb conservation icon.  

Muzimu ("Guardian Spirit") Tented Camp

peeps out from a bend of the Mussicadzi River, one of the main tributaries to Lake Urema, lying at the bottom of the rift valley.  Comprising six luxury tents, raised on stilts with timber decks overlooking restful river vistas, Muzimu offers privileged guests a chance to meet up at the dining, lounge and pool area where the focus is on discovering true nature while enjoying al the special activities on offer.
Amazing Game Viewing Activities at Gorongosa
Game drives with pro safari guides to explore spectacular floodplains, surreal fever tree and palm forests, and endemic antelope, primates, lions, elephants, buffalos, hippos, and crocodiles.

Walking safaris to get up close and personal to wild animals, tiny critters and plants with knowledgeable game rangers.

Boat safari to explore the magnificent Lake Urema, the heart of Gorongosa. Look out for giant crocodiles, pods of fabulous hippos, and jaw-dropping water birds.

Canoe safari to paddle quietly up the charming Pungué River. Notice restful sandy beaches, reed beds, and riverside forests, extraordinary birdlife and sunny vistas. 

Biking outings with local staff to visit their local communities and learn about the other side to conservation. 

Mount Gorongosa excursion to experience the incredible rainforest, waterfalls and Coffee Project. Meet local farmers who are planting shade-grown coffee to revive the rainforest.

Birding adventure to spot breeding colonies, resident species (some endemic), and seasonal migrants

E.O. Wilson Biodiversity Lab Tour to learn more about Gorongosa's unique approach to conservation.
The best part about the authentic wildlife experience at Gorongosa is the restoration of nature in tune with the upliftment and involvement of the neighbouring communities. From health to education, science to law enforcement, the people are benefiting from the proceeds of tourism. 
These are some of the projects:
A team of 260 men and women have been trained as law-enforcement officers and learn all about conservation and human rights law. They protect the park from poachers, illegal wildlife trade and timber. 

The unique Masters programme in conservation biology immerses students in conservation where they interact with biologists, rangers, community outreach and ecotourism professionals – they live in the park to do their ongoing research. 

Honey is harvested from 30 hives and purchased from 40 beekeepers, and there is a Honey Harvest. 

Gorongosa Coffee teaches sustainable land use management and conservation values in return for money as coffee is sold internationally. 
Why book a Gorongosa safari with Mozambique Travel as part of your holiday tour in the country to famous beaches and islands? Because conservation matters, ecotourism matters, and you matter! Chat to Mozambique travel today to secure your special package deal and rustic chic safari accommodation. 

Featured Packages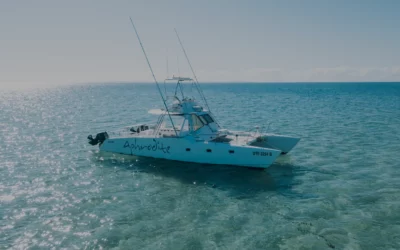 Santorini Mozambique Free Night Holiday Deal 2023
Stay for 5 nights in one of our top-selling Mozambique beach destinations in Vilanculos and only pay for 4 with plenty of extras this 2023. Escape on holiday to Villa Santorini on a free night special holiday deal. Includes airport transfers, all meals and drinks.
5 nights from
$2,485
Per person sharing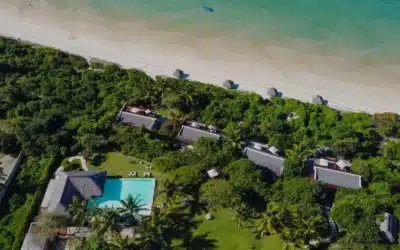 Bahia Mar SADC Family Special
Special treatment for South African families on this inspiring 5-night Mozambique beach holiday to the luxury Bahia Mar Club in Vilanculos. Stay in a spacious family unit on the beach. Kids stay free when you fly in from South Africa to Mozambique on this excellent family rate.
Enquiry Form
"*" indicates required fields