Mozambique Gourmet Seafood Paired with Best Wines
Food and wine experiences in Mozambique are memories you will never forget. Sensory gastronomic offerings, with a blend of influences from Portuguese to Swahili, and way back to the arrival of the Arabs in 700AD! That was when salt was first brought to Mozambique, and then the Arabs brought onions, bay leaves, garlic, fresh coriander, paprika, chilli peppers, sweet peppers, wine and more. They also introduced maize, rice and potatoes as staple foods which were all mixed with traditional African menus to create new tastes and dishes.  
Mozambique is a gourmet food lover's paradise and the wines come from Portugal and South Africa. Walk down a Maputo street and try fresh foods from vendors and markets in the many restaurants available. Think of recipes handed down through generations and of fresh seafood (the long coastline is a traditional fishing ground and a modern fishing delight), meaty stews, corn porridge, rice, millet, cassava chips, beans, and coconut with everything. Garlic and pepper add flavour to most dishes and peri peri is softened with the coconut milk. Tropical fruits abound and ensure a healthy holistic diet. 
Delicious local Mozambican food and drinks
Tourists can try matapa, made from cassava leaves cooked in a peanut sauce with prawns, deep fried calamari, chicken with garlic, peri peri and lime sauce, avo salad and fresh white breads. Lunch is usually a good solid meal such as Pregos (steak sandwiches), fried chicken or stews with rice. 
Local Mozambicans drink Madeira wine and 2M beers plus some potent traditional beers made from cashew nuts or maize. Food and wine experiences in Mozambique add spice and interest to your holiday. Many luxury lodges add a chic twist to their menus where traditional foods are cleverly turned into more gourmet offerings. Tuck into a delightful blend of influences from Portuguese to Swahili – Mozambique's gastronomic discovery. Combined with the freshest of seafood daily. And you got it made! 
Chat to us today to design your holiday package to Mozambique as you explore a gastronomic journey into Africa.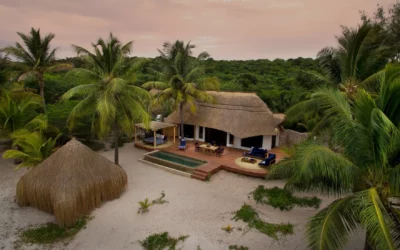 Fly Me to The Beach &Beyond Benguerra
Spend 4 nights or more in a luxury Casinha at &Beyond Benguerra Island, and return helicopter transfers from Vilanculos Airport to &beyond Benguerra are included. Combine this with a Kruger safari and the ultimate bush and beach holiday!
4 nights from
$4,600
Per person sharing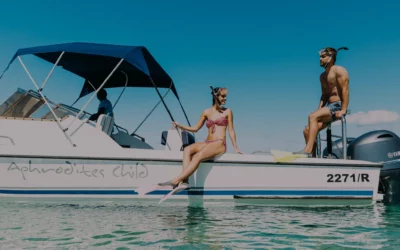 Unique Santorini Villa & Chilo Gorge Safari Lodge Combo Package
Look no further for that unforgettable bush and beach safari perfect for the experienced and discerning safari holiday maker. Chilo Gorge Zimbabwe and Santorini Mozambique make up a perfect combination package!
8 nights from
$4,995
Per person sharing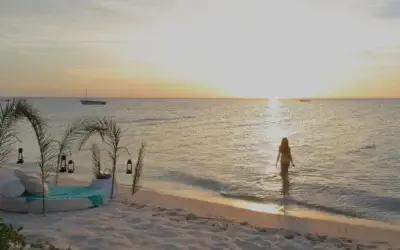 Lion Sands and Azura Benguerra
Bush and Beach safari! Enjoy your days lounging at the pool, relaxing at the spa or doing a guided nature walk or game drive. Book this fantastic Sabi and Beach combination - 4 nights at Lion Sands and 4 at Azura Benguerra Island Mozambique.
8 nights from
$7,665
Per person sharing