Eco Tourism in Mozambique
Sustainable tourism in Mozambique is trending and eco-lodges are fast becoming the accommodation venues of choice. Discerning travellers are choosing environmentally friendly destinations, driving eco-tourism trends in Africa. Mozambique is fast becoming the eco-tourism destination of Africa. Your next trip can be green, eco-friendly and gentle on natural resources.
This is the new age of travel where tourists and tour operators want more from their usual beach and island holidays. 
Top eco-lodges in Mozambique.
Global Sustainable Travel Defined
Ecotourism is the new buzzword as travellers seek an immersion in nature, connection with exotic cultures and ways to reduce their impacts on natural resources wherever they go. In a nutshell, ecotourism is about keeping the integrity of the environment intact for people and wildlife. 
According to You Matter, "Ecotourism provides the opportunity for immersion into the natural world enjoyably and effectively, resulting in greater compassion and better stewardship of the world's remaining natural wonders." 
What are the Best Eco-Lodges in Mozambique?
Mozambique eco-lodges and environmentally friendly hotels aim for small carbon footprints, employ real people from their surrounding communities, provide exceptional and meaningful experiences in nature, and show their guests amazing places that they have never seen before. An eco-lodge is usually off the grid, saves water, uses solar and wind energy, recycles waste and reduces the use of plastics. 
Sustainable travel in Mozambique takes intrepid travellers to untouched game reserves, eco-lodges on serene islands, rustic dune forest bungalows and Fair Trade beach hotels. We offer you the best sustainable tourism packages to our top eco-lodges in Mozambique.
Bahia Mar Mozambique and Anantara Bazaruto Special 2024
Book your special 7-night Mozambique break to two of our top beach properties on this amazing best-selling package deal. Two nights of beach bliss at the luxury eco-lodge, Bahia Mar Club in Vilanculos, then 5 nights at the well-loved Anantara Bazaruto Island Resort and Spa.
7 nights from
$3,648
Per person sharing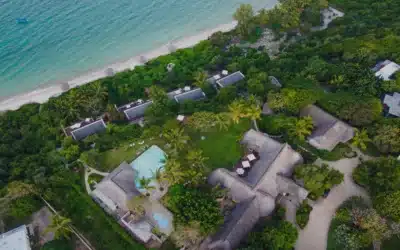 Bahia Mar Special Family Package
Kids stay free at the luxury Vilanculos eco-lodge, Bahia Mar Club, on our best-selling special family package deal. Airport transfers and delicious breakfasts every morning are part of the deal in an ocean lover's playground. Wellness and spa facilities, swimming pool and speedboat rides out to the Bazaruto islands!
Kruger Park Safari plus Vilanculos Beach Holiday Combo Package Deal
Choose this seven-night five-star bush and beach safari to Kruger Park and Mozambique for a safari in Kapama Game Reserve then fly to Bahia Mar Club in Vilanculos. Enjoy two game drives a day then appreciate Bahia Mar wellness facilities and scuba diving in the Indian Ocean.
7 nights from
$2,090
Per person sharing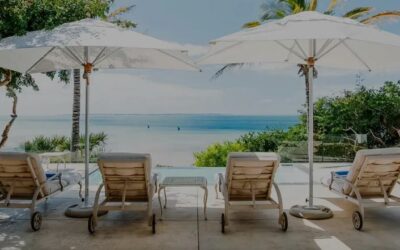 Kruger Safari & Villa Santorini Mozambique Package 2024
This beach and bush safari combines the best villa in Vilanculos Mozambique with a top Kruger Park lodge in our 7-night Villa Santorini and Lion Sands package. A unique double deal holiday that includes flights, transfers, full board and safari drives.
7 nights from
$4,650
Per person sharing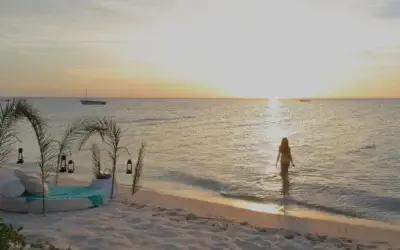 Lion Sands and Azura Benguerra
Bush and Beach safari! Enjoy your days lounging at the pool, relaxing at the spa or doing a guided nature walk or game drive. Book this fantastic Sabi and Beach combination - 4 nights at Lion Sands and 4 at Azura Benguerra Island Mozambique.
8 nights from
$7,665
Per person sharing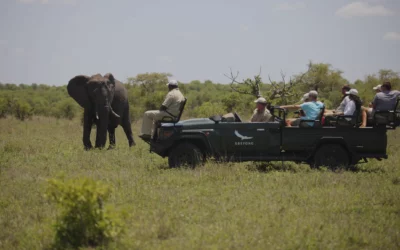 AndBeyond Ngala Safari Lodge and Benguerra Island Lodge
Bordering the Kruger National Park, Ngala Safari Lodge is a safari getaway boasting amazing wildlife spotting in South Africa. Take a helicopter flight to Benguerra Island Lodge off the coast of Mozambique where pristine white beaches and a host of fun activities.
8 nights from
$7,770
Per person sharing