Sustainable Tourism and green accommodation venues in Mozambique
Mozambique is fast becoming the eco-tourism destination of all time in Africa and sustainable tourism is the latest buzzword as tourists and tour operators tune into the environment, community involvement and history of a region. It's all about ethical travel so holidays to Mozambique are less about personal enjoyment and more about contributing to the future of wildlife, natural resources and local communities and their cultures. 
Mozambique eco-lodges and environmentally friendly hotels aim for small carbon footprints, employ real people from their surrounding communities, provide exceptional and meaningful experiences in nature, and show their guests amazing places that they have never seen before.
An eco-lodge is usually off the grid, saves water, uses solar and wind energy, recycles waste and reduces the use of plastics. Green accommodation venues in Mozambique are committed towards the ecotourism ethos of giving back to communities through nature conservation which relies on attracting the right kind of travellers to Africa. 
Ecotourism centres around environment and culture, especially true at the historical World Heritage Sites off Nampula in Mozambique, Mozambique Island or Ilha de Mozambique. It's here that history and culture play a primary role in tourism to the island, and the environment then is the secondary attraction. Come and see the haunting heritage of this historical isle and meet a rich diversity of cultures.
Come and see the extraordinary architectural style where the same stone and lime materials were used since the 1500s to build homes and businesses on the island. The island reflects the histories of the Portuguese, Arab, Indian, Persian, Bantu, Swahili and European cultures. Ecotourism will assist the extreme poverty on the island if jobs can be created in lodges and tour businesses. 
Ecotourism and Sustainable Travel in Mozambique
Your next trip to Mozambique can be green, eco-friendly and gentle on natural resources. Think about your own impacts on the environment and the communities you meet when you travel – aeroplane and road vehicle transport emissions, food waste, single-use plastic waste, noise, crowds, water and energy use.  There are many ways to reduce your eco and carbon footprint when you plan a responsible tourism adventure to Mozambique. 
Global tourism causes nearly 10% of all greenhouse emissions and since the two terrible Covid years, ecotourism is the new buzzword. People are seeking an immersion in nature, connection with different communities and reducing their impacts on natural resources wherever they go. 
In a nutshell, ecotourism is about sustainable conservation and community empowerment where the integrity of the environment remains intact and the people gain from the arrival of tourists in their country. According to You Matter, "Ecotourism provides the opportunity for immersion into the natural world in an enjoyable and effective manner, resulting in greater compassion and better stewardship of the world's remaining natural wonders. It aims to:
Minimalise all human impacts on nature 

Spread awareness about cultures and environments

Support conservation 

Respect local people and reduce impacts on their lifestyles.
Our Top Mozambique Eco-Lodges and Green Destinations
Travessia Beach Lodge
Thatched roofs, wooden decks and solar-powered lighting enhance the green ethics of Trevassia, fitting in with a sustainable approach to tourism. Canvas walls roll up or down depending on the weather and most activities take place in the great outdoors of Mozambique's continual summery seasons. Revel in a digital detox at this innovative eco-lodge that uses the sun for energy in their unique Solar Hybrid System – tune in rather to wild birds and sea breezes.
Dugong Beach Lodge
Find the award-winning Dugong Beach Eco-Lodge in the spectacular Vilanculos Coastal and Wildlife Sanctuary on the coast of Mozambique where  Livingstone's Eland, Blue Wildebeest, Plains Zebra, Giraffe, Nyala, Red Duiker, Steenbok and Grey Duiker are conserved. Welcome to the first privately managed specially protected National Park in Mozambique stretching over 30 000 ha where jaw-dropping flocks of flamingos and pelicans wade. Diverse sea, wetland and wilderness habitats harbour plentiful marine and land creatures.
Coral Lodge
An eco-conscience guides the lodge to be more sustainable with their new Ecolibri Micro Wind Turbine hybrid system and the use of solar panels to light up all pathways and main areas. Find this homely ocean-view hotel in a conservation area called Varanda overlooking Ilha de Mozambique where pristine mangroves and bays remain intact, boasting diverse birds and marine species, and where the silence is golden. Chic facilities abound and feature high thatched roofs, stone-tiled floors, natural fittings and furnishings that blend into the environment. 
Gorongosa Wild Camp
A chance to become part of one of the most remarkable restoration stories in the world and renowned biodiversity hotspot offering complete connection to and immersion in nature. Get the best of both worlds when you choose a full-board deal to stay in the exclusive rustic chic Wild Camp in prime Gorongosa wilderness areas. You are camping, yes, but you are camping in comfort – modern, lavish outdoor lodgings using off-the-grid solar energy for lights, showers and dining.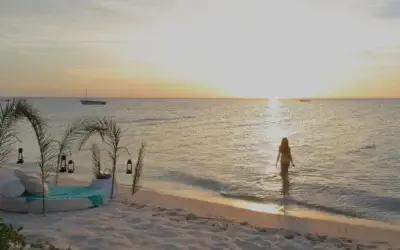 Lion Sands and Azura Benguerra
Bush and Beach safari! Enjoy your days lounging at the pool, relaxing at the spa or doing a guided nature walk or game drive. Book this fantastic Sabi and Beach combination - 4 nights at Lion Sands and 4 at Azura Benguerra Island Mozambique.
8 nights from
$7,665
Per person sharing