Book Mozambique Holiday Packages With Us
Exciting holiday packages to Mozambique are specially designed to save you hassle, money and time. Choose from our ready-made special holiday packages or contact us to customize the perfect Mozambique experience for you! Travel from South Africa to Mozambique on special Rand value deals. Catch an all-inclusive trip to Africa where everything is covered in the package deal you book. No hidden extras, plenty of added treats. 
Honeymoon specials, family deals, business packages and group discounts – we have it all here at Mozambique Travel. Choose accommodation weeks at trending hotels on the beachfront, or at fancy island villas where luxury facilities await. Do you want a spa and wellness retreat where mind and body therapies heal your soul and daily yoga stretches your limbs?
We also offer some of the best bush-beach combo packages to South Africa's Kruger National Park and some top Mozambique beach lodges.   
We guarantee the best Mozambique accommodation in exquisite destinations in the bush, on the beach, on spectacular islands and on inland lagoons and lakes. We offer diving packages, fishing specials, family experiences and honeymoon heaven holidays. Brides get 50% discount on our full board deals and families get plenty of outdoor activities thrown in!
Travel Packages to Mozambique's Tropical Paradise
Mozambique is a year-round tropical paradise with perfect weather, world-class diving, cultural tours of ancient architecture, friendly village people and stunning white beaches.  
Our tailor-made holiday packages blend the best experiences of Mozambique. From game safaris and adventure holidays to secret beaches and scuba diving magic we have it all. From swimming with the dolphins, snorkelling the islands and kite surfing fun to sailing, deep sea fishing, bird watching, photography and more.
You'll find family holidays, honeymoons, couples' escapes and unbeatable Mozambique vacation deals. Try our special offers for a bush and beach holiday – start on a tropical island and end in Maputo National Park or South Africa's Kruger National Park.  From the Bazaruto Archipelago islands to the beaches of Vilanculos and Inhambane, we have a holiday experience for everyone, and the very best accommodation packages available for your holiday to Mozambique!
If you don't see anything that tickles your fancy, get in touch with us and we will plan the perfect Mozambique escape just for you!  We are the experts and proud to offer the very best service and rates on Mozambique packages available! See our very latest 2023 Mozambique deals below.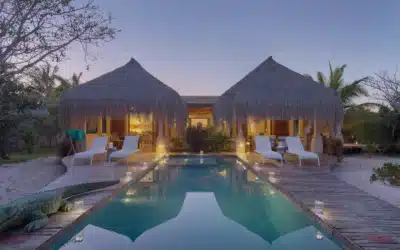 Azura Benguerra | Santorini Mozambique | 7-night Package
Take a fantastic trip into Africa with this never to be missed double lodge deal for amazing Azura Benguerra Island and spectacular Santorini Villa in Mozambique. Southern African residents will love the Rand value on this special package because they get one night for free when they set off on their adventure to the Greek-inspired Villa Santorini in Vilanculos.
7 nights from
R50,168
Per person sharing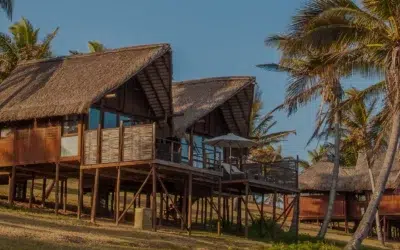 Free Nights Added to Luxurious Stay Pays at Massinga Beach Lodge
Massinga Beach sits above a stretch of endless, private beach overlooking the azure Indian Ocean. Far from the madding crowd and offering barefoot luxury, the lodge caters for all guests - everyone who is wanting to get away from the hustle and bustle of city life.
5 nights from
$1,295
Per person sharing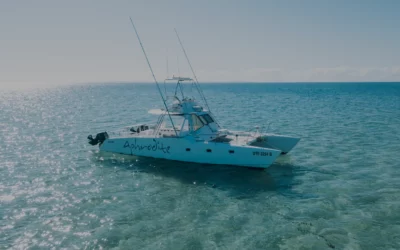 Santorini Mozambique Free Night Holiday Deal
Villa Santorini Mozambique has fantastic free night offers for 2023. Stay 4 nights and Pay 3, Stay 5 and only Pay 4. Luxury accommodation in a private and secluded location on the beach of Vilanculos. Book with us for the best deals to Santorini.
5 nights from
$2,485
Per person sharing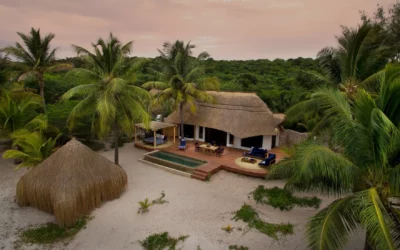 Fly Me to The Beach &Beyond Benguerra
Spend 4 nights or more in a luxury Casinha at &Beyond Benguerra Island, and return helicopter transfers from Vilanculos Airport to &beyond Benguerra are included. Combine this with a Kruger safari and the ultimate bush and beach holiday!
4 nights from
$4,600
Per person sharing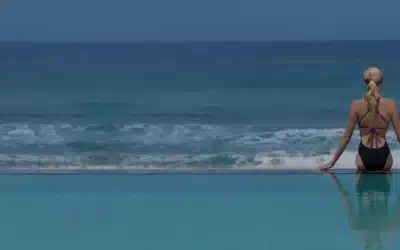 Free Transfers to White Pearl Resorts
Free transfers are up for grabs if you book to stay 6 nights or more at White Pearl Resorts, Ponta Mamoli. Make the most of the magnificent views. This amazing 6 night package includes flights from JHB as well as free air and road transfers to the resort!
6 nights from
$4,650
Per person sharing
Kruger Safari plus Vilanculos Beach Holiday Combo Package Deal
Luxury and style awaits on this package designed to enthral. Fly into Eastgate airport to begin your Bush and Beach holiday of a lifetime. Package includes road transfers and accommodation. Contact to book your stay.
7 nights from
$2,090
Per person sharing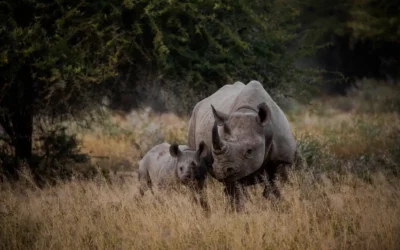 White Pearl Resort – Kruger to Coast Mozambique Holiday package
Combine your South African Kruger Safari with a relaxing escape to White Pearl Resorts and get one night free. The perfect beach extension to a safari trip. Enjoy a game drive in the morning and lunch on the beach in Mozambique.
7 nights from
$6,755
Per person sharing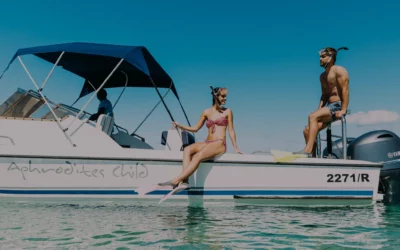 Unique Santorini Villa & Chilo Gorge Safari Lodge Combo Package
Look no further for that unforgettable bush and beach safari perfect for the experienced and discerning safari holiday maker. Chilo Gorge Zimbabwe and Santorini Mozambique make up a perfect combination package!
8 nights from
$4,995
Per person sharing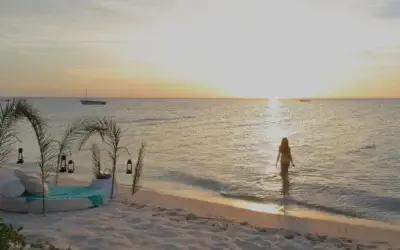 Lion Sands and Azura Benguerra
Bush and Beach safari! Enjoy your days lounging at the pool, relaxing at the spa or doing a guided nature walk or game drive. Book this fantastic Sabi and Beach combination - 4 nights at Lion Sands and 4 at Azura Benguerra Island Mozambique.
8 nights from
$7,665
Per person sharing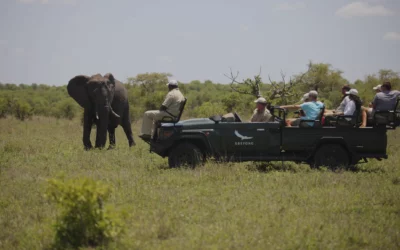 AndBeyond Ngala Safari Lodge and Benguerra Island Lodge
Bordering the Kruger National Park, Ngala Safari Lodge is a safari getaway boasting amazing wildlife spotting in South Africa. Take a helicopter flight to Benguerra Island Lodge off the coast of Mozambique where pristine white beaches and a host of fun activities.
8 nights from
$8,270
Per person sharing
Our best Mozambique Package Specials 2023
These are our hand selected Mozambique holiday packages and honeymoons for 2023. We have selected the very best properties and created unbeaten deals for your accommodation in Mozambique. Packages can include flights from South Africa and usually include transfers. For the very best bespoke holidays to Mozambique chose the islands of Bazaruto and the Quirimbas Archipelago. Properties like Azura Benguerra Island in Bazaruto are top notch and you will fly in over the islands by helicopter and land in style.
Self driving to Mozambique
For those wanting to self drive to Mozambique from South Africa the resort towns of Vilanculous and Tofo and the beach lodges there, offer good value accommodation with a huge range of choice. Southern Mozambique destinations like Ponta Mamoli and Ponta de Oura are now a short hop over the border from Kosi Bay. The new tar road and Catembe bridge over Maputo Bay opens up this area to two wheel drive vehicles. There is even talk of the border post opening 24/7 soon – so it will get easier and easier to travel here.
And if you are wanting to visit Maputo the capital city of Mozambique then get in touch with us today. We have great deals on Maputo hotels and accommodation – for both business and leisure travelers to Mozambique.
If you are planning a safari to Africa with a beach add on to Mozambique we have some great ideas and suggested itineraries. Bush and beach safaris from South Africa or Botswana to Mozambique are our specialty.
Mozambique Travel has been planning and booking beach holidays to Mozambique for over twenty years. Get in touch with the experts and our 24/7 call support means we are there to support you throughout your holiday. We are not an online booking engine that just takes a booking and your money and says thanks very much. We personally plan and assist you from concept to the very end of your magical holiday to Mozambique!