Mozambique Holiday Packages to Inhambane
Browse our comprehensive selection of Inhambane holiday packages and special deals. Mozambique Travel promises loads of unbeaten rates to the finest beach resorts on the African east coast including Tofo Beach and Barra Beach. 
Mozambique beach holiday packages to interesting Inhambane are well worth the planning and adventure. Visit one of southern Mozambique's most charming towns on an endless white coastline where coconut palms sway and diving vacations are packed with thrilling marine sightings. Immerse yourself in a delightful history that reaches back at least a millennium, making Inhambane one of the oldest settlements along the Portuguese African coast. 
A family package holiday in this beautiful setting is so much fun – you can all make the most of a serene ocean setting, tree-lined avenues, faded colonial-style architecture and mixture of Arabic, Indian and African influences. The honeymoon couples can indulge in romantic special deals and feel welcomed by the rich and friendly culture. 
The gateway to a beautiful collection of beaches, including those of Massinga, Tofo and Barra, the Inhambane Province is famous for its excellent diving deals, fishing specials and top spa therapy packages. See below for the hand-selected holiday packages we have put together just for you!
Full Board Family Holiday Package Deals to Massinga Beach Lodge 
A special full board package to Inhambane's Massinga Lodge for families means that you save money and add value to a memorable holiday in Mozambique. This luxury beach resort on a hill above a long untouched beach is fast becoming the family destination of choice in Mozambique. Kids stay free on this five-night deal and will love the range of activities: snorkelling in the rocks, beach bike rides, games of soccer, table tennis and pool, not to mention the volleyball, kayaking and boogie boarding or surfing they can do all day.  
Inhambane, also known as Terra de Boa Gentle (Land of Good People) holds true to its name and a holiday to this destination is surely not to be missed! Book your special rate of 5 nights away from South Africa in a fishing and surfing mecca where your family will reconnect and relax. 
Tofo Mar Hotel Praia Do Tofo Promises Value for Money Business Packages 
Business delegates get worthwhile value for money deals at this top Tofo hotel where quality holiday experiences suit all types of visitors. Book your special package deal to Tofo Mar Hotel overlooking the magnificent Praia do Tofo on Mozambique's spectacular coastline. 
This legendary accommodation dates to 1969 when it started out as a great idea and today hosts conference delegates in modern meeting rooms overlooking the azure ocean.  Restaurant da Praia hosts all tastes with traditional and modern foods while everyone sleeps soundly in deluxe rooms with every mod con available and free Wi-Fi too. 
Honeymoon packages to this relatively new destination in Inhambane are soaked in romance. Discover the aptly named Eclectic Beach Retreat close to Barra Beach and a short walk to the delightful surfing mecca of Tofo Beach. Be free in love, take to the surf or take to the long beaches – long beach walks, watch the sunrise, do some yoga, take a fat bike on a beach adventure. 
Your special deal includes time to go for a private dhow trip in gorgeous mangroves and experience the abundance of nature. Or simply sip cocktails in the rim-flow pool surrounding yourself with beautiful style and outstanding service. Couples can indulge in romantic breakfasts together in the sun while the pool area beckons, and a beautiful garden adds serenity to your stay. 
Book your Inhambane holiday package deal today with Mozambique Travel and ensure your customised experience works for you. We have unbeaten rates to the finest beach resorts including Tofo & Barra for unforgettable Mozambique beach holidays.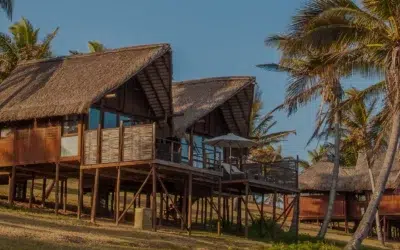 Free Nights Added to Luxurious Stay Pays at Massinga Beach Lodge
Massinga Beach sits above a stretch of endless, private beach overlooking the azure Indian Ocean. Far from the madding crowd and offering barefoot luxury, the lodge caters for all guests - everyone who is wanting to get away from the hustle and bustle of city life.
5 nights from
$1,295
Per person sharing