Special holiday packages to Vilanculos
Find your exclusive Vilanculos accommodation packages for 2023 and 2024 right here and start planning your unforgettable Mozambique holiday. We offer perfect tropical Mozambique beach destinations that fit your budget and style so take your pick from the widest choice of special packages in Vilanculos with Mozambique Travel. Our best deals on treasured holidays to Mozambique's impressive beaches include top accommodation to Vilanculos beachfront resorts and luxury hotels. 
Compare prices, read the reviews and view our top ten travel destinations in Vilanculos for best value deals on accommodation. Vilanculos is the gateway to the beautiful Bazaruto Archipelago and promises some of the best holiday package deals in Mozambique this summer 2023 and 2024. Discover the rich local culture and tropical beach accommodation in easily accessible lodges and villas with expansive ocean views. 
Mozambique remains an untouched island-style destination in its extraordinary remote setting and offers five-star service, top-notch facilities and easy fly-in packages! Enquire here online for your all-inclusive holiday in a Mozambican paradise. Our diving specials are inclusive of meals and drinks and we recommend dive lodges with superb packages to suit your needs. Head from Vilanculos to the shimmering islands of the Bazaruto Archipelago for day trips to dive, snorkel and island hop.
Our customised special deals to Vilanculos include serene luxury accommodation, flights and transfers, all water sports and access to mesmerising sugary beaches. Choose honeymoon havens with private villas for two or entertaining family beach resorts with pool bars and plenty of games for the kids.
Bahia Mar Mozambique and Anantara Bazaruto Special 2023
Book your special 7-night Mozambique break to two of our top beach properties on this amazing best-selling package deal. Two nights of beach bliss at the luxury eco-lodge, Bahia Mar Club in Vilanculos, then 5 nights at the well-loved Anantara Bazaruto Island Resort and Spa.
7 nights from
$3,648
Per person sharing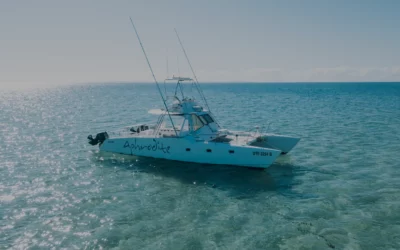 Santorini Mozambique Free Night Holiday Deal 2023
Stay for 5 nights in one of our top-selling Mozambique beach destinations in Vilanculos and only pay for 4 with plenty of extras this 2023. Escape on holiday to Villa Santorini on a free night special holiday deal. Includes airport transfers, all meals and drinks.
5 nights from
$2,485
Per person sharing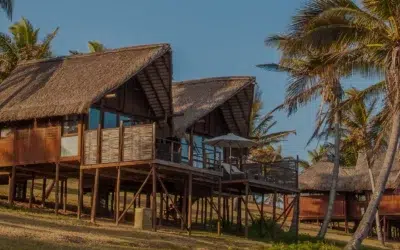 Five Night special deal at Massinga Beach Mozambique
Massinga Beach sits above a stretch of endless, private beach overlooking the azure Indian Ocean. Far from the madding crowd and offering barefoot luxury, the lodge caters for all guests - everyone who is wanting to get away from the hustle and bustle of city life.
5 nights from
$1,295
Per person sharing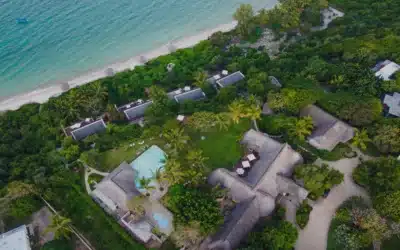 Bahia Mar Special Family Package
Kids stay free at the luxury Vilanculos eco-lodge, Bahia Mar Club, on our best-selling special family package deal. Airport transfers and delicious breakfasts every morning are part of the deal in an ocean lover's playground. Wellness and spa facilities, swimming pool and speedboat rides out to the Bazaruto islands!
Kruger Park Safari plus Vilanculos Beach Holiday Combo Package Deal
Choose this seven-night five-star bush and beach safari to Kruger Park and Mozambique for a safari in Kapama Game Reesrve then fly to Bahia Mar Club in Vilanculos. Enjoy two game drives a day then appreciate Bahia Mar wellness facilities and scuba diving in the Indian Ocean.
7 nights from
$2,090
Per person sharing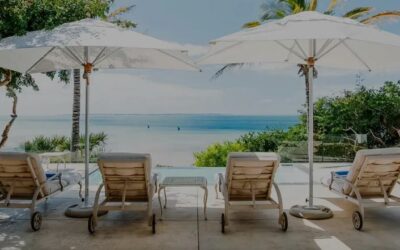 Kruger Safari & Villa Santorini Mozambique Package 2023
This beach and bush safari combines the best villa in Vilanculos Mozambique with a top Kruger Park lodge in our 7-night Villa Santorini and Lion Sands package. A unique double deal holiday that includes flights, transfers, full board and safari drives.
7 nights from
$4,650
Per person sharing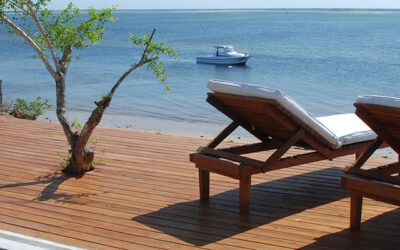 Rio Azul's family holiday package Mozambique 2023
Rio Azul's magical family holiday deal attracts families to Mozambique on dream beach holidays deals at excellent rates! This 5-night family deal in a luxury villa on the banks of the Vilanculos Govuro River estuary includes all meals, use of sea kayaks, windsurfers and aluminium motorized estuary boats.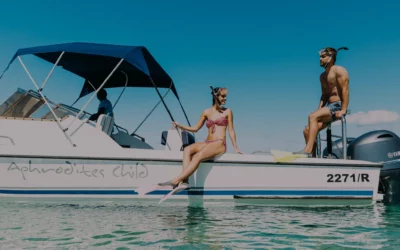 Santorini Mozambique and Chilo Gorge Safari Lodge Combo Package
An unusual 8-night combination safari beach deal to the luxury Chilo Gorge Safari Lodge Gonarezhou National Park in Zimbabwe then to lavish Santorini Villa in Mozambique. Enjoy ocean sports after a thrilling safari in the bushveld. Free air and road transfers, a spa treatment and island tours.
8 nights from
$4,995
Per person sharing