Where to stay in Bilene
Looking for accommodation in Bilene Mozambique? We have great deals on the best seaside lodges, resorts and self-catering options. Get in touch with the experts to find the ideal place to stay on your next holiday to Mozambique. We love Bilene for its enormous saltwater lagoon and beach access, its huge flat ocean and the varied activities for families, couples and more! 
Bilene is just the place you are looking for if you want holiday entertainment for your kids and family – a small vibey town only 150 km northeast of Maputo in the Gaza region of Mozambique. Try some exciting water sports on the magnificent sheltered Uembje lagoon that connects to the sparkling blue sea nearby. 
Travel from South Africa to Praia do Bilene on tar roads from Maputo to do some boating, some sailing and some fishing at this typical holiday destination. We have some of the best holiday packages available for your dream Mozambique accommodation this summer.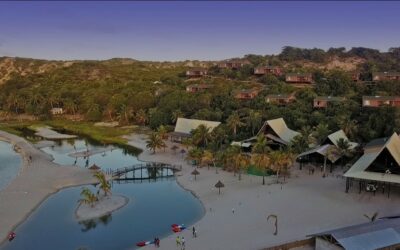 Nghunghwa Lodge
On the magnificent coast of Mozambique, about 180km north of Maputo, you will find Bilene, home of Nghunghwa Lodge, a hidden piece of paradise.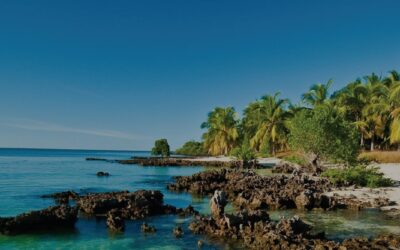 Serenity Self-Catering
This is Serenity, an idyllic self-catering Mozambique Family Holiday Lodge in Bilene town - on the edge of the warm salt water lagoon and footsteps from the Indian Ocean.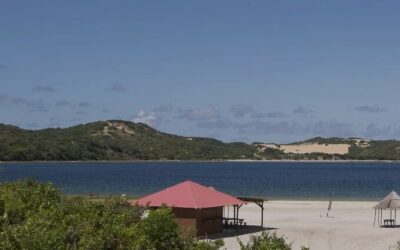 Just in Time Bilene
You have heard of this delightful holiday venue in Bilene just in time. Because it is your time to experience its unique luxury and hospitality. A miraculous find that provides a real escape from life's commercialism and materialism.
The highlights of a holiday to Bilene Mozambique
The central focus of Bilene is the huge Uembje Lagoon, its shores edged with beautiful white beaches, shady trees and impressive sand dunes. 

Bilene is very close to Johannesburg as the crow flies so it popular with all South Africans who want to fly or drive to this super holiday spot. 

Wander around the peaceful markets to buy some fresh produce, curios, colourful sarongs (capalanas), clothing, roasted cashew nuts and fresh coconuts for sale. Get some fresh garoupa caught in the lagoon, or crabs and prawns if you love fresh seafood! 

Some of the best shallow reefs for snorkelling can be found at Bilene so get ready to be in the water most of the day.

Water sports attract enthusiasts from South Africa and beyond to make the most of water skiing, parasailing, kitesurfing, wakeboarding, windsurfing, kayaking and snorkelling. 

Beach bars and restaurants are open for all visitors with good music, local beers and food plus there is fuel on sale for your journey home.
Bilene Facts and Figures
Bilene was once known as Sao Martinho and is a peaceful village that will soothe your soul if you are looking for a break from city life. 

Uembje is a natural saltwater lagoon stretching about 27 km parallel to the Indian Ocean and up to 8 km across. It can reach 50 m deep in many areas but is mostly shallow and warm so ideal for kids.  

Climb up to Turtle Cliff to see

whales, turtles and dolphins swimming past – maybe you will be in time for whale season in June to October where the Humpback and Southern Right whales can be seen migrating down the coastline to the warmer waters to mate and calf. 

Turtle season is between November and March when Loggerhead and Leatherback turtles lay their eggs on the beach.
Fishing and Boating Holidays at Uembje Sao Martinho Lagoon
A huge sandbar separates the lagoon from the ocean and makes for excellent surf and shore fishing, plus exciting deep-sea fishing for yellow fin and Mackerel from boats at the lagoon mouth and into the ocean. When the locals open the river mouth to allow migrating fish to swim into the lagoon, the fishing gets exciting. Bring your rods for some thrilling shore and surf fishing or find a boat charter to get out on the ocean to hook big game fish in the shallow reefs close to the beach. 
Capture the magnificent flocks of pink flamingos on film as they wallow for food, noisy and gorgeous as they socialize. Maybe you will care to book a microlight flight over the area, viewing these elegant birds from above, or watching them take off gracefully over lovely lagoon and ocean.
Fishing and Boating holiday activities in this Mozambique beach town called Bilene include safe swimming during the day and fantastic wining and dining during the evenings. Enjoy a Mozambique iced beer, great local cuisine, and even a local disco to shake your booty. 
South Africans love Bilene for its proximity to Johannesburg, plus the fun water options of the lagoon and the warm Indian Ocean. Book your holiday accommodation today.