Introduction to the Bazaruto Archipelago Mozambique
Special Bazaruto Archipelago holiday packages tailor made here for you. Do you want a diving package or a romantic honeymoon deal? Are you coming to enjoy a wellness retreat with spa therapies and yoga every day, or are you coming to do water sports and island-hopping safaris? 
We know that a memorable Mozambique island holiday getaway to the unforgettable Bazaruto Archipelago means the best special package that benefits your budget and your theme. We rate Benguerra and Bazaruto islands for their chic accommodation in beach villas with endless ocean views. We rate the range of luxury lodges on these islands of choice with their immediate access to white sugary beaches, ocean activities deluxe and private decks with plunge pools.
Make your dreams come true when you plan a special deal to the Bazaruto Archipelago islands. We package your family into a 7-night deal, and we give South Africans special Rand rates when they choose full board accommodation specials. Honeymoon couples get special treatment with 50% off the bride's accommodation in many lavish lodges, plus island picnics, sunset cruises, and complimentary bubbly in their suites. 
Mozambique Travel has carefully selected our favourite Bazaruto Archipelago packages to entice you to the islands for a winning summer holiday. Travel to Africa and make fabulous island holiday memories in spectacular ocean and beach scenery.
Recommended Holiday Packages to the Bazaruto Archipelago
Azura Benguerra's SA Family Break
South African families can disconnect from their mobile phones and computers on this entertaining lavish island holiday. Kick back and relax in a 'barefoot luxury' adventure designed to thrill the body yet still the mind. Two kids under 16 years stay free when sharing with adults on this exceptional package deal. Book your five nights' accommodation in an Infinity Beach Villa plus return helicopter transfers, all meals and most drinks. Snorkelling, kayaking and stand-up paddle boarding and free Wi-Fi add value to this sensational deal. 
Lion Sands & Azura Benguerra Island
What about the irresistible combination of bush safari in South Africa and beach bliss in Mozambique when you book this combo package deal to Lion Sands River Lodge and Azura Benguerra Island Lodge? 
This deluxe 8-night all-inclusive special deal includes 4 nights at the refined Lion Sands River Lodge in the Sabie Sand Private Game Reserve plus 4 nights at the lavish Azura Benguerra Island Lodge in the Bazaruto Archipelago National Park. Combine the best game viewing in the world near Kruger National Park with the most pristine white beaches and stimulating ocean activities on offer in Africa. Get all your meals, drinks, helicopter transfers, game drives and boat cruises as part of this mind-blowing package!
AndBeyond Benguerra Island Long Stay Special 
Book this discounted package deal at another favourite lodge on Benguerra Island where less is more and you get more fun, more ocean, more beach and more luxury accommodation. Add more value for your holiday with the &Beyond Benguerra Island Stay Longer for Less Mozambique holiday package to the Bazaruto Archipelago. Save up to 10% on your special holiday package to this island retreat on an all-inclusive special deal to the east African coast. How can you resist a vacation that includes flights and transfers, opulent accommodation, and meals? 
Fly to the Bazaruto Archipelago from Vilanculos International Airport and feel the freedom of being on an island, away from the madding crowds. Choose one of our fun and relaxing packages and then we can add the personal touch for your travelling needs. Honeymoon couples choose the islands for their special romantic breaks and families come to bond and disconnect from their busy responsibilities. 
Chat to us today to secure your special island package deal.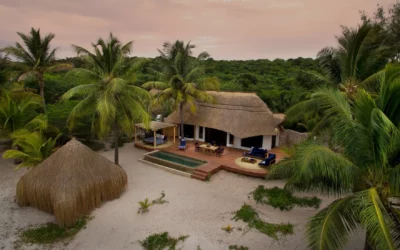 Fly Me to The Beach &Beyond Benguerra
Spend 4 nights or more in a luxury Casinha at &Beyond Benguerra Island, and return helicopter transfers from Vilanculos Airport to &beyond Benguerra are included. Combine this with a Kruger safari and the ultimate bush and beach holiday!
4 nights from
$4,600
Per person sharing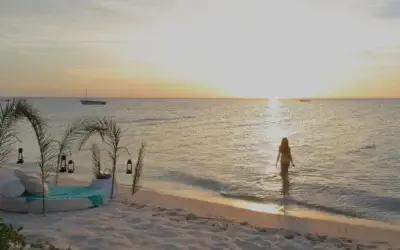 Lion Sands and Azura Benguerra
Bush and Beach safari! Enjoy your days lounging at the pool, relaxing at the spa or doing a guided nature walk or game drive. Book this fantastic Sabi and Beach combination - 4 nights at Lion Sands and 4 at Azura Benguerra Island Mozambique.
8 nights from
$7,665
Per person sharing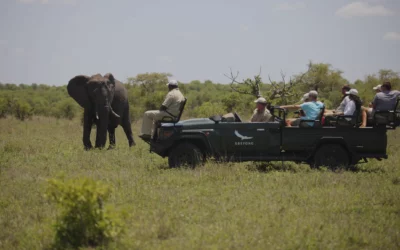 AndBeyond Ngala Safari Lodge and Benguerra Island Lodge
Bordering the Kruger National Park, Ngala Safari Lodge is a safari getaway boasting amazing wildlife spotting in South Africa. Take a helicopter flight to Benguerra Island Lodge off the coast of Mozambique where pristine white beaches and a host of fun activities.
8 nights from
$8,270
Per person sharing