Force 4 cyclone strikes
Yesterday afternoon Cyclone Kenneth made landfall in Northern Mozambique. It was a Force 4 cyclone and struck with tremendous force effecting some of the Quirimba Islands north of Pemba Mozambique. Islands most seriously effected were Ibo, Matemo and Quirimba. Over a thousand homes have been destroyed on Ibo island with serious damage to infrastructure, electrical power installations and currently there is no communication with the island except by satellite phone. There has been no loss of life on the islands reported so far, but the humanitarian impact is severe and very real.
NGO's and aid organizations are scrambling to get aid to the region, and this includes The Gift of the Givers and many more.
Ibo Island tourism infrastructure has suffered but is likely to be operational within the next ten days. The islands and communities need the support from this vital industry to help with their recovery.
The United Nations now sees the need for a new large-scale humanitarian operation to respond to Cyclone Kenneth's and its impact on Northern Mozambique at a time when aid to those affected by Idai remains "critically underfunded".
"Cyclone Kenneth may require a major new humanitarian operation at the same time that the ongoing Cyclone Idai response targeting three million people in three countries remains critically underfunded," UN Under-Secretary-General for Humanitarian Affairs and Emergency Relief Coordinator, Mark Lowcock, said.
United Nations Office for the Coordination of Humanitarian Affairs
In a statement issued by the United Nations Office for the Coordination of Humanitarian Affairs, the official says he is "deeply saddened by the loss of life and destruction caused by Tropical Cyclone Kenneth which first hit the Union of Comoros two days ago before making landfall as a Category 4 storm last night in the Cabo Delgado province in northern Mozambique on the border with Tanzania".
With maximum sustained wind speeds of 225 kph and gusts that reached over 270 kph. The cyclone ripped roofs off homes and continues to generate heavy rainfall resulting in severe flooding as it moves in a southerly direction inland of the coast.
This new "disaster comes only six weeks after Cyclone Idai devastated Beira and central Mozambique, killing more than 600 people, unleashing a cholera epidemic, wiping out crops in the country's breadbasket. Over a million people now rely on food aid to survive.
Cyclone Kenneth has killed one person in the Pemba city, northern Mozambique. Although there is damage to Pemba – it is not as severe as what occurred in Beira. Power to the city has just been restored. However flights in and out of Pemba are currently cancelled till the situation improves.
Preliminary information points to heavy damage in the region, with precarious homes destroyed by strong wind and heavy rain, and with displaced families in the Quirimbas archipelago.
The damage may extend to other parts, the sources said, but some communications are to be restored in the next 24 hours.
Featured Packages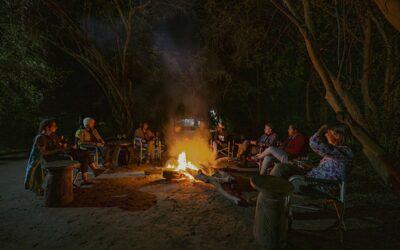 Mozambique safari to Wild Camp Gorongosa
A spectacular five-night package into the wilds of Gorongosa National Park with this well-priced Mozambique safari deal in the authentic Wild Camp. Walking trails are the focus of this glamping safari. Includes return light air transfers and two safari activities daily.
5 nights from
$2,850
Per person sharing