How to get there, what to do & holiday packages to the finest beach lodges in Inhambane.
For the best places to stay in Inhambane, read this updated travel guide to a picturesque seaside town on Mozambique's magnificent 2000km coastline. Mozambique Travel shares all the best places to visit in Inhambane and how to get there, where to stay and which ultimate holiday accommodation packages to choose. 
We recommend only the finest beach lodges and resorts in Inhambane in this comprehensive travel guide – with private suites opening out onto soft sandy white beaches. We offer world-class diving deals, surfing sensations and ocean safaris for all who want to explore the best of Mozambique's Inhambane region.
At Mozambique Travel, you get unbeaten deals to our top ten lodges and villas, hotels and resorts in Inhambane. These are honeymoon and family package rates you simply cannot ignore for that once-in-a-lifetime beach holiday. 
Our recommended seaside attractions in Tofo and Barra Beach include family villas offering ocean sports galore, lagoon and mangrove swamps adventures. Sip drinks in beach bars and enjoy fresh coffees in funky cafes, it is all happening here in central south Mozambique.
This in-depth travel guide to top Inhambane accommodation venues along sugar white beaches refers to our best special package deals for honeymoons, families and pleasure seekers who want to whale watch, swim with the dolphins, find the elusive manta rays and scuba dive with enormous whale sharks.
Diving packages and surfing deals abound with Mozambique Travel as we customise your inclusive holiday choices into one easy holiday package. Honeymoon packages at gorgeous eco-lodges hidden in dune forests or leisure breaks for groups of festive friends looking for bars, infinity swimming pools and a la carte restaurants, Inhambane has it all.
Why Everyone Loves Inhambane
Cultural excursions include the Inhambane Museum to view displays are musical and agricultural instruments, photographs of the colonial era and a number of African cultural artefacts. Wander into the Cathedral of Nª Srª da Conceição built in the XVIII century or the Inhambane Mosque built during the middle of the XIX century.

Fishing opportunities abound along the shores of "I'bane", one of Mozambique's most attractive bays, at the mouth of the Matumba River.

Rich in history and culture, Inhambane is one of the oldest villages in Mozambique and was once a significant port on the east coast, visited often by the Portuguese adventurer, Vasco de Gama. It's now a renowned diving and snorkelling hotspot where fresh seafood meals win first prize. 

Music emanates from Inhambane so many visitors stop here to watch famous Mozambican bands or international stars invited to this beach town for concerts to entertain the ocean-loving crowds on the beaches and in the cafes.

Set off every evening in sailing dhows to watch the sun go down into the sea, pink and purple then red. Swim beside enormous whale sharks after sunrise in warm clear azure waters. 

This is Terra de Boa Gente or Land of the Gentle People according to Vasco da Gama who first saw and appreciated Inhambane in the 1400s. 
Accommodation in Inhambane
View our top ten beach hotels and resorts in the breath-taking Inhambane region and choose your ideal special package deal to suit your holiday needs. We promise top-of-the-range honeymoon villas, family suites packed with mod cons and expansive decks, private cabins in the dune forests and epic luxury chalets with lounges and thatched bedrooms with mesmerising ocean and beach views. Check these lodgings out for starters:
Eclectic Beach Retreat: only 7 boutique beach suites fully equipped with lounges, kettles, air conditioning and showers (some with a kitchenette and microwave), sunny terraces and fresh seafood meals at the Eclectic restaurant.

Sentidos Beach Retreat: c

reated by hand from wood, thatch and reeds, it merges with this magnificent environment as beautifully handcrafted timber boardwalks lead guests to the bar and infinity pool, over vital mangrove swamps.

Massinga BeachLodge: tasteful spacious rooms with extra length king beds, crisp quality linens, en-suite rain showers and free‐standing bathtubs opening out onto private decks for a holiday made for pure solitude.

Castelo do Mar: a remote location right on the beach featuring accommodation in 18 en-suite bedrooms in a new world of warm elegance – popular with company team building and management meetings.

Bayview Lodge: superior self-catering accommodation, fully equipped, air-conditioned and serviced daily – attractive face-brick buildings with thatch roofs and tiled floors.

Travessia Lodge: only 15 guests delight in gorgeous, serene casas with astonishing 180 degree sea views from spacious decks, restful hammocks, and personal en-suite outdoor showers. 

Dunes de Dovela: wander the network of shady marked paths that lead you from your bungalow or tent to the restaurant, sea, viewing platforms and through the gorgeous dune forests.
What to do in Inhambane
Snorkel at Two Mile Reef: rated as one of East Africa's best snorkelling spots harbouring colourful schools of fish, breaching humpback whales and maybe a shy hawksbill turtle.

Chill time on Barra Beach: make your own footprints alone on this untouched and enjoy true serenity away from all crowds and noise – swim in clean waves, grab a snack from nearby stalls and simply read a book all day.

Explore Praia do Tofo: experience the charm of this surfing town, a magnet for hippies, laidback travellers and diving adventurers who want to find the Mantas and Whale Sharks – a vast, mesmerising beach offering local stalls, cafes, music and unforgettable nature. 

Meet the Marine Megafauna Foundation: find out how they help to conserve marine species with the local dive school, Peri-Peri, and get involved. Attend an insightful lecture, support the research through donations or head on a fun diving trip with Peri-Peri.

Boat rides to Maxixe: go and play in the largest city in Inhambane province, Maxixe, to enjoy its beautiful beaches and embark on a fun ferry ride back to Inhambane.

View Vasco da Gama's statue: this Portuguese explorer found and fell in love with Inhambane in 1498 and you can see his statue proudly watching over the town. 

Visit the Museu Regional Inhambane: to learn about the region's history and culture, its fascinating pre-colonial era leading up to the present.  

Grab a street or café meal: find a few casual shack-style eateries cooking up an assortment of drool-worthy pizzas, meat and seafood dishes.

Accommodation for all tastes and budgets

: honeymoons, families, couples and groups can all find something in Inhambane with luxury amenities, or not.
Getting to Inhambane
By Air: Mozambique Airlines (LAM) fly to Inhambane from Johannesburg on Monday, Wednesday and Friday.
Johannesburg to Inhambane via Maputo: TM312

| | | |
| --- | --- | --- |
| Day of the week | Depart Johannesburg | Arrive Inhambane |
| Monday | 08h50 | 12h10 |
| Tuesday | 08h50 | 12h10 |
| Wednesday | 08h50 | 12h10 |
| Thursday | 08h50 | 12h10 |
| Friday | 08h50 | 12h10 |
| Sunday | 08h50 | 12h10 |
Inhambane to Johannesburg via Maputo: TM315

| | | |
| --- | --- | --- |
| Day of the week | Depart Inhambane | Arrive Johannesburg |
| Monday | 15h15 | 18h45 |
| Tuesday | 15h15 | 18h45 |
| Wednesday | 15h15 | 18h45 |
| Thursday | 15h15 | 18h45 |
| Friday | 15h15 | 18h45 |
| Sunday | 15h15 | 18h45 |
Read our updated visa information and border post formalities to make sure that you are more than ready to enter Mozambique to kick-start your holiday on a beach in paradise.
Self-drive: From South Africa take the N4 via Nelspruit to the Komatipoort border post. There is now a good tar road all the way into Maputo from the South African Border at Komatipoort; there is a toll halfway between the border and Maputo. 
Featured Packages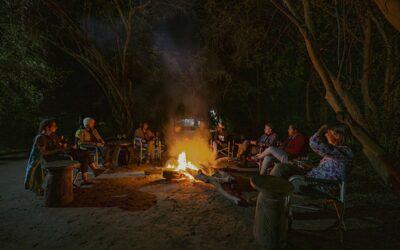 Mozambique safari to Wild Camp Gorongosa
A spectacular five-night package into the wilds of Gorongosa National Park with this well-priced Mozambique safari deal in the authentic Wild Camp. Walking trails are the focus of this glamping safari. Includes return light air transfers and two safari activities daily.
5 nights from
$2,850
Per person sharing