Honeymoon Packages to Vilanculos
We know that the ultimate beach honeymoon destination in Mozambique has to be Vilanculos.  We promise unbeaten deals and advice on Mozambique's best honeymoons. Vilanculos is the centre of romance with its long white beaches, endless ocean vistas and settings that take your breath away. 
This is the ocean sports lovers' playground where a sparkling bay is the arena for kite surfing, stand up paddle boarding, sea kayaking, fishing safaris and scuba diving excursions into the Indian Ocean reefs.
Romantic Honeymoon Accommodation Packages in Vilanculos Beach Hotels
We love the honeymoon suites at the scintillating Bahia Mar Boutique Hotel where four nights in lavish comfort make your dreams come true. Settle into a stunning pied-à-terre luxury self-catering unit with a king-sized bed, TV lounge, fully equipped kitchenette, private barbecue area in the garden, terrace with sunbeds and a private pool. Your personal Mozambican host will answer your every need.  Free airport transfers, a juice detox, yoga sessions and meditation silences to start your life off together in an eco-friendly hotel.  
Choose the elegant Greek inspired Villa Santorini for a honeymoon of grace and impeccable facilities with panoramic Indian Ocean views. Couples only dream of offers like this – 5 nights full board accommodation in an intimate, exclusive-use room for two with real church doors and a white domed roof. We think that honeymoons are Villa Santorini's best kept secret – highlights include a complimentary bottle of bubbly and romantic private dinner for two. Beach walks under the stars, spa treatments for two, boat cruises into the Bazaruto Archipelago and snorkelling excursions in turquoise seas. 
Think about a dream honeymoon package deal to pretty Vilankulo, rated as a world class honeymoon destination thanks to its beautiful sandy beaches, turquoise water, and sensational backdrop of splendid Bazaruto Archipelago marine reserve. 
Choose Vilanculos Beach Lodge where passion counts, and things get done. Your honeymoon means the world to staff at this beautiful beach resort where your package deal includes delicious breakfasts at the pool deck, long lazy walks up the beach, ocean activities deluxe and hands on attention to detail. 
South Africans love the special Rand rates here and the drive from Johannesburg is so accessible. Enjoy the architecture of stilted log cabins overlooking lush, manicured gardens and a huge infinity pool and a cocktail bar for your relaxation. For an elegant and picturesque retreat, choose Vilanculos Beach Lodge for your honeymoon special deal today.
Vilanculos is a dreamy beach and honeymoon destination, the gateway to the Bazaruto Archipelago and an ocean lover's playground. Secure your ultimate honeymoon package deal here, with 50% off luxury accommodation for your bride!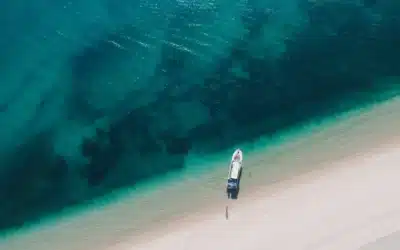 Honeymoon Bliss 4-Night Special Package to Bahia Mar
Find superb honeymoon bliss when you stay at Bahia Mar Club in Vilanculos, Mozambique. Explore the town and experience the local culture or if adventure is your pleasure then book exciting activities like horse-riding, scuba diving or kite surfing.
All-Inclusive Honeymoon Package At Santorini Mozambique
Santorini Villas Mozambique offers you a top class Mozambique honeymoon. There is 50% Discount for the bride, and loads of other extras and surprises to make your honeymoon unforgettable! Read all about it here. Best deals to Santorini Mozambique with us!