Why we Love Rio Azul Lodge
Only 2 exquisite beachfront villas with 3 bedrooms and lounges, and 6 beachfront chalets for couples with kids – perfect for that family reunion in nature.
Wonderful lagoon activities to see birds and other creatures by boat or kayak – explore untouched mangrove forests then head out to sea on an ocean cruise to see whales.
Meet the local fisherfolk living in their quaint stilted homes over the water around the estuary.
Freshly caught Mozambican prawns, crab, lobster, calamari and line fish of the day every day for your enjoyment, cooked to perfection with special Portuguese herbs and spices.
Snorkelling day trips to Paradise Island to get lost in perfect reefs where worlds of exotic marine species swim with you.
About Rio Azul Lodge
Rio Azul Lodge is located on the banks of the Govuro River in Mozambique, Africa. Rio Azul, meaning "Blue River", overlooks the estuary, situated on the Northern end of the Bazaruto Archipelago at the mouth of the pristine Govuro River which enters the sea at Bartholomew Dias.
This luxury lodge is a premier fishing resort in Mozambique with facilities and activities on the estuary and the beach to keep everyone happy.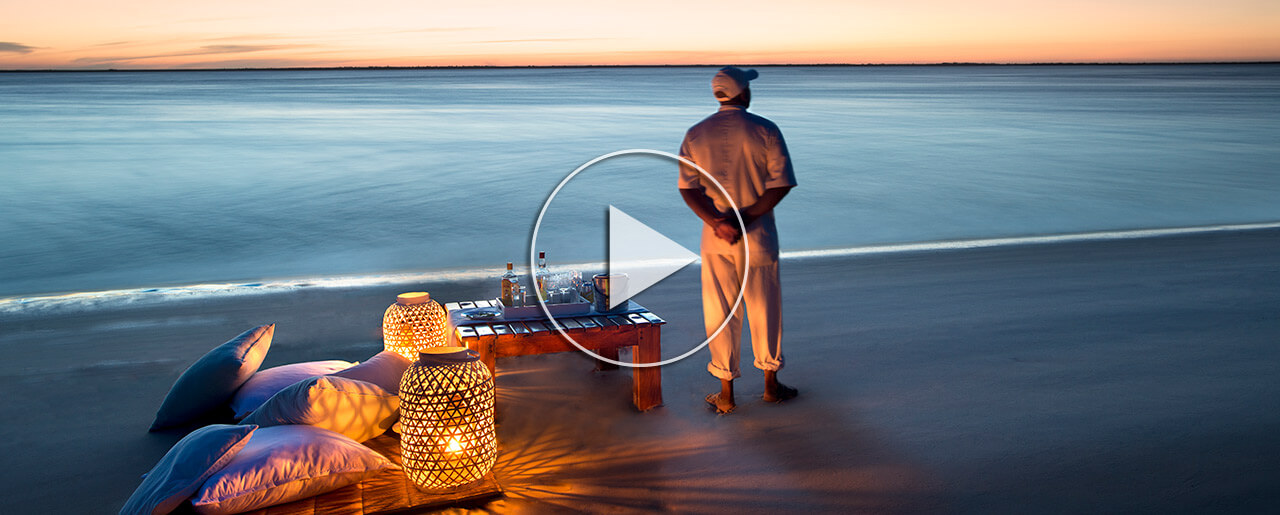 Accommodation at Rio Azul Mozambique
Rio Azul Mozambique offers luxury lodge accommodation including 6 twin chalets, and 2 luxury villas which sleep, 6 adults and 6 children. Each villa has its own swimming pool and its own estuary boat, guests can fish in peace out of the wind in the unspoilt estuary.
The main lodge has a beautiful wooden deck and a plunge pool, wonderful views of the estuary, lounge, dining area and bar, the interiors are modern with inviting sofas and chairs. The view from the 31-foot bar is possibly one of the most spectacular in Africa, overlooking the Guvoru River!
Activities at Rio Azul Lodge Mozambique
Angling enthusiasts and families can all enjoy this stunning Mozambique beach lodge! In front of Rio Azul Lodge Mozambique lies this fantastic stretch of crystal-clear water which can be explored by foot or by boat. The mangrove ecosystem is made up of a fascinating chain of pioneering and sacrificial plants together with a huge array of crustaceans. Birdlife is abundant, colourful and spectacular!
Rio Azul Lodge Mozambique offers good quality fishing opportunities, including exciting estuary fishing, surf fishing and some of the finest offshore fishing in Mozambique. Its the perfect beach lodge for serious anglers but equally loads of fun for families who want their kids to go out on a boat and land some "whoppers" from the safety of the estuary.
The area also offers some great bird watching with specials such as mangrove kingfishers and crab plovers.
Activities at Rio Azul Beach Lodge also include beach walks along the pristine beaches, kayaking, and fabulous snorkelling in warm waters, excursions by dhow and a boat trip to a nearby island. Excursions to Santa Carolina (Paradise Island) offer excellent snorkelling opportunities within the Bazaruto Archipelago and can be combined with picnic lunches to the islands.
Facilities at Rio Azul Vilanculos
Part of the experience is the excellent local seafood, with freshly caught cuisine to tantalize your senses.
Rio Azul Beach Lodge offers an exquisite dining experience to guests. The casual 3-course meals are a relaxed affair served in an exquisite dining area where you are always assured of unsurpassed personal attention.
The menu includes freshly caught fish tantalizingly prepared together with exotic Portuguese spices and traditional cuisine. The more exotic food menu that is served on a regular basis includes some of the best seafood: crab, lobster, calamari and Mozambique prawns to name a few. We cater for vegetarians and other dietary requirements!
A "dining under the stars" experience can be arranged for private parties or romantic dinners, as well as private pleasurable picnics on the beach with your partner a must-have honeymoon experience!
Facilities
6 Chalets
2 x 3 bedroom villas
Estuary boats (fuel excluded)
Bar
Lounge & Dining room
Swimming pools
Shop
Getting There
Flying:
From OR Tambo Int. Airport (Johannesburg), to Vilanculos Int. Airport, Mozambique. Transport to the Lodge is arranged prior to arrival and an air-conditioned vehicle will transport you to the lodge via a spectacular beach drive to Bartholomew Dias Point and The Lodge.
Self Drive:
From JHB & DBN, 16 hour (1 600km) drive via Maputo, Xai Xai and Vilanculos. 80km North of Vilanculos, turn right towards Inhassoro (14km), and a 24km beach drive to The Lodge (permits required- arranged by our Lodge prior to arrival).
GPS coordinates for Rio Azul
23.8532°S 35.5325°W