Why We Love Azura
Stunning Bazaruto setting with fairy tale views of the ocean, five-star attention to detail and personal service - this is luxury at its best
The most elegant beach hotel in Mozambique, uncontested! A true island paradise complete with restaurant and poolside bar, personalised service and jaw dropping beauty
Fabulous diving and fishing experiences mesmerise guests forever and the snorkelling with dolphins makes superb memories – or take a chill pill at the spa with massages in shea butter and olive oils.
All-inclusive packages with thrilling helicopter transfers get the adrenaline going as part of perfect Mozambique beach holidays.
Welcome to Azura Retreats Benguerra Island
Discover the first eco-friendly resort in Mozambique, hand-crafted by the local community and operated in partnership with it. Explore the magic of Benguerra Island on a trip to Mozambique that focuses on the raw beauty of a protected marine ecosystem and its beach biodiversity. Learn how the island of Benguerra forms part of the Bazaruto Archipelago Marine National Park, located some 800 km north of Maputo, near the town of Vilanculos. 
Azura Retreats will be your hideaway in one of only 20 villas nestled cosily in the dune forests of one of the last undiscovered stretches of beach in the world.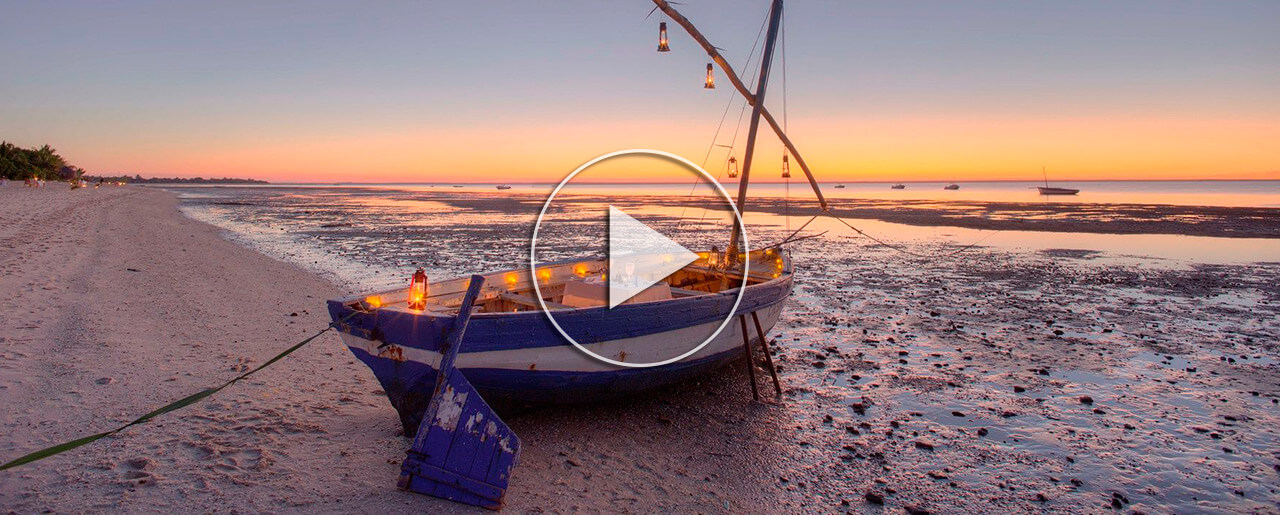 Lavish Nature Inspired Villa Accommodation at Azura Benguerra
Feel inspired by the range of daringly lavish accommodation at Azura: two Beach Villas, 10 Infinity Villas, three Luxury Beach Villas, two Royal Villas, a Presidential Villa and the decadent Villa Amizade. The package rates fit each villa and the special deals are built around intricate ethnic features – constructed entirely by hand in a building project that won the hearts of communities and tourists. 
This is sustainable tourism at work, and you are part of it when you choose Benguerra island resort above all other Mozambique destinations. How lucky are you to appreciate gorgeous, air-conditioned villas featuring their own infinity plunge pools and beachside salas! How incredible do you feel to indulge in the designer décor touches expected from a luxury boutique resort? Notice the beautifully carved beams and traditional artwork beneath a local thatch roof. See all the room options available here.

As the respected guest, your privacy and comfort counts. Step from your lounge onto the eco deck and step from the deck onto pearly sands – then plunge into a glassy turquoise sea, reminiscent of a mountain lake. Azura Retreats villas snuggle deep in the secrecy of indigenous trees and shrubs, allowing you to create your own private sanctuary.
Picture your days revelling in your own space with its extra-long king-size beds, full bathroom, minibar, coffee station and private butler service. In addition to these facilities, Villa Amizade has 2 bedrooms, both with private bathrooms, and the Presidential Villa has 3 bedrooms, each with a private bathroom, living/dining room, larger pool and a large terrace with a Jacuzzi.
Luxury Mozambique Eco Resort Benguerra Island
Azura Benguerra Resort is the first luxury eco-boutique retreat in Mozambique and is committed to the sustainable tourism principles of people and planet. Everything has been designed in harmony with the marine and island environment with the constant input of the local people. Azura Benguerra Island gained its Carbon Neutral Status, another first for Mozambique accommodation.
Fresh homemade food and exotic wines are central to all activities at the lodge, drawing people together to share news and views about their sunny days spent in paradise. Make new friends as you tuck into fresh lobster and crab curry, paired with wines from France or the Fair Cape. Award-winning chefs tantalise your tastebuds with simple nouvelle cuisine based on the best ingredients available in season.
Dine in the elegant restaurant as whales splash past and arrange your romantic meal for two on the deck, at the Star Bar or in the wine cellar where you choose your meal and wines. The weekly highlight is the 7-course tasting dinner where the chef showcases his favourite creations. There is also a champagne brunch, candlelit dinners on the beach and picnics.
Ocean and Island Activities at Azura Mozambique
Logic shows us that islands focus on ocean activities just like those at Azura on Benguerra. Things like a high-tech water sports centre offering PADI dive courses and things like sailing into the horizon, kayaking down wind, taking on the wind with a kite surfing morning and defying the wind on a stand-up paddle board. Which sea activity do you choose, and do you have your scuba diving certificates with you? If not, be ready to do another course and to see what is down there in the warm Indian Ocean coral reefs. 
Big game fishing is a huge hobby for experienced and lay fishing folk and bring plenty of thrills and spills as rods and reels wind and hook. Catch and release is the way to go in the Bazaruto Archipelago as your tagged fish can be monitored as part of the conservation efforts in this mind-blowing marine reserve. We recommend island drives to play on the huge dunes, to see freshwater crocs and to find endemic island lizards. We also recommend the cultural tours to meet the local soccer players and the smiling kids in their tiny school – pack some stationery for these children as part of the Pack for a Purpose project. 
Swim with dolphins, follow whales during their migration or go out with the dugong protection team in search of the shy and threatened mammal. A traditionally carved 10-meter dhow is always moored offshore and available to guests. View all the optional activity options and rates here for what you can do around Benguerra Island.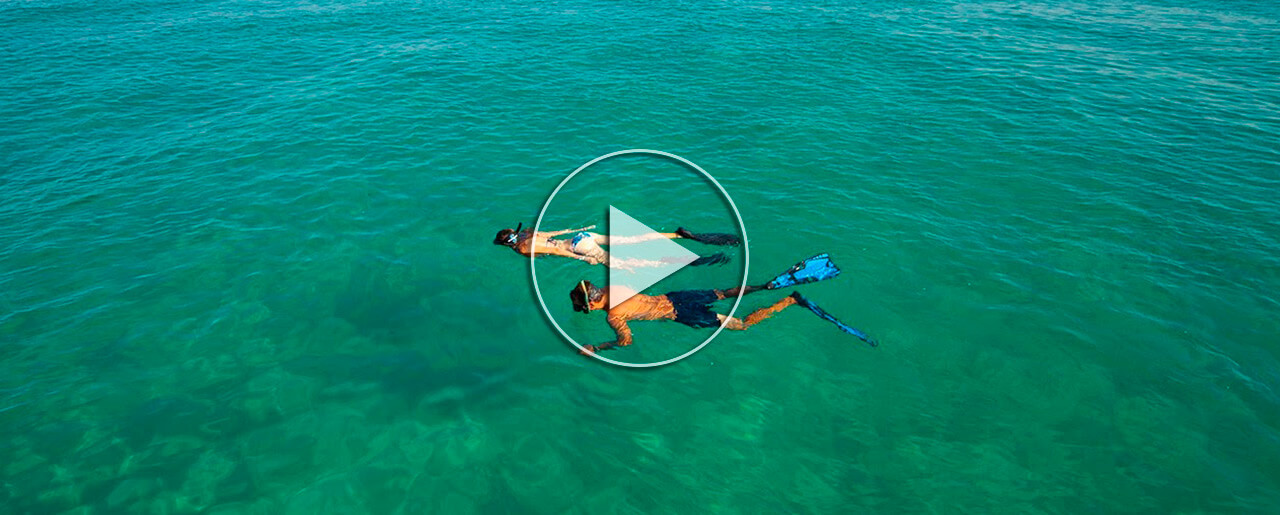 Tempting and Irresistible Honeymoon Specials Deals to Azura
Expect indulgent, personalized service, with the emphasis on subtle nuances, for the most magical honeymoon in the world! It all begins with a jaw dropping helicopter flip from Vilanculos to Azura Benguerra Resort. The minute you land at the private lodge helipad, the romance starts and never stops. 
Couples love our incomparable 50% discount on the bride's accommodation for any bookings of 5 nights or more for that idyllic Bazaruto honeymoon! Be amazed by your free bottle of bubbly on arrival, a complimentary 30-minute spa treatment of your choice and romantic turndowns. The whole team at Azura lodge makes looking after you their priority as you splash out on your once in a lifetime lovers' deal.
Sublime Spa Therapy at Azura Hotel Benguerra Island
Tiptoe barefoot into the decadent pampering space of the lodge spa and feel as if you have entered a sanctuary on another planet. African massage treatments and creams ensure your muscle softening bliss – watch that frown disappear, and those eye wrinkles vanish! Feel the stress leave your body as you relax under the professional firm hands of exceptional masseurs and beauticians. Make sure you try the "Tribal Traditions" massage during which you are coated with crushed coconut shells and natural herbs, covered with tamarind and aloe from head to toe and gently massaged with warm Marula oil.
Indoor spa therapy meets outdoor nature therapy and at Azura on Benguerra Island, the weather is always hot and sunny. Warm days, warm ocean waters and warm hearts make your stay a blessed time away from the modern stress out world. Don your bathing costume when you awaken and stay that way all day, plunging in and out of your private pool and the lapping ocean nearby.  
Add to this the ever-sparkling turquoise seas crisscrossed by local dhows plying their trade, sunny days and star-studded nights. This is the enchanting island escape you always imagined! And if you would like to see exactly where you find Azura Benguerra view our map of Mozambique here.
Azura Benguerra facilities
3 Beach Villas

3 Luxury Beach Villas

10 Infinity Beach Villas

2 Royal Beach Villas

1 Villa Amizade

1 Presidential Villa

Complimentary Wi-Fi access in public areas

Star Bar, beach restaurant, Jellyfish restaurant

Trading Store (boutique at reception),

Media Room (TV and internet access)

Extensive wine cellar

Azura African Spa
Azura Benguerra activities
Red Dune And Crocodile Lake Island Drive – By Land Rover Game Viewer Vehicles
Southpoint Beach Picnic and Island Drive – By Land Rover Game Viewer Vehicles
Guided Island Hopping – by Speedboat
Paradise Island Cruise- by Speedboat
Sunset Dhow Cruise
Ponto Dundo/ Bazaruto Dune Climb
Island Hop & BBQ
Pansy Island Visit
Pansy Island & Lunch
Benguerra North Point
Guided Snorkelling Safari
Whale Watching
Deep Sea Fishing
Scuba Diving
PADI Diving Courses
Horse Riding
Island Soccer
Private Beach Dinners
Azura Benguerra Island Gallery
Getting to Benguerra Island Resort Bazaruto Archipelago
Direct international flights from South Africa into Vilanculous Airport every day give you easy access to Azura Benguerra and the Bazaruto Archipelago. Daily flights also come in from Maputo if you wish to combine the islands with Southern Mozambique package holidays.
LAM (Air Mozambique) and Ethiopian Air operate one flight daily, every day of the week from Johannesburg (OR Tambo) and return. Flying time is around two hours.
SA Airlink offers scheduled flights from Johannesburg International to Vilanculos on a Monday, Tuesday, Wednesday, Friday & Saturday; and flights from Nelspruit to Vilanculos daily.  This allows you easy access from Kruger National Park to Mozambique.
A Kruger Safari combined with a Mozambique holiday package is now easily achievable. Check with our consultants for our beach and bush packages.
US Dollars, South African Rand and Mozambican Metical are accepted as currency in Mozambique.
GPS coordinates for Azura Benguerra Lodge
-21.853219,35.425319
Client Reviews
We had a great 5-night stay at Azura Benguerra and found the beach just like all the pictures. You can visit the island in a safari jeep – nice sand dunes, a few villages and beautiful waters everywhere. Highlights of the hotel are the rooms with little private pools right on the beach. Food made our day too. We went diving, chartered a boat for some island hopping… shew! We never wanted to go home…