Expedition Support and Advice, Film Locations and More in Mozambique
Kevin Record is the founder of Mozambique Travel. He has played an integral role in the planning and supporting of numerous remote expeditions and voyages of discovery throughout Mozambique for more than 25 years. It all started in November 1993 when Kevin left London and embarked on a yearlong personal trans-Africa journey through the western and central regions ending eventually in Cape Town. 
Seven months later, in June 1994, he arrived in a war-torn Mozambique, his intrepid journey coinciding with the opening of a select few borders a month or two previously. He was an early explorer amongst only  official UN personnel and landmine-clearing teams in the country at the time. The roads were horrific but as he moved through the country, the wonder of it all completely overwhelmed him. 
The people, the landscape, the sensory beauty, the culture and history all had such a profound impact on Kevin that he fell in love with Mozambique, still untouched and rising from the ashes of a civil war. Having visited 22 countries on his trans-Africa, in his mind none came even close to what he had seen in Mozambique. His many personal and physical discoveries developed over a number of years into a passion for sharing Mozambique with others. He aimed to promote Mozambique as a destination for more adventurous explorers and eventually brought thousands of tourists to this beautiful country. 
Kevin spent the next year and a half – from late 1995 to the end of 1996 – on a fishing boat exploring and diving the remote Quirimbas Archipelago and living on Ibo Island. He returned in 1999 to start a small-scale tourism project on Ibo. This culminated in the construction of a four star 14-bedroom boutique hotel, Ibo Island Lodge that was launched in 2006. In 2019 he came close to opening his second project he had visualized and built on Mogundula Island – a five-star private luxury Quirimba resort. For reasons beyond his control this was never realized.
Advice and Support for Expeditions in Mozambique
In 2002, the legendary sea kayaker and founder of PaddleYak Sea Kayaks and Real Cape Adventures, Johan Loots, approached Kevin to host the first-ever exploration of the Quirimbas by sea kayak.  Kevin dived right in, coordinating all logistics, flights, accommodation and vessel support. He supervised this first expedition. 
Trans Mozambique Kayak Trip
In 2003, Kevin provided personal and professional support and expedition advice to the incredible unsupported trans-Mozambique sea kayak expeditions. This four-month pioneering journey began in Cape Town, rounded the South African coast and explored the entire shore of Mozambique, an amazing 2600km on the Indian Ocean and another long overland journey to northern Mozambique.  
Sailing his own dhows from Zanzibar to Ibo Island
In 2007, Kevin commissioned two 15-meter dhows from the legendary Zanzibar boat builder and fundi, Mponda. He sailed them down from Nungwi to Ibo Island with just 6 local crew in 13 days. Similar boats can be commissioned and delivered to any destination in Mozambique.
Peter Van Kets Quirimbas
In 2008, the renowned explorer, Peter Van Kets, commenced a 280 km trans-Quirimbas sea kayak expedition.  Kevin and Ibo Island Lodge supervised and managed all equipment, support vessels, logistics and travel plans. Three intrepid explorers on this three-week excursion kicked off from Vamizi Island and paddled south to Pemba during strong north monsoons. 
Livingstone Source to Sea
In 2021 the UK tour operator Africa Exclusive approached Kevin to do a reconnaissance for part of their Livingstone source-to-sea expedition. This adventure would follow Livingstone's route up the Zambezi by dhow. Kevin provided the following to the operator.
Met with local officials and arranged permissions. 

Surveyed the safari areas and Coutadas around Marromeu. 

Sailed a local dhow to the mouth of the Zambezi from Marromeu, sourcing overnight stops and places of interest.

Located

Mary Moffatt's grave

at an isolated abandoned Catholic mission station, Chupanga, on the banks of the Zambezi River. 

Supplied route notes and itinerary suggestions to the tour operator.
Specialist Guiding Services to Mozambique
Kevin has personally guided several VIP guests and groups to mainstream, remote and sometimes off-the-beaten-track locations throughout Mozambique by vehicle, boat, private fixed wing and helicopter charters over the last 20 years. 
These include numerous destinations in Mozambique:
Northern Mozambique – Niassa Province, Nampula, Nacala and Ilha de Mozambique

Central Mozambique – Vilanculos and Inhambane, Quilemane, Angoche and Pebane, Beira, Gorongosa and Chimoio.  

Bazaruto Archipelago – the islands of Benguerra, Bazaruto and all others in the archipelago
He has also researched detailed routes, places, people of interest and associated itineraries for bespoke clients, and then meticulously planned and implemented the logistics associated with these kinds of journeys. He has always been the man on the ground with these clients, dealing with all issues associated with each unique itinerary. 
Get in touch with Kevin for specialist VIP guiding services to Mozambique.
Emergency Response and Planning Natural Disasters Especially in Mozambique
On 25 April 2019, Cyclone Kenneth struck Cabo Del Gado Province and, more intensely, the Quirimbas Archipelago and mainland opposite the islands. It was recorded as Africa's strongest storm in the last 100 years, wreaking extensive damage and human suffering. Ibo Island Lodge immediately became the epicenter of rescue efforts and provided a vital base from which NGOs and emergency services could operate. 
Kevin personally delivered the first food on the mainland to cyclone victims on 03 May 2019. From there, he coordinated efforts and sourcing of food and emergency supplies with Save the Children, WFP, UNHCR, UNICEF, Red Cross, MSF and numerous other NGOs. Within 10 days of Kenneth hitting the coast, Kevin had established an emergency base for the safe delivery of food in a very risky security zone with Arco Iris Mozambique on Mogundula Island.
Arco Iris distributed more than 80 tons of food and numerous supplies including basic medical care to a number of coastal villages thanks to the professional logistical support from Kevin, his 3 dhows and Ibo Island Lodge.
Liz Gliem, Cyclone team leader Arco Iris Pemba had this to say:
"Working with Kevin after the cyclones in 2019, we found his connections and help unmatched in both practical and relational levels. His heart to help the most desperate coupled with his expertise in the area and logistical support allowed us to work in a capacity beyond our imagination. He was professional in all areas providing transport with local boats, including crew, and helping us achieve our goal of reaching the most isolated."
In a personal capacity, Kevin remained involved with the supply of food and humanitarian aid to the victims of Kenneth throughout 2019, raising over USD 40,000 for essential supplies and delivering them himself to the villages along the coast. These efforts were unfortunately halted with the deterioration of the security situation to extremely unsafe in December 2019.
4×4 Off-Road Adventures Support in Mozambique
Kevin has provided support and route advice for numerous off-road and in most cases, extreme journeys throughout Mozambique. These included crossings from Northern Mozambique into Tanzania before the construction of the Unity Bridge at Negamano and some complicated logistics and planning for crossing the Rovuma River. Kevin still arranges suggested places of interest, advice on roads and road conditions, routes and accommodation for travellers – with ongoing live support for these trips when challenges arise.
Quirimba Dhow Safaris and St Lazarus Banks Charters
Kevin pioneered sea kayak and mobile island dhow safaris in the early part of 2002. This developed into a substantial tourism product showcasing the Quirimba's Archipelago. It soon flourished as a 60 departure-a-year operation for multi-island 3 to 4-night safaris for friends, families and seriously adventurous travellers. Fly camps were set up on 4 islands with walk-in tents and hot showers, with local community involvement and participation. 
From 2016 to 2019, Kevin also arranged and managed two live aboard catamarans that serviced the remote St. Lazarus Banks, 60 nautical miles off the coast of Ibo Island. The 40-foot and 56-foot luxury yachts were both fully serviced vessels which were chartered by small groups for fishing, spearfishing and diving charters.
These two products were niche and extremely successful – but unfortunately cut short by the security crisis in the region at the end of 2019.
Film Location Scouting, Permits and Logistical Support in Mozambique
Kevin has done location sourcing for several potential film shoots including Survivor SA and Survivor USA. In 2013, he organized a specialist expedition for Gem Hunter to the Montepuez area of Northern Mozambique. This included visas, all location and film permits, permissions and meetings, vehicles, drivers, accommodation and security for the filming of the Double Blue Aquamarine episode. 
Please contact Kevin for location scouting, logistical support for filming/crews and film permits throughout Mozambique.
Remote Logistics and Project Support
Kevin successfully supervised and directed the sourcing of materials, labour, logistics and building for Ibo Island Lodge (2004 -2006) and Mogundula Private Island (2017-2019). These luxury destinations are both situated in extremely remote and challenging locations in Mozambique with no infrastructure, poor roads, low skill base and zero equipment available. His do-or-die attitude realized both projects under very challenging conditions.
In late 2021 on contract, Kevin restored a vital jetty and other infrastructure upriver at Natacote for an island project in the Primeras and Segundas Archipelago situated off Pebane. This was an even remoter area than those previously mentioned, involving challenging logistics. It required fragile and careful liaison with a very isolated local population and authorities.
Community Liaison and Mediation in Mozambique
Since his early days in Mozambique and the Quirimbas Archipelago, Kevin has remained actively engaged and involved with the local communities he has worked in.
He has played a pivotal role in community relations and negotiations for commercial, NGO and humanitarian projects in the region, for his own personal projects and many others. One of his greatest skills is engaging local indigenous populations and building trust effectively. His reputation is respected and well-earned within the communities along the coast of Cabo del Gado. He protects and understands their interests and communicates this with the third parties involved in the best interests of all.
In his own words, "My greatest strength and interest lies in assisting local disempowered people in particularly Northern Mozambique who find themselves displaced and facing challenges they may not be equipped for. In building trust and understanding their challenges and expectations, then communicating this to those requiring their land or resources, those imposing themselves or entering into sacred places and potentially eroding cultures for commercial gain. And from there, finding solutions for the investors or NGO's and the local people's best interest quickly and effectively! "
Get in touch with Kevin personally for community liaison and support required on commercial projects, film locations and film permits to Mozambique. In addition, ask Kevin about any unique travel, exploration and expedition requirements you have for daring adventures into the lesser-explored parts of magical Mozambique.
Explore. Dream. Discover
Featured Packages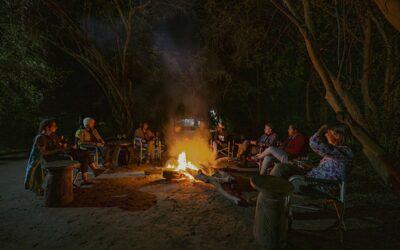 Mozambique safari to Wild Camp Gorongosa
A spectacular five-night package into the wilds of Gorongosa National Park with this well-priced Mozambique safari deal in the authentic Wild Camp. Walking trails are the focus of this glamping safari. Includes return light air transfers and two safari activities daily.
5 nights from
$2,850
Per person sharing