You Have to Taste the Flavours of Mozambique
The expression goes 'You have to see it to believe it' but in Mozambique, you have to taste it to believe it. The incredible food of Mozambique is one of the pleasures aspirant travellers can look forward to on quests to find the perfect beach holiday. Mozambique is impeccably placed on the southeast coast of Africa with its own 2500 km stretch of dazzling white beaches fringed with swaying palm trees. Fine-tune a foodie holiday as part of your dream summer vacation in Mozambique and find out why the local people are so laid-back and warmhearted!
Yes, you too can embark on a culinary journey and discover the incredible flavours and foods of a country called Mozambique. A feast for the senses. Exploring the food of Mozambique is a great theme for a holiday in Africa, taking tourists from the mainland beach resorts and hotels, backstreet guest houses and local markets, to the floating refuges of islands in the sun where top-quality organic food is grown on-site or flown in from Mozambique suppliers.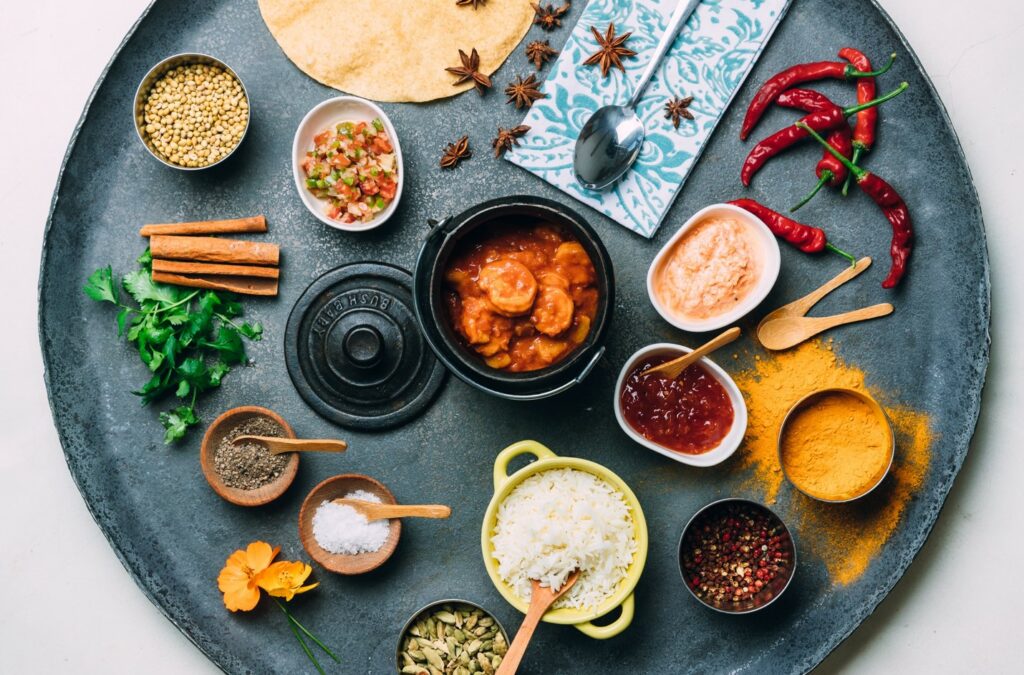 The food of choice in this country is fresh seafood straight from the boats, hooked and netted from the warm Indian Ocean. Foodies choose Mozambique for its rich culinary heritage that goes right back to the 10th century when the Arabs dominated the spice trade route after the Fall of Rome and gained control of the Middle East. Then Vasco da Gama and the Portuguese arrived much later in the 15th century and conquered India and Indonesia for the spice trade route. 
Soon the Dutch and English joined in the battle to win the spice trade war and spices were traded between the East and West via Africa for centuries. The 17th century saw spices making way for other stimulants and flavours created in Europe and soon to take over the world – coffee, tea, chocolate and tobacco changed people's lives forever!  Mozambique reflects all these cultures today and thankfully the Mozambicans are still hooked on spices and all things hot and flavoursome. 
Wherever you choose to holiday, know that your food is fresh from the ocean and local growers. Most ingredients are found in Mozambique and most accommodation venues choose to support local suppliers and make their own Portuguese breads, sauces, desserts and side dishes. Some destinations cultivate organic vegetable gardens while others buy fish fresh from local dhow fishermen. The choice is yours, when you choose a culinary journey exploring the food of Mozambique but one tip from us: you have to taste the flavours of Mozambique!
What to Eat to Experience the Food of Mozambique
The history of Mozambique is entwined with the food culture of many tribes and nations who influenced and ruled the country since colonialism came to Africa. The arrival of the Portuguese not only changed the face of Mozambique politically and socially, but it also changed the way people ate and drank. For the next 500 years of Portuguese rule, the invention of 'piri-piri' wormed its way into the layers of pleasurable eating and entertaining. This spicy sauce means 'pepper-pepper' in Swahili and is an authentic blend of lemon, garlic, vinegar and paprika but the key ingredient is bird's eye chilli, a special African Capsicum chilli pepper, created through selective breeding to please the palate. 
In Mozambique food, piri-piri is used as a base for everything from steak to chicken and seafood. Eating out in cultural and historical Mozambican towns like Maputo, Ilha de Mozambique, Inhambane and other small off-the-beaten-track villages opens the senses to piri-piri which permeates everything. It is good to know what to eat to experience the food of Mozambique. Regional dishes differ according to their location on the coast or inland, and proximity to other borders, or links to historical nations who founded the country.
Of course, fresh fish from the ocean is prevalent in the seaside areas, including prawns, tuna, clams, squid and crab. Mozambicans love chicken and goat which they also farm from home. Their most affordable and traditional start is xima ('shima') which is quite simply a stiff maize porridge also prevalent in most southern African countries but named differently. It is called 'pap' or uphuthu' in South Africa, 'shadza' in Botswana and 'ugali' in Kenya.  
Coconuts and cashews are the leading actors in culinary delights across Mozambique. Don't miss out on fresh Pao, a soft white bread roll based on a Portuguese style bread dusted with flour, that can be shared with all dishes with all nations. The incredible food of Mozambique is generally homegrown, farmed, hunted, fished or created from ancient traditional recipes. Maybe this is why local people are so content and easygoing! Eat well and stay well in Mozambique!
Let's look at the tantalizing flavours of some typical Mozambican foods:
Galinha asada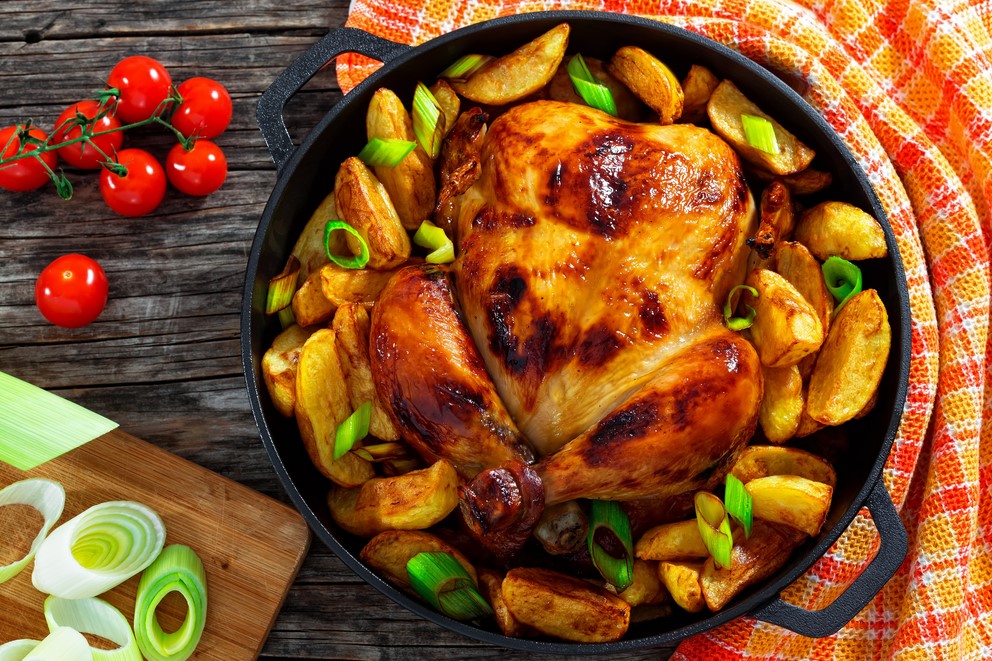 Succulent and delectable Portuguese-style roast chicken that treats your taste buds to an unforgettable experience. This Mozambican staple can be grilled, barbecued over open coals and marinated in piri-piri sauce for the taste sensation of the year. In Zambezia Province, galihna asada is marinated in freshly grated coconut milk instead of piri-piri sauce for something completely different, creamy and sublime. 
Rissóis de camarão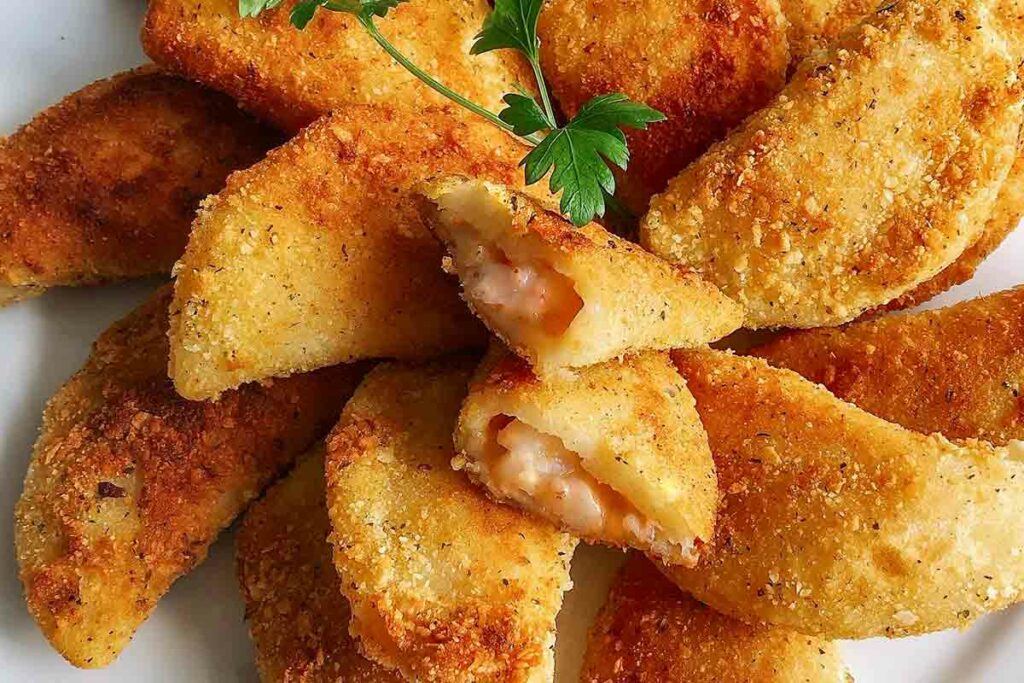 Portuguese croquettes created in a half-moon shape from dough then deep fried and served with a fresh creamy sauce containing whole shrimps, spices and maybe piri-piri. The dough balls are first dipped in whipped eggs and covered with breadcrumbs before being deep-fried.  Enjoy them on the streets, hot or cold, as delicious snack food.
Matapa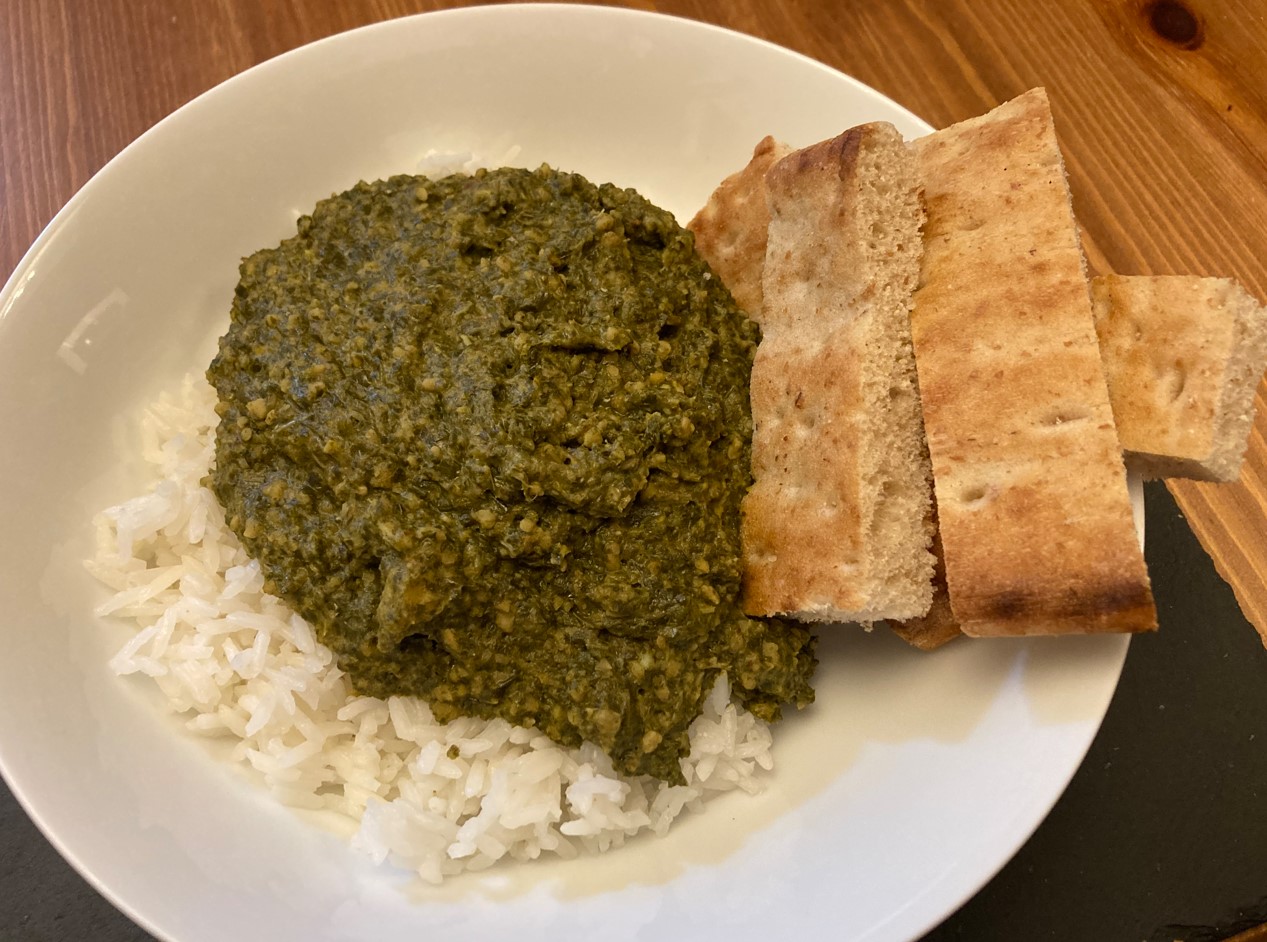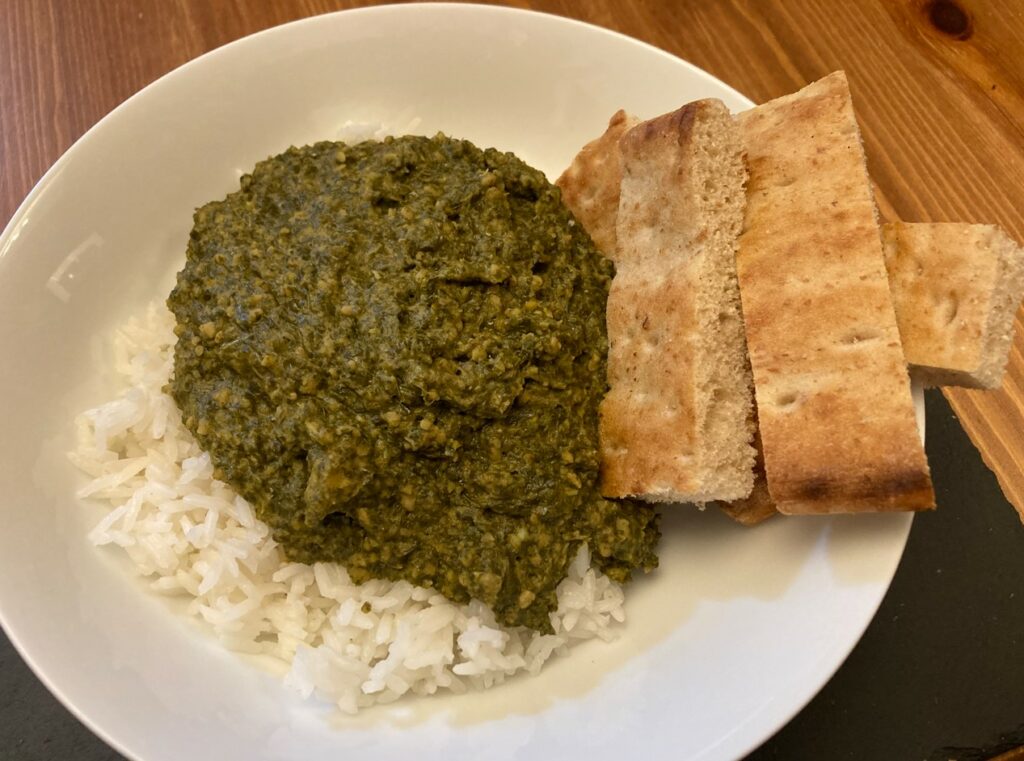 The food of the humble, this dish is made from cassava leaves stewed with ground peanuts, garlic and coconut milk, a nutritious accompaniment to meat and fish main meals. It goes well with rice and is absolutely delicious and satisfying. Some Mozambicans add shrimps or crabs to their matapa and mop it up with xima (stiff maize porridge). Best to buy this from real Mozambicans on the road or in traditional restaurants, instead of the Western chains. 
Prawns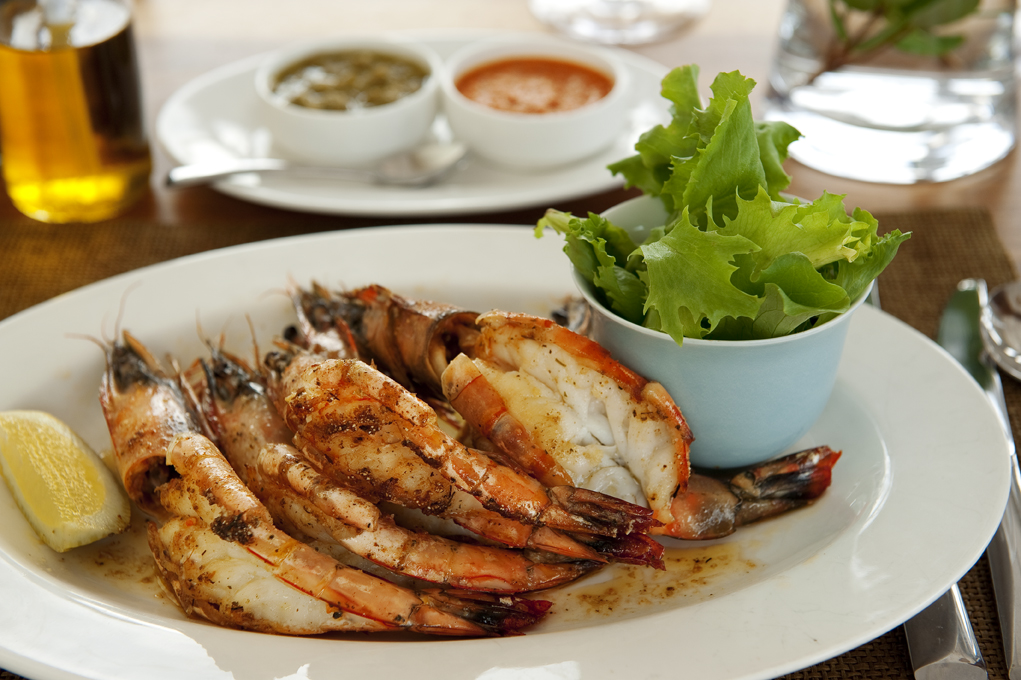 Remember LM prawns, Lourenco Marques Prawns from Mozambique's heyday before the war? They were huge, juicy, pink and filling and when the recipe was right, they were a firm South African favourite for holidaymakers to Inhambane, Maputo and Tofo! The best LM prawns were marinated in peri-piri sauce and grilled. Find them today in restaurants lining the coastal town streets and enjoy them with lemon and garlic butter or creamy beer sauce – with the best Portuguese wines of course!
Chamussas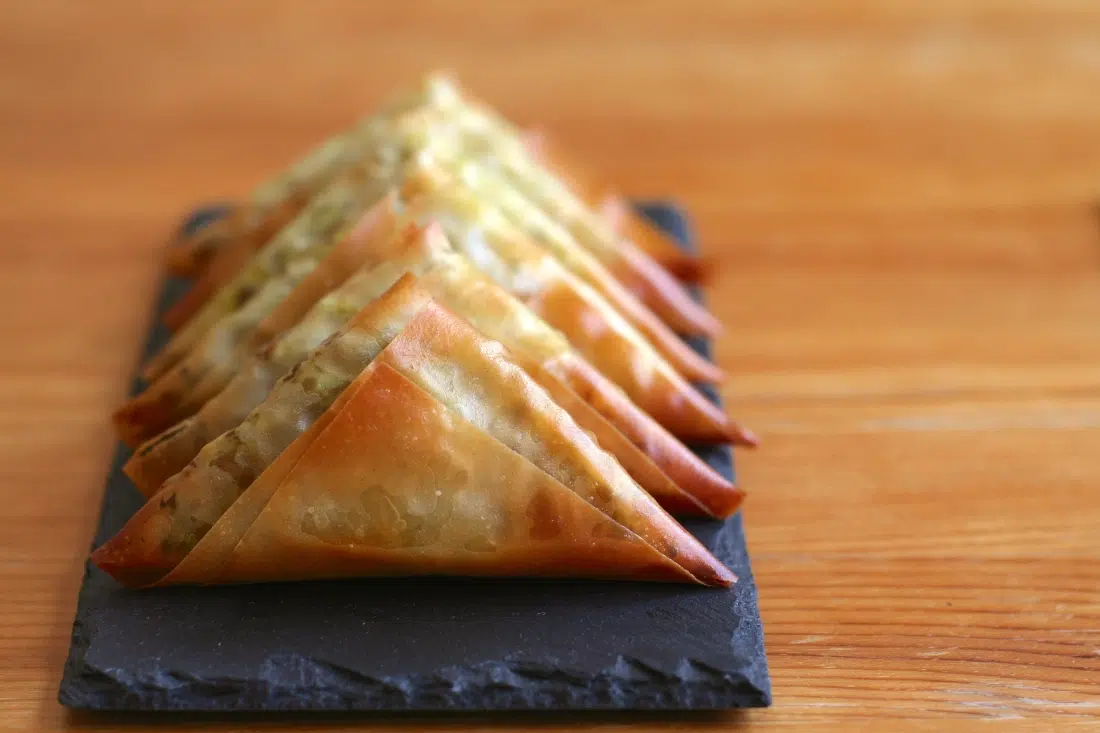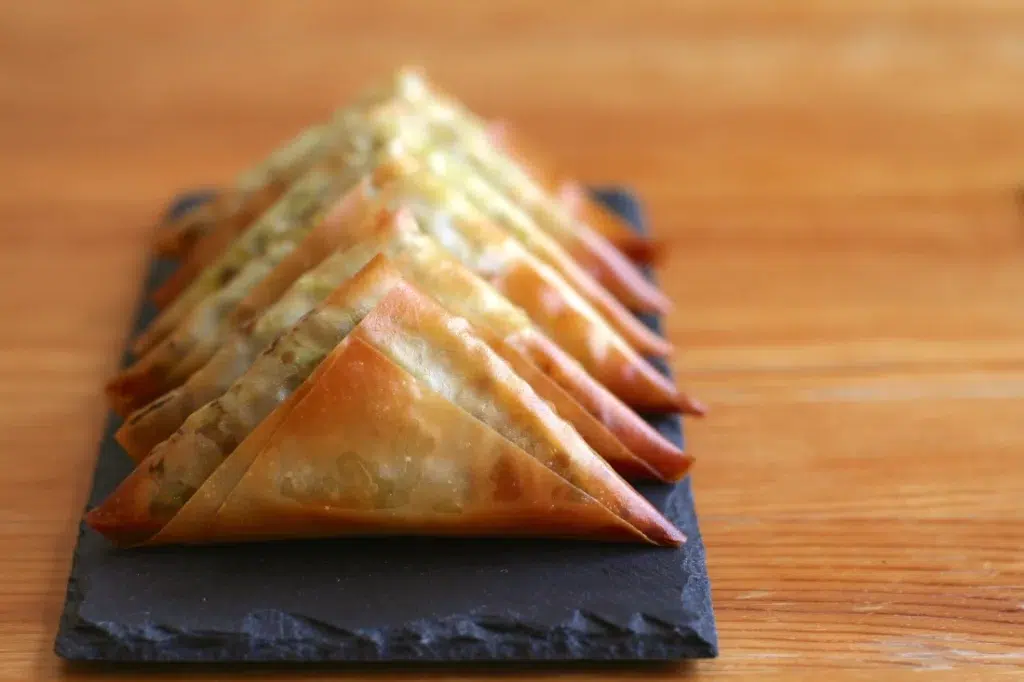 You may have heard of samosas from India but the Portuguese version is the yummy chamussa, a friendly triangular pastry wrapped around a spicy meat or vegetable filling. Some samosas also contain cheese and potatoes based on western tastes. India forged ties with Mozambique during the spice trade route days and there are more Indians living in Mozambique today than any other African country.  Chamussas are a popular street food sold on every corner to every nationality in the country!
Dobrada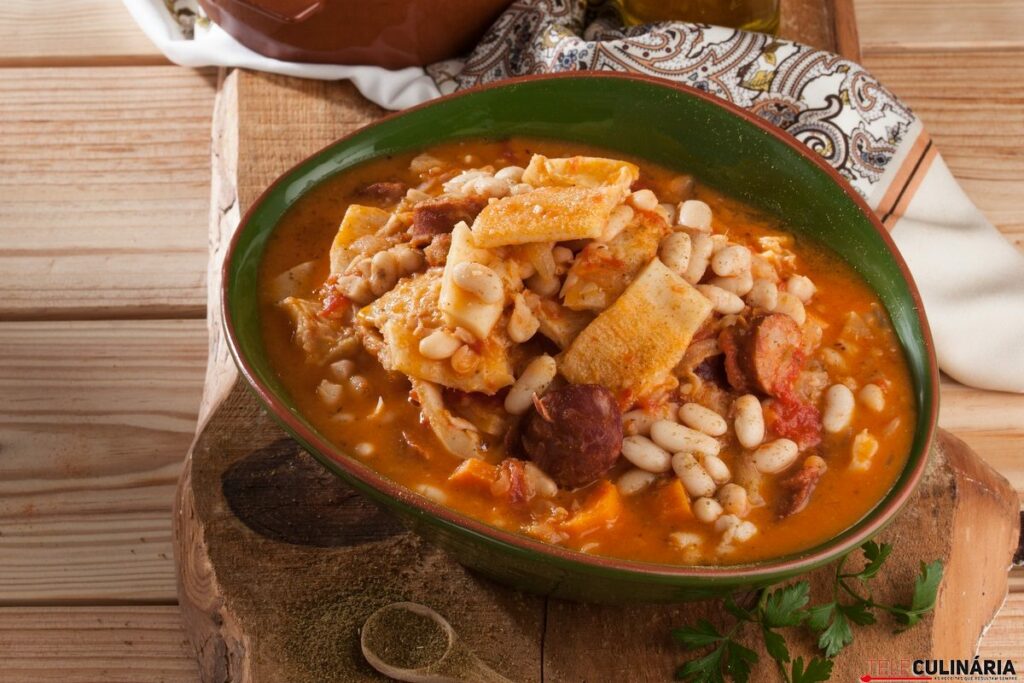 In Africa, freshly grown chillies, tomatoes, green peppers, onions and potatoes are basic foods found in fresh markets and in many delicious meals like stews. It is the foundation for dobrada too, a wholesome stew usually concocted with chickpeas, butterbeans, and chorizo if available. Served with rice or xima which is used to mop up the stew with the fingers. A heartwarming meal that brings people together.
Bolo Polana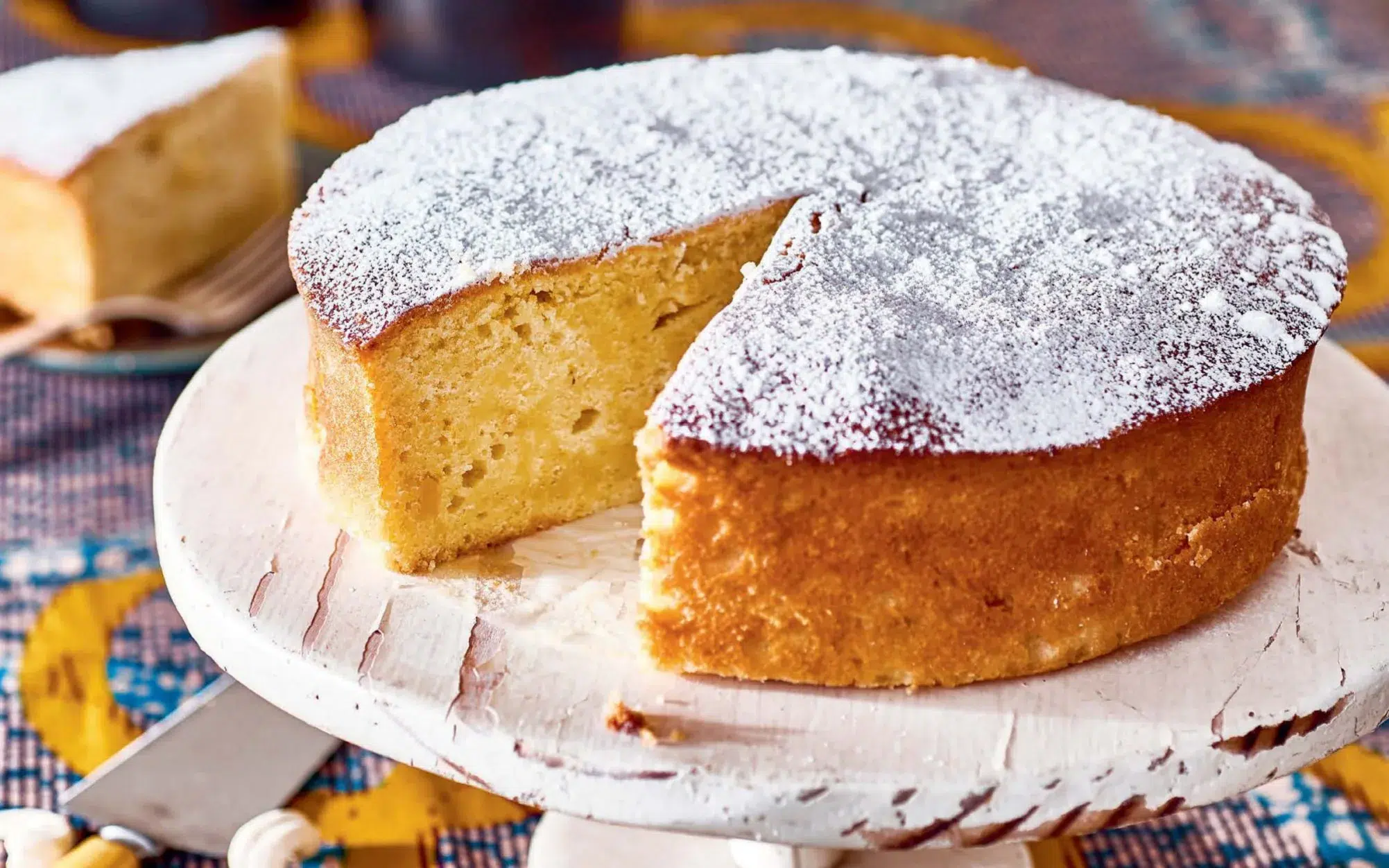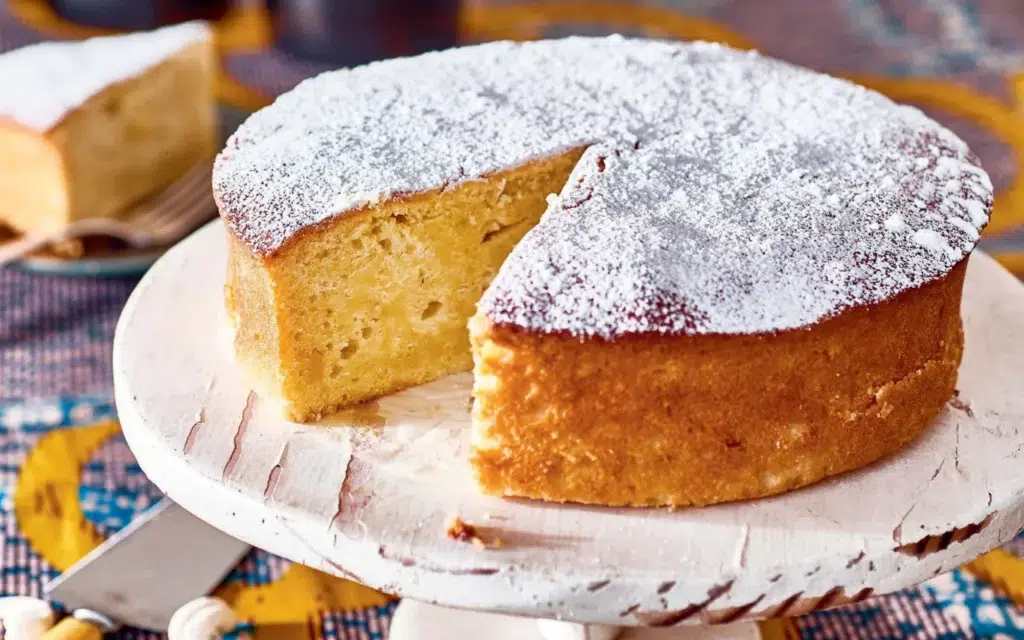 And now for some dessert – created after all the available cheap staples in Mozambique. It's a sweet dish created from mashed potatoes, powdered cashew nuts, vanilla essence and citrus zest. Cashews grow everywhere in Mozambique, imported from Portuguese Brazil decades ago. Bolo Polana is named after a Maputo neighborhood and is served on special occasions. 
Let's Not Forget the 2M Beer and Tipo Tinto Rum
Let's not forget the most popular beer in Mozambique, the beer of choice in bars, pubs, restaurants and street cafes. 2M beer is a brand everyone knows in Mozambique and a taste travellers look forward to sampling when they arrive. The name 2 M is a shortened version of the surname MacMahon who was a French president in the 1800s. He decided that the Portuguese should rule Portuguese Island, an ivory trading post, and not the English. The beer was named in his honour and arrived in Mozambique after that. The oldest beer in the land is Laurentina, and then there are the others like Raiz, Impala and Manica. It's a cheap, delicious drink and is served outside under shady trees in local towns and villages.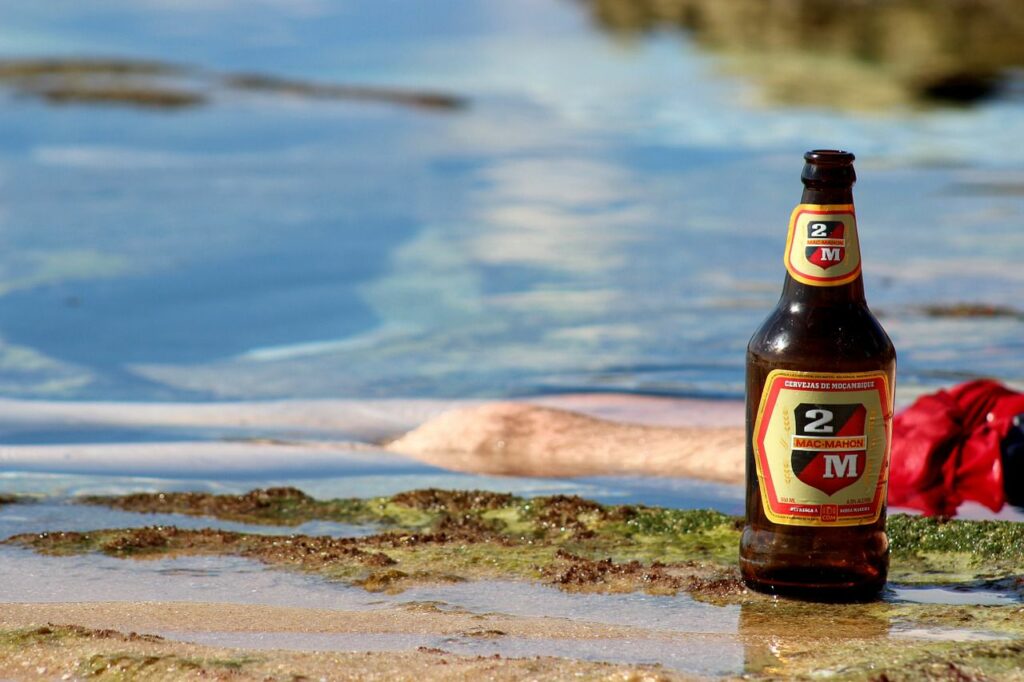 Mozambicans have another favourite tipple: Portuguese wine goes well with fish and prawns, thanks to its dry, crisp and sparkly texture from the grapes growing in northern Portugal. Also loved in Mozambique is the caipirinha cocktail made from cane spirit, crushed limes and sugar served on ice. Many travellers of the 1980s will remember Catembe cocktails too, a blend of red wine and coke, served in the hot sun for better effect! The first Catembe was poured in 1958!
And now for the lowdown on Tipo Tinto, a dark strong rum brewed in Mozambique and loved by locals and visitors alike. Sip it straight and get a hangover from hell the next day. Sit it with Coke or the best strawberry soda and feel better in the morning. See the many, red-stained lips in pubs in Ponto do Ouro and Tofo and know that Catembes are going down well!
Eating out in Maputo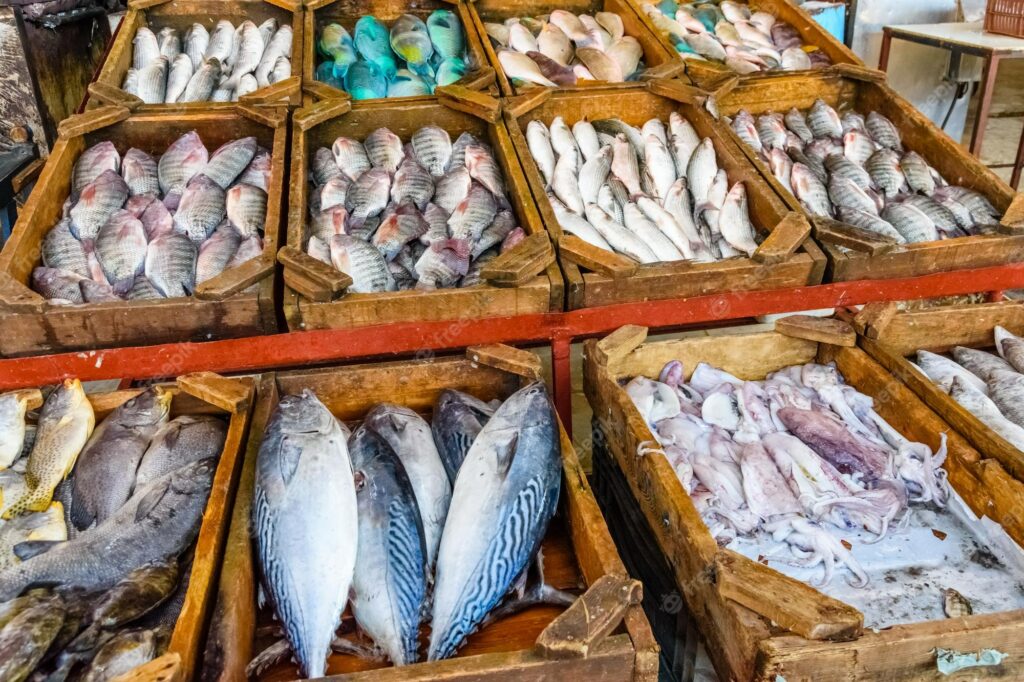 Maputo has a number of exceptional restaurants that serve a wide variety of food of many flavours and a number of influences. Don't discount the street food as its excellent and the best part of it is you will be mingling with locals and understanding the culture a whole lot more. There's loads of roadside stalls and small local restaurants dotted around the city offering really good value Mozambique street food. So, as you are wandering around and discovering Maputo explore and discover this great eat out options. Finally, the central seafood market is a must stop for any foodie travelling to Maputo. There's a number of stalls selling super fresh seafood – form giant tiger prawns, to fresh clams and oysters as well as a huge selection of fish and more. Choose what you fancy from any of the vendors and then the restaurants in the market will cook it for you here and then. There is nothing as authentic for eating out and enjoying seafood in Maputo! See our guide to the best restaurants in Maputo here.
Take it from us, you have to taste the flavours of Mozambique and what better way to do this than to mix with the local people in their bars, street cafes and rustic restaurants. The incredible food of Mozambique is mostly fresh and homemade, a nuance of cultures and tastes, handed down over centuries. Arabs, Indians, Chinese, Swahili, Mozambican, Portuguese and European influences infuse the food and create a melting pot of culinary delights. A feast for the senses. Come and experience your own foodie adventure in Mozambique! 
---
Featured Packages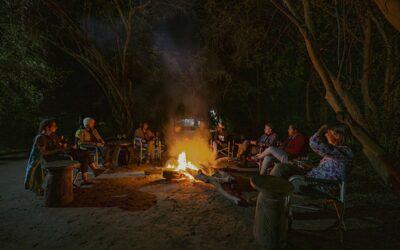 Mozambique safari to Wild Camp Gorongosa
A spectacular five-night package into the wilds of Gorongosa National Park with this well-priced Mozambique safari deal in the authentic Wild Camp. Walking trails are the focus of this glamping safari. Includes return light air transfers and two safari activities daily.
5 nights from
$2,850
Per person sharing