Ethical travel to our top 7 eco-lodges in Mozambique
Environmentally friendly lodges and camps on beaches, islands and in wildlife reserves are springing up all over Mozambique these days to contribute towards the global movement to reduce carbon emissions and human impacts on wild areas. Mozambique Travel supports many eco-lodges and hotels, camps and villas that offer special accommodation packages with an environmental and community focus. 
Ethical tour operators and tourists promote sustainable tourism as they become increasingly aware of their own impacts on wild areas and the rural communities who live there. 
How amazing that the astonishing perfection of the Bazaruto Archipelago is yet unknown to many travellers.  Only three of the six pristine islands in the Indian Ocean off Vilanculos host accommodation in lodges and villas made for luxury holidays in Mozambique. This is an undiscovered marine sanctuary protecting rare island and ocean species. 
Check out our top 7 eco-lodges in Mozambique
Each one making a personal effort to reduce its carbon footprint and waste, work with communities, and use alternative energy. Vilanculos is known as the gateway to the Bazaruto Archipelago and we love some of the eco-lodges offering luxury suites for discerning tourists right on the dazzling white Mozambique beaches here. 
Bahia Mar Boutique Hotel (Club)
Book a sumptuous beach suite at this eco-friendly Vilanculos beach destination, instantly calculating and offsetting the amount of Carbon Dioxide (CO2) you generate during your once-in-a-lifetime summer holiday. Bahia Mar Mozambique is a member of Fair-Trade Tourism and Carbonscored and your special accommodation package commits you to this ethos of people and planet first at the click of a button. 
When you arrive on holiday, help the team at this beach resort to plant 1000 trees in Vilanculos as part of their ongoing commitment to conservation in Mozambique. Your trip to Africa generates hundreds of carbon emissions in airplane and vehicle travel so when you book a luxury beach holiday package deal at Bahia Mar, you offset that carbon by planting trees. 
In return you get to indulge in sheer elegance in spacious beachside suites. Everything about Bahia Mar is people and environment-centred. Take a drive to the local preschool to see happy kids who benefit from sustainable tourism initiatives. 
Dugong Lodge Vilanculos Wildlife Sanctuary
One of the first and few accepted and approved eco-lodges to be built within the magical Vilanculos Coastal and Wildlife Sanctuary, Dugong Lodge is part of an extremely low-density development that aims for the lightest possible footprint and sheer exclusivity of a secluded eco-sanctuary with three dimensions: the marine sanctuary, the wildlife sanctuary, and the Bazaruto Archipelago islands sanctuary. 
Only 14 chic private chalets at Dugong Beach Lodge right on the beach feature private decks and ocean-estuary views where tides ebb and flow and birds call joyfully. Show your commitment to the environmental beauty and its conservation here when you go on life-changing game drives, boat safaris, island tours, snorkelling excursions, dawn birding walks and sunset cruises. 
Dugong Beach Lodge is very remote so power is obtained from a combination of solar and generator power. Explore one of the top biodiversity hotspots in Mozambique and in Africa, its three main focus areas being conservation, community upliftment and eco-tourism development.
It is wild, it is free, and it is a unique camp in the heart of Gorongosa National Park. Wild Camp is seasonal, operating until the rains come at the end of October every year. Get the best of both worlds when you choose a full-board deal to stay in the exclusive rustic chic Wild Camp in prime Gorongosa wilderness areas. You are camping, yes, but you are camping in comfort – modern, lavish outdoor lodgings complete with canvas tents and fine linens, off-the-grid solar energy, outdoor showers and toilets. Your chef creates delicious meals on the open fire and trails through the wilderness take you close to wildlife, birds and plants. 
This is your chance to become part of one of the most remarkable restoration stories in the world and a renowned biodiversity hotspot. Camping out like this brings a complete connection to, and immersion in, nature.
Loggerhead Beach Villa – Fire Island Eco Retreats
How sad that the Loggerhead turtle is threatened by discarded fishing equipment and plastic waste, while eggs are vulnerable to predators and human development along all coastlines. Insightful conservation efforts at luxury Loggerhead Villa aim to protect these incredible animals and your very booking is a commitment to the conservation of all wildlife in this private Mozambique nature reserve.
Set off on long walks and hikes into the Machangulo Special Reserve, camera at the ready to snap plants, birds, water and forests, while gasping in awe at the wealth of life around you! Elephants, buffalos, hippos, rare antelope and flamingos are a sight for sore eyes in the heart of this surreal landscape.
Quintessential environmentally friendly refuges in nature where opulence, designer amenities and 6-star service make holidays top of the privileged scale. Your getaway into nature is inspired by those who want to conserve all wildlife for future generations and who care about those who inhabit such gorgeous regions. Sustainable tourism ethics are about people and planet so that both survive and there is enough for all to go around. 
When you pay for your eco-conscious holiday in Africa, you automatically contribute to reducing your carbon footprint and preserving fauna, flora, rare habitats, and communities that have lived on such natural resources for decades. 
Azura Benguerra Island Lodge 
Discover the first ever eco-friendly boutique resort in Mozambique, hand-crafted by the local community and operated in partnership with it. Explore the magic of Benguerra Island on a trip to Mozambique that focuses on the raw beauty of the Bazaruto Archipelago Marine National Park. 
Azura Retreats becomes your hideaway in one of only 20 villas nestled cosily in the dune forests of one of the last undiscovered stretches of beach in the world. It's committed to sustainable tourism principles and everything has been designed in harmony with the marine and island environment with the constant input of the local people. Azura Benguerra Island gained its Carbon Neutral Status, another first for Mozambique accommodation.
Catch and release is the way to go in the Bazaruto Archipelago as your tagged fish can be monitored as part of the conservation efforts in this mind-blowing marine reserve. We recommend cultural tours to meet the local soccer players and the smiling kids in their tiny school – pack some stationery for these children as part of the Pack for a Purpose project. 
Revel in a digital detox at this innovative eco-lodge that uses the sun for energy in their unique Solar Hybrid System – tune in rather to wild birds and sea breezes. Here, staff are attentive, discreet and kind, part of the lodge's sustainable tourism goals of people and planet, conservation and ecotourism. Even the food has an eco-conscious focus at Travessia being freshly prepared from the garden, and fish freshly caught and grilled every day served with matapa and the lodge's very own homemade pineapple or mango ice cream.
Enjoy a natural outdoor activity in the unique archery lessons in the garden with 'Ben the bowman', the guru behind the philosophy and skills of shooting arrows with a bow. Thatched roofs, wooden decks and solar-powered lighting enhance the green ethics of Trevassia, fitting in with a sustainable approach to tourism. Canvas walls roll up or down depending on the weather and most activities take place in the great outdoors of Mozambique's continual summery seasons. 
This remarkable eco-lodge melts into its coastal dune and forest setting between Maputo and Vilanculos, in Inhambane's beach paradise. It's a modest and elegant beach hideaway that was created by hand by the local community over four long hard years and it has since paid off. 
Dunes de Dovela is an eco-friendly, self-sufficient Mozambique beach lodge that generates its own electricity through a generator that is switched off at night when delightful lanterns are turned on instead along the pathways to your private suite. Water is sourced from a nearby borehole and all food is prepared at the French restaurant on site. All bungalows and tents are raised on stilts to minimize impacts on nature and each one is secluded, away from other guests, in lush vegetation. 
Outdoor activities in nature include walking trails through the dune forests to find small mammals (antelopes, monkeys, bushbabies, mongooses), birds, butterflies, insects, indigenous trees and flowers. In the ocean, go snorkelling to find quaint marine species and corals, seaweeds and shells. 
Make sure you take time to visit the nearby communities in Dongane and Dovela village that benefit from the ecotourism at Dunes de Dovela. 
Mozambique Travel is committed to sustainable travel so chat to us about your next summer holiday in Mozambique at one of our top 7 eco-lodge destinations. We create special packages for your accommodation needs!
Featured Packages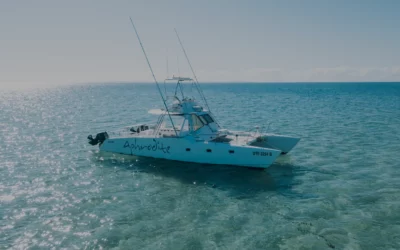 Santorini Mozambique Free Night Holiday Deal 2023
Stay for 5 nights in one of our top-selling Mozambique beach destinations in Vilanculos and only pay for 4 with plenty of extras this 2023. Escape on holiday to Villa Santorini on a free night special holiday deal. Includes airport transfers, all meals and drinks.
5 nights from
$2,485
Per person sharing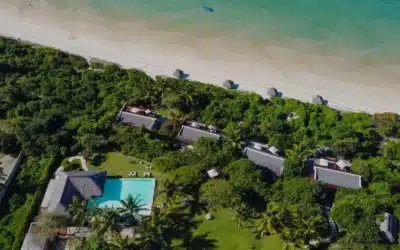 Bahia Mar SADC Family Special
Special treatment for South African families on this inspiring 5-night Mozambique beach holiday to the luxury Bahia Mar Club in Vilanculos. Stay in a spacious family unit on the beach. Kids stay free when you fly in from South Africa to Mozambique on this excellent family rate.
Enquiry Form
"*" indicates required fields